HMD Global has been very good in regards to keeping their phones updated. However, due to new test cases, HMD said that they have to delay the roll-out of March 2019 security patch update for some Nokia phones. Google also supports the slight delay which will help them enable them to further test the device.
A few days ago, HMD's first flagship smartphone, the Nokia 8 (2017), has started receiving the update. So this comes as no surprise that more Nokia phones will soon to follow. Alongside the Nokia 8 (2017), HMD mentioned three more other devices that will have delayed security patch update. These devices were the Nokia 2, Nokia 5, and Nokia 6.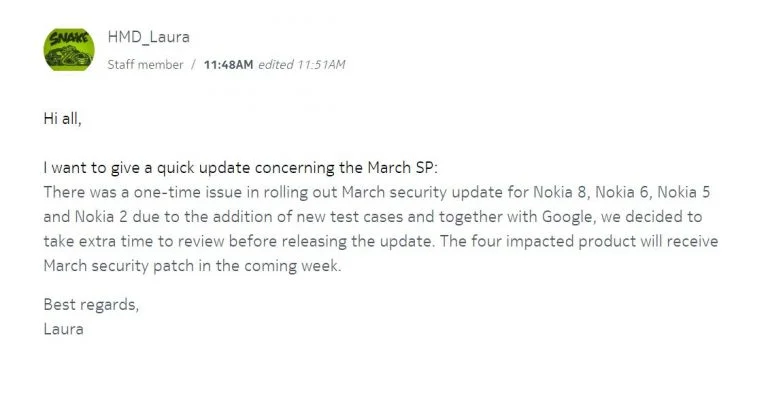 While there's still no update for the Nokia 2, the Nokia 5 and Nokia 6 reportedly starts receiving the delayed update. To be clear, these were the first-generation devices of their respective line-ups. But the update is rather huge for a security patch. It's 375MB for the Nokia, and 267MB for the Nokia 5. So make sure to use Wi-Fi wherever possible.
#Nokia6 March'19 Update is Here. Only SP No MP @NokiamobBlog @NokiaFanss @Nokiapoweruser pic.twitter.com/YN1yBImzNv

— S H U B H ∆ M (@Shubham_891) April 18, 2019
Google pushes security patch update to fix the security vulnerability of the current Android OS. This may also come with some bug fixes to further improve the user experience on the supported Android devices.
The Nokia 5 and Nokia 6 marked the return of the Nokia brand in the smartphone market in 2017. Spec-wise, the phones were rather looks rushed. Both features the same processor, a Qualcomm Snapdragon 430, with just a small differences in display size, resolution, and RAM capacity.
What makes the phones unique from other phones on its segment though is the use of Vanilla Android. HMD Global describes its phones as "Pure, Secure, and Up-to-date". This eventually leads to a better partnership with Google and it's Android One initiative. After 2017, almost all the Nokia phones released were branded Android One, while entry-level devices went for the safer Android Go Edition.