MX Player is undoubtedly the best ever video player for Android. With the background playback and HW decoder, this player supports a lot of file formats. It can play the most of the media files in an excellent video quality. Flexibility in MX Player is something that you won't get in any other media player.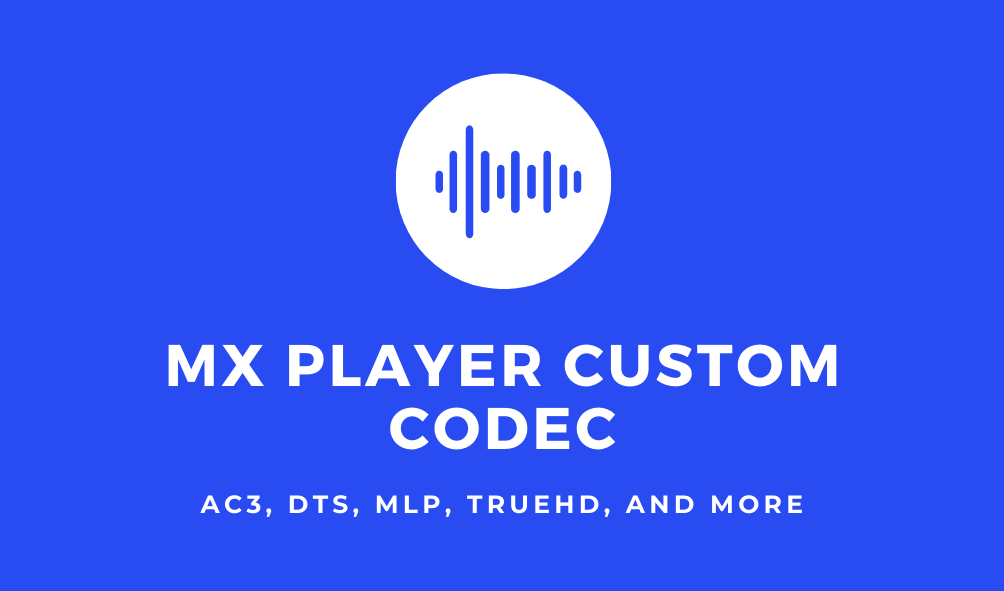 However, there are some limitations as you can't play AC3, DTS, MLP, TrueHD, etc. In that case, you can use Custom Codec for MX Player, thanks to the XDA Developers for building such scripts.
You can download the ZIP file of Custom Codec as per your device architecture (like the ARM, Tegra, Neon, etc.)
MX Player Custom Codec
MX Player Codec Pack contains ffmpeg library along with many other libraries which are required to insure that the player is working properly. If you download MX Player from Play Store, it will contain only the required libraries as per your device architecture. Sometimes you need to install Codec packs from Google Play Store (if MX Player ask to do so). But Custom Codec is additional which is a modified version of the ffmpeg library used in MX Player.
It supports DTS/Dolby (ac3) audio tracks. So, Codec packs from Play Store are mandatory if MX Player asks the user to install it. Custom Codec is optional if you want to play the videos with DTS & Dolby (AC3) audio tracks.
LATEST VERSIONS
Download

MX Player

Custom Codec
Download the Custom Codec ZIP files for MX Player and MX Player Pro from the links below. Make sure to download the correct version of ZIP according to your device architecture.
If you are not sure about your device architect, please download mx_aio.zip file. It's all in one Codec which works on any device.
V1.49.0 Custom Codec (Current stable)
For the newer version of MX Player, older links may not work. You may find the following error:
Can't find custom codec. Please use version. Please use version 1.49.0 Codec!
In that case, use the current stable version (1.49.0) from the links below:
FFMPEG updated as to 2022-08-16
OLDER RELEASES
MX Player Custom Codec 1.44.0
FFMPEG "Ada" updated as to 2022-01-30 (if those binaries changes mean anything)
libmp3lame (mp3 encoder) enabled in our config now
mxv muxer enabled (another video format?)
MX Player Custom Codec 1.35.0
You might be interested in the following articles as well:
How to install MX Player Custom Codec
Open MX Player App.
Tab on the three-dot (located at the top right corner)
You will find the following settings:

Tab on Decoder option. You will see many settings like SW Audio, CPU Limit, and Color Format. Just scroll down to General Settings. You will find Custom Codec option there.
Check what type of Custom Codec is needed. In my case, it's ARMv7 Neon type Custom Codec.

Tap on Custom Codec option and choose the ZIP file that you had downloaded.
In my case, I had downloaded AIO (All-in-one) pack.
Once you select, it will ask you to tab on OK to restart the App.

Do that and you are done!
For AIO Codec pack, MX Player will install the required Codec automatically from the ZIP. MX Player will restart with the required Codec and afterward, you can enjoy DTS audio on MX Player without any issue. You can now play every audio and video clips on MX Player.
What to do when you update MX Player?
If MX Player gets updated to a newer version without any changes to ffmpeg library, you don't need to worry about updating the Custom Codec. It will remain the same. If it is not compatible, MX Player will not load it.
Whenever MX Player will update with a newer version of ffmpeg library, it will check your loaded Custom Codec. If the Codec is outdated, it will show an error message:
"Custom Codec is out of date. Replace it with the new version"
In that case, download the newer version of Custom Codec for MX Player and update it. If not, keep the Codec as it is.
---
That's all! Comment below if you had an issue with Custom Codec. Do share this post if you found it helpful to you.
<! -- Footer -->