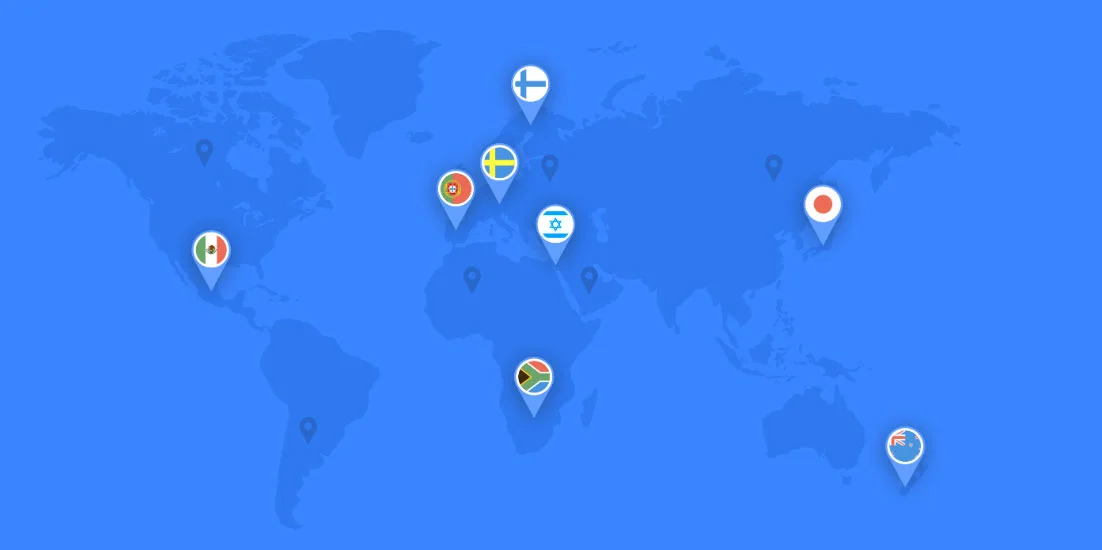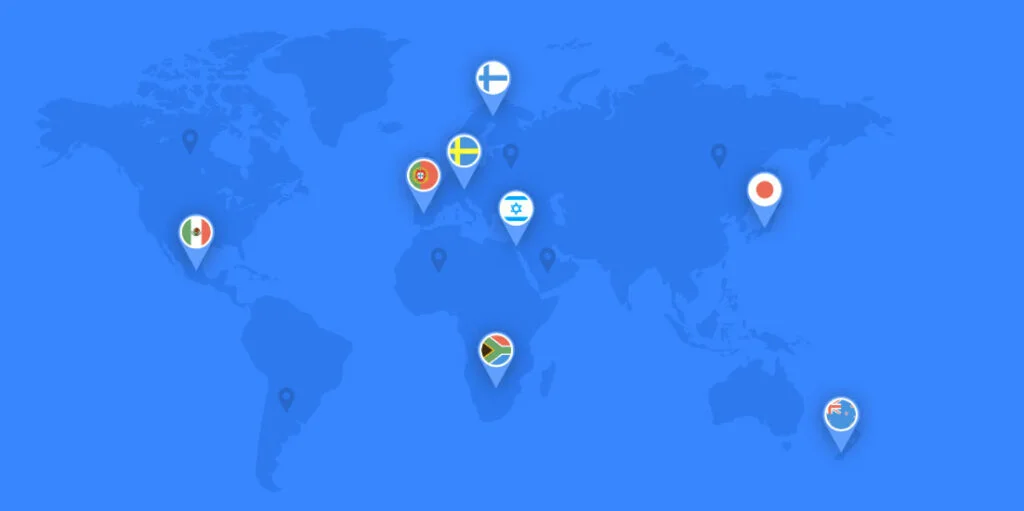 A VPN or a virtual private server, as it is defined, enables you to transmit data over an encrypted network, from your home. In a sense, one of the main purposes of a VPN is to provide you with the security you require, when transmitting or accessing important information online.
Given the fact that there are countless reports of hacking trickling in, each year and the resultant cost running in billions, it makes sense to go in for a VPN, when using public networks such as Wi-Fi to connect online.
When you try to connect online using your desktop or your laptop, your server would essentially send out a request via the Ethernet and the modem. Once the data request reaches the modem, it is transmitted via the cable network or Wi-Fi to the respective servers, where it is processed and the information is sent back to your IP address. All of this happens in a matter of seconds and is mostly instantaneous.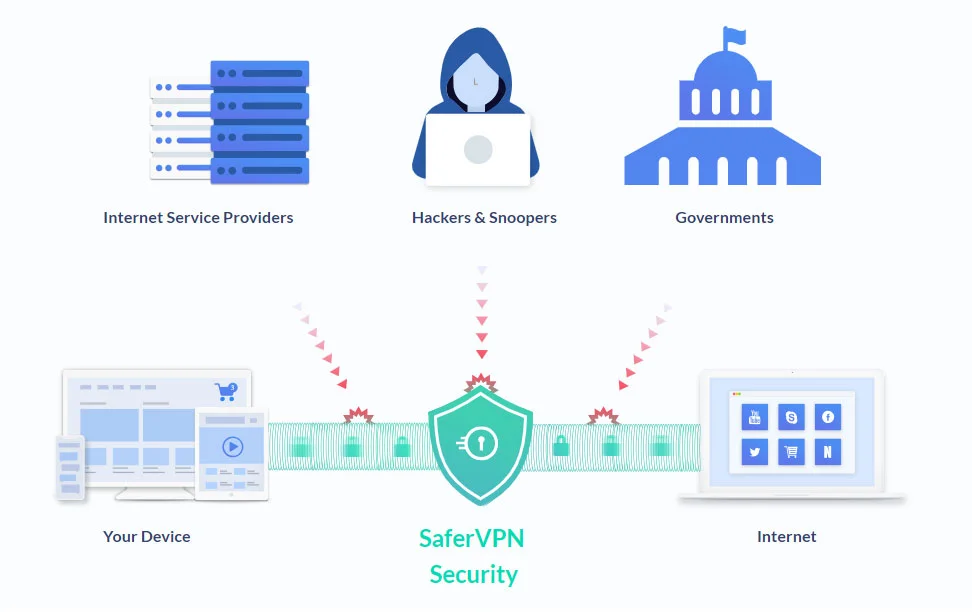 When you try connecting online via public networks such as Wi-Fi, it is very easy for someone else connected to the same Wi-Fi network to access the data or information package. In simple terms, your data would not be secure.
This is why it makes more sense to use VPN, along with your Wi-Fi or net cable, as it can help provide you with the security you need. Furthermore, with the help of a VPN, you can change your location and access data that you may have not been able to access to, at the current location.
What does a VPN do?
A VPN keeps you safe and secure. Think of it is a secure tunnel, one that is encrypted between your computer and the VPN's servers. And while you are connected to the VPN's servers, all your information requests and all data packages pass through the VPN's servers located elsewhere.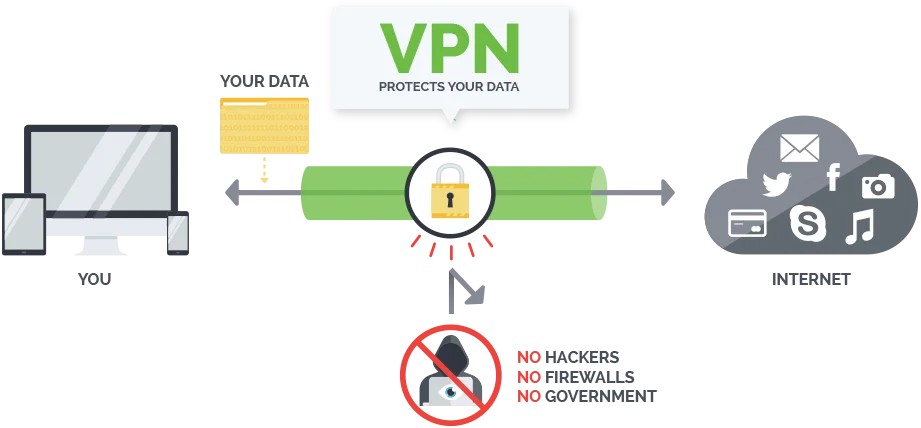 And, what makes it more attractive is the fact that no one can see or hack into your data traffic, not even your ISP (internet service provider) until you close the connection with the VPN. A VPN can help keep you safe, and your information secure; it can protect you against massive data breaches.
And, if you take care to log only to HTTPS sites, then all your information would continue to be encrypted even after exiting the VPN.
How do VPNs work?
VPNs essentially help mask your IP address, and the information blocks that had been assigned to your request would carry the IP address of the VPN server rather than your home location. This provides you with an extra layer of security especially when transacting or accessing sensitive information.


So, you would like to set a VPN account, right? That's great, the first thing that you need to do is to choose a VPN provider. After you have paid and got your credentials, you would have to set up the VPN manually or use a program or App for the same.
Your VPN provider will provide you with detailed step by step directions, which you can use to set it up. You can also easily do it with your Android by heading over to settings on your phone, and clicking on "internet and connections". Just follow the directions listed there and you should be able to set up your VPN connection.
How to use a VPN?
Most VPNs require you to sign up using a verified email address and once you have made the payment, you should receive your credentials. Nearly all VPNs are compatible with all devices and operating systems.And furthermore, all VPNs provide you with detailed guides to help you with the installation and configuration of the VPN.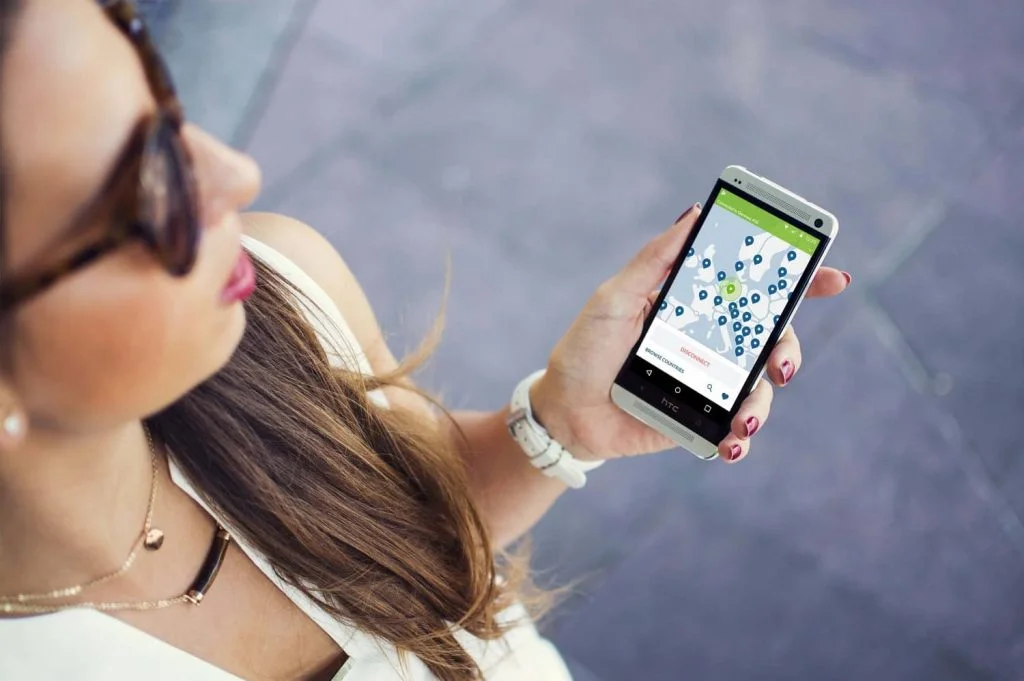 Once you have properly downloaded and configured the VPN on your system, you should be able to log into your VPN using the credentials that you were provided with earlier. And, inside the VPN panel, you can click on 'connect' and it will connect you with the VPN server closest to your current location. Or in most cases, the ones with the lowest latency and the highest speed.
You can also tweak the settings on your VPN and opt for OPEN VPN protocols as it is much more secure. Once you have connected to the VPN server, all your data and information is encrypted from the moment your information leaves your computer, until it reaches the VPN server. It also provides you with DNS resolution which can help provide you with an additional layer of security.
What can I use them for?
Whether you are looking to access your online bank account or want to access geographically restricted websites, a VPN can help you do just that. Rather than depending on the odd chance that someone is sharing the Wi-Fi network would be able to steal your data, it is better to depend on a secure VPN to connect online and stay connected.
Moreover, the VPN will utilize the same Wi-Fi for internet connectivity with your real IP address being masked as well as your current location. You can use the VPN for more security as well as to access various networks and websites over a secure, encrypted channel.
How to choose the right VPN?
When it comes to selecting the right VPN, it can be easier said than done, as there are so many VPN providers out there. Moreover, most of these VPN providers realize that security is one of the main concerns of most of their customers. As a result, most of these VPN providers often advertise their product as one of the most secure ones in the market.
That's why you may want to check out the below listed metrics, which you can use to evaluate each VPN. By testing them out for a week or so, you should be able to know as to which VPN is a good fit for you.
Cost
You may want to check out the cost of the VPN package and determine if it is the right one for you and whether it comes with any perks or add-on packages.
Free vs Paid
As surprising as it sounds, some of the VPNs are free to use but yes, there is a catch. A few VPNs do provide free packages but would also run several ads in the background.
And, when it comes to a question of free vs paid, it is always better to opt for the paid option, as it can offer you better security and keep your data safe.
Security
It is a good idea to try out the VPN on a trial basis to check and see if it does offer you the encryption you require.
Determine if the VPN in question allows you to set the required security protocol, such as OpenVPN (UDP and TCP), L2TP/IPSec, PPTP, and SSTP and automatic.
Reliability
You also need to determine if the VPN in question is reliable and can be depended on, which is why we suggest that you take advantage of the free trial offer.
You need a VPN that can be reliable, round the clock and can provide you with the services you require.
Server locations
Most VPN services often list the countries that their servers are located in. Some of the VPNs often list the IP addresses and home location of their servers.
You can use various online services such as "What is my IP address", after connecting through the VPN to determine if this is for real.
Privacy policies
You may want to check with the VPN providers in regardsto their current policy on privacy. You may want to do this to ensure that your data and information remains both private and confidential at all times.
Data cap
Some of the VPNS offer tiered packages and offer data cap on their most basic packages. You need to determine if the VPN has indeed instituted something along these lines.
Benefits of using a VPN
Choosing the right VPN may require a bit of grunt work on your part, but it should be well worth it, given the added benefits that you accrue as a result.
Here are some of them, listed below for your reference:
Mask your current IP Address: With the help of an effective VPN, you should be able to mask your IP address from everyone including your ISP.
Security: With an effective VPN, you can view, review key data and information over a secured and encrypted server. This can help provide you the security that you require.
Access restricted data: With VPN, you should be able to access restricted data and websites, in your current location.
Bypass censorship: By using the VPN, you should be able to surf online securely and at the same time, not have to worry about censors.
Download files: With a good VPN, you should be able to download the files you need, at high speed.
Best VPN for your exact needs
Granted that you could be using VPN for various requirements, which is why you need to sort through the various VPNs depending on your current requirements. For example, you can choose the best VPN for streaming online movies, videos, etc.
It should be pointed out that most of the free VPNs offer a data cap restriction, which may prevent you from streaming most of the online content. However, with a premium subscription and with a reliable VPN provider, you should be able to stream any content online without any hassle.
You can even check out VPNs which provide similar service for your Android and secure any and all communication on your phone with a good VPN.
The fact remains that all VPNs allow you to stream content such as Netflix, which you can stream onto your laptop or any other device. In fact, these VPNs should work on any device, including Mac, and on any OS, including windows and Chrome. So, when reviewing out the various VPNs, make a list of your requirements and see if there is a match.
What devices work with a VPN?
Actually, all devices work with a VPN. In fact, most VPNs often advertise the same. Naturally, you can connect the VPN with your laptop, your Android as well as other digital devices including Fire Stick, TVs, routers, and more.
In fact, you can connect various digital devices at the same time, to the VPN and in the process, provide your family and friends with secured net connectivity.
How to get the best speed and performance from a VPN?
Let' clear something up, VPNs aren't an anonymization service, but what they do is provide you with a secure and encrypted tunnel, which they do, effectively. And data encryption can affect the performance and speed of your laptop or your desktop if the VPN is not that good.
In a sense, you are subscribing for VPN services for safety and security, without having to deal with low speeds and server issues. And, no matter if a VPN advertises that they can provide you with great speeds, the fact remains that your net connection will slightly slow down and there will be a slight latency.
The only question that needs to be answered is how the speed at your end will be affected by subscribing to a single VPN as opposed to another one altogether.But the good news is that a few VPNs have started to offer high bandwidth servers, which in turn should help provide you with better speed and performance at your end when using the said VPN.
For example, you can use the Ookla speed test or some other highly recommended online speed test to test and check out the VPN at your end. Once you have an idea of how fast the VPN is and whether it will affect speed and performance at your end, you can make the selection. Just remember to take into account the various metrics, and evaluate each VPN after considering all the requirements.
Now that we have discussed all the details regarding VPNs, how they work, and how they can help protect your data and provide security; let's move on to discuss some of the best VPNs available out there in the market.
Here, we bring to you a list of all the top-class VPNs that are best of all the rest. We will review each one of them in detail, so you can make the decision of selecting the best VPN for yourself by being completely informed about these excellent VPNs.
So, let's get started.
CyberGhost VPN -

10/10

ExpressVPN -

9.8/10

Hide My Ass VPN -

9.6/10

IPVanishVPN -

9.4/10

NordVPN -

9.2/10

PureVPN -

9/10

SaferVPN -

9/10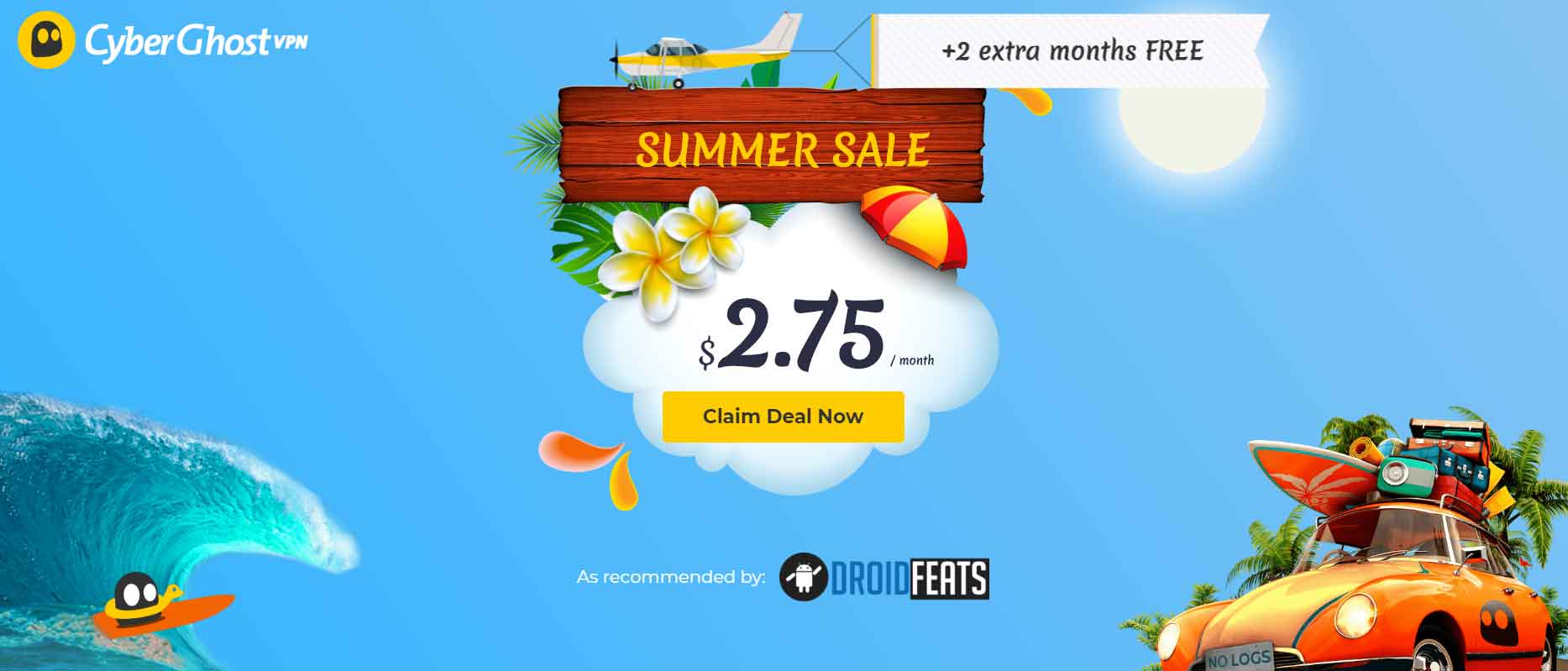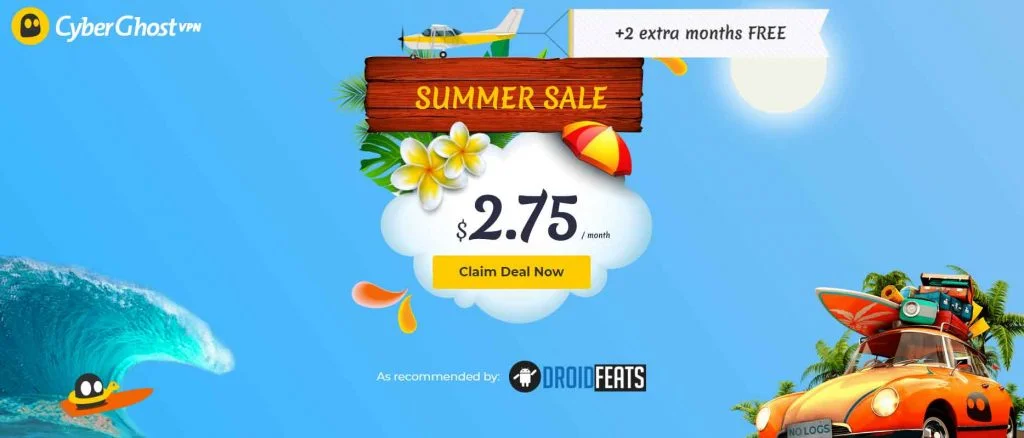 Today's turbulent internet landscape has made VPN services become more and more of a necessity. Companies want to know everything about your online habits and preferences. Hackers want to get their greedy hands on your card details or social security information. Governments want to keep their citizens in check by cutting out access to websites that they deem unsafe. Streaming services apply preferential treatment to users from certain countries.
All this played a big part in the rise of dozens and dozens of VPN service providers. And all of them claim to be #1, the best, the fastest, the most trusted, etc. It may be hard to believe, but all this does is create confusion for the regular user. Confusion that leads to action-paralysis. Hopefully, this short article will help you get some clarity and eliminate that confusion.
Getting started
CyberGhost is a German-born VPN company that now has its headquarters in Bucharest, Romania. The reason is simple: Romania is one of the most privacy-friendly locations in Europe. In fact, Romania's Constitutional Court was the first institution to oppose EU's Data Retention Directive back in 2009. And it happened again in 2014 when it declared the infamous 'Big Brother law' unconstitutional.
All this goes hand in hand with CyberGhost strict no-logs policy. The company's credo is that anonymity can only be guaranteed by keeping ZERO logs on its user's browsing history, traffic destination, data content or search preferences. Check out CyberGhost's Transparency Report for more info.
The app can be used on virtually any device and all platforms.
Creating an account
The journey to becoming a Ghostie – the nickname members of the CyberGhost community are referred to – begins by choosing one of the 3 pricing plans available. What does not go unnoticed is that CyberGhost offers some of the most competitive prices available on the market.
Payment and pricing
Once you've chosen the option that suits you best, you will be taken to the pricing page. You have several payment options to pick from, including the possibility of paying with Bitcoin.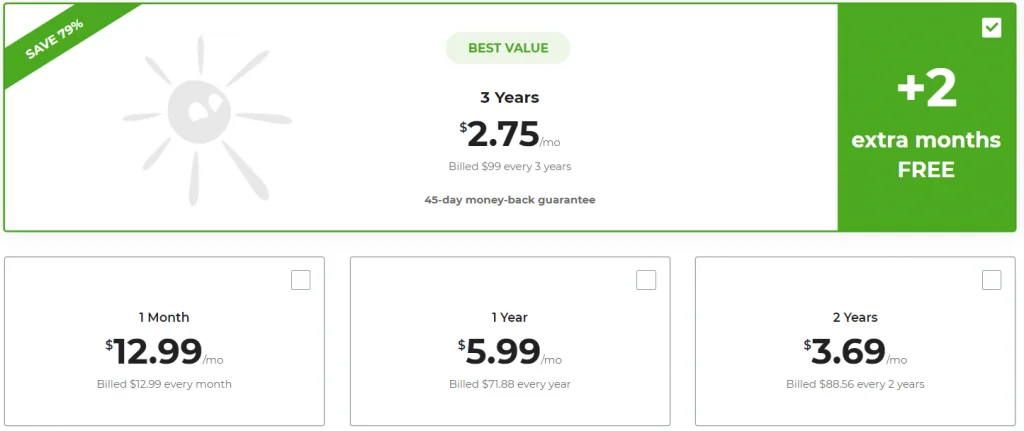 It's also worth mentioning that CyberGhost offers tiered pricing. You can choose between being billed once every 3 years, once every 12 or 24 months, or even monthly.
Installation
CyberGhost VPN caters to users running:
iOS,
Android,
Android TV,
Amazon Fire TV,
Amazon Fire TV Stick
or other operating systems.
Setting up CyberGhost is as easy it gets. There's a quick 3-step guide in place to help those of us who may run into small trouble installing the app.
Plus, if you still have issues, you can always resort to contacting the team of professional technicians that are there to help you out 24/7. However, we doubt that you'll have any trouble whatsoever.
Setup and settings
Windows
Once you have installed the app, you are now ready to get started. Double-clicking the app icon will open the app in the right corner of your screen.
One click on the power button in the middle is all it takes to make the magic happen.
It's as easy as it gets.
Other VPNs may force you to go through some frustrating trial and error before you discover the server that offers the fastest connection for you.
Luckily, that's not the case with CyberGhost. The app has a built-in option that automatically connects you to the fastest server based on your location.
The yellow arrows on the bottom left corner open up CyberGhost's detailed view.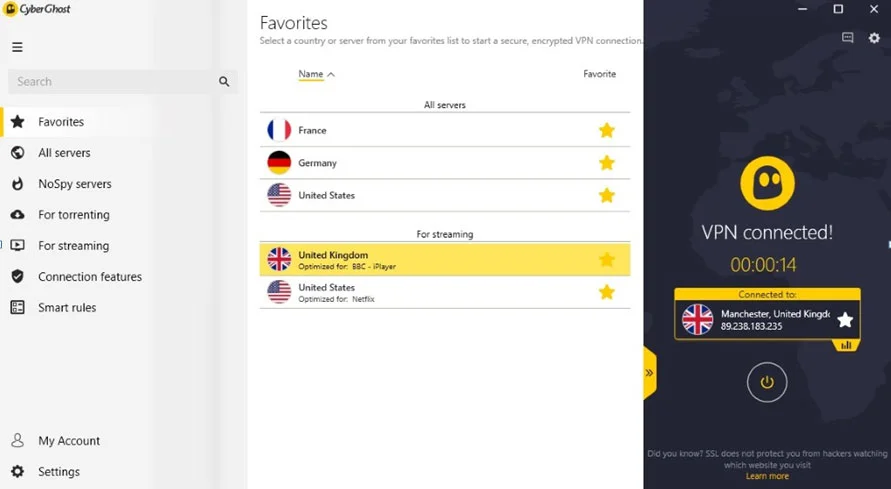 Let's say you want to enjoy Netflix's US content library. It couldn't be simpler. Go to the section for streaming dedicated servers and connect to a US one that's optimized for Netflix.
CyberGhost offers 3500+ VPN servers across 60+ countries all over the globe. All of them are specially optimized either for streaming (Netflix, BBC, Sky, Hulu, YouTube, Fox, CBS, etc.), privacy, or unlimited, unrestricted and anonymous torrenting.
And all of them are no more than a couple of clicks away.
Android
The app looks and runs the same on Android – and across all other platforms. To install the app on your Android phone, just head out to Google Play Store.
Once installed a simple tap will fire up the app. There are intuitive tabs from where you can choose your desired servers.
Connecting to a new WiFi network will automatically spring up a notification letting you choose whether you want CyberGhost to protect your data inside that network or not.
All in all, the app benefits from a slick and super-clean user-interface that makes every action come as natural and effortless as grabbing a glass of water.
Ease of use
With the launch of its newest app generation – the 7th – CyberGhost has found a clever way to make it easier for the regular user to take full advantage of its powerful, complex, and multi-layered infrastructure.
As a result, CyberGhost 7 combines a smooth, user-friendly interface with a top-notch technology stack that offers simple and intuitive app access while maintaining its capacity to provide unrivaled online privacy and anonymity.
A click or tap is all it takes to fire up CyberGhost VPN. Plus, you're never more than a few clicks away from none of the app's numerous features.
Security and privacy
One of the standout benefits offered by CyberGhost VPN is its concern for its users' privacy. The company is as transparent as it gets about its No Logs policy. Absolutely anyone who is interested about it can see with their own eyes how CyberGhost manages to stay true to its policy inside its yearly Transparency Report.
Besides the fact that CyberGhost stores no records of your browsing activity, you'll also get to enjoy the highest available encryption standards. To top it off, you'll also have an automatic kill switch that will always make sure none of your data gets leaked outside the secure VPN tunnel.
There's more. CyberGhost also comes with DNS leak protection, WiFi protection, and its own anonymous servers.
Speed
One of the most controversial aspects of using a VPN is the joint speed-drop. If you google 'VPN,' you'll probably find that a lot of people complain about some huge speed-drops.
So how does CyberGhost 7 rank in this department? A speed test is a sure way to find out for ourselves.
This is what it looks like with the VPN on:

Compared to having the VPN off, the only significant difference is in download speed, where we had a drop of a little over 32%. Now you may think that's a lot, but for the everyday user, that's a difference you'll never even notice.
Upload speed and ping were insignificantly affected.

Also, connecting to a CyberGhost VPN server only takes about 4 to 5 seconds. That's fast! However, this may depend on the location of the server you are trying to reach.
Key features


Other key features of CyberGhost VPN include:
3500+ servers in 60+ countries
Strict No Logs policy
24/7 customer support
Multiple protocols support
Rocket-like speedUnrivaled app customization options
Intuitive integration across all supported platforms
Final thoughts
As VPN services are becoming more popular, the battle for supremacy gets fiercer and fiercer. With its latest app generation, CyberGhost has stepped up its game big-time by making such a complex service accessible to all.
The fact that they can afford to offer their service at a price that's more than 2 times cheaper than some of its competitors is almost too good to pass up on.
Their low price – $2.75/month for the 3-year plan – combined with their 45-day money-back guarantee (no one else offers such a big guarantee) gives CyberGhost immense value for money. You can try the app out for yourself by taking advantage of a81% discount available only for a limited period only.
---
ExpressVPN (Editor's Choice) – review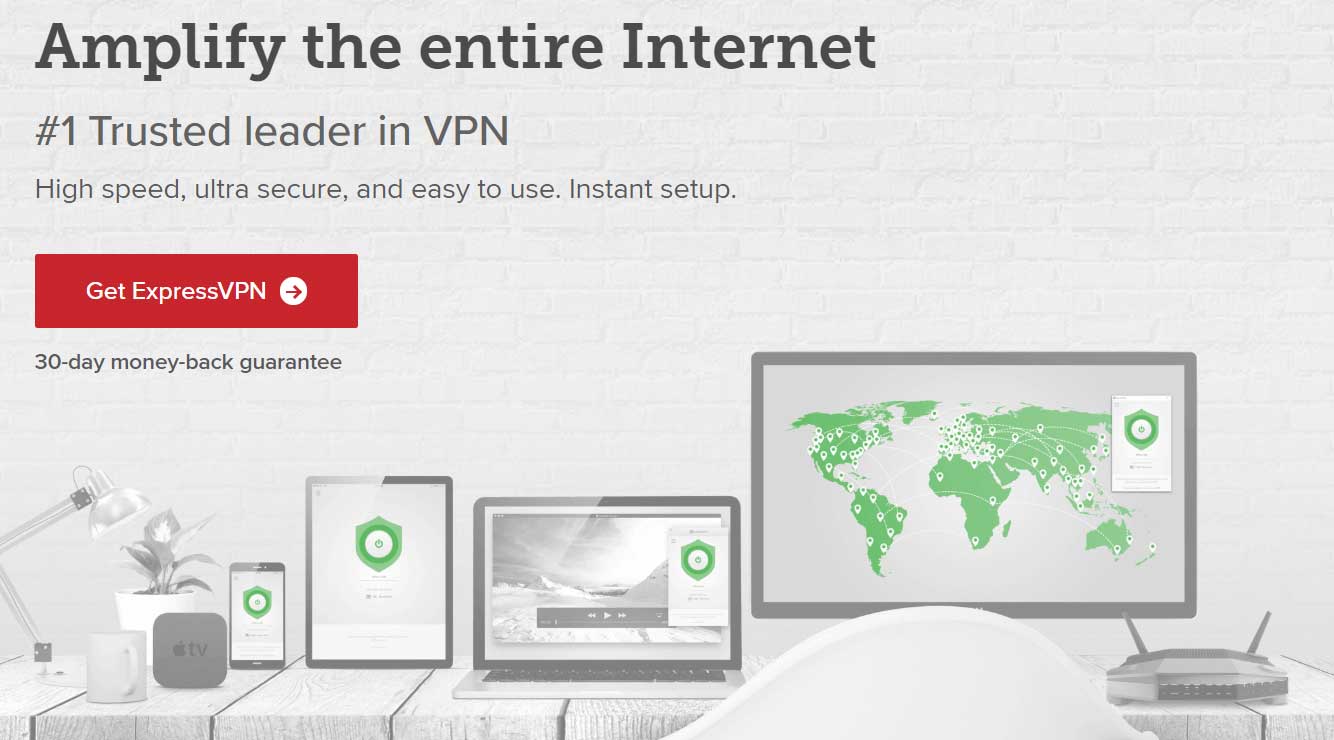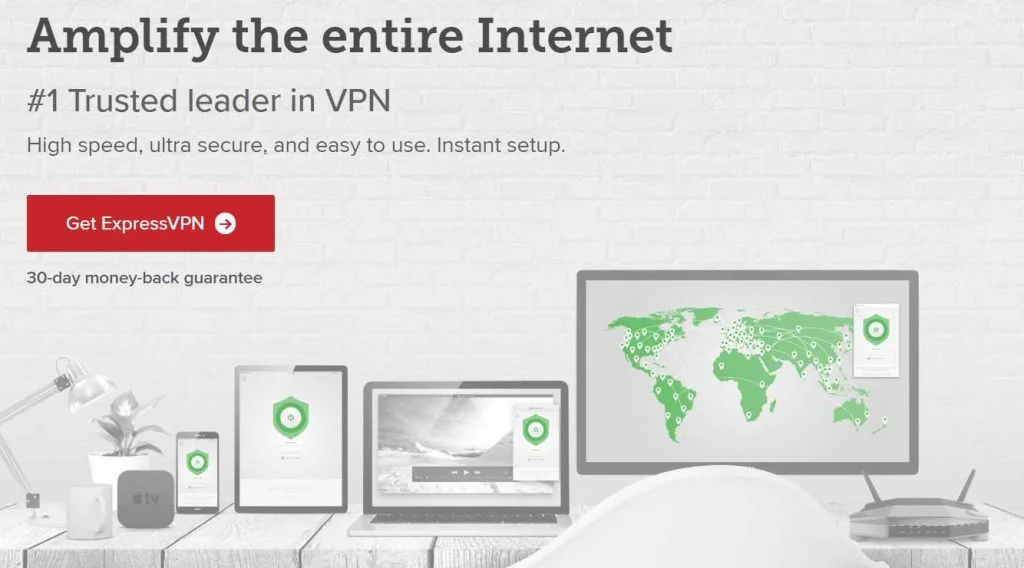 It cannot be denied any longer as VPNs are fast transforming the digital landscape. For starters, VPNs will provide you the safety and security you need, when you get online. In fact, you no longer have to compromise on either with low quality unsecured networks such as Wi-Fi. And, if that's not enough, these handy tools can help you get around firewalls and even mask your IP address and current geographic location. In short, you can use it to watch content that may otherwise be geo-restricted to your current location.
Getting started
ExpressVPN happens to be one of the best and here is how you can get started with using this VPN.

Creating an account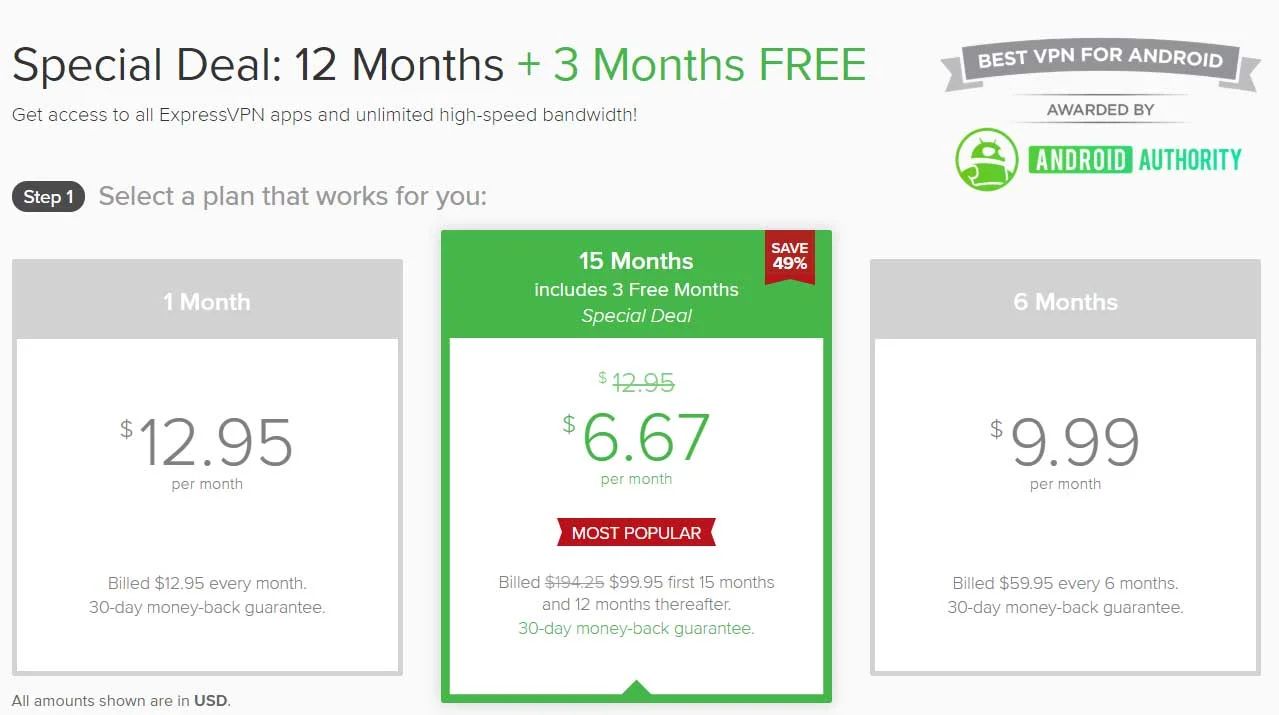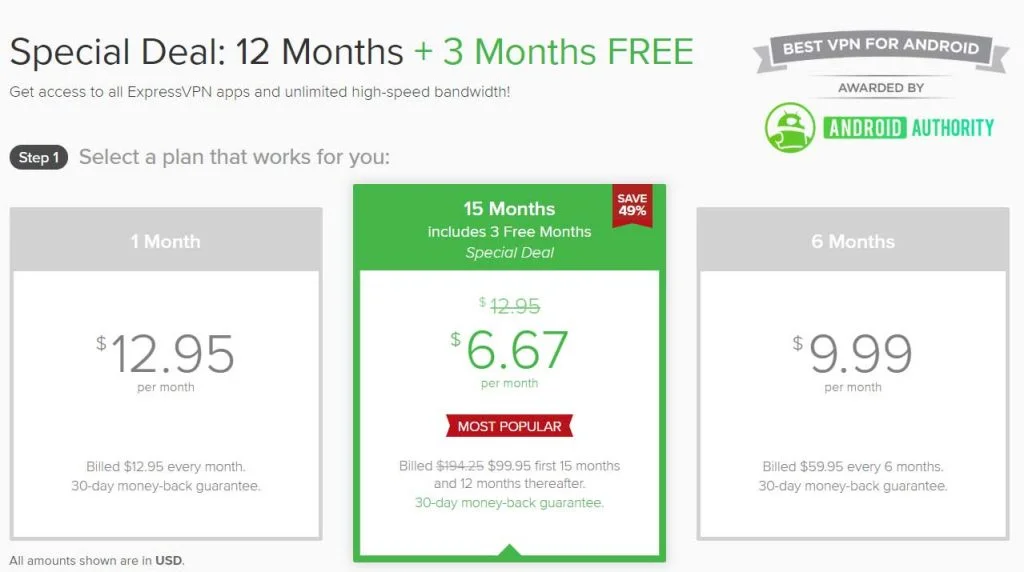 ExpressVPN requires you to possess a viable e-mail in order to register for an account. Of course, it is guaranteed that any information you share would be kept confidential and not shared with any third party. And also, that they would only use any information you provide to help improve customer service, and that's it.
Payment and pricing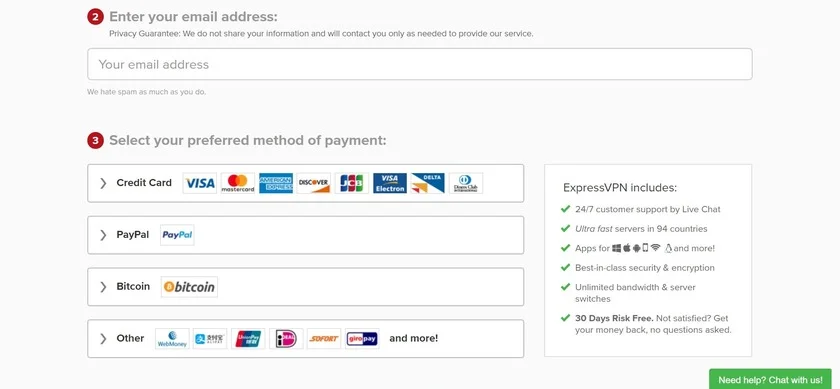 ExpressVPN offers tiered pricing. It currently offers several plans including one for $12.95 per month. There are other tiered plans that you can opt for, such as $59.95 for six month which works out to $9.99 each month or $99.99 annually ($8.32 per month).
Installation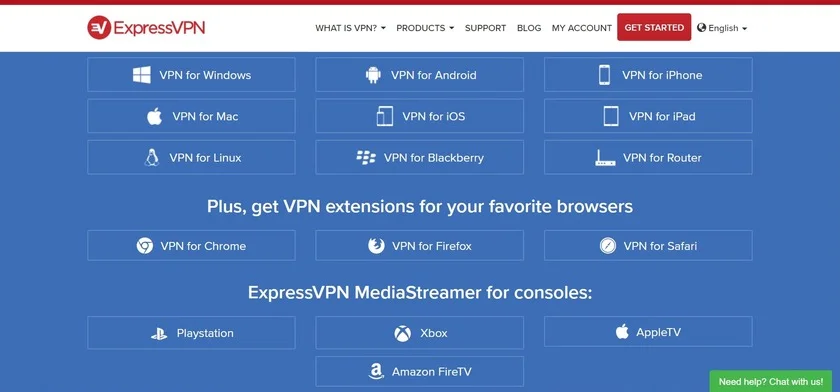 ExpressVPN is compatible with most devices and operating systems. You can set it up quite easily and download files to your Android, Windows, MAC, iOS and even Blackberry using the VPN.
This VPN also comes with handy guides that you can use to set it up and patch it with your current Wi-Fi network including your gaming consoles such as Play Station and more.
Set up and settings
Windows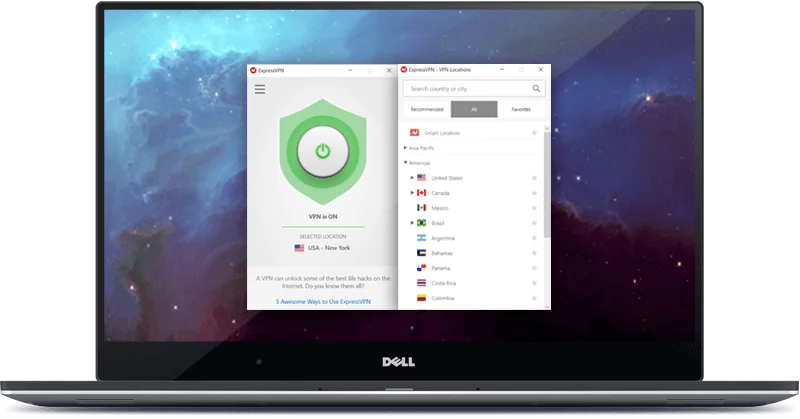 Once you have downloaded it, you can now open the Windows App. It should come with a toggle on and off, turn it on. Now, the App, which is intuitive, shall choose a smart location; that is, it will pick the server closest to your own or choose one that's fast.
The VPN should also display it various servers, including the recommended ones. And it also comes with a customized search bar as well. Now click on the hamburger button on the top and from the drop-down menu that opens up, you can choose to connect the VPN, check out the VPN's location list, and help section, diagnostics along with a help section and an option to 'quit'.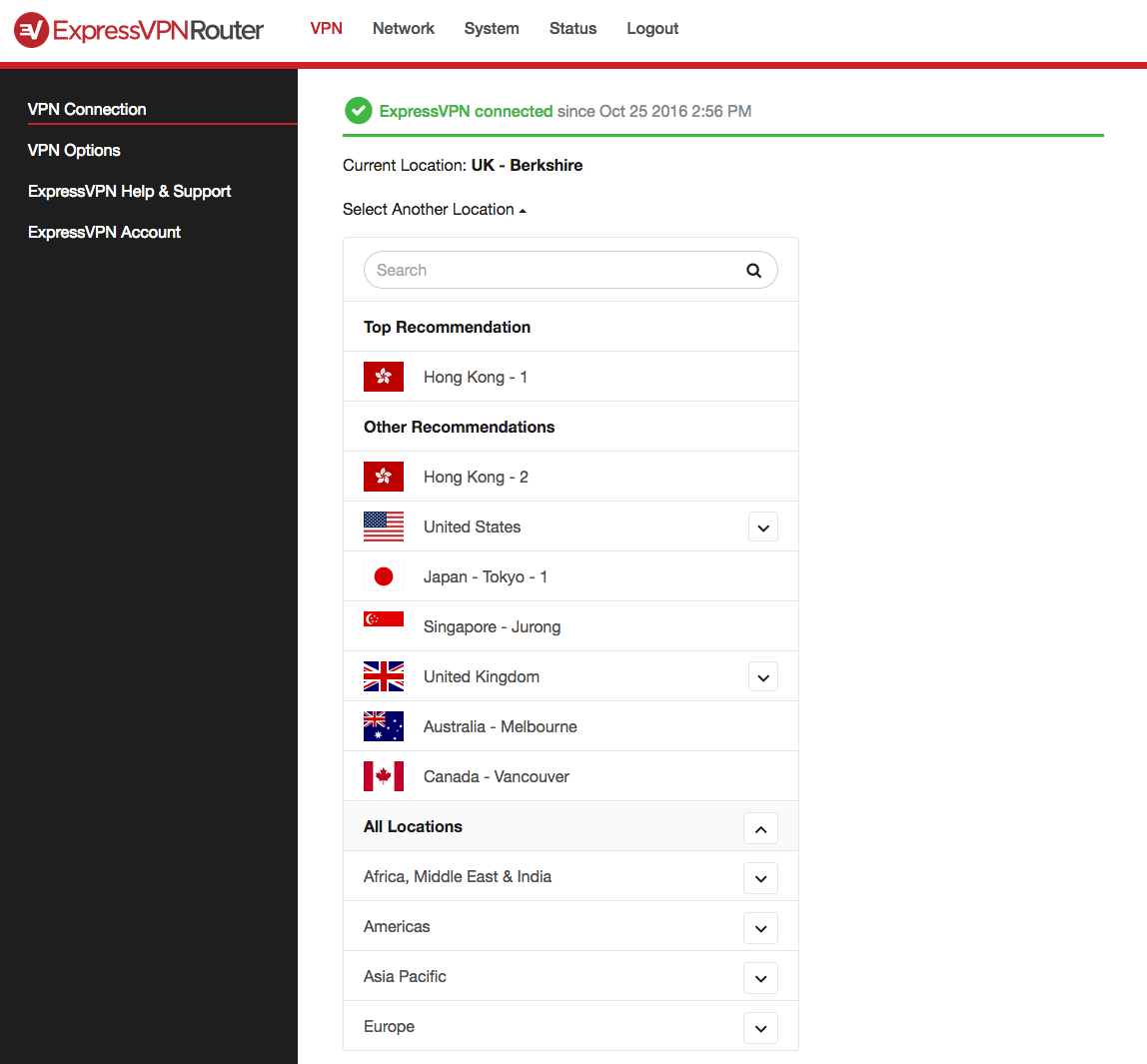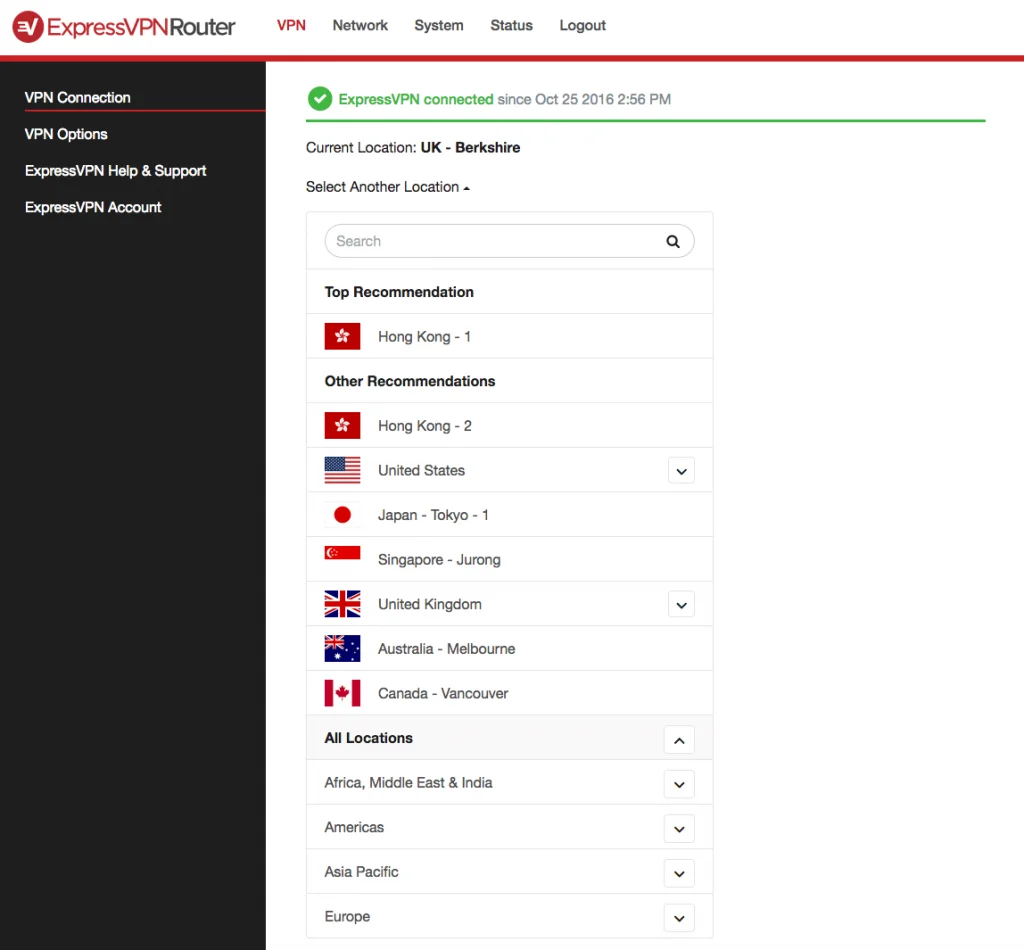 The options page should open up the settings page, which will feature the following:
General behavior: customize start up behavior and enable network lock
Protocol: Choose which protocol you want to use
Account: It should display your account information
Browsers: for a browser extension
Advanced options to prevent iPV6 leak information
Android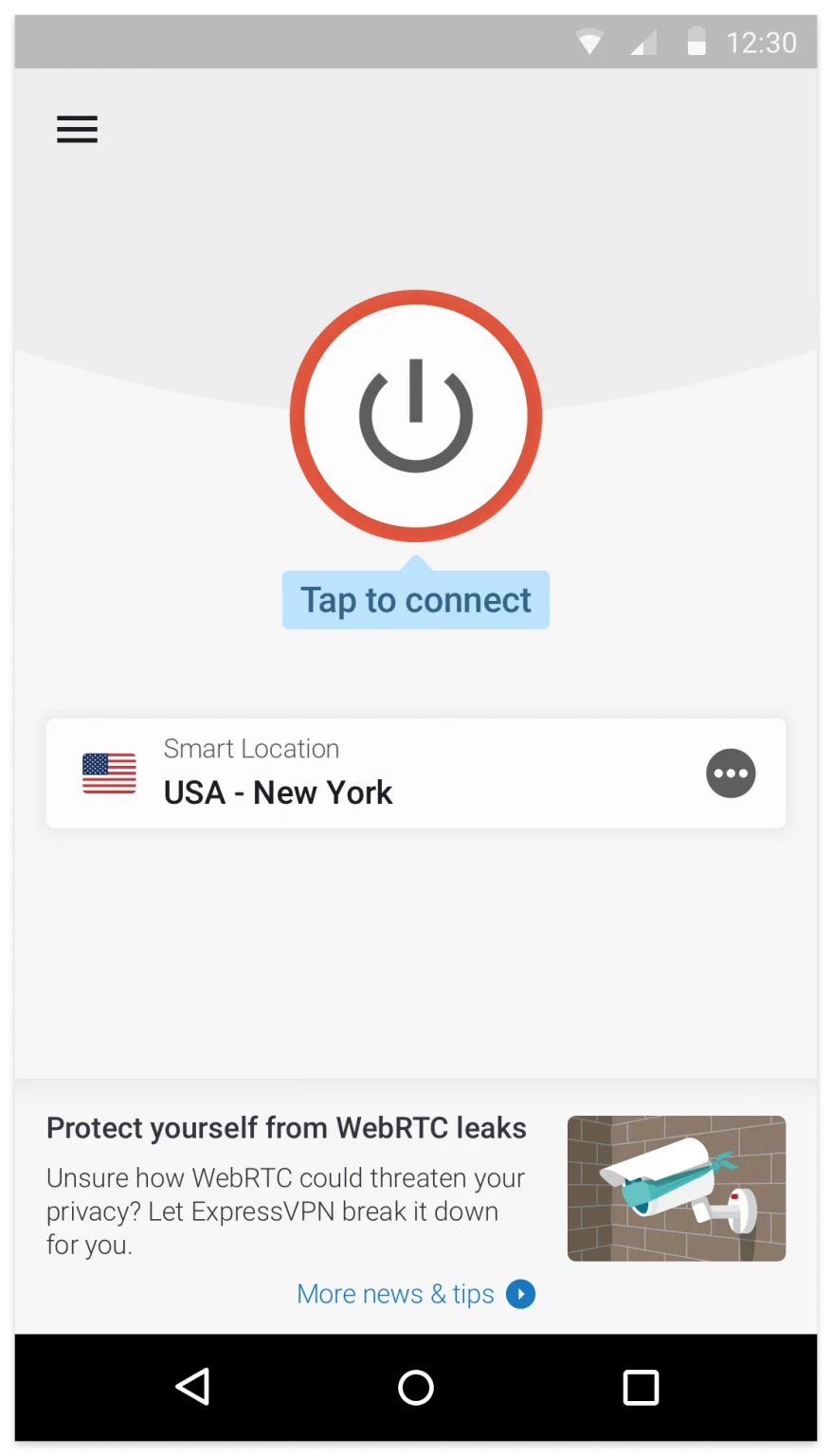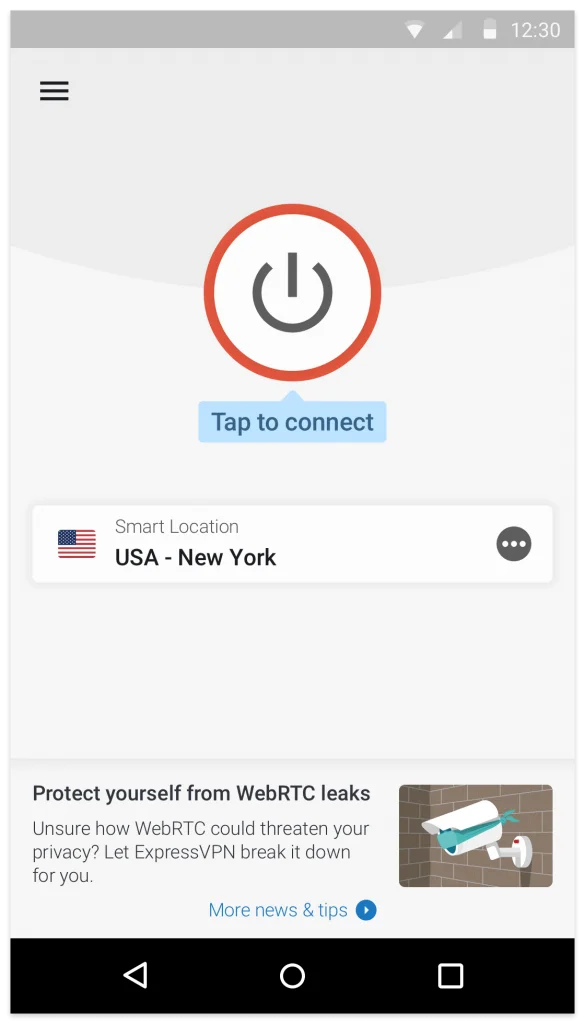 The Android App for ExpressVPN works just as the windows App does with a few differences. It can be downloaded from the Google Play Store and installed in a few simple steps. The Windows and Android Apps are largely the same, so there is no learning curve here. You get the same large button and Smart Location pre-selected when you open the App.
Tapping on the Choose Location button opens the list of servers, and tapping on the hamburger menu gives you access to the Settings and other app information. Another working of the app is also similar. The settings menu has a lot of options for you to explore and use the VPN to its fullest.
Ease of use
ExpressVPN, be it for Windows or Android is quite easy to use. The menu is user friendly and intuitive, thereby making it a lot simpler. All it takes to connect to the VPN is a single tap and that's it.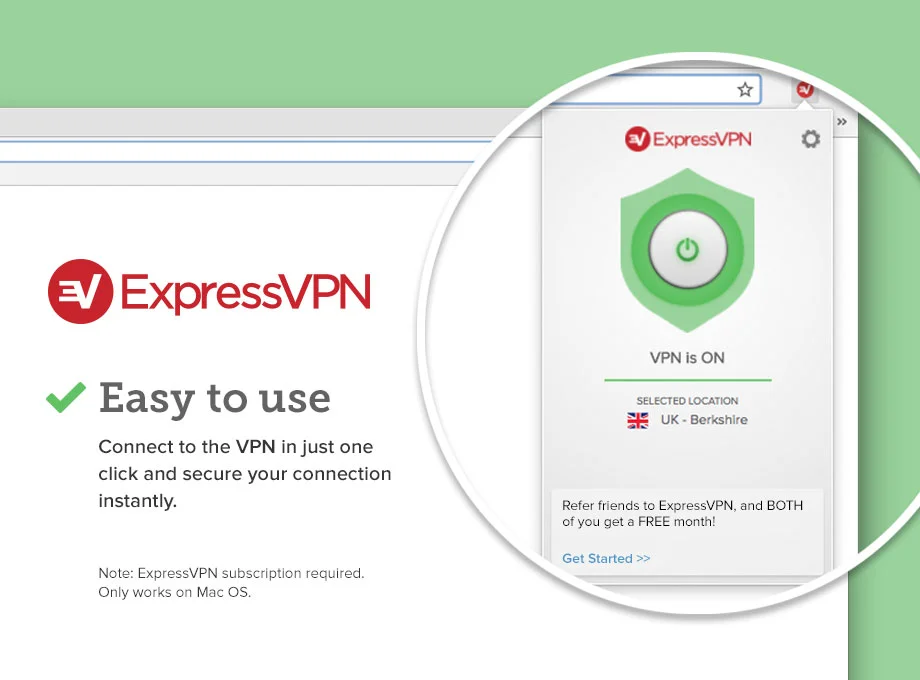 Security and privacy
ExpressVPN comes with a lot of security and privacy features. It logs all the activity when the VPN is on and lets you know if there is any suspicious activity in the background.
This VPN also comes with its own DNS servers, DNS blocking, Lock and kill switch, DNS/ iPv6 information and more. It also comes with some of the best encryption possible.
Speed
When it comes to VPNs, it is important that you select the one that is not just fast, but quite good as well.
For example, the ExpressVPN comes with no lag or buffering time. It only took us about 8 seconds to connect to a server and is quite fast.
Key features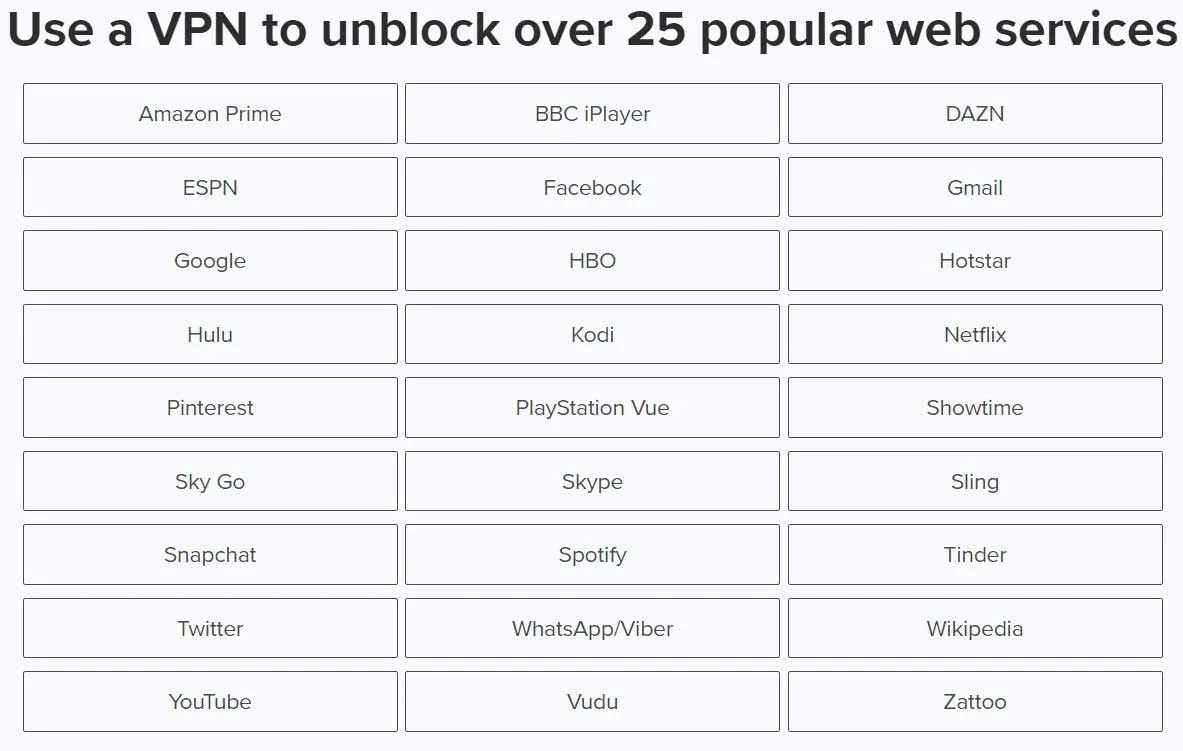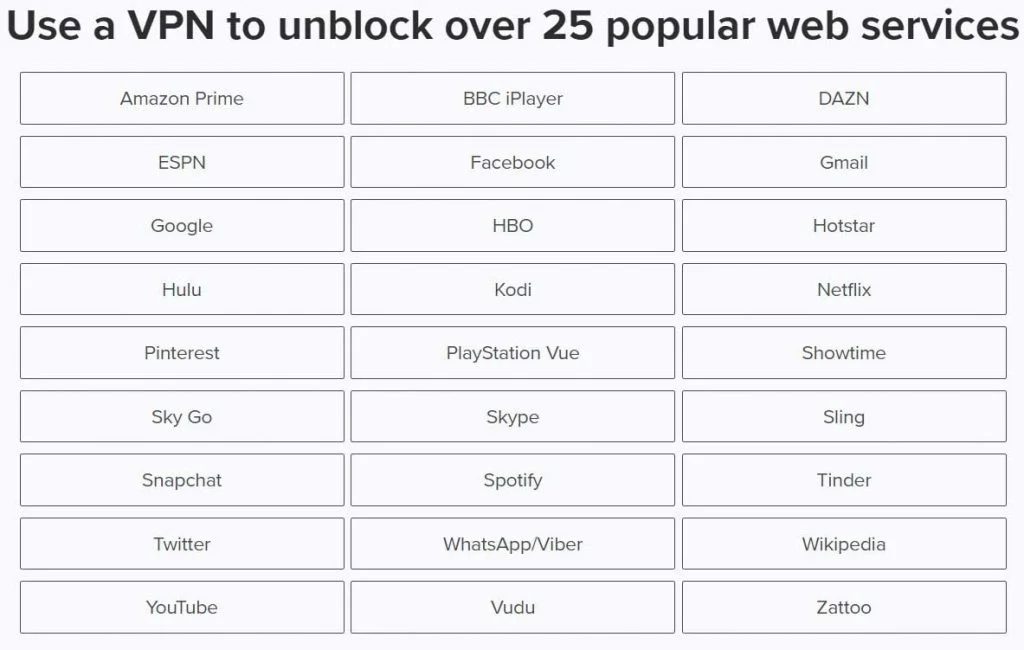 Some of the key features of the ExpressVPN happen to be:
Zero activity and activity logging
ExpressVPN also comes with 148 server locations.
You can use this VPN to mask your current location and access content that had been restricted to you because of geographic restrictions.
It also comes with 24/7 customer service.
Final thoughts
Well, the ExpressVPN certainly seems to have been designed for the novice; it is simple and easy to use. The overall performance has been more than satisfactory. You can now use this VPN to watch videos from around different places in the world.
Pros
Simple to use
Fastest and one of the most reliable VPN services
Secure
Supports OPEN VPN protocol
Cons
Connections may drop suddenly
More expensive than some of the competitors
Button line
The ExpressVPN happens to be one of the best in the market for all the right reasons. It certainly ticks off the right boxes, and soon you can access some of those geo-restricted content at highspeed, thanks to ExpressVPN.
---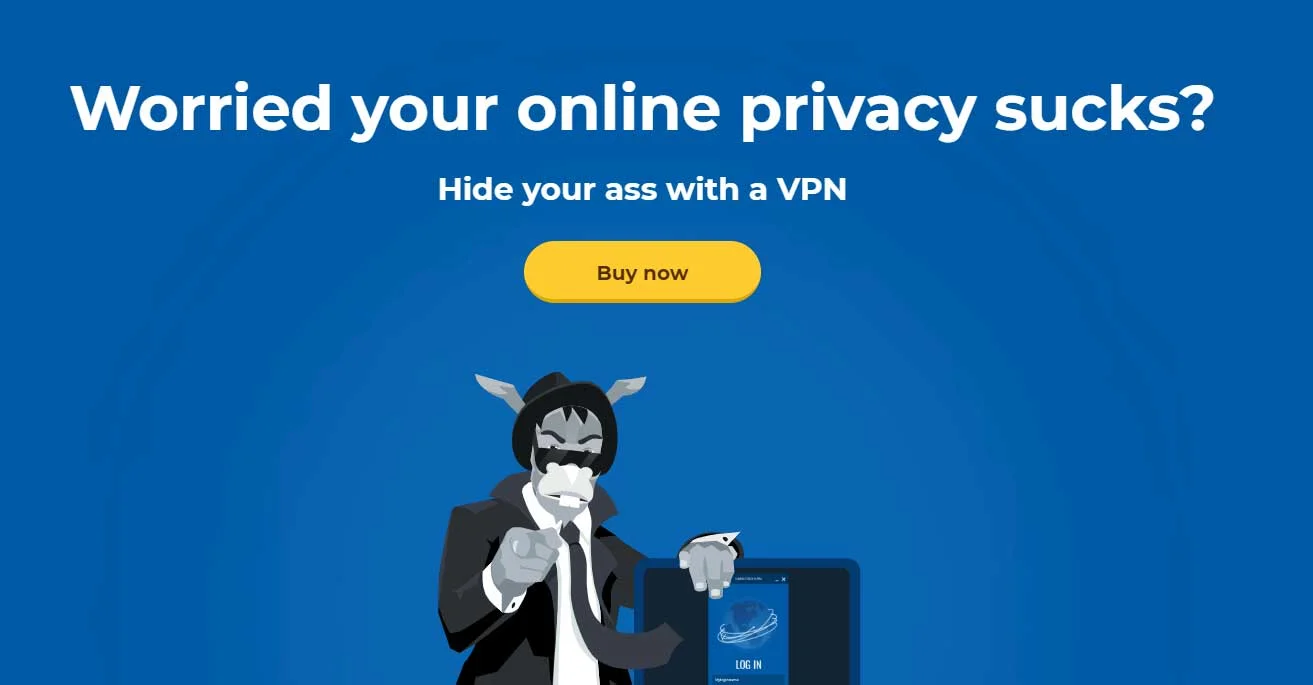 One of the reasons that you need a premium VPN service is for safety. Most public Wi-Fi networks can be easily hacked into, so you will need a good VPN that can provide you with secure tunneling for all your online communication.
This encrypted tunnel will protect your data and keep your information secure, which is why we decided to review theHideMyAssVPN for your convenience.
Getting started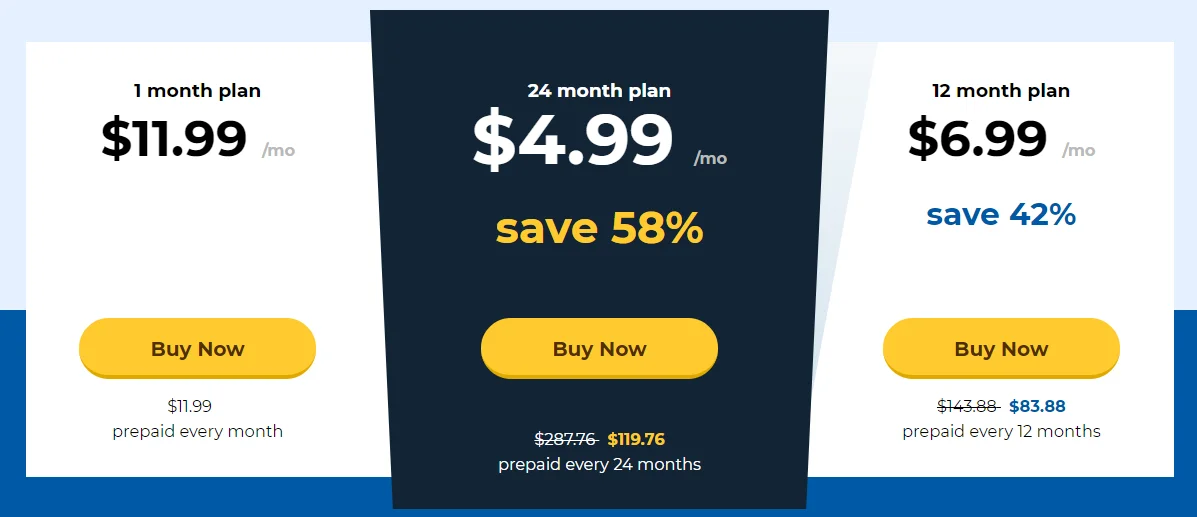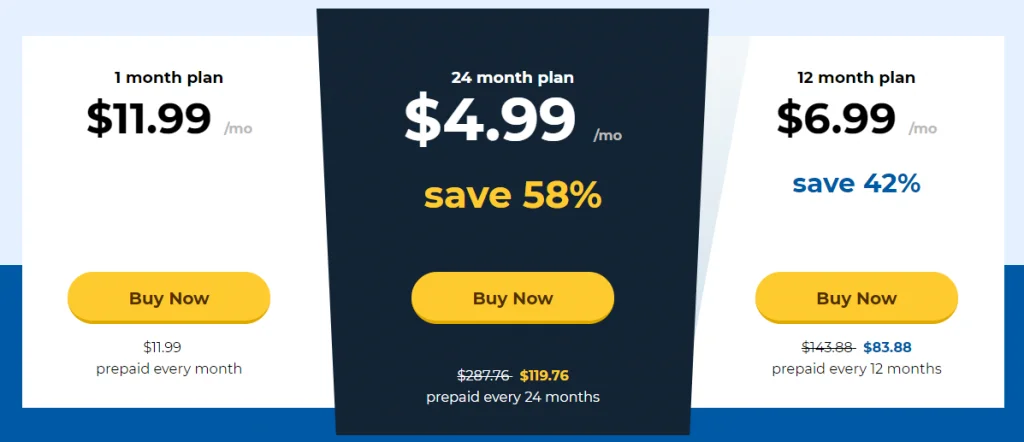 You need to register first for an account. Please note that you need to use a valid email address with your account in order to access any important emails sent by HideMyAss VPN.
Creating an account
Once you enter all relevant information, choose your payment plan, and validate your email address; you should be able to complete the registration process in no time.
Payment and pricing
HideMyAss VPN does not come with a free version or a trial offer. Instead, it offers different plans and you can choose the relevant one based on your requirements. This VPN costs around $11.99 per month, which makes it slightly higher than some of the other premium VPNs.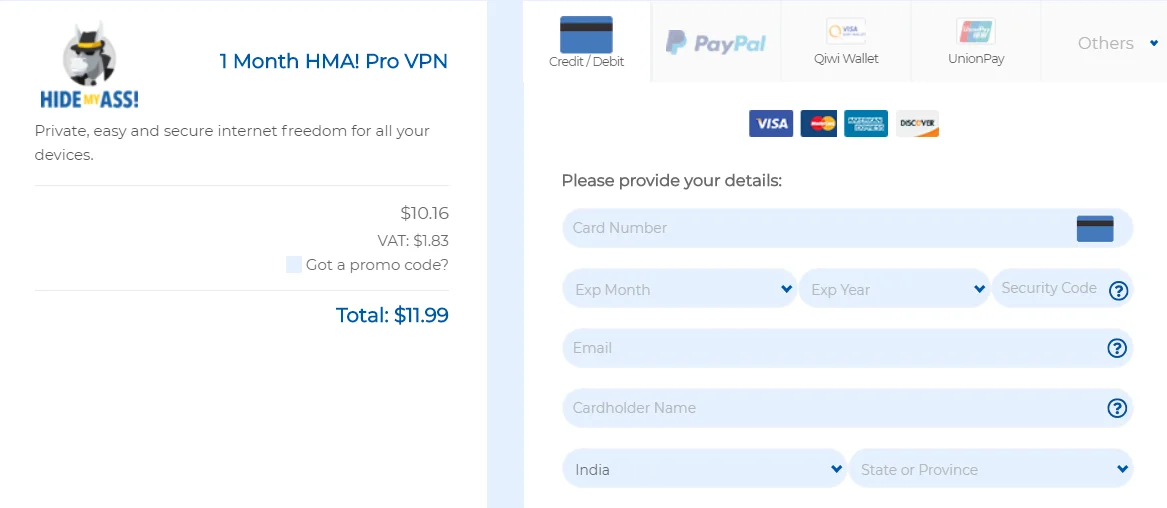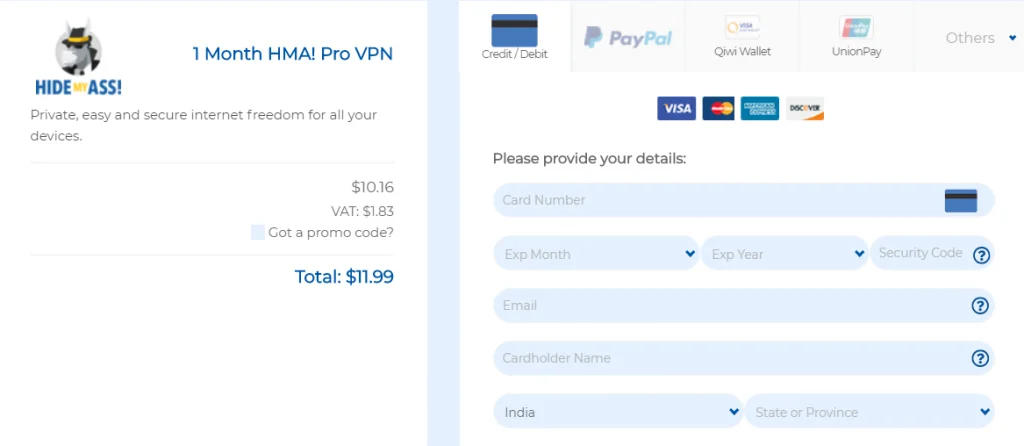 But it comes with interesting long-term packages such as $47.94 for six months and $83.88 for a year. You can select the plan of your choice and pay for the same with your Credit card, Debit card, PayPal, E-check or cash.
Installation
This VPN comes pre-installed on select Wi-Fi routers and comes with easy, step by step directions to use. This VPN is compatible with most devices and comes with easy to install Apps for Windows,Android, Mac and other devices.


For the rest of the review, we will take a closer look at the Windows and Android App.
Set up and settings


This feature is almost the same as most of the other VPNs. For the purpose of this review, we will concentrate on Windows and Android App for now.
Windows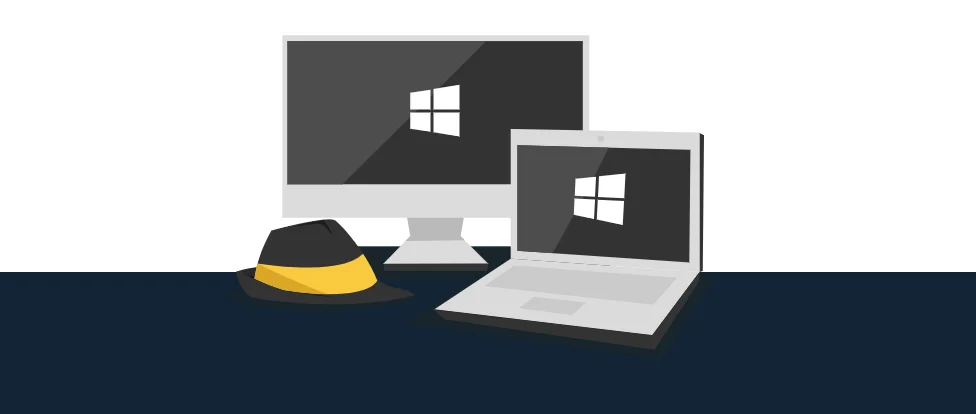 For windows, it is quite distinctive and comes with sharp but intuitive design. Once you log in, it gives you three scenarios by which you can get online right away. You can choose the instant mode or go in for the location mode, where you get to choose from one of the 220 locations, that the 780+ servers are located in.
The difference between the first two is that the instant mode, auto connects you and selects a server based on your current location and the latency of the server. The third mode is the freedom mode, where HideMyAss VPN connects you to the closest free speech country.
It comes with an easy interface, is simple enough to use and more importantly, it also comes with a big, simple button that enables you to connect easily. It comes with a few settings, from allowing you to configure the App to its security features.
Android
For Android, the VPN comes with more or less the same features as the Windows version, except that the layout is slightly different. But unlike the Windows App, the Android App uses OPEN VPN protocol, which is much safer in the long run.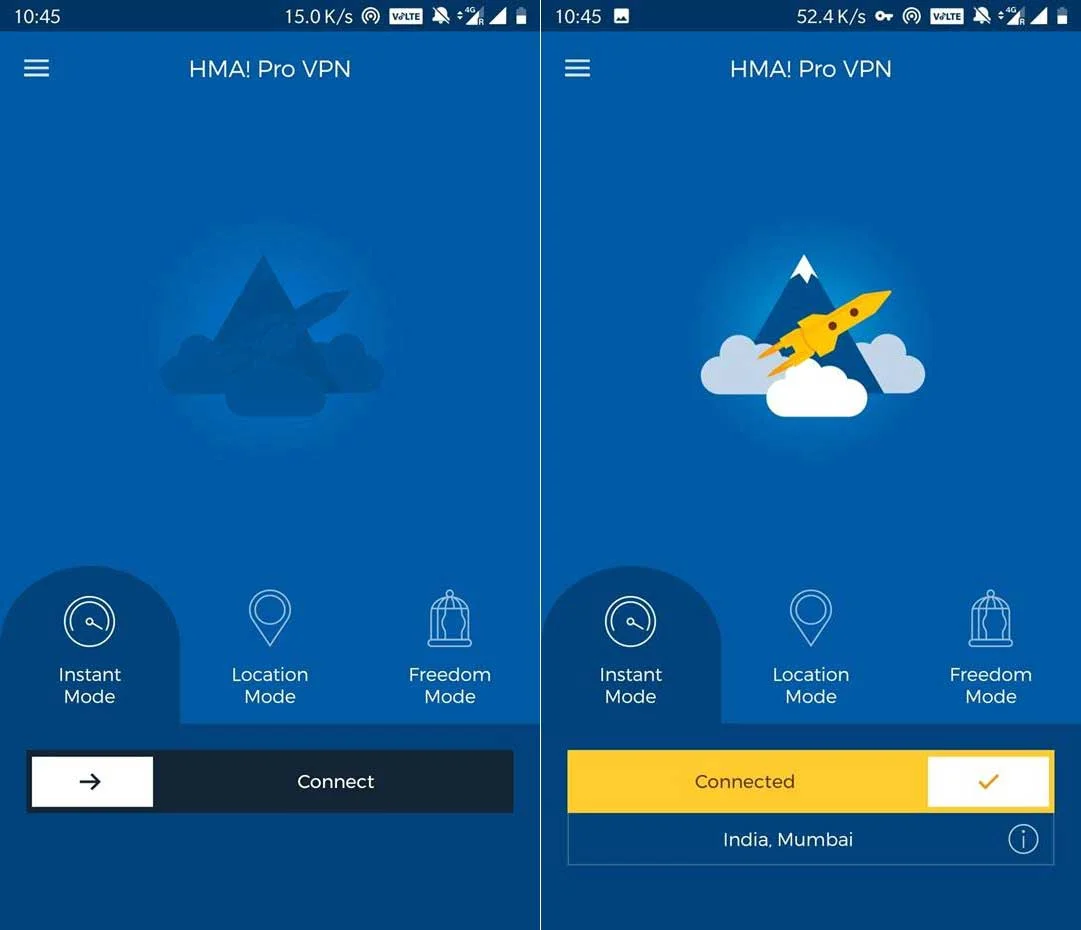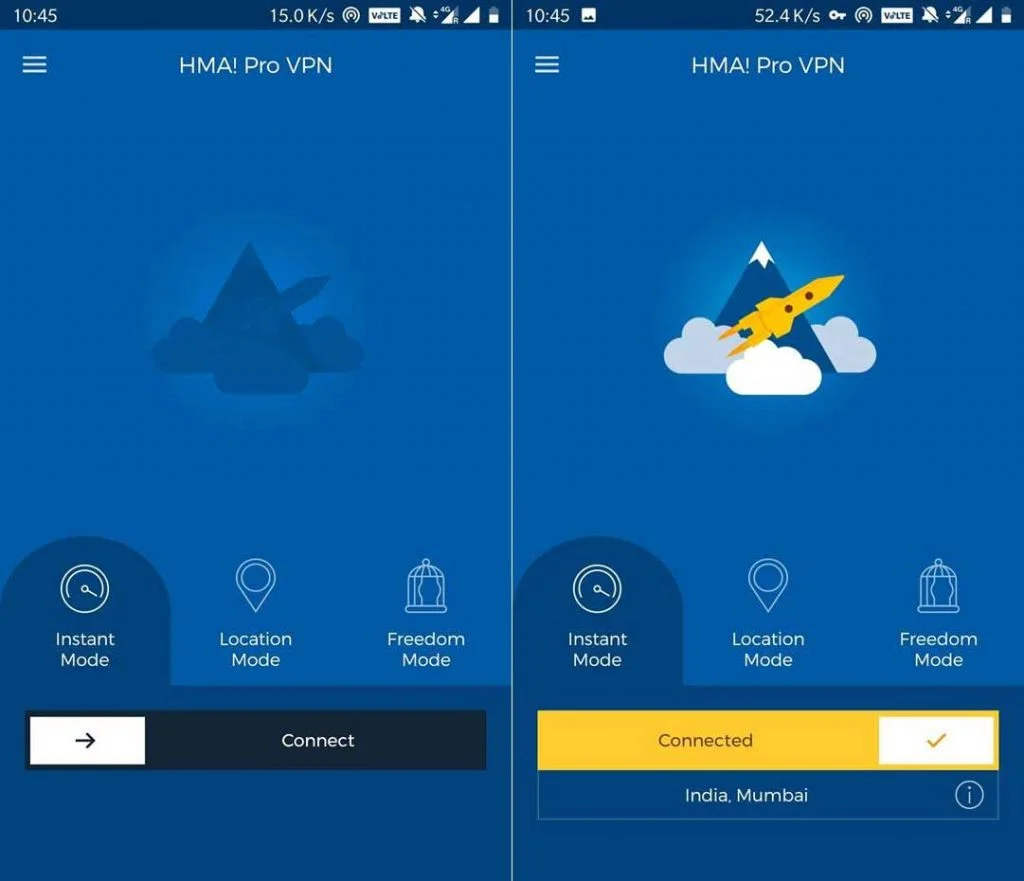 Ease of use
HideMyAss VPN is indeed quite easy to set up, not to mention simple. It comes with a lot of features and is coupled with robust security. Also, the servers located across the world.
Security and privacy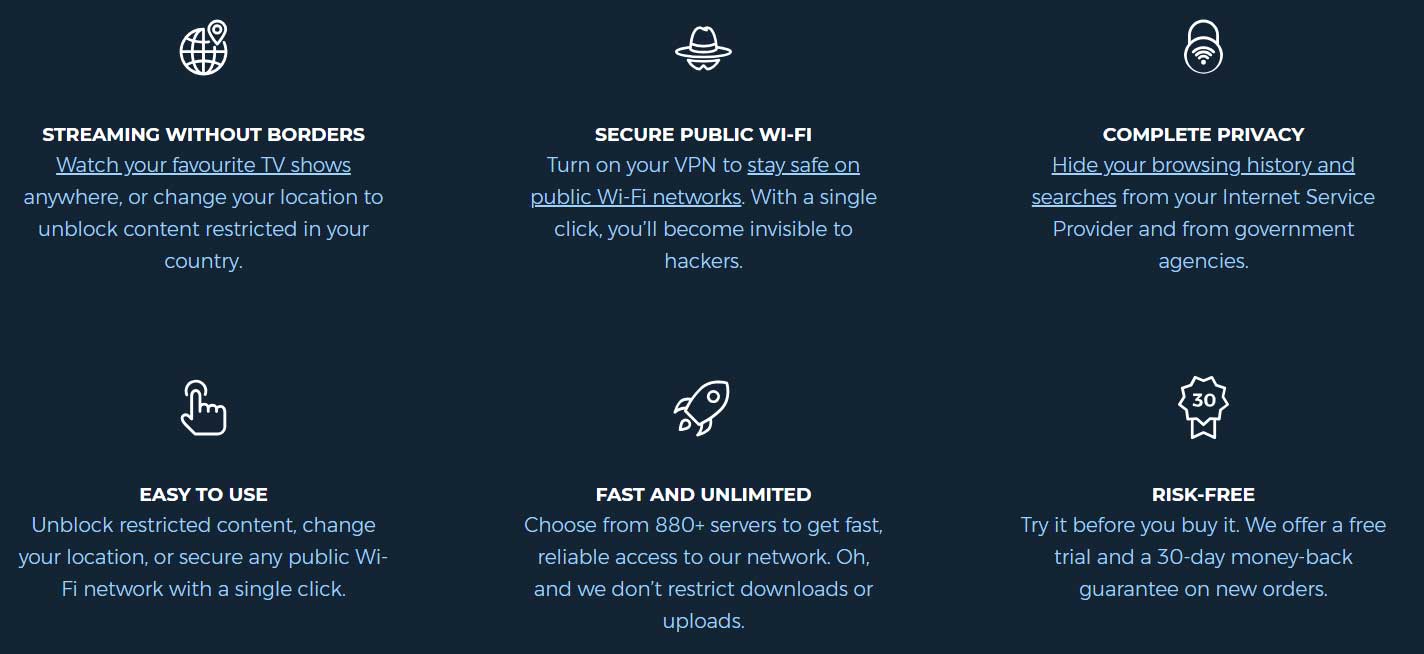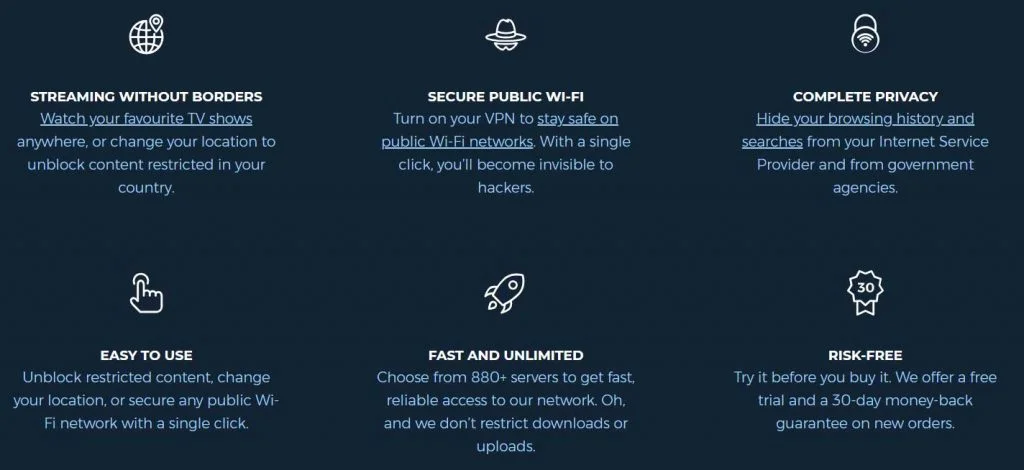 What makes HideMyAss VPN stand out is the fact that it comes with a distinct privacy policy. It makes it abundantly clear that it will log your IP address, the server you connect to, the duration of your session with the required time stamp.
But the proviso is that it will retain this information for a period of three days only. This information is collected for security and to beef up the same on the network.
Speed and performance
It comes with an impressive speed both for uploading and downloading files. You can use any online test for the same to check it out in detail.
Key features


Some of the key features of this excellent VPN include:
User friendly interface
Server locations all over the world
Intuitive programming
Enhanced security protocols
Final thoughts
HideMyAss VPN certainly seems like one of the best. It does come with fewer features than some of the other VPNs but it makes is up for this with its speed, security,and privacy.
It is simple and easy to use and comes with detailed guides for setting it all up.
Pros
Hundreds of servers spread across virtually every country on Earth
Integrated server speed testing
Kill switch feature
Good speed test results
Great name
Cons
Expensive
Offers only two licenses per subscription
Clunky interface
Bottom line
HideMyAss VPN will provide you with the security you need, by tunneling your communication through 900+ servers located globally. It is quite fast and one of the reasons as to why it is popular today.
---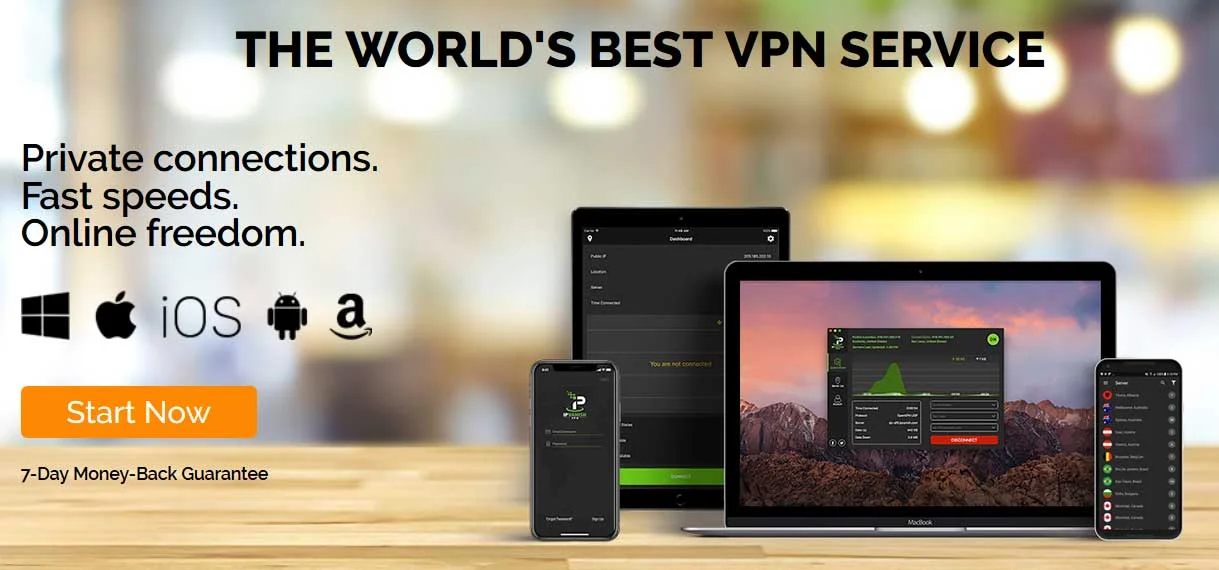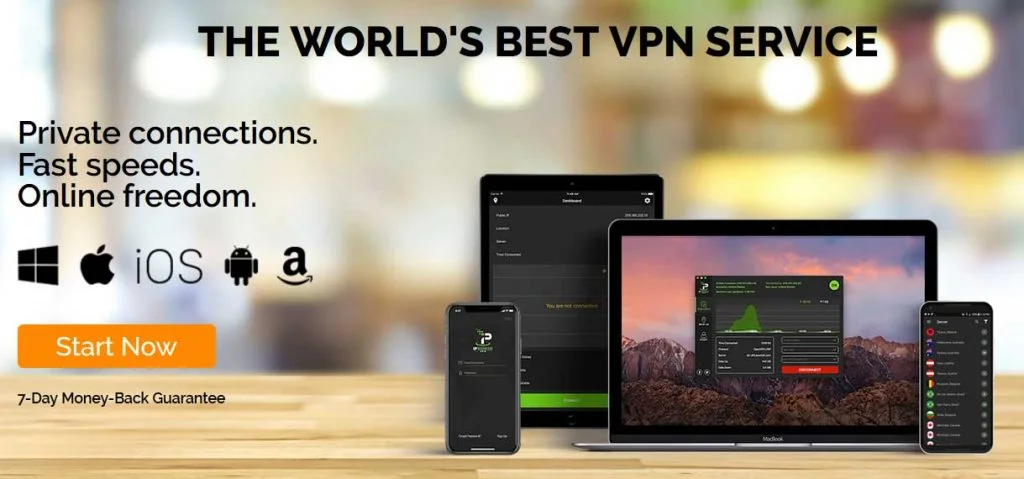 When it comes to VPNs, they more or less all claim the same thing, that they can enhance your security and protection. In a sense, that's true which is why picking out one VPN from the many out there can be hard. That's why we have made it simple for you by reviewing each VPN so that you end up choosing nothing but the best for your website.
Both security and privacy are important where online communication is concerned. And that's why it makes sense to go in for not just any VPN but for some of the best. And, one among the best we have here today is the IPVanish VPN. Let's know about this amazing VPN in detail.
Getting started


Once you have made the decision to go with the IPVanish VPN, given all its amazing features and security, you can follow the steps listed below to have it ready and going.
Creating an account

The first thing that you need to do is to register with the VPN for which you would require a real email account. And once you have entered all your information, you would need to pay for the service. This is not a free service but the rates are more than reasonable.
IPVanish does not come with any trial period but it does provide interesting packages, including the no question asked for 7 days package. You can always createa dummy e-mail address for the same, for more privacy.
Payment and pricing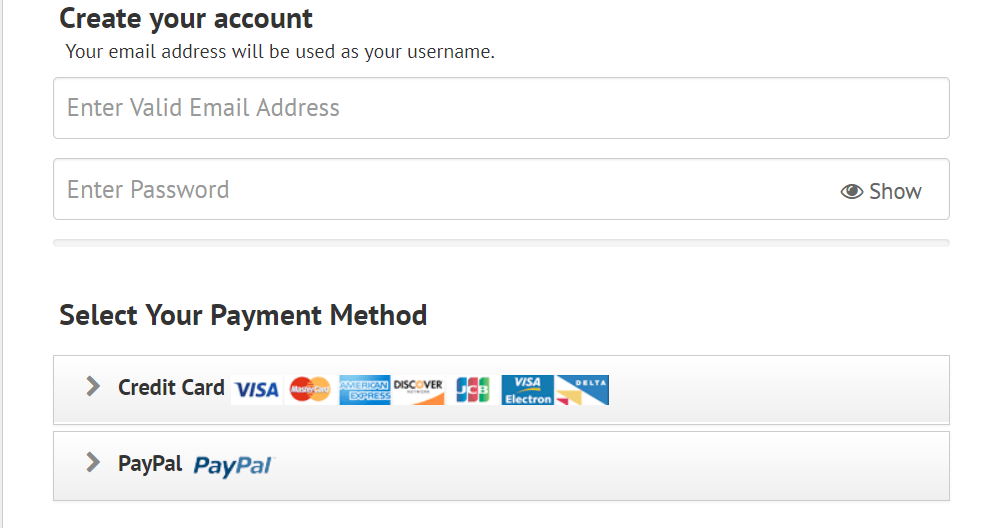 As mentioned earlier, the VPN does not offer any trials and instead, it comes with several tiered plans that you can opt for. IPVanishVPN is currently available for $10 per month, but you can opt for other tiered packages such as 3 months and more and avail the discounted rates.
You can pay$26.99 for three months where the basic cost of the VPN/month actually falls down to $8.99. Similarly, you can also opt for the $77.99 annually, which should help reduce the overall VPN cost to just $6.49/month.
Installation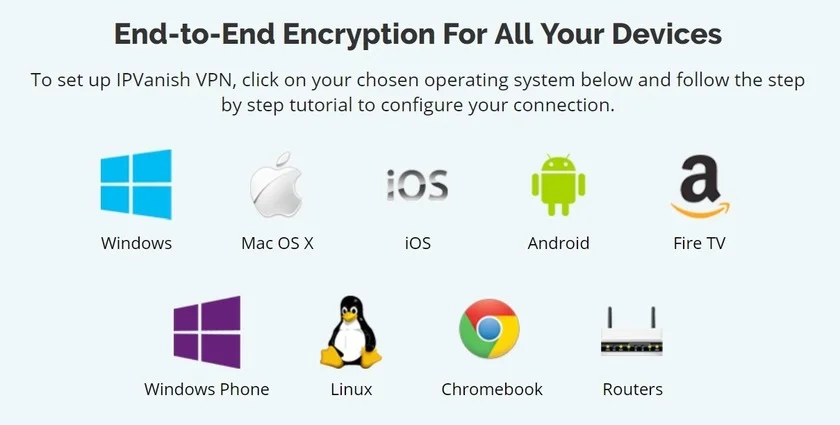 IPVainshVPN comes with easy installation directions, as well as easy to install Apps for your Windows, Android, Mac, and iOS. You can easily install the VPN on your existing Wi-Fi router or purchase one that comes with this VPN already installed on the same.
The VPN also comes with detailed guides which you can use to set up the VPN and step by step directions to configure it.
Set up and settings
For the rest of this review, we will be examining this App, as it applies to Windows and Androids.
Windows
Logging in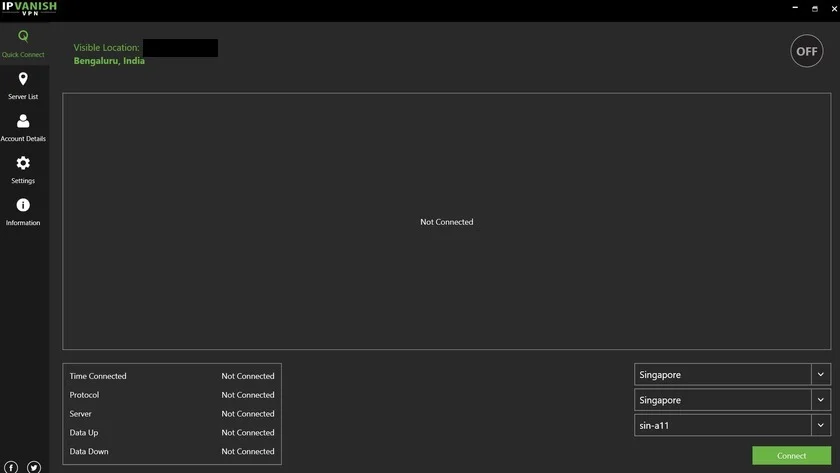 Once you have downloaded the App, you should come across the "quick connect' page, which will display the current IP address, location relevant information including drop down lists with all server info and numbers. You can now use this information to manually connect with the VPN and the desired server of your choice.
Server
The next tab takes you to the server page; the VPN connects to the server closest to your current location or uses a server that's optimized to be fast. It can auto select the server for you or you can also opt to choose one yourself.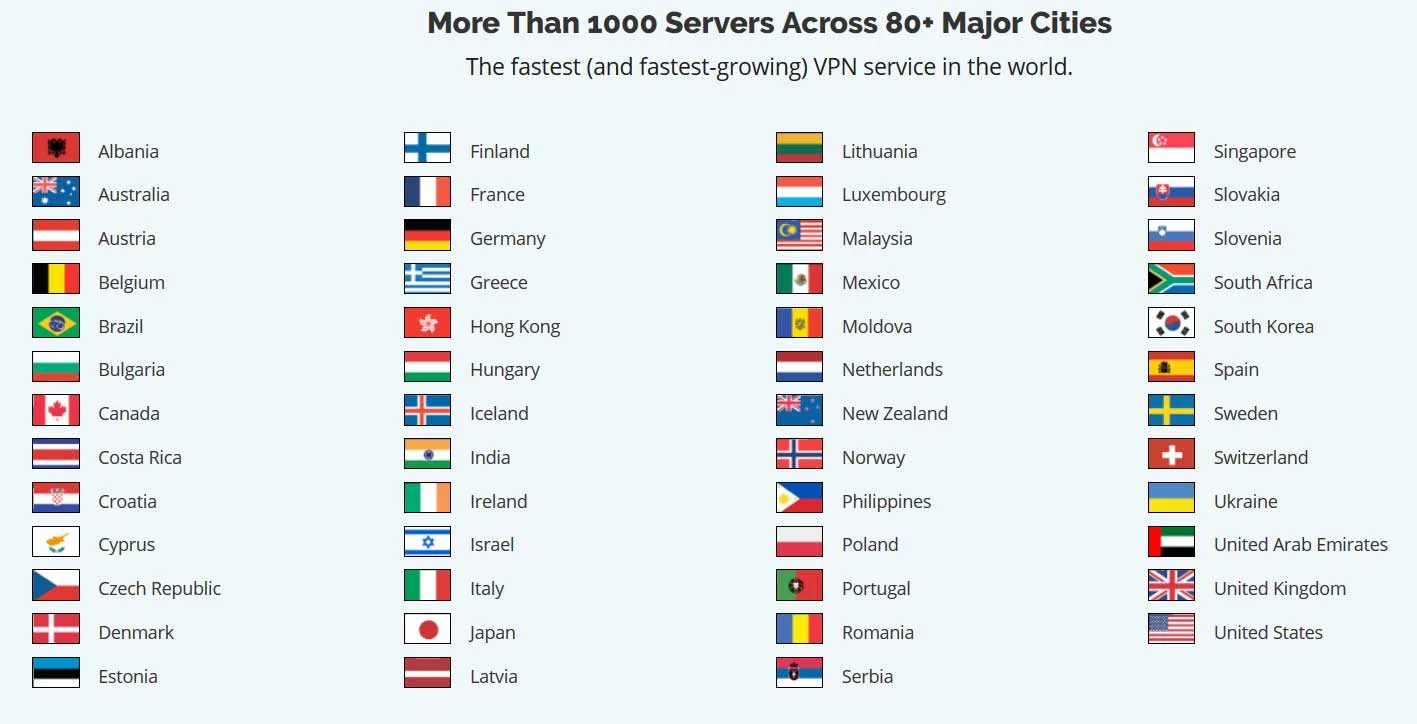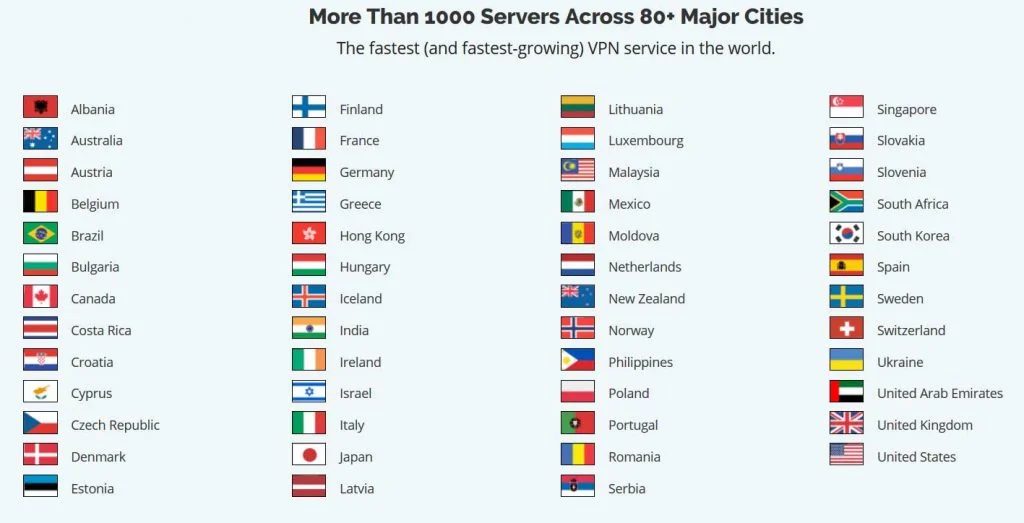 General settings: This option allows you to set the general behavior of the VPN when you have just started your day or about to log out for the day.
Connection: This enables you to set the connection protocol. For example, IPVanish VPN comes with PPTP, L2TP, and OpenVPN TCP/UDP, where the Open VPN is the best option.
IP settings: Here you can set it up so that your VPN automatically changes your IP settings every 45 minutes.
Account details and information: This section lists out all your account information from your registered name to your current email address.
Android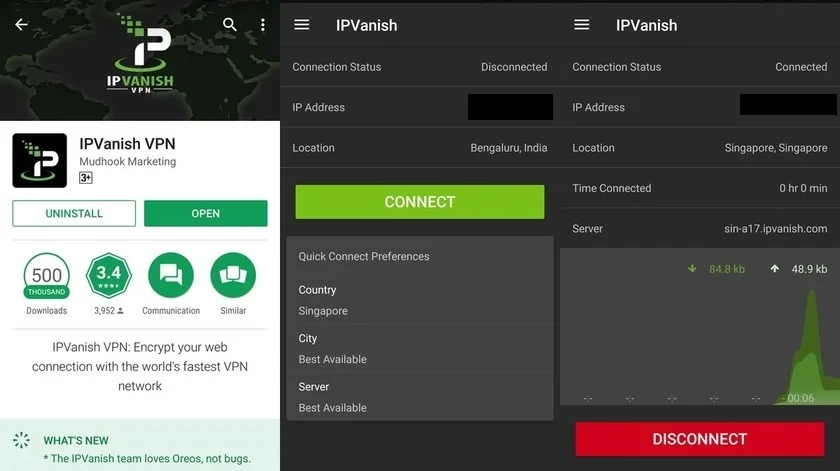 Connection and settings
If you had assumed that VPNs are just for computers, you may want to rethink that again. IPVanish VPN can be used with Android phones and it is compatible with all smart phones running Android 4.0 or higher. It does not come with the many options that you get with Windows though.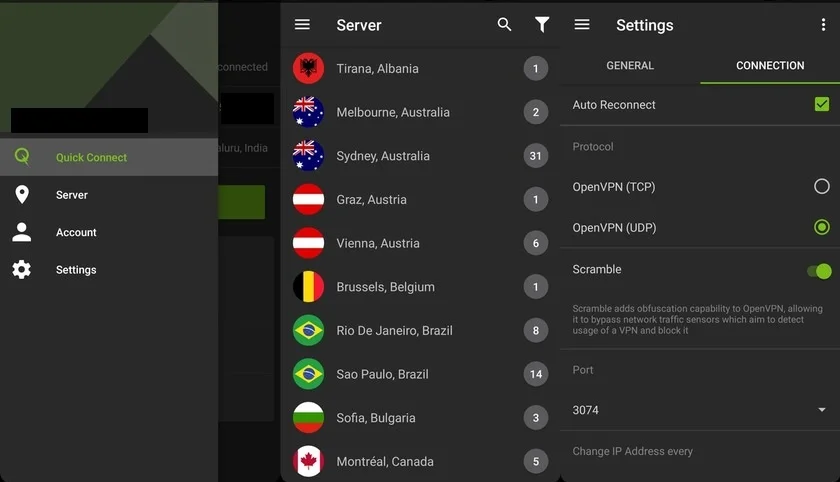 Once you log in, you should see a simple page that lists your connection, your IP address,and all the relevant information. Incidentally, it also comes with hamburger style menu options. The settings menu is simplified and so is the connection button. The settings menu also features App behavior, customer support,and several other key information.
Ease of use
The VPN is quite easy to set up and easier still to tweak and customize according to your preference. It also happens to be quite fast.
Security and privacy
The VPN comes with a lot of privacy and security settings. It comes with DNS leak blocking, obfuscation,and IP changes every 45 minutes and more.


Speed
It should be pointed out that VPNs can cause your website to slow down, so before subscribing to a VPN service, run a speed test to check and see how fast it is, for real.
Key features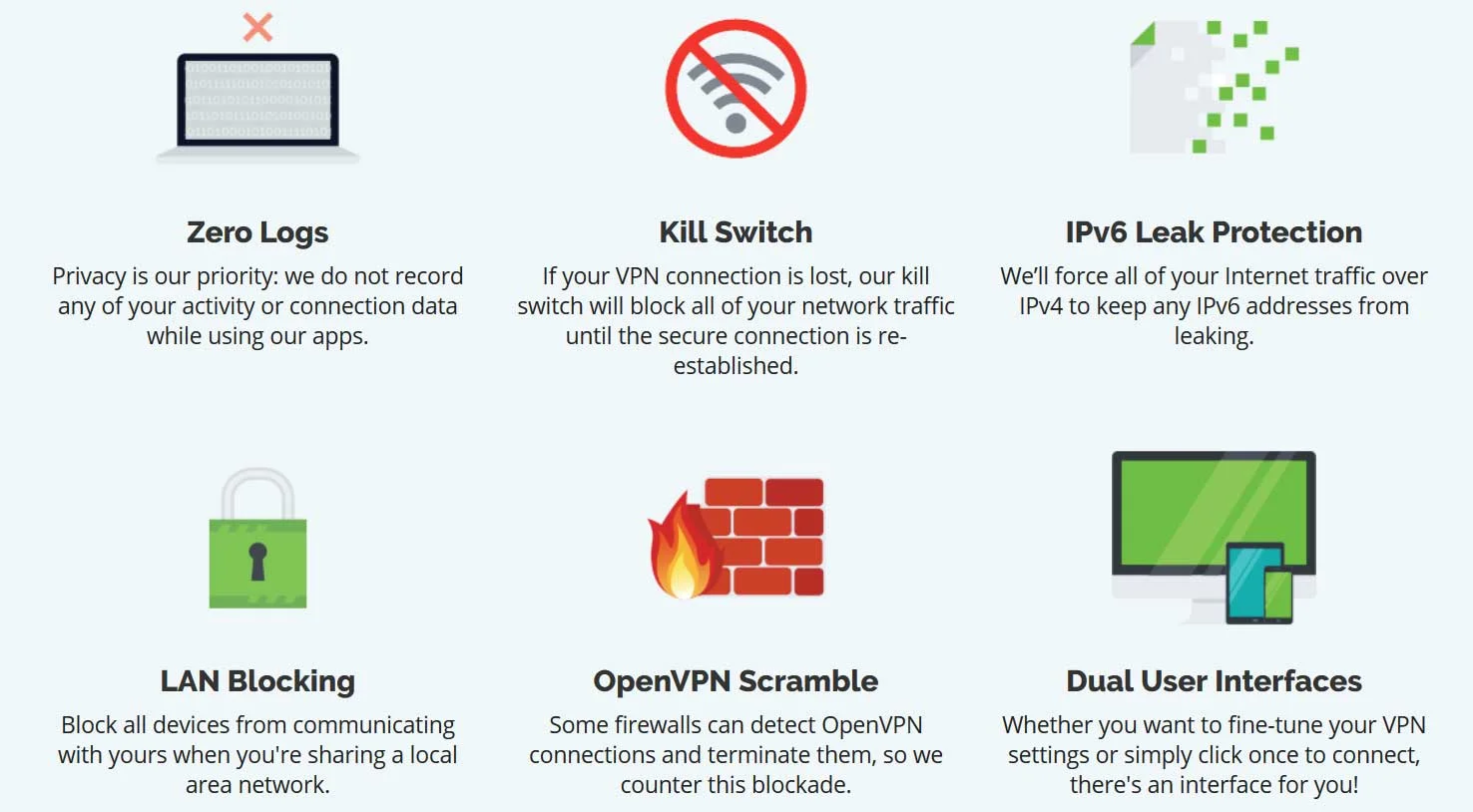 Some of the key features of the IPVanish VPN are:
Allows up to 5 connections
Zero logging policy
Torrenting allowed
Security is of high importance
Access to several online services, such as HBO, Netflix, WhatsApp, IMO, Facebook, Gmail and more.
Final thoughts
IPVanish VPN certainly comes with a host of features which should prove useful to you when it comes to your net connectivity. It is always a good idea to route your sensitive information through secure channels such as a premium VPN provider like this one.
And, the best part is that you can also mask your IP address in the process, thereby making your connection more secure.
Pros
Allows for multiple connections
Zero logging facility
Access to various online services including those that had been restricted due to geographic location
Cons
It comes with a slightly higher price tag
Bottom line
IPVanish VPN is as good as it claims to be, but remember that it does not come with a free trial option. So, you would have to subscribe to one of their packages, and if the VPN is not a great fit, then return the same with the amount being credited back to your account within a week.
---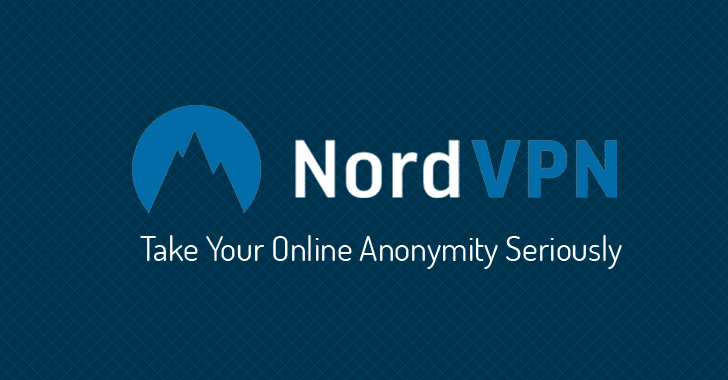 One of the best VPNs that you can go for happens to be NordVPN and that's on account of the fact that this VPN claims that they have 5000+ servers located, all over the world. One of the reasons that you may want to opt for a VPN service that comes with more servers, is that you can be sure that all the users would not be packed into just a select few servers. For a detailed review, do read on.
Getting started
Choosing the right VPN can be a tad overwhelming, which is why you need to review various aspects of the same, before subscribing to it. Here's what you need to know regarding NordVPN.
Creating an account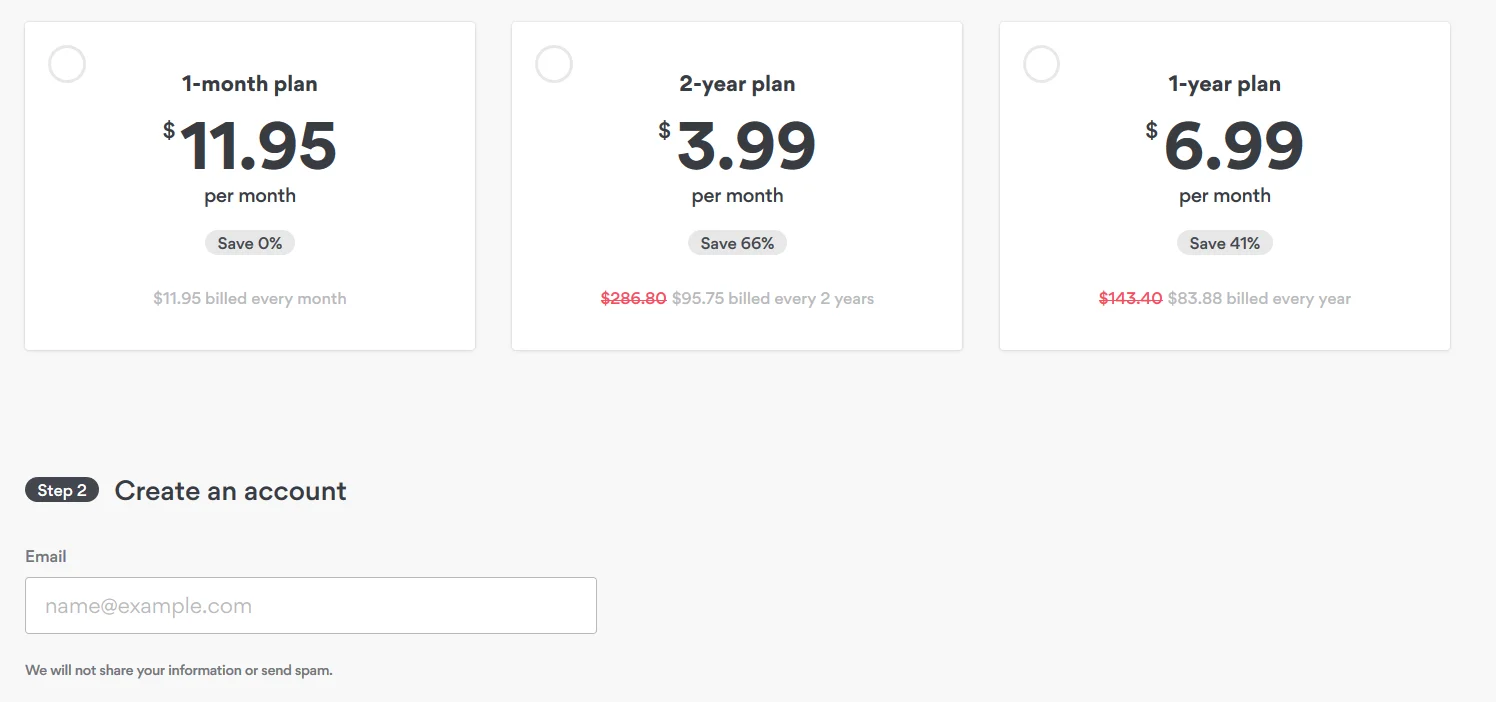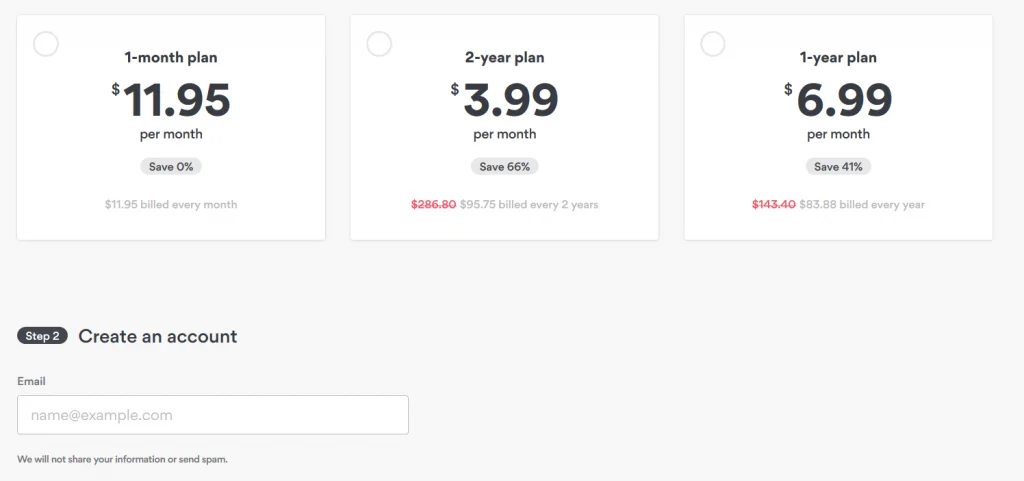 The first thing you need to do is to register using your real email address, which would be utilized for account set up, activation and for important emails. Your email address will not be shared with third parties. But if you are still worried, you can always use a dummy email address for account activation.
Payment and pricing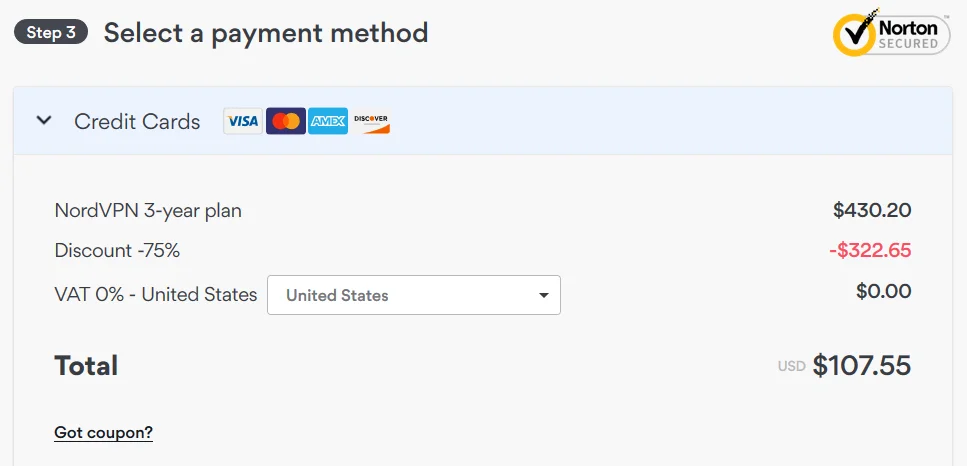 NordVPN comes with a monthly price tag of $11.95, making it slightly more expensive than the other VPNs in the market. But on the positive side, it offers you several long duration plans which come with a hefty discount (annual plan of $69, which works out to $5.75 each month) and $79 for two years, with monthly billing of $3.29 every month.
But that's not all, NordVPN is currently offering a three-year package @$99 as a special offer, which works out to $2.75 each month. It certainly can't get better than this.
Installation


The great thing about this VPN is that it is compatible with almost all devices and comes with easy to install features. It provides you a detailed step by step direction, installation guides for setting up the VPN on your Wi-Fi routes, Linux systems and more. As for iOS and Androids, you can download the App directly from iTunes and Google Play Store.
Set up and settings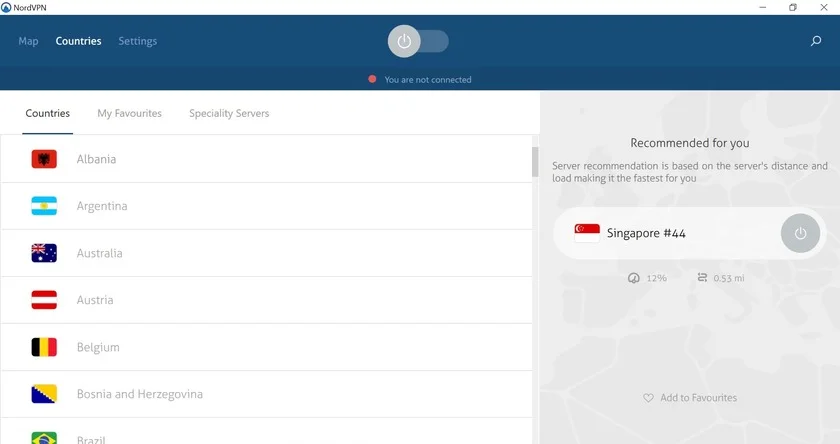 Now, let's take a closer look at this VPN as it applies to Windows and Androids to know more about its setup process and other settings.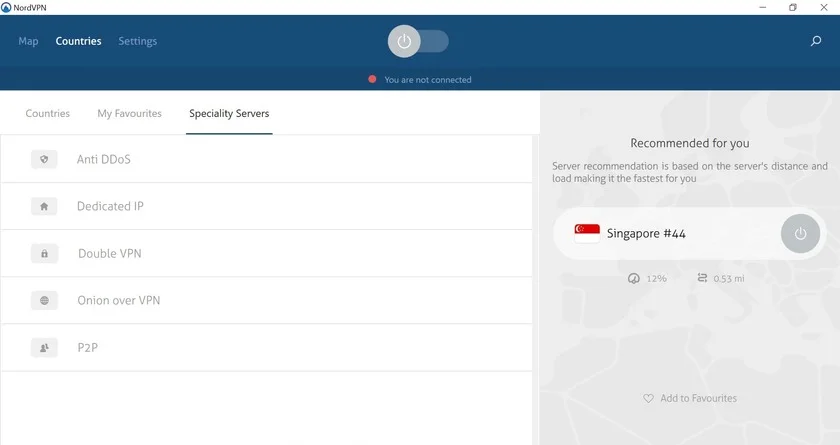 Windows


Log in and connect
Once you have logged into the App, you should see an image of the world with the various servers listed as pins on that page. This essentially tells you about the servers and where they are geographically located. For connecting, just press the power button on the top left and you should be set. Once you click on connect, the VPN will automatically connect you with the server closest to your location, and the fastest.
You can also choose your own server – just click on the countries tab and choose your preference. The drop-down list features from the fastest to the slowest and you can pick the one you need.
Specialty servers
NordVPN also enables you to connect with specialty servers, such as Anti DDoS, Dedicated IP, Onion over VPN, Double VPN, and P2P.
Settings
The final tab opens the settings page, with various options listed below.
Cyber sec: This feature is a new addition and it enables you to avoid ads and offers you protection from phishing and malware attacks along with other online risks that you are bound to encounter online.
Auto connects: Once you have chosen your preferred server, you can set up the VPN to automatically connect with that server, each time you connect.
Kill switch: It also comes with a kill switch which disables the network connection once you lose connection with your VPN
APP kill switch: This enables you to disable specific apps on your server, once you lose the connection with the VPN
Other settings: You can tweak with this and make it so that the app starts up just as your windows does
Advanced settings: The NordVPN also allows you to change the connection protocol and offers you various choices or selections to choose from, including setting up custom DNS and hiding your real location.
Android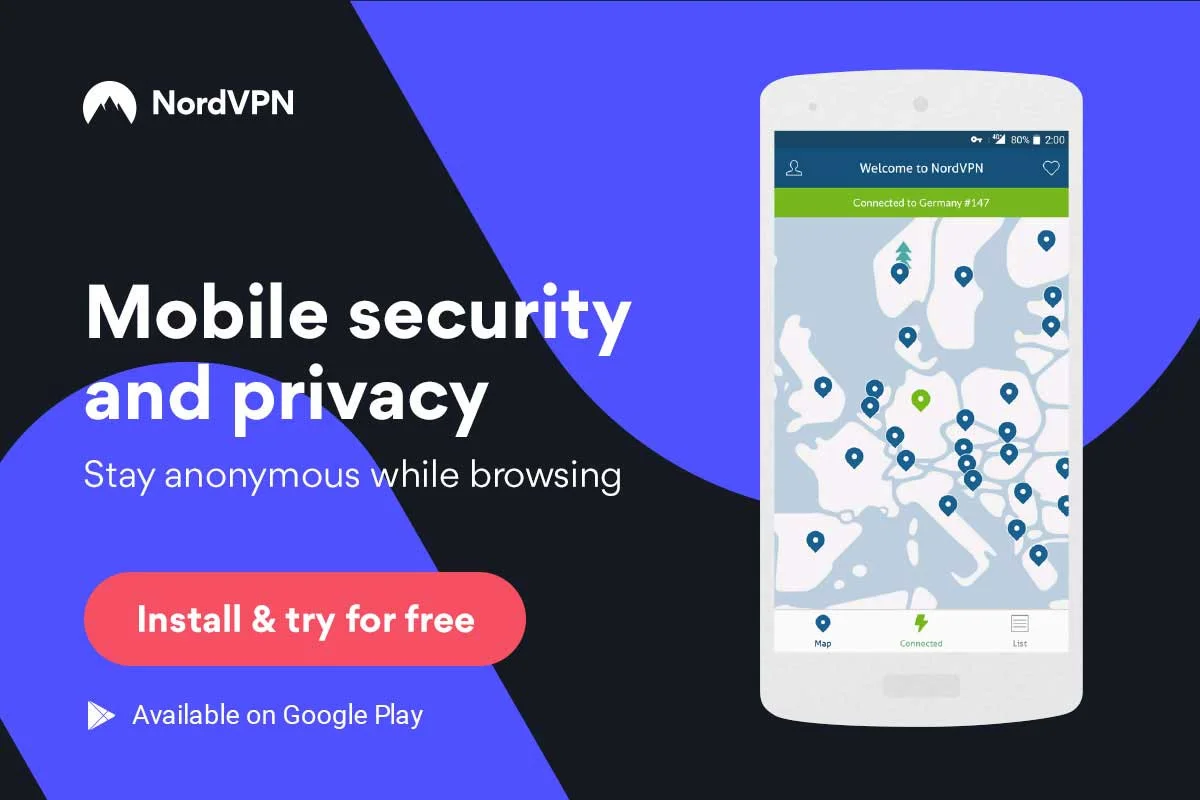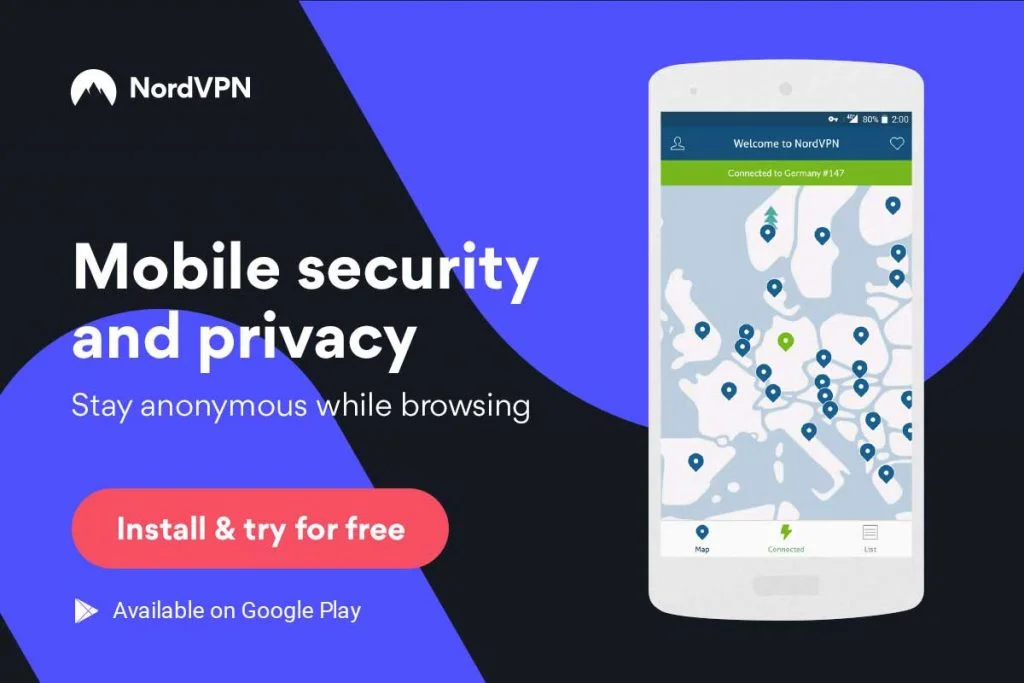 The android App is slightly similar to Windows but with more than a few changes between the two. For starters, instead of the usual power button, you are bound to come across "Quick connect". And the "list" tab more or less displays the same information you saw under the 'countries' tab in Windows.
The layout is more or less similar except that Android does not come with a kill switch or custom DNS.
Ease of use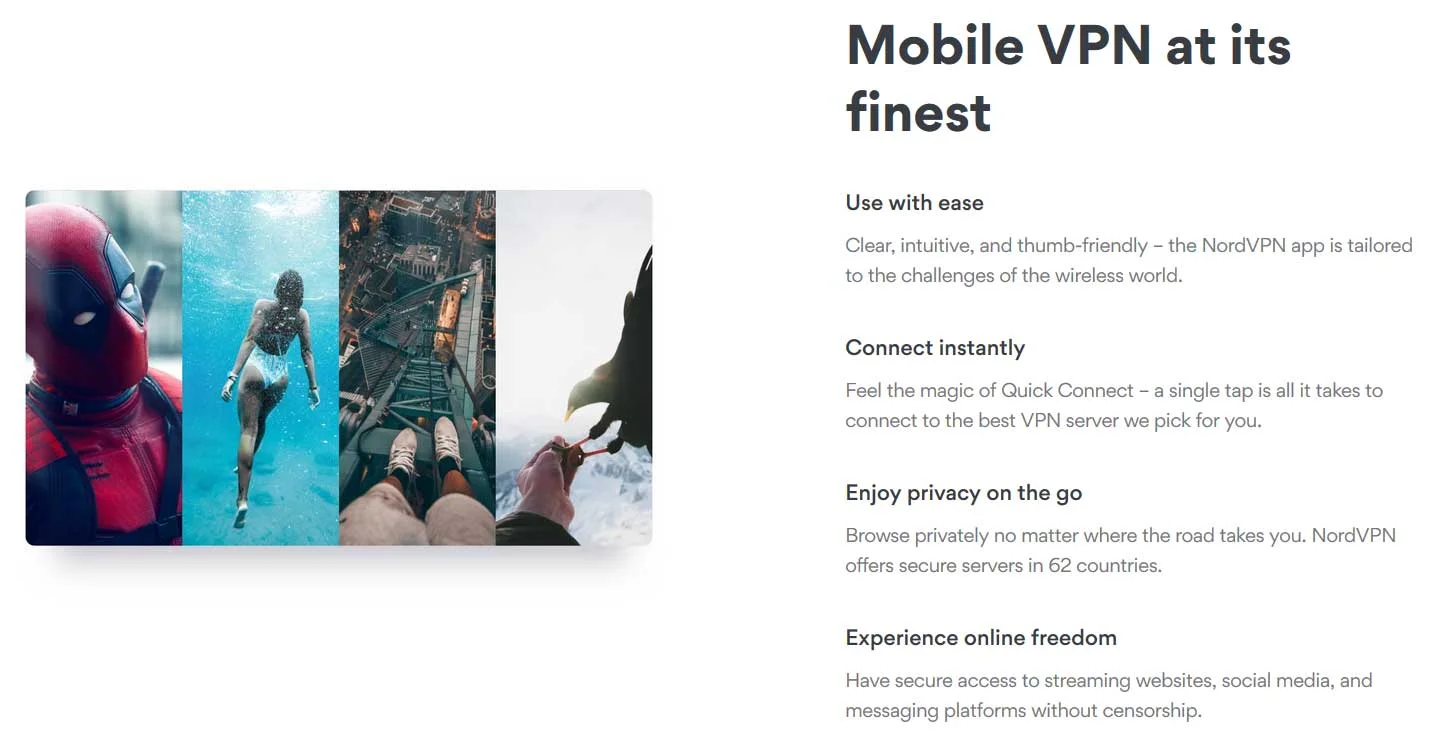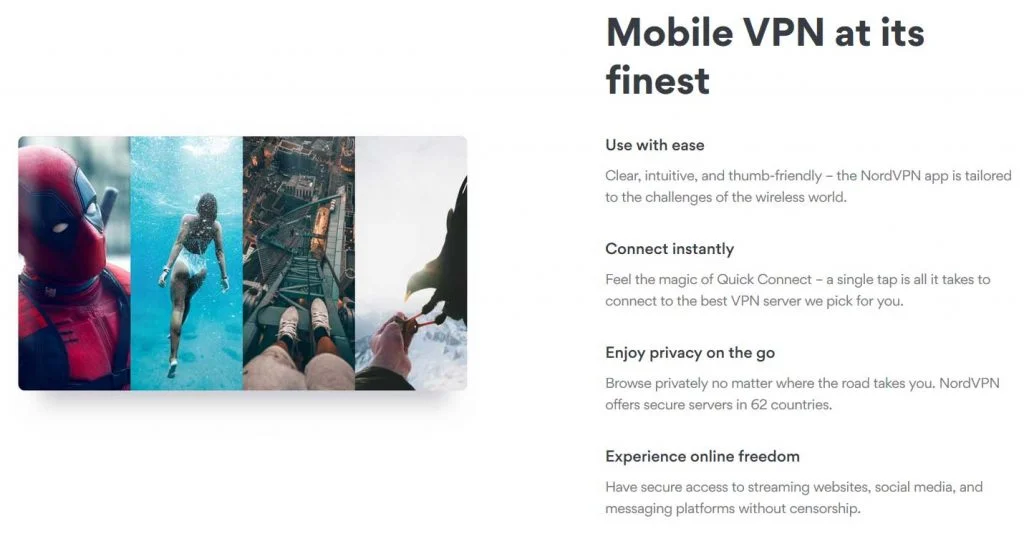 Both the Windows App and the one for Android are quite easy to use. You will be able to check out its various features, including its neatly categorized list of servers with no hassle. This will enable you to decide on servers and set it up easily.
Security and privacy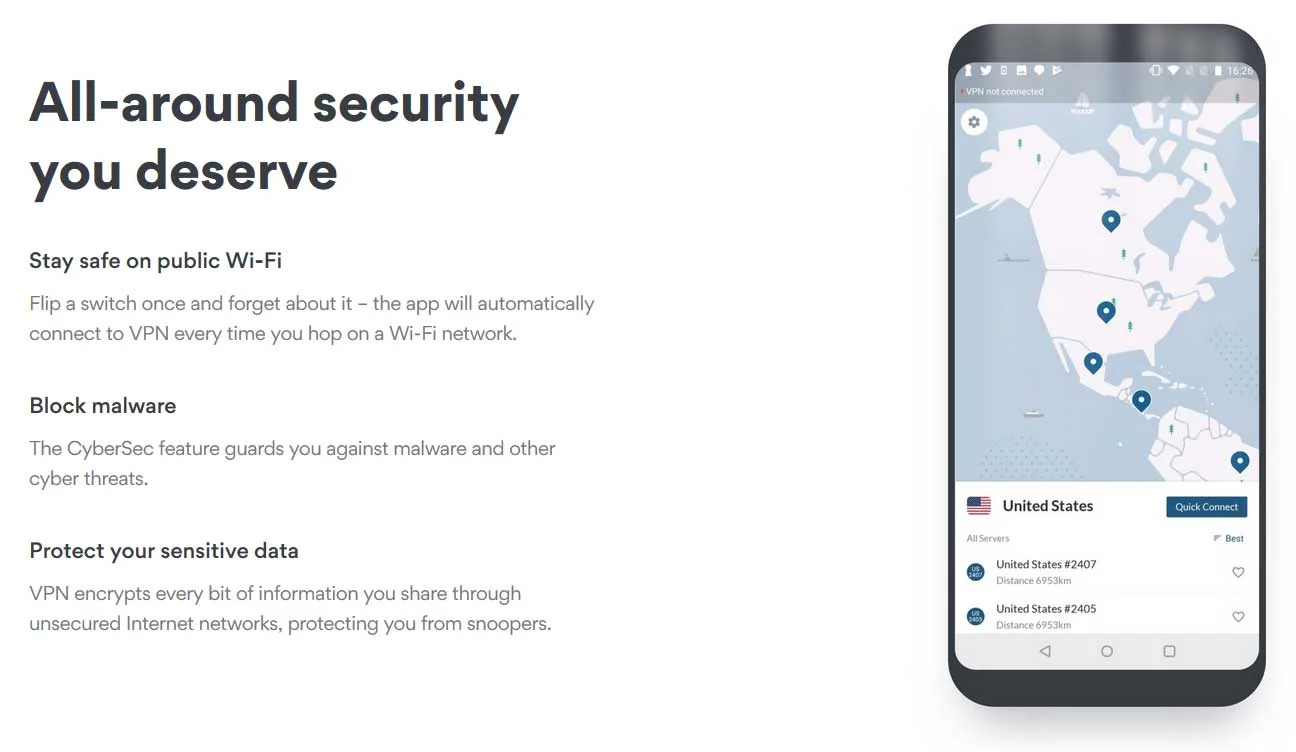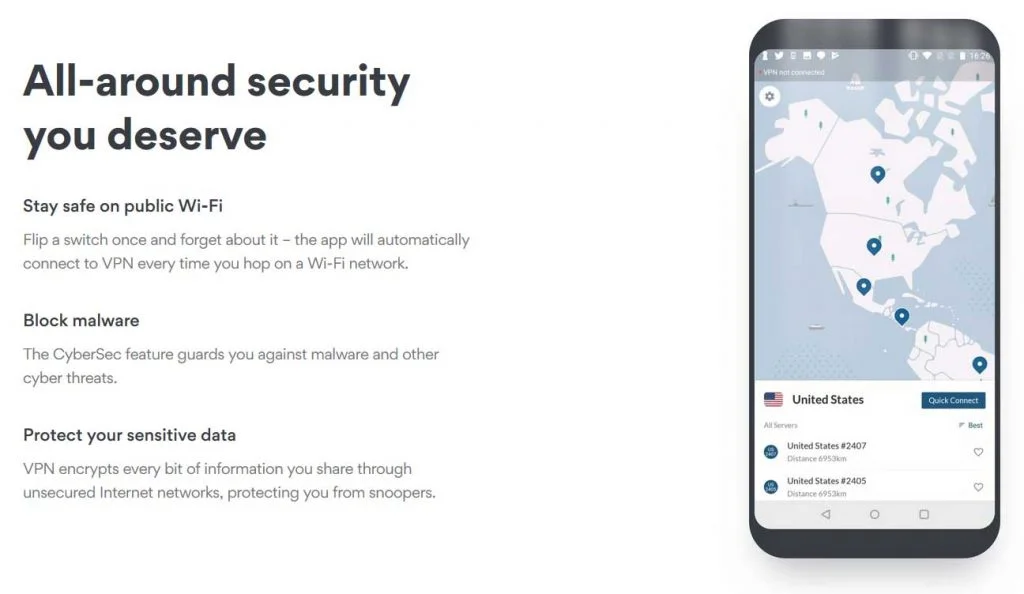 NordVPN comes with all the advanced security features you need – from IP and DNS leak protection, obfuscation, zero activity logging, and the best encryption protocols.
You can choose the specialty servers you need – from Anti – DDOS to P2P. You can also opt for double VPN for an additional layer of security.
Speed


As far as speed is concerned, NordVPN is really fast and that's something everyone needs. In fact, it took an average of only 10 seconds to connect to a server and that's pretty fast and impressive.
Key features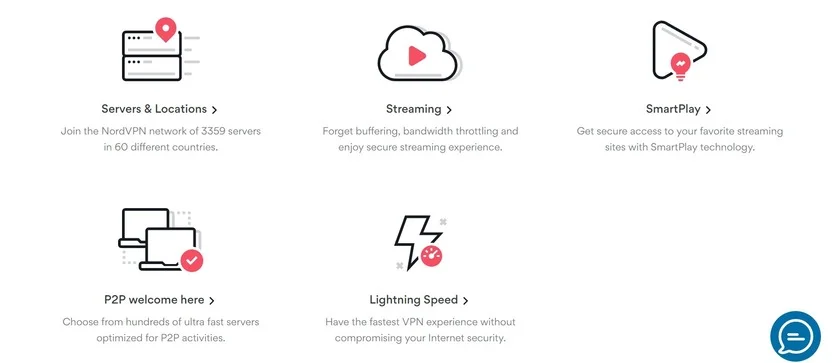 Some of the key features of this amazing VPN are listed below:
Allows for 6 concurrent connections
Comes with 3000+ servers
Zero activity
Lightning fast speed
Final thoughts
NordVPN is undoubtedly one of the best VPN services in the market. Granted that the entry price tag may seem a little steep, which is why it makes sense to subscribe to the annual package or the two-year one as that should help bring down the overall cost by more than 50%.
It is fast, comes with 3000+ servers located globally and provides you with a host of features that are proved to be useful.
Pros
It comes with a free trial, which you can use to determine if this is the VPN you need
It also comes with an easy to understand connection wizard.
The speed in lightning fast
Cons
Applications are not that intuitive
It comes with a learning curve
Bottom line
This VPN is as good as it gets and more importantly, it comes with all the support that you would ever need. The support is a dedicated support line; one that you can use any time you run into any issue.
---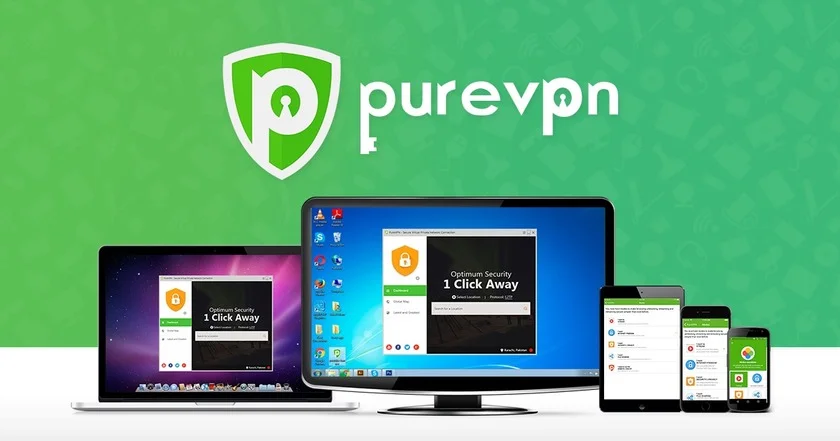 PureVPN is a well-known VPN service and one that comes with all the requisite bells and whistles that you can expect in a premier VPN product. Granted that the process of selecting one VPN provider from the lot can be a tad overwhelming; this is why you should always check out any VPN product in detail before you purchase one of their plans.
There are those VPN services that claim to mask your IP but don't and then, there are those that leak IP address and DNS requests. This is why we have reviewed what we think arethe top VPNs out there. And, the one right below, which we are reviewing now is one of the best VPNs so far.
Getting started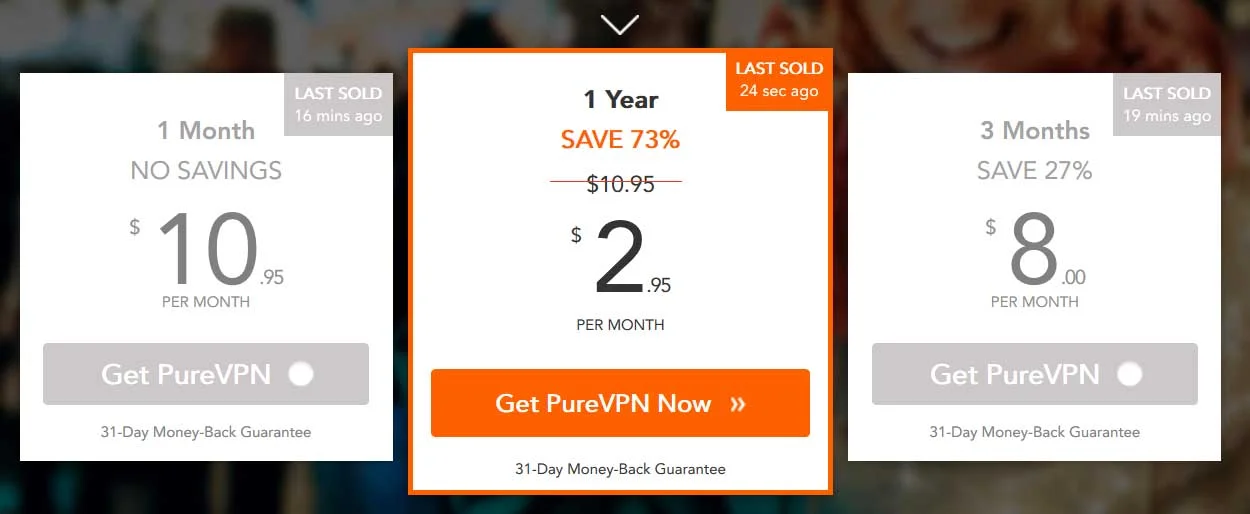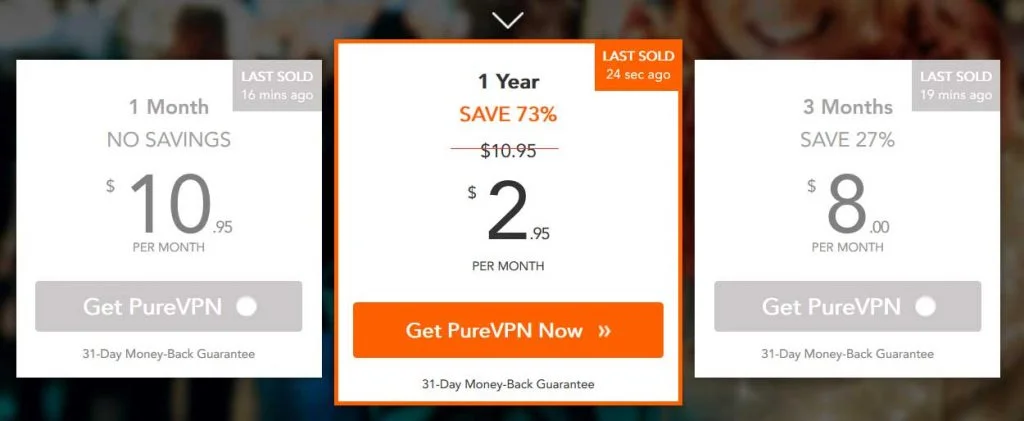 You need to register for an account first along with your name, and your real email address. These or any details for that matter will not be shared with third parties and will remain confidential.
Logging in
This VPN sends you a username and password that you can use to login to the website, as well as the App. And currently, there is no option to change or modify either, so you need to make sure that you have all the details within easy access.
Payment and pricing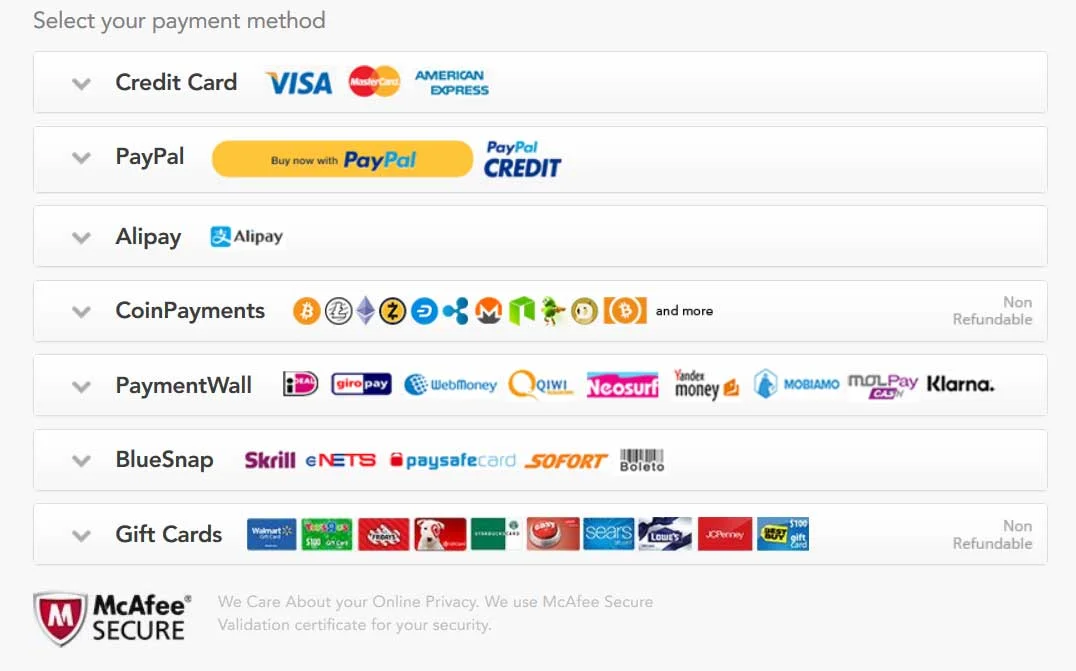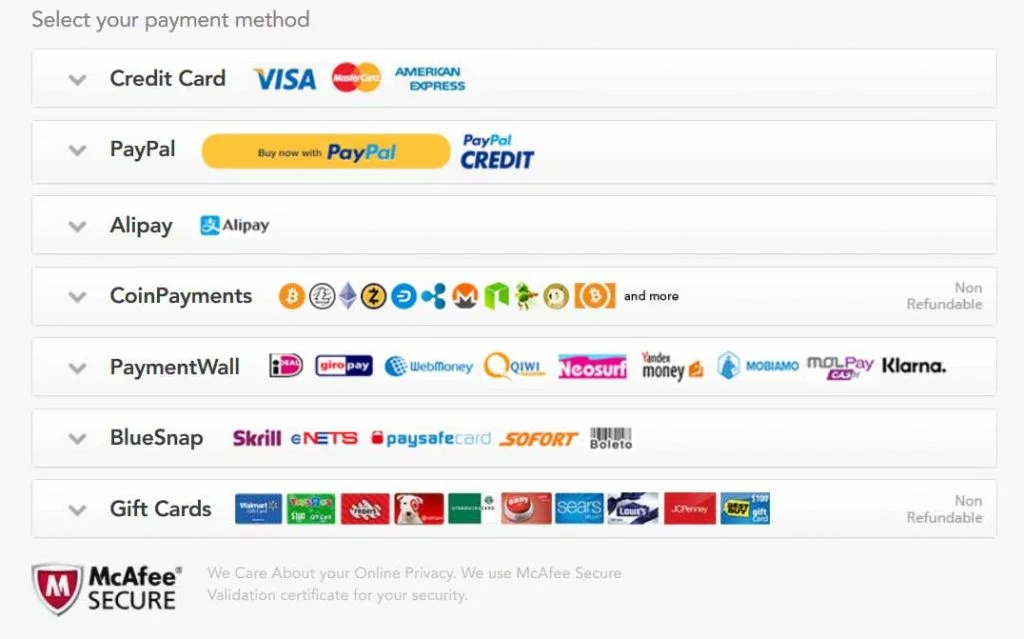 This is one of the most important factors that you need to consider when evaluating VPNs. PureVPN offers packages at a slightly higher end of the spectrum and comes with a price tag of $10.95.
Given this, you are better off opting for long term plans such as the annual plan at $59 ($4.91 per month) or the 2-year plan that's priced at $69 ($2.87/month). It does not come with a free trial package, at the moment but PureVPN does offer you a 7-day money return period.
It also has in place a three-year long-term plan at $189 which works out to roughly the same rate as the two-year package. And, please remember that you are eligible to get a refund only if you had used less than 3GB of data or were on it for lesser than 100 sessions.
Installation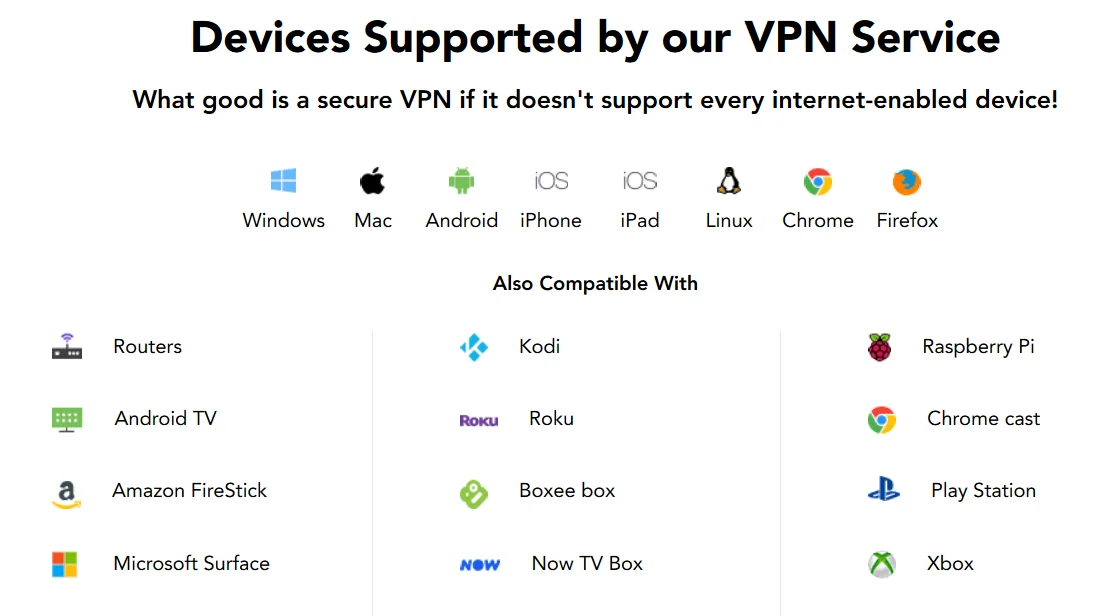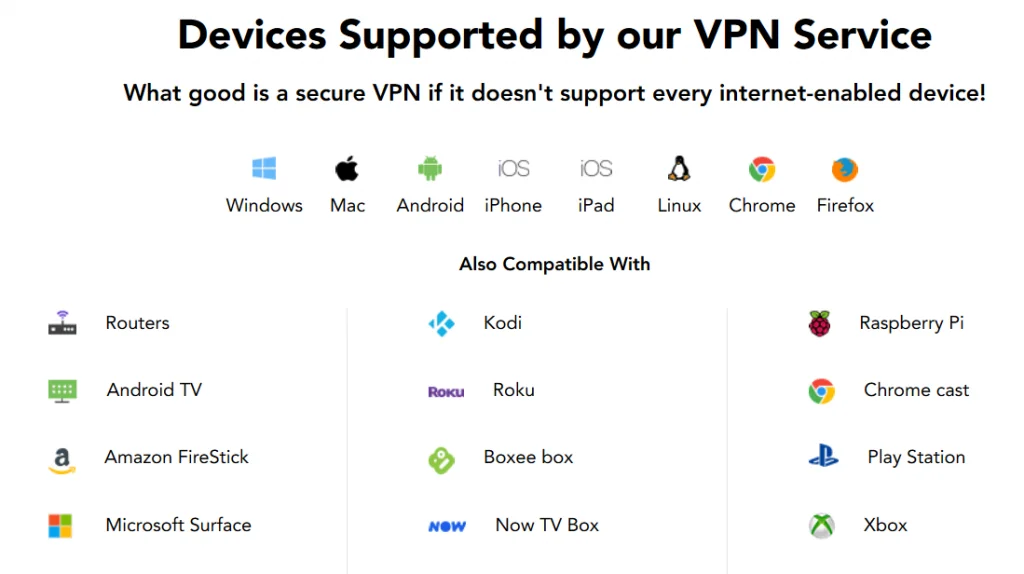 PureVPN comes with easy to download and install Apps for Windows, Androids, Mac, iOS and more. It also happens to be compatible with Android TVs, Amazon Fire Stick, and Kodi boxes as well.You can download and use your VPN with the same, without a hassle.
The VPN also provides you with detailed guidebooks for installation on your various devices, with step by step directions.
Set up and settings
For the rest of the review, we will focus on Windows and Androids App, as it is applicable, and look at how it works and the features it comes with.
Windows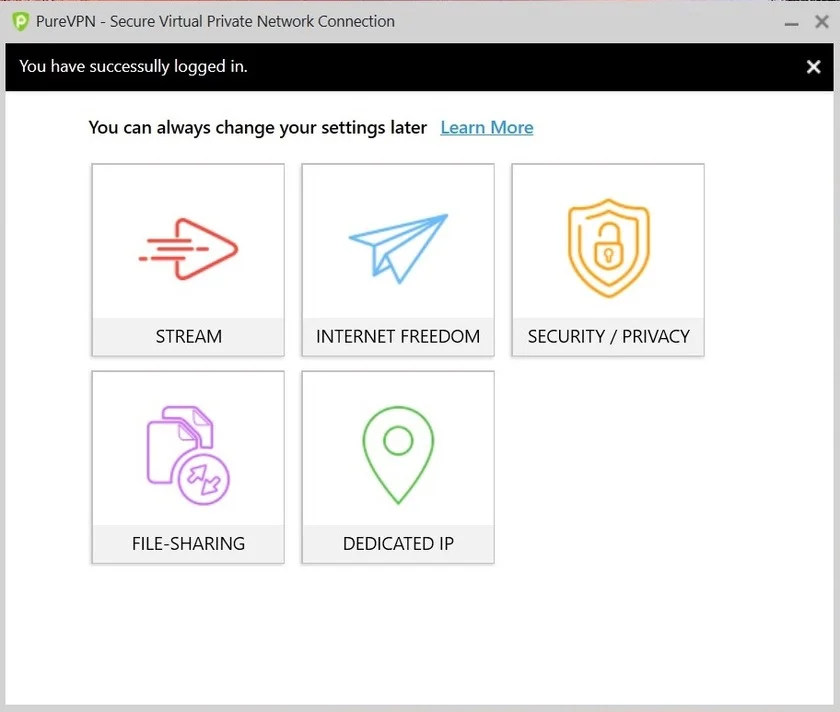 Logging in and connecting
While most of the VPNs usually display their server locations and some even include a world map with a large connect button, PureVPN does things differently. For starters, it comes with a mode that you need to choose in order to get started. These are – Stream, Internet Freedom, Security/Privacy, File Sharing, and Dedicated IP (which requires an add-on service). You can choose the one you want and you can always change it to something else later on.
Stream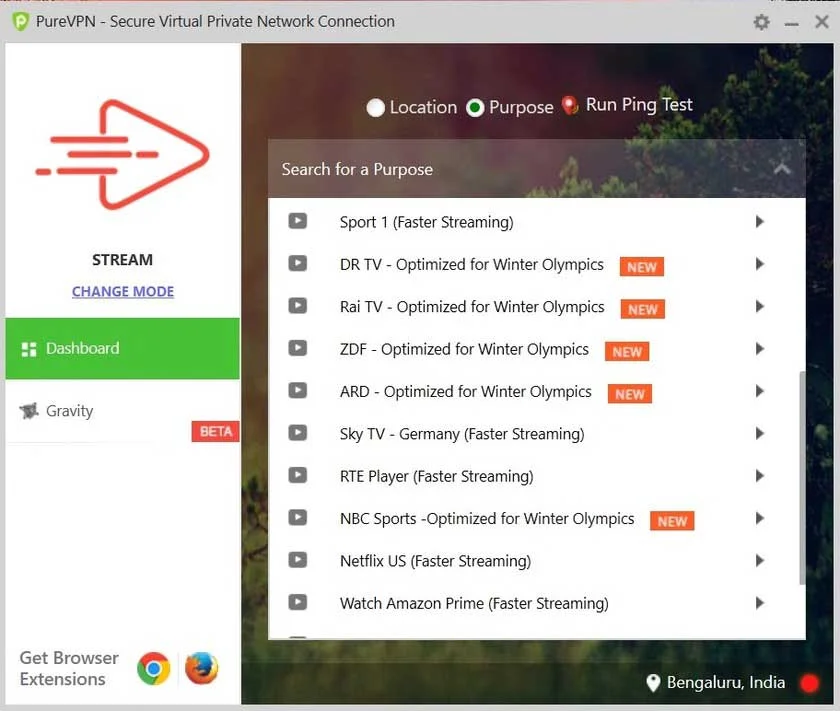 Every mode listed here is used for one particular purpose or the other; by choosing stream, you are primarily looking to stream content online
Internet freedom
This is similar to the stream section and you can choose this for surfing the web
Security/ privacy
This mode brings up the countries list and the cities that you can connect to. You can then tap on "ozone" for additional security features such as anti-virus, intruder detection and protection, as well as URL, app, and content filtering.
File sharing
You can use this mode to access the various servers best suited for p2p sharing.
Additionally, this VPN also provides you with a kill switch as well as multiple ports for you to use. Furthermore, you can always click on the gear indicator and set your preferences.
Android
The PureVPN Android App can be downloaded from Google Play Store. It is much easier to use than the windows App version and comes with the same features, more or less. Once you have selected the mode, you can click on the large connect button and that's it.
Ease of use
The App for both Windows and Android sure takes the guesswork out of the server equation. PureVPN ensures that you are able to connect automatically with the server closest to your location and one that's fast. And what makes the Android App faster and better than windows are that the layout is more intuitive and detail oriented and it also comes with intelligent navigation.
Security and privacy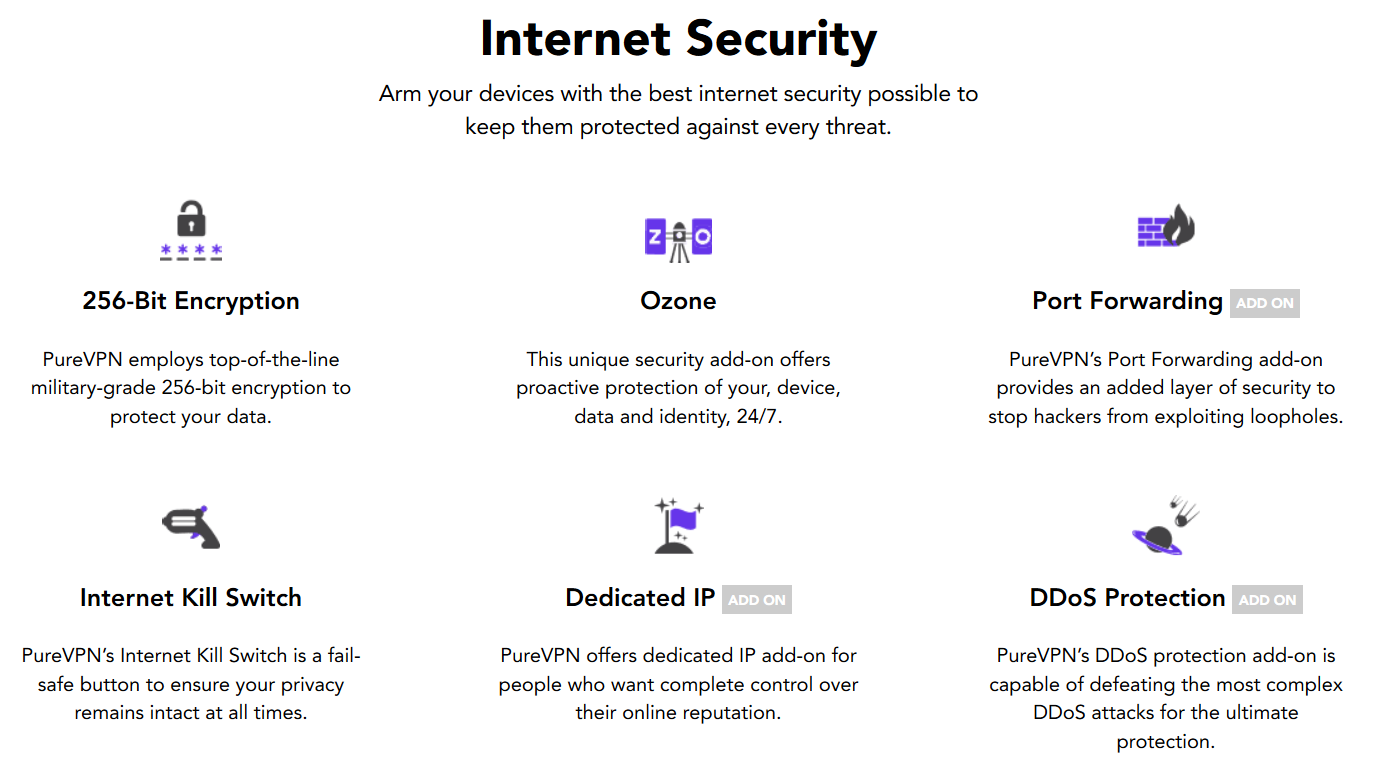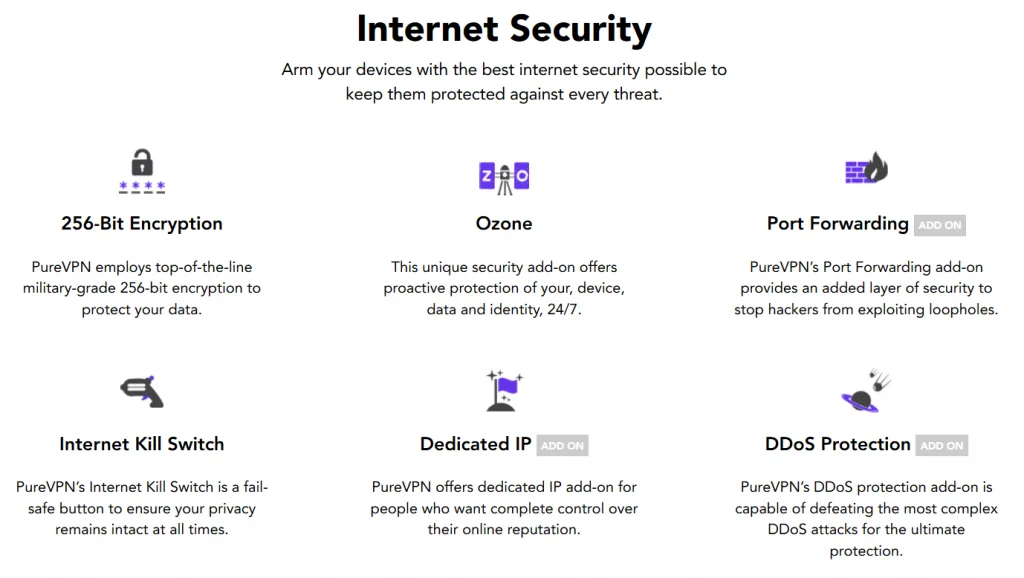 PureVPN is located in Hong Kong, but that aside, this VPN certainly seems to come with all the requisite security features. It provides antivirus, malware protection, intruder detection and protection, Internet Kill Switch (that turns off internet connectivity of the VPN drops), VPN Hotspot (to provide a safe and secure connection to multiple devices), and more.
Speed
As far as speed is concerned, it is quite fast and that is also why it happens to be one of the top-ranking VPNs.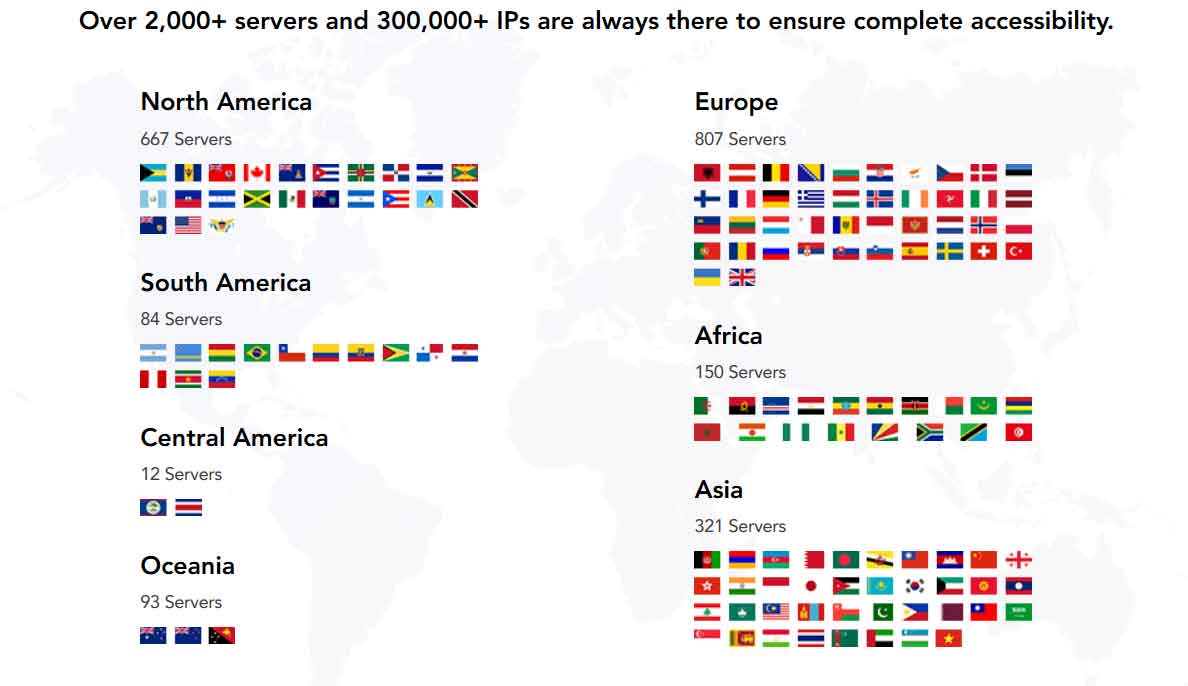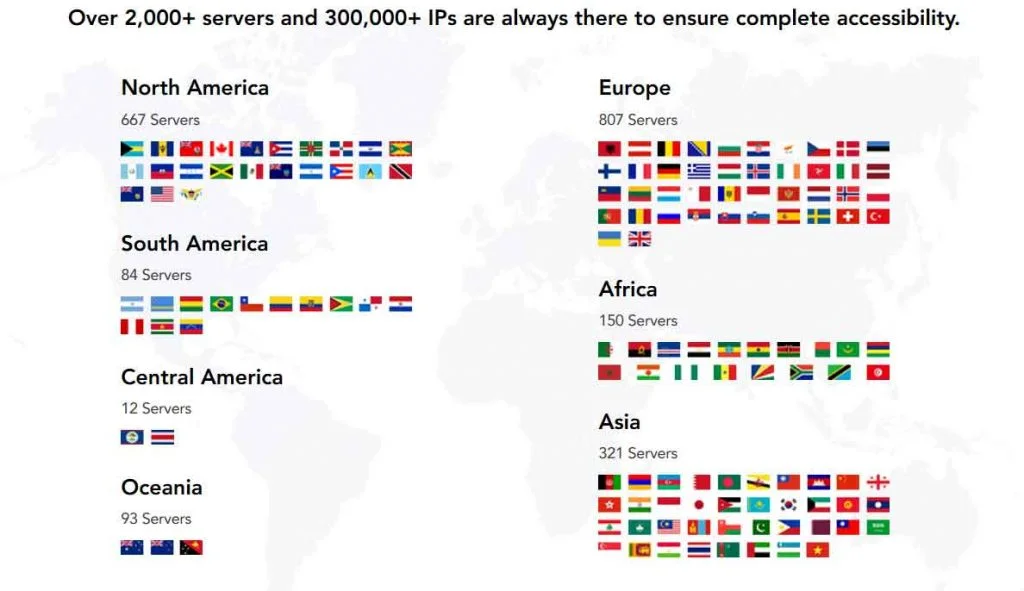 Key features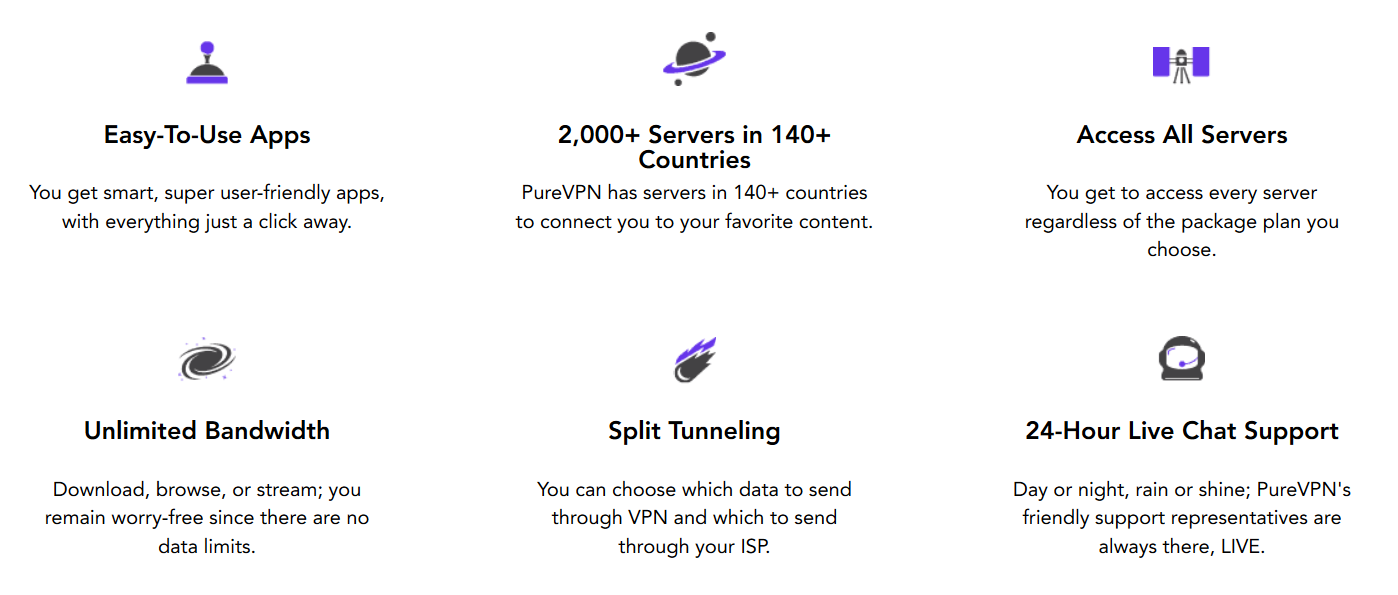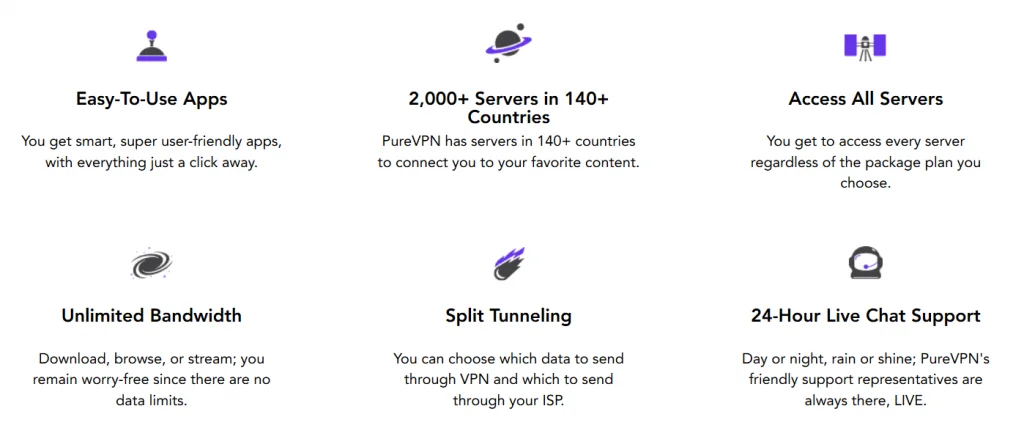 PureVPN comes with a lot of features, out which the following are a few:
Allows for 5 concurrent connections
It comes with 750+ server locations around the world
Torrenting works fine with this VPN
Also comes with a lot of security features including a kill switch
Enables you to mask your IP address and more
Final thoughts
PureVPN by all accounts is a great VPN service and it certainly seems to have ticked off the right choices. It provides you with the security and protection you need; the only downside is that the company is located in China. But other than that, this VPN seems to be 'as good as it gets'.
Pros
Multiple payment options
Very easy to use apps, ideal for a first time VPN user
Advanced security features like Internet Kill Switch, VPN Hotspot, and more available
Long term subscriptions make it cheaper than most
One of the most comprehensive lists of server locations
Cons
Only zero browsing policy. Connection information is logged.
Speed is about average. Not the fastest around, but not the slowest either.
No trial period offered. 7-day money back guarantee has odd conditions (less than 3 GB data usage or less than 100 sessions)
Bottom line
Given the fact that it comes with great speed, and some of the best privacy and security features, you can definitely go in for this VPN. It is indeed a great purchase and moreover, you may want to opt for a long-term package after you check PureVPN out.
---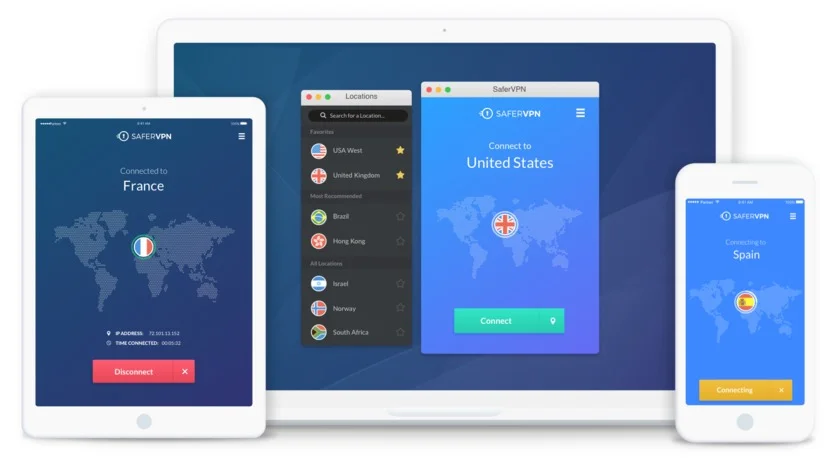 This is one of the latest entrants to the VPN market; as the name indicates, it strives to make your online experience a safer one. What makes this VPN stand out is the fact that it claims to be the simplest one of the lot, and, naturally, fast as well.
That is one of the reasons that we have posted our review on the VPN – to check and see if the claims of this VPN happen to be spot on or not. So, let's get to it.
Getting started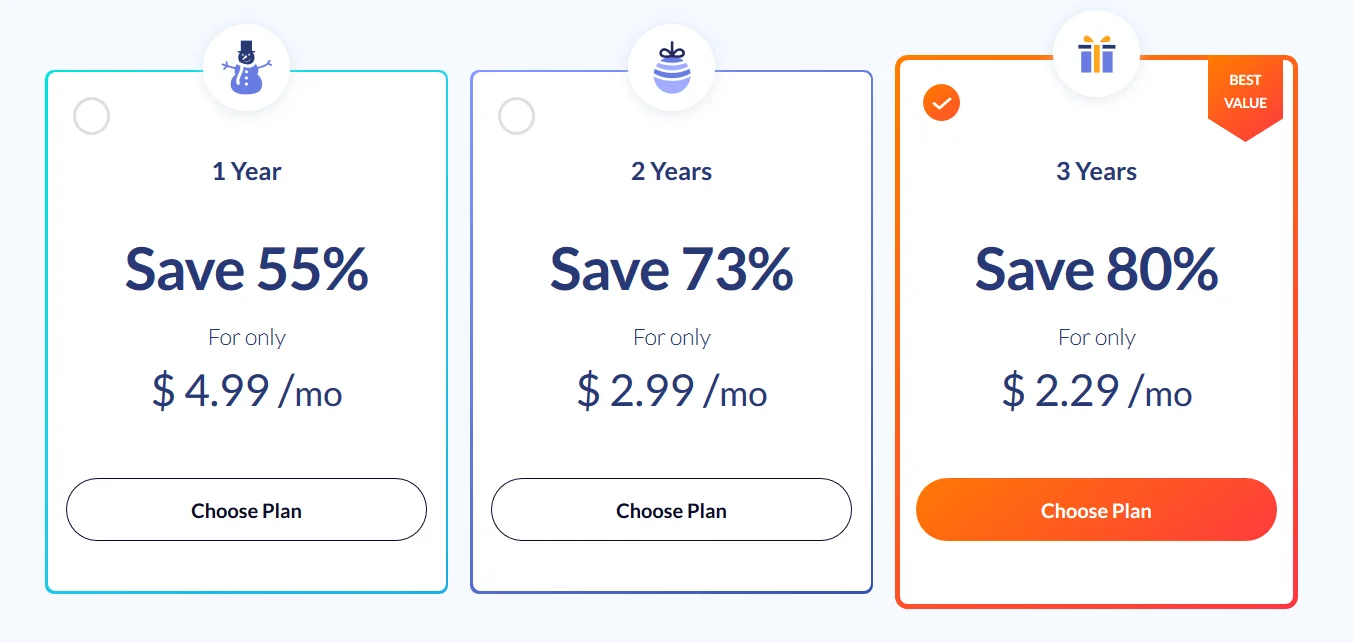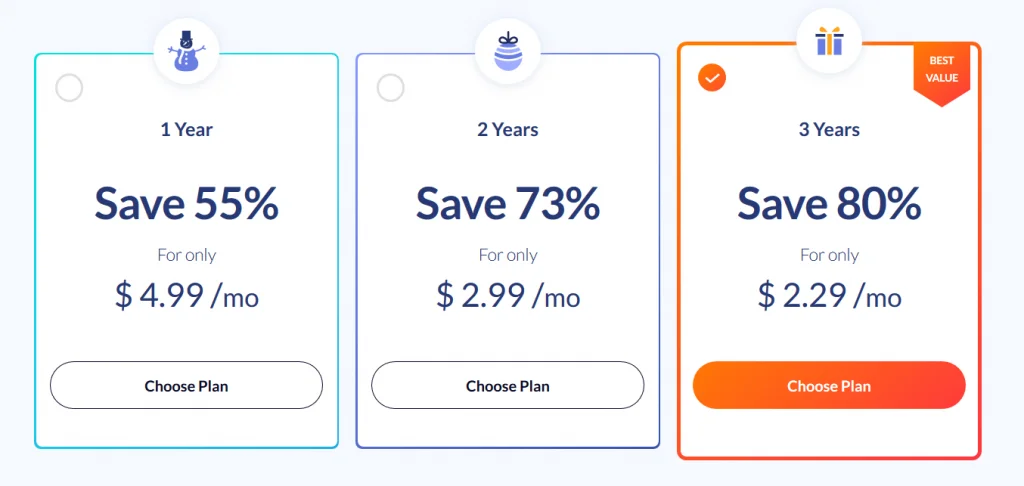 The first thing that you need to do is to choose your payment plan. Once have chosen the right one, you can then move on to registering for the same with a valid email address.
Creating an account


You need to share valid account details including your email address as well as accurate payment information, to set up your account. Any information you provide will not be shared with third parties but you can always use a dummy email ID for the same.
Payment and pricing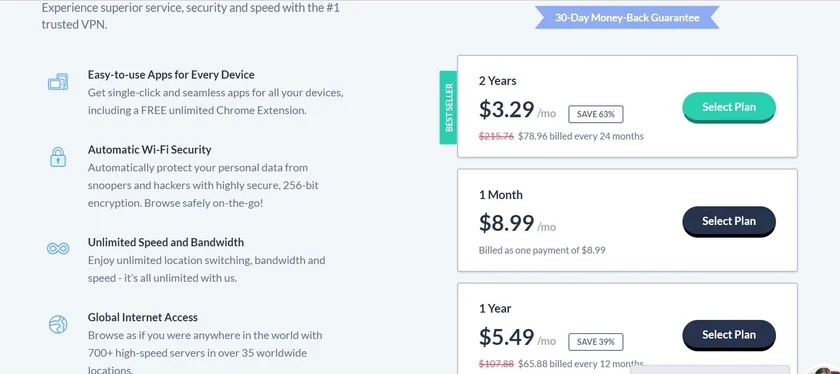 SaferVPN comes with an opening price tag of $8.88 per month. This is significantly lesser than what some of the others charge and you can always opt for long term plans, as they come with discounted rates.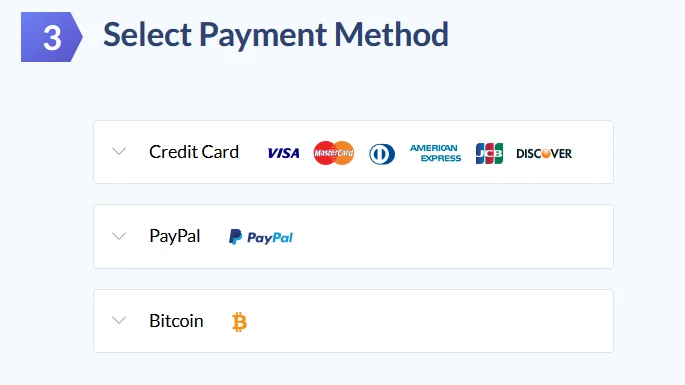 For example, SaferVPN's annual package is priced at $65.88 ($5.49/month) and the two-year plan which starts at $78.86 ($3.29/month).
Installation

This VPN is easy to install and set up; it comes with Apps for Windows, Mac, Androids, gaming consoles, media streamers and more. It is better to purchase a Wi-Fi router with SaferVPN installed on it but you can also install it manually on your current one.
The detailed step by step guide should prove all the help you need to get it set up and working.
Set up and settings
For the purpose of this VPN's App, we would be taking a closer look at Windows and Android Apps of the same.
Windows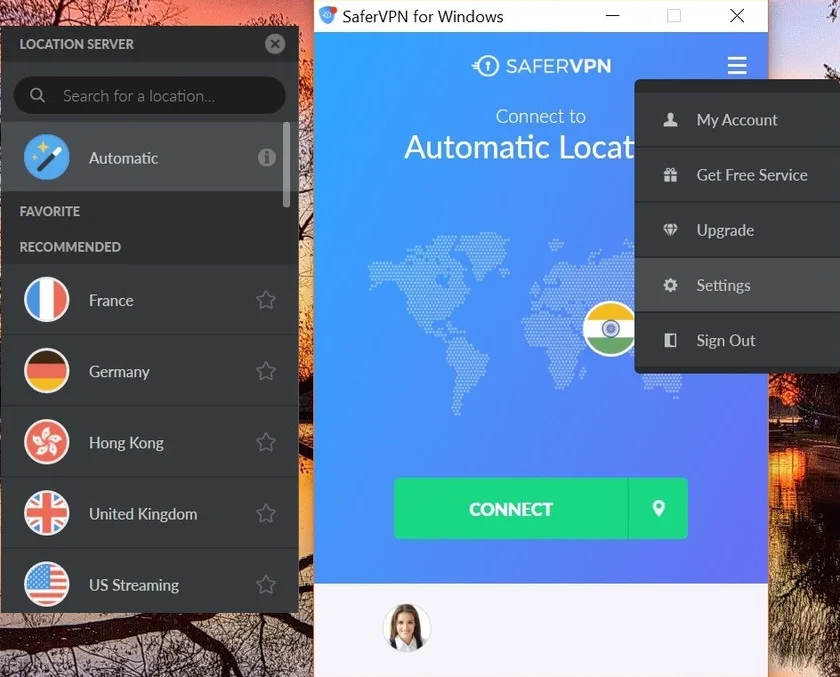 Logging in
Once you log into the VPN App for windows, it soon becomes apparent that this VPN really aims to be simple but fast. You come across the world map with all the geographic positions of its servers marked on it. The App automatically chooses the server for you and all you need to do is to hit the 'green' button to connect.
Additionally, you can click on the location pointer right next to the connect button. It should show the 34 countries that its 700 servers are located in. But you cannot choose the individual server to connect to but instead, have to select the country to connect to.
Server
As mentioned earlier, SaferVPN does not allow you to connect with the individual servers but instead it does the heavy lifting and connects you with the servers closest to your location and ones that are optimally fast.
Settings: The settings for this VPN can be accessed by clicking on the icon on the top right. It allows you to choose the protocol for the connection along with an Auto Wi-Fi feature as well as a Kill Switch, to disable the connection once the connection is lost with the Wi-Fi.
Android
The App for Android has a similar interface and layout as the one for Windows with just a few differences – the location icon has been moved to the top left and there is no separate settings menu.
Ease of use
It has to be said that this is one VPN that lives up to its claim. It is indeed simple to use and comes with minimal features that you can easily navigate.
Security and privacy


This VPN company is actually based in Israel where there are strict laws regulating both security and privacy. It does come with no logging policy where minimal user data is collected.
Some user information is retained as a way to prevent fraud but to a large extent, SaferVPN provides secure tunneling for you to get online and conduct sensitive transactions safely. This VPN also does not log IP addresses nor does it record any browsing history.
Speed
You can use various online speed tests to check the speed of this VPN, which incidentally takes over 2 to 5 seconds to connect to a server. That's real fast.
Key features

SaferVPN comes packed with the following features:
Allows up to five concurrent connections.
24-hour free trial and 30-day money back guarantee.
Zero activity logging, but connection and location information (not IP addresses) are logged.
Over 700 server locations in 34 countries.
You can unblock or circumvent geo location restrictions for various streaming websites.
Security features include Kill Switch and Wi-Fi Security.
24/7 customer service available. and Plugin Conflicts
Final thoughts
The only downside that we can think of is that the VPN does not permit you to connect with individual servers. But that being said, it is one of the fastest, and easiest to use.
You can set up your connection within minutes after reviewing the detailed guides.And, while the pricing is slightly higher than some of the other VPNs, this one has shown that it is worth it.
Pros
Fast speeds at peak performance
Simple and very easy to use Apps
Kill Switch and Wi-Fi Security are good additions
US and UK streaming servers work as expected
Up to 5 concurrent connections
24-hour free trial and 30-day money back guarantee
Cons
Consistency issues
Connection logging
Only one location for P2P
Doesn't work in China
Bottom line
Even though this is the latest entrant to the VPN sector, it really happens to be quite good. You can completely rely on its security and support features.
---
Verdict
So, these were some of the best VPNs currently available in the market. All of the above-mentioned VPNs are no doubt excellent, provide amazing security, brilliant support and come with varied prices. You can check out the various features they come with and select the one that suits your needs and budget best.
We have selected only the best of bests from all the VPNs available. So, you can easily opt for any of them and be assured about your security.