Deciding to start generating demand for your business can be intimidating, but with so many options, it's important to know which one(s) is best for you and your business.
B2B and B2C marketing are more similar than they are different, but they do have several key differences. So which one should you be doing? And how do you choose between them? Here are the answers to your questions about B2B vs. B2C demand generation, and what you should focus on in your business today.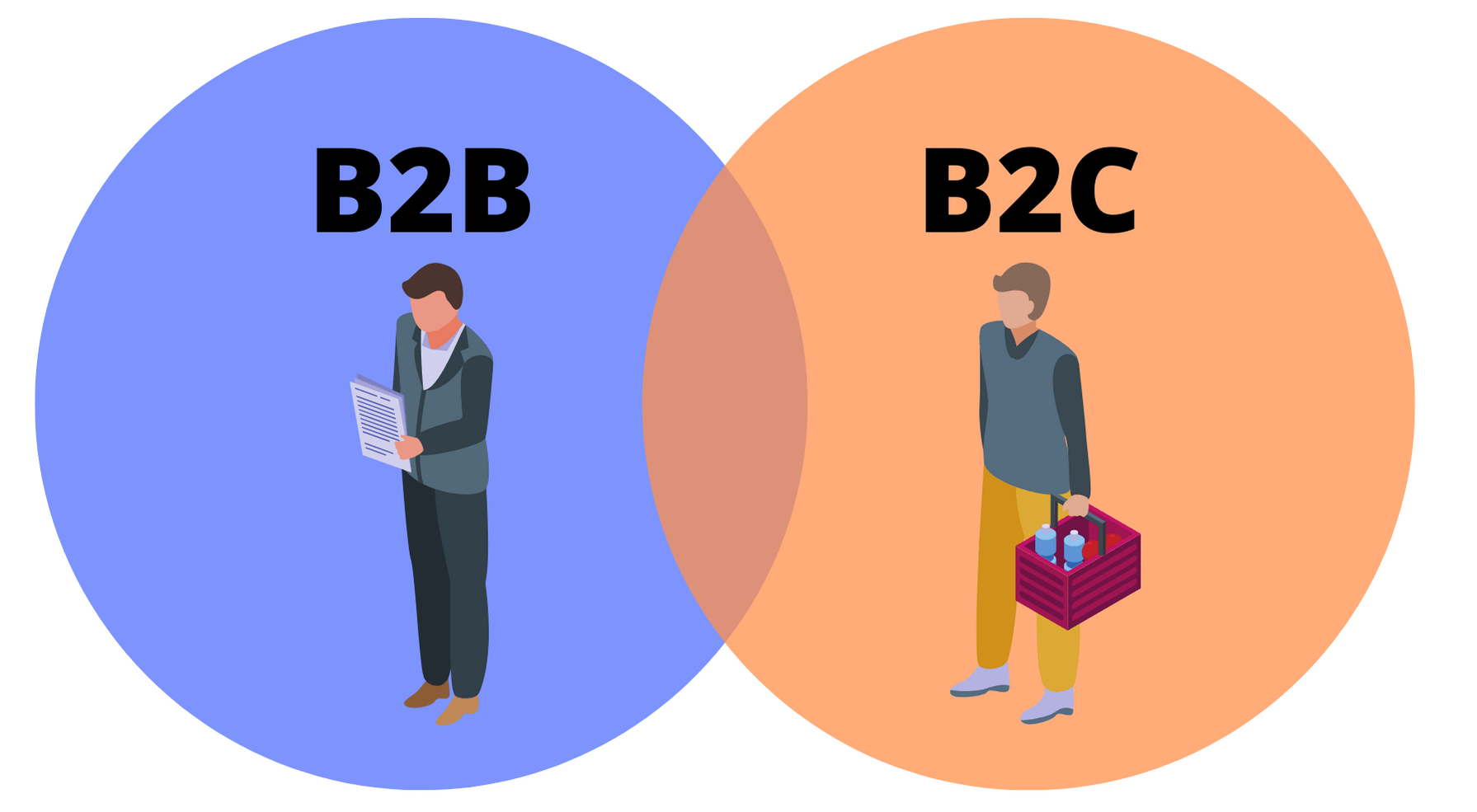 What are B2B and B2C?
Business-to-business is a scenario in which one business transacts with another. This is usually when the business is sourcing materials for their production process so that other companies will have what they need to produce a product.
On the flip side, Business-to-consumer, or Direct-to-Consumer (D2C), is selling products directly to consumers, thereby avoiding middlemen such as retailers, wholesalers, and distributors.
Many business owners don't realize they're using different strategies for their B2B and B2C demand generation efforts! At its core, B2B marketing is more focused on developing trust with a larger number of less qualified prospects over time, whereas B2C marketing is geared towards one-off transactions from more qualified buyers that want to make a purchase today or this week.
A business owner must first decide which approach will work best for them based on how much money they have, how much lead nurturing they can do upfront, and how quickly they need to generate sales.
How B2B and B2C are similar
Business owners in both industries have similar goals, like expanding their customer base and meeting their target objectives. Demand generation strategies stimulate consumer activity in both cases, increasing purchases or completing an inquiry.
In some ways, marketing to businesses (B2B) can be easier than targeting individual consumers (B2C). This is because fewer channels need to be created and monitored for success when targeting businesses rather than individuals.
The B2B demand gen aims to grow a company's revenue by building strong brand awareness, fostering long-term relationships with customers, and making business-to-business transactions as easy as possible.
The main advantages of B2B demand gen are scalability, cost efficiency, and better tracking capabilities than what you would find with other types of digital marketing campaigns.
How B2B and B2C Are Different
Business-to-business (B2B) and business-to-consumer (B2C) companies work to generate demand through different methods. For instance, a successful B2C company will use demand generation tactics such as email marketing campaigns and social media. In contrast, a successful B2B company might use sponsorship opportunities in industry conferences or organize events on behalf of its customers.
While B2B and B2C companies risk generating demand for products that are not yet ready for sale, success is often determined by how well they forecast potential needs based on past successes and failures.
B2B demand generation has traditionally been centered around partnering with other companies and organizations to help them reach their goals. However, recent trends show that there has been an increased focus on individual consumers.
As consumerism continues to grow as a cultural norm globally, more businesses are shifting toward B2C strategies to meet demands. In addition, the internet has also made it easier for many B2B companies to connect with customers and provide personalized customer service.
At this point, it's safe to say that while there are some distinct differences between B2B and B2C demand generation practices, the two share many similarities regarding strategic implementation.
It all boils down to understanding your target audience and providing them exactly what they want – whether you're doing so directly or indirectly. Whether you work in the B2B or B2C world, investing time and energy into generating high-quality leads is worthwhile because there's no such thing as too much profit!
The Key Differences Between B2B and B2C Lead Generation
Sales Cycle Length
In B2B, lead generation is often more involved than in B2C since B2B contracts are often much larger and involve more time and resources than B2C contracts. In addition, unlike B2C companies, a company in the B2B space must also understand its target market and what they need to sell its product or service to that market.
The people who will make up your target audience can be difficult to reach out to because they might not know that you exist yet. Still, this process can be much easier if you do an excellent job generating interest through your offer or demo.
B2C sales cycles and transactions tend to be much shorter and involve less money. As a result, lead nurturing tactics can also differ between these two sectors.
For example, with B2B demand gen, you're likely to want to include more content within your nurturing campaign, like webinars and blog posts about trends related to your industry, while with B2C demand gen, you're going to want to include coupons or discounts on products.
Unique Content
B2B customers are more knowledgeable because they do a lot more research before purchasing. Therefore, they require more valuable content, such as free case studies, infographics, and white papers, to help them along the sales funnel.
One might say that marketers often target B2C customers when they are in the buying phase. Therefore, lead generation content for B2C can take the form of promotions, offers with purchase limits, and messages personally written for the customer.
Product Knowledge
When dealing with buyers who may have questions or issues, B2B marketers must be confident in their product knowledge and demonstrate familiarity with it.
B2C marketers need product knowledge as well. However, piquing the customer's interest is usually enough to get the ball rolling.
Final Thought
An often misunderstood concept in business development is the difference between a B2B and a B2C (business-to-business and business-to-consumer) marketing strategy.
For example, your company has released a new product for sale that requires professional installation by an electrician with specialty training or tool access, thus making it available only to businesses or larger organizations.
It would be considered a B2B strategy because of its target audience. But, on the other hand, if you sell products that any consumer can purchase off the shelf at their local grocery store or Wal-Mart, you are most likely going after a B2C strategy.