Is your phone's look not exciting enough now? Then why not try out some fantastic phone skins other than phone cases!
Everyone has different aspects to look for when buying a new smartphone. But one universal aspect that is crucial for all is the design and look of the phone. Since it is usual for smartphones to have identical attributes, more or less, their color and feel is the only other thing that is widely distinguishable. That's why you can see people looking for unique-design phones.
In general, a person uses a phone for a long time. But the look of the smartphone dulls out to the eye over time. In such circumstances, many phone users choose to use phone cases available in tons of designs, styles, and colors. Well, it also serves other purposes. Nonetheless, apart from this external accessory, you can give your phone a new aesthetic by applying stunning phone skins.
Phone skins are so in trend these days. Like any other phone accessory, you can change the phone skin as much as you want. This way, your phone will feel brand new every time with a different phone skin.
Here, I have set up a list of top phone skin brands that people love. But before that, you will come across a briefing on phone skins and how they are different from phone cases.
What is phone skin?
In layman's words, you can think of phone skins as attractive stickers for your smartphone's back. Since phone skins are supposed to be of exact fit for your smartphone, they are usually thinly textured and precisely self-adhesive sheets. Therefore, when you perfectly apply the phone skin to your smartphone, it looks flawless. Its fit is seamless as if the phone skin is the authentic or original design of the smartphone. As the phone skin is thin, you won't feel the extra weight while carrying your phone.
Phone skin is not only good to look at. It also prevents any harm like scratches or smudges on your phone. They also come in a variety of textured materials. So, when you buy a phone skin, ensure that it will serve other uses like supporting better phone grip.
Phone skins Vs. phone cases
Phone skins are a great option if you want to give your smartphone an unnoticeable external look change. At the same time, the other choice is the phone cases which are, instead, very much visible. Phone cases are usually very cheap, which is why you can find them at every corner shop, more or less. Despite its uses, phone cases do add extra weight to your phone.
Like every other thing out there, phone skins and phone cases have their pros and cons to offer to the users. That's why, if you are confused about which one to get for your smartphone, you can have a look ahead.
The main reason behind many people choosing phone cases is because of its impact protection feature. A perfect fit and high-quality phone case guarantees the safety of your phone from accidental drops and other unwanted harmful events to the phone. Phone cases usually have some weight to them as most of them are thick in size, and more if they come with extra accessories.
As much as phone cases protect the phone from harm, their thick design keeps the original look of your phone hidden. They also make the phone bulkier to carry at hand. Finding perfect phone cases that are lightweight and protective is not easy to get either.
While phone cases hide the original sleek design of your precious phone, phone skins are the opposite. Phone skins, as is the name, retain the authentic look of the phone through the stunning sheets. They add an extra aesthetic note to your smartphone with its specs all visible. Skins may not be functional for most phone users, but they sure are more flexible regarding the phone's looks. You have vast choices of colors, designs, and textures. You can keep changing your phone's look whenever you feel like it.
Phone skins are not for those phone users who want phone covers with comprehensive functionality. Skins cannot protect your phone from accidental hand-slips. They at least can keep away those irritable smudges and scratches. As much as phone skins are attractive, make your choice wisely if you are a clumsy person.
How to apply a phone skin?
Applying or installing a phone skin is as simple as sticking a screen guard on your smartphone. All you have to do is that the skin fits the phone like a glove. Please install it to look like a part of the phone, not an external thing. Nonetheless, when you purchase a phone skin from a brand, you will receive an installation guide and other helpful videos to help your phone skin installation process smoother. And another benefit of getting phone skins from brands is that you get a replacement guarantee if something goes out of the way while applying.
---
Top phone skins brands
Purchasing phone skins from famous and reliable brands is always beneficial for quality checks and fit for your phone. Hence, below are some of the best phone skin brands that people love and recommend.
1. Dbrand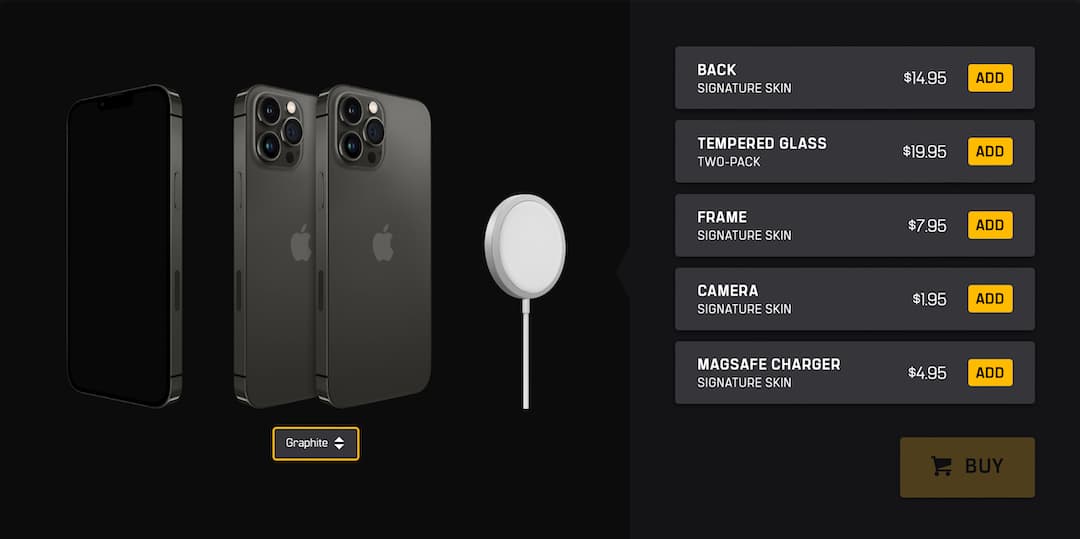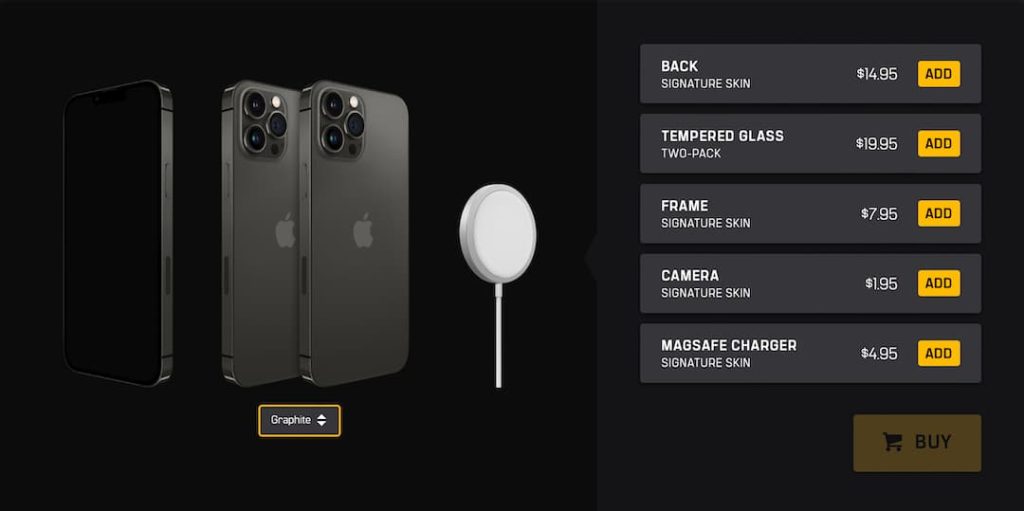 If you ask a phone-skin user for suggestions, perhaps their first choice would be Dbrand. Dbrand has earned its place and reputation over time for providing its customers with the best quality products. Dbrand's phone skins are made of the highest quality 3M materials. Installation of its phone skins is also simple enough as a patented adhesive has been applied in its production. Also, when you are bored of the old skin, removing it won't leave any residue on the phone.
Designs and textures
Dbrand's phone skins are available in tons of textures and varied colors. You have lots to choose ranging from pastel colors to metal finishes to matte and leather backs. Their skin materials also have options like camo, stone finish, wood, and not to forget the most popular finish- carbon-fiber skins. Dbrand already provides their customers' tons of variations when it comes to phone skins, but they also give the customers a choice to customize the skins. You can choose your customization options regarding colors, textures, camera module, skin type for the phone's back, and the color of choice for your smartphone's logo.
Supported devices
Dbrand's phone skins are widely applicable on varieties of phone brands. Its broad applicability and customizability are the reason for its popularity as a phone skin brand. You can get phone skins for the latest phone releases and older flagship smartphones. Dbrand as a skin brand offers skins for wide items, including tablets, laptops, headphones, smartwatches, and many other electronic accessories like power banks, chargers, gaming consoles, etc. Moreover, another thrilling news about Dbrand skins is that they will also provide skins to wrap cars.
To name a few, Dbrand's phone skin supports the following mobile devices:
Samsung
Google
OnePlus
Apple
2. Skinit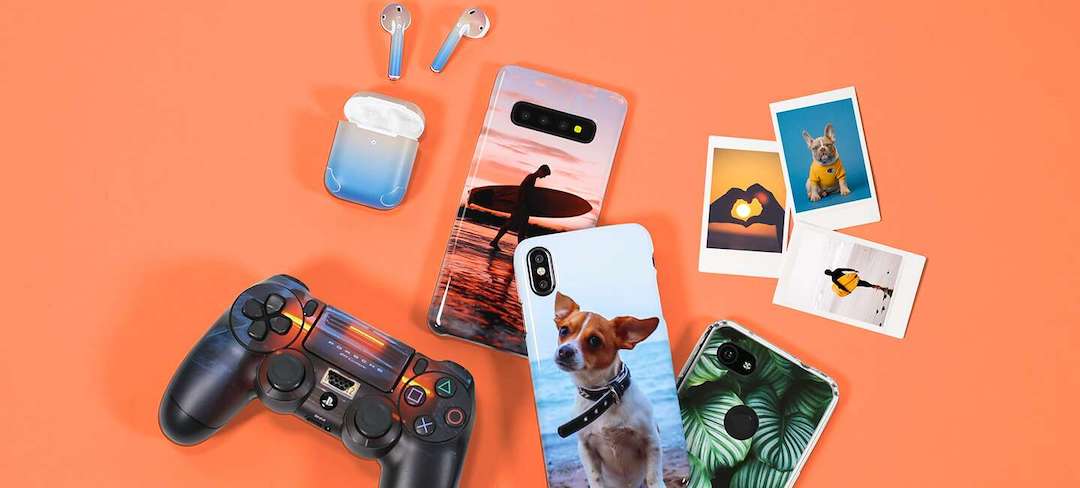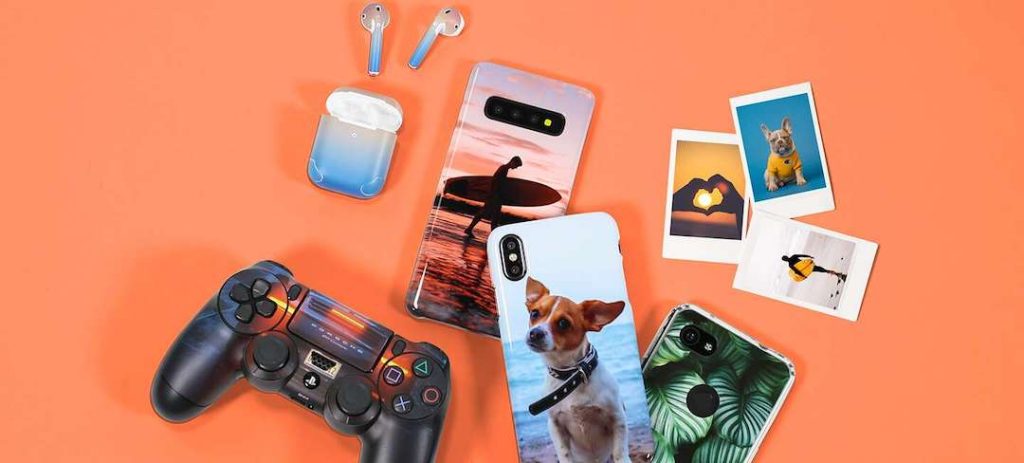 Skinit is known to bring about some exciting and unique phone skins in the market. The kind of phone skin that you install might also tell a lot about your personality and interest. Thus, if you want to show off hobbies and interests, you sure can try out some Skinit wraps. They have unique cartoon skins, sports-based skins, fandom wraps, and so much more.
Design and textures
Rather than emphasizing the production of pattern-based phone skins, Skinit is more about graphics-based skins. Hence, you can find Skinit wraps with wholesome graphics of colleges, cartoons, fandoms, sports teams, superheroes, and so much more variations. But, well, of course, they also please their customers by offering phone skins with typical textures like brushed metal, carbon fiber, to name a few. Standard patterns are also available if you want.
Like few phone skin brands out there, Skinit also offers the most-demanded custom skin option. However, they got some strict policies here for custom skins. While you design your own unique custom phone skins, you must ensure that you do not violate any copyright limits.
Speaking of phone skins, you have not forgotten about phone cases, right! Well, Skinit surprisingly has significant wraps or skins for your protective phone cases as well. If you want protection and unique looks for your phone, get Skinit skins for your phone case itself.
Supported devices
You can get your favorite graphics-based wraps or skins for your other electronics like laptops, gaming consoles, tablets, chargers, and smartphones. And amazingly, Skinit also has wrapped for coffee mugs and walls. Now, below are the small list of phones that Skinit supports.
Samsung
Google
Apple
3. Xtremeskins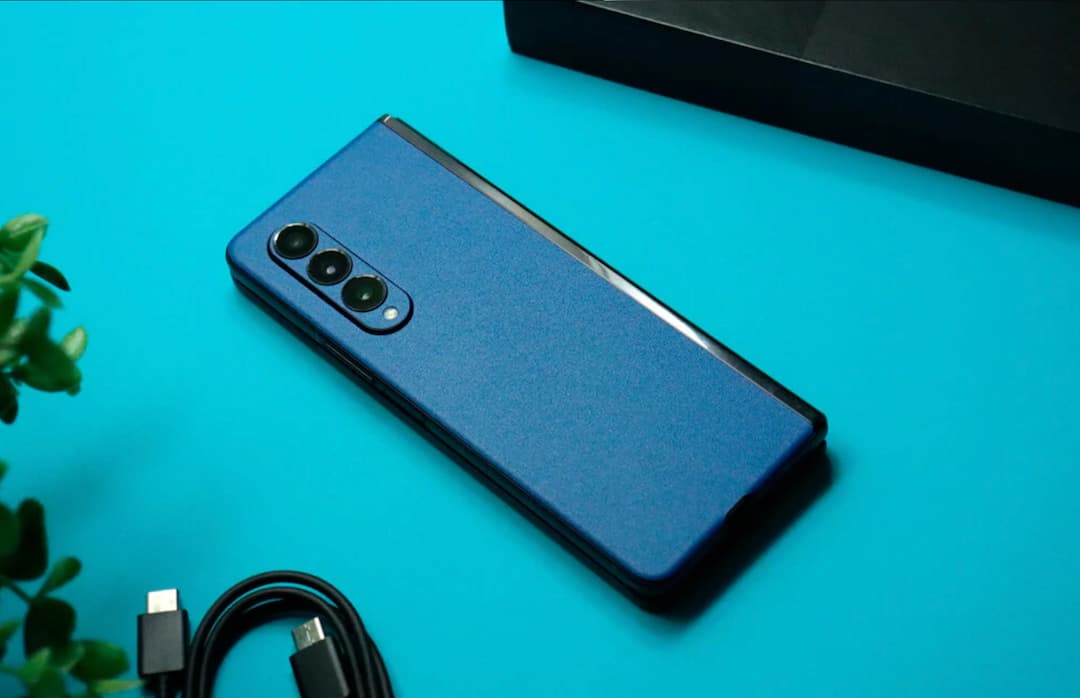 Xtremeskins is a UK-based skins brand that can make your phone stand out in the crowd with its stunning mix and match design. For non-UK-based customers, they offer international shipping. So, getting the Xtremeskins phone skin on your hand is as easy as usual online shopping. Another reason for its worldwide popularity is that you can easily apply, reposition, or remove the skin from your phone. You can also stretch the phone skin if necessary with a dryer.
Design and textures
The best part of the Xtremeskins brand is the accent coloring of the wraps. Along with numerous choices for the phone skin's textures and colors, you can also opt for unique accent colors for your phone's logo and even mix and match. Speaking of skin finishes, it is just as similar to other phone skin brands that you may see.
Supported devices
Xtremeskins has broad applicability in electronics, including laptops, gaming controllers, tablets, drones, headphones, set-top boxes, smart speakers, a few smart wearables, and all other latest phone releases. Few smartphone brands that you can expect to apply Xtremeskins wraps are:
Samsung
Google
OnePlus
Apple
4. Gadgetshieldz
Gadgetshieldz is considered one of the best phone skins brands by phone users in India. They do international shipping as well, which means they got customers worldwide. The phone users love Gadgetshieldz phone skins because it has a 3M construction introduced in their Skinnova series. 3M construction here indicates that the skins have exact cuts wherever the phone displays a stand-out feature like a camera and buttons. These phone skins are so affordable too.
Design and textures
Like other phone skins brands, Gadgetshieldz has a limited choice for designs and skin textures. However, to get a somewhat unique skin look, you can mix and match your phone skin design. Some popular skin finishes of Gadgetshieldz are wood patterns, carbon fiber, and brushed metal. You might also get your hands on their special edition phone skins with colorful bumper skin patterns if you are fortunate. The other good thing about this phone skin brand is that they provide skins as only flat back sheets and full wrap sheets.
Supported devices
Since Gadgetshieldz is an Indian company, you can get phone skins for many smartphone brands that other phone skins brands do not offer. This smartphone brands list includes Redmi, Realme, Vivo, Xiaomi, Oppo, Poco, and some mid-range Samsung phones. However, if you own a Google phone like of Pixel 4 or Pixel 5 series, you won't find phone skins for them here. Gadgetshieldz also offers a handful of colorful wraps for laptops, gaming consoles, and speakers. Other than that, below is a list of similar phones that this brand supports like the rest.
Samsung
OnePlus
Apple
Google
If this resource is helpful for you, do leave a comment.