Are you puzzled by the term "com.dti.folderlauncher" when browsing your "Google Web & App Activity"? In our modern digital era, smartphones play an essential role in our daily lives. Given the proliferation of mobile applications, monitoring all the applications and games on our devices can be a daunting task. Typically, an Android user installs over 50 apps from the Google Play Store. In addition, the Android operating system and default system apps consume a significant amount of phone storage.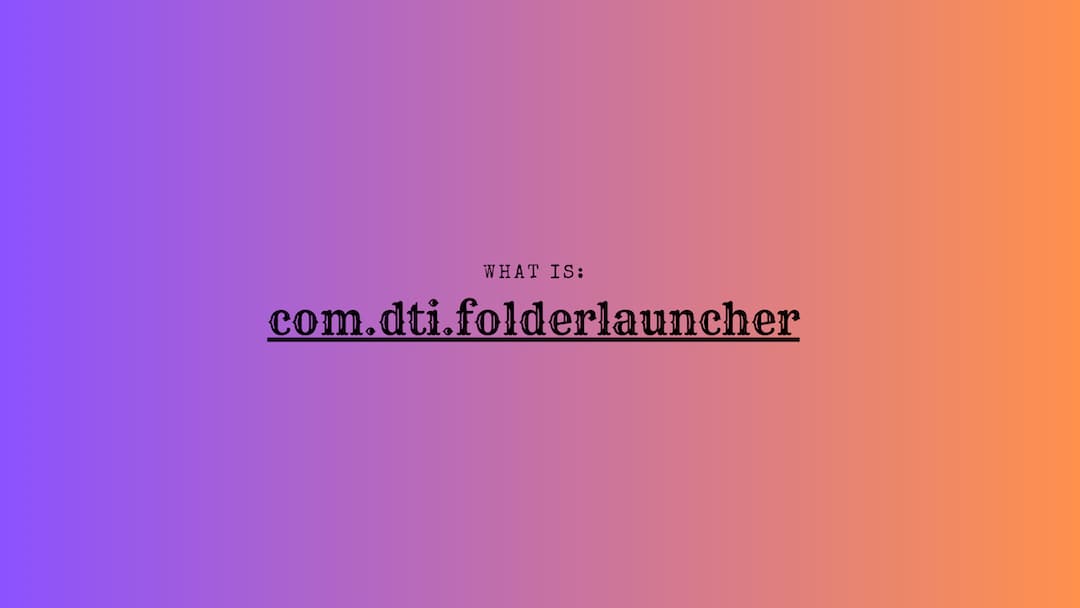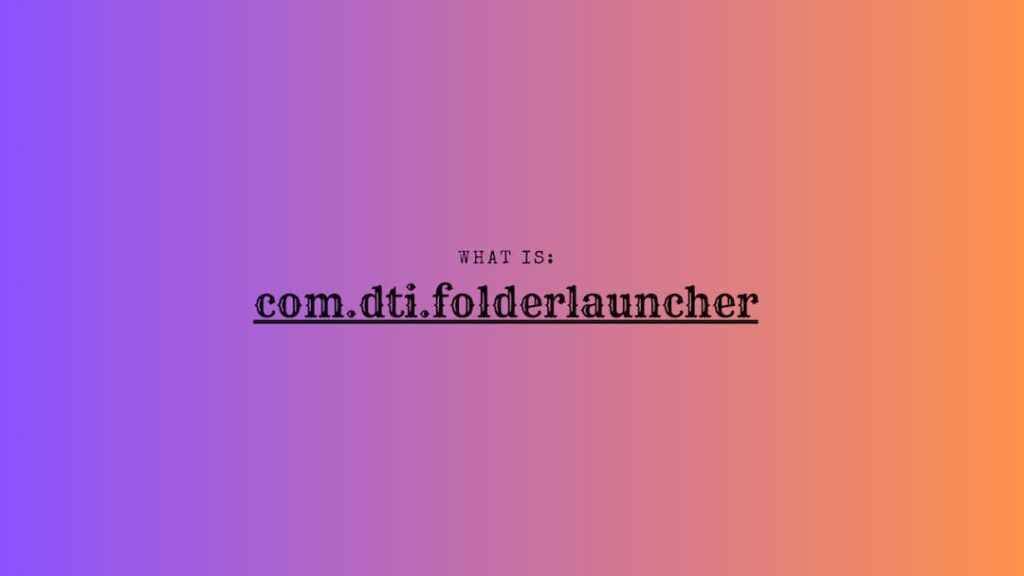 com.dti.folderlauncher is a system application designed to address this issue. It enables users to categorize their apps into folders on their home screen, streamlining app access and minimizing mess, thereby enhancing usability. In this article, we'll delve into the specifics of com.dti.folderlauncher, its functionalities, and the procedure to remove it. Additionally, we will evaluate the safety of having this app on your device.
Understanding com.dti.folderlauncher
com.dti.folderlauncher is a system application found in certain Android devices, much like the com.samsung.android.da.daagent package. Android devices come equipped with a series of "packages" and "applications" that execute specific tasks. The role of com.dti.folderlauncher is to lunch "folders" on the device's main screen.
By default, apps on the main screen are listed individually. However, for more efficient organization, apps can be grouped together in folders. Whenever a user opens a folder to access its contents, the "com.dti.folderlauncher" app operates silently in the background. This system allows users to conveniently drag their apps into desired folders, streamlining the organization and retrieval process. These folders can be labeled and personalized, making it simpler for users to locate their desired apps.
To generate a folder using com.dti.folderlauncher, a user should press and hold an app icon on their main screen. This app can then be dragged onto another one, resulting in the formation of a folder. To populate this folder, users can continue to drag and place additional apps inside it.
Benefits of com.dti.folderlauncher
It's commonly known that Samsung Galaxy phones come with a lot of pre-installed apps, often referred to as bloatware. This leads many users to seek methods to remove these superfluous applications. However, labeling com.dti.folderlauncher as mere bloatware might be misleading. This app serves a crucial purpose: decluttering.
Here are some advantages of having it on your smartphone:
Streamlined home screen: com.dti.folderlauncher enables users to categorize their apps into specific folders, streamlining the search for a particular app.
Customization: The app offers the flexibility to name and arrange folders as users wish, such as 'Games' or 'Work-related apps'.
Optimized screen real estate: By consolidating apps into folders using com.dti.folderlauncher, users can keep their home screen tidy and free of excess icons.
Quick app access: Categorizing apps means users can swiftly locate and launch their desired app without wading through numerous screens or extensive app lists.
Is the com.dti.folderlauncher trustworthy?
The com.dti.folderlauncher is entirely safe for use and won't damage your device. If you notice "used com.dti.folderlauncher" in your activity log, even if you haven't opened that specific app, don't be alarmed. This will appear whenever you open a folder to launch another app on your phone. Rest assured, this app is not associated with hacking, malware, or any other security and privacy concerns.
How to uninstall com.dti.folderlauncher?
We recommend against attempting to remove the com.dti.folderlauncher from your mobile device. Doing so might disrupt associated features or cause your device's home screen launcher to malfunction. However, if you choose to proceed, there are two approaches you can take.
The first method needs complete root privileges, while the second involves setting up ADB on your computer. Detailed steps for both are provided below.
Uninstalling via ADB
To remove com.dti.folderlauncher from your phone via the ADB tool, follow these instructions:
Begin by downloading and setting up the ADB (Android Debug Bridge) on your PC. The Android developer's official website offers guidance on this. Alternatively, check out: Download ADB (SDK Platform Tools).
After ADB installation, plug your Android phone into your PC using a USB cable.
Launch a command prompt or terminal on your computer and travel to the folder containing ADB.
Type adb devices to confirm ADB identifies your phone. If your device doesn't show up, ensure USB debugging is activated on your phone.
Type adb shell to access your device's shell.
To see all apps on your phone, type pm list packages. Amongst others, you'll notice com.dti.folderlauncher.
For removing com.dti.folderlauncher, type pm uninstall -k --user 0 com.dti.folderlauncher. This will eliminate the app along with its data.
After a successful command run, type exit to leave the shell.
Lastly, unplug your phone from the PC.
NOTE: Exercise caution when utilizing ADB; incorrect usage could harm your device. Always adhere to the guidelines closely and verify the commands prior to execution.
The com.dti.folderlauncher app should now be gone from your phone.
Uninstall using System app remover (root)
If you'd like to use the System App Remover application to delete com.dti.folderlauncher, here's the procedure. Ensure that your Android device is fully rooted for this method. Follow the instructions below:
Get the System App Remover from the Google Play Store and install it.
Launch the app and provide the required permissions.
In the search bar, type in "com.dti.folderlauncher."
When you locate the app, tap on it to view its details.
Hit the "Uninstall" option to delete com.dti.folderlauncher from your device.
Confirm your decision to uninstall.
Wait patiently for the app to be fully removed.
NOTE: Keep in mind, not every phone comes with this folder launcher application. If it's not visible in your list, there's no need to remove it.
FAQs
Commonly asked Q]questions by our readers
To better serve our community, we've compiled a list of questions that users often inquire about. These are designed to provide clarity and assist in navigating our platform more efficiently. Please take a moment to review them, as they may offer answers to the very queries you have in mind. If your concerns are not addressed here, please don't hesitate to comment below.
1. Is com.dti.folderlauncher a standard app on all Android phones?
No, com.dti.folderlauncher isn't present on every Android phone by default. Only certain Android makers pre-install it on their devices.
2. How can I create a folder using com.dti.folderlauncher?
To set up a folder in com.dti.folderlauncher, you simply press and hold an app on your home screen. After that, just drag it over another app and this will produce a folder. You can keep adding more apps to this folder by dragging and placing them into it.
3. Is it possible to remove com.dti.folderlauncher?
Indeed, you can get rid of com.dti.folderlauncher. However, doing so might require a deeper understanding of the system. You can utilize ADB for the uninstallation. But remember, if misused, ADB can harm your device.
4. How can I get rid of pre-loaded apps?
To eliminate pre-set apps, also known as bloatware, you can either make use of ADB or a specialized app remover, given that your device is rooted.
If you're curious about more aspects of the FolderLauncher app, drop us a note in the comments section.