Parents want to make sure that their kids are safe online. The Internet consists of bad as well as good sites. Good sites can increase their knowledgebase, while bad sites can cause addiction and affect their mind adversely. Guardians want to make sure that their kids are safe from kid's kidnapper; that is why they install FamiSafe parental control app with location tracker app. This FamiSafe app is developed so that it is compatible with Android and Apple devices. The free trial version of the FamiSafe parental control app can be downloaded from the play store of android phones or the app store on iOS devices.
A common solution to track the live location of kids
The easiest way to track kids' location is to use the Google chrome parental control feature on Kid's phone. You heard it right Google chrome parental control features can be enabled on Google chrome browser settings. By enabling this feature, we can track the location of kids' phones and monitor their online activities.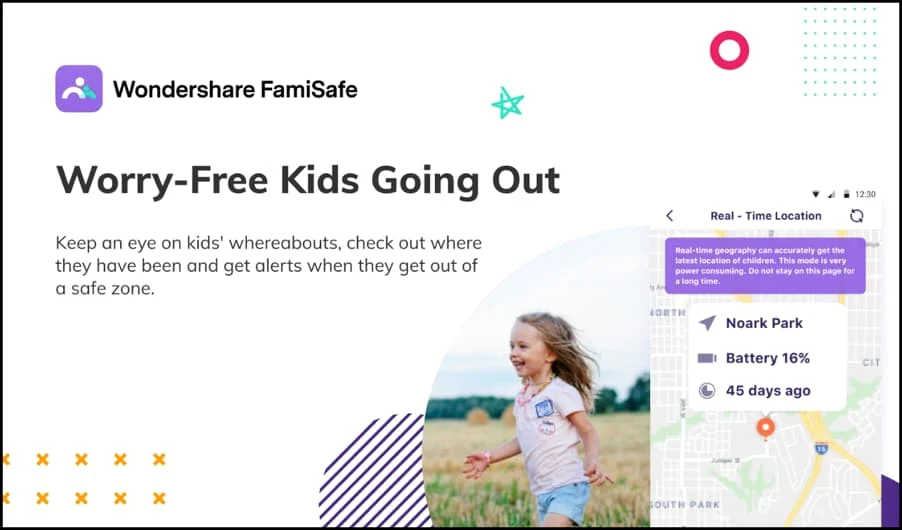 Real-time location sharing:-Kidnappers search for innocent kids for kidnapping and extorting money from parents. To protect kids from kidnappers, parents can install the FamiSafe app on kid's smartphones. In this way, they can know the exact location of their kid's phone, especially when they are returning from school or college.
Location history tracking: Parents want to check whether their kids have visited nightclubs, bars, or pubs that are inappropriate places to visit for kids. Using the FamiSafe app, we can easily find the location history of a kid's phone.
Geofencing setting: If we want to prohibit our kids to certain places, we can do so using the Geofencing features of the FamiSafe app on kids' phones.
The Wondershare FamiSafe application is fully compatible with both Android and iOS devices. Apple users can download the FamiSafe app from the app store online.
After installing the FamiSafe app on Kid's smartphone, parents can track kids' live location remotely from their device.
Other useful features of FamiSafe
Activity reports: – Sometimes, parents want to know the installed or deleted application on their kid's phone. FamiSafe can prepare the activity reports to track the app usage to find the most time-consuming app on their kids' mobile phones.
Filter web content: – Internet consists of lots of information; some are good and informative for kids while some are inappropriate or made specifically for adults. We can easily filter the web content using the FamiSafe app without any difficulty.
Limit the screen time of kid's smartphones: – Kid's love smartphones. They might play online games for a long time to hamper their studies and cause strain in the eye. To ensure that they cannot use their phones during their sleeping hours or study time, we can limit their smartphones' screen time using FamiSafe.
Price Plans of FamiSafe
Besides free plans, the FamiSafe app is available in three paid plans. They are monthly, quarterly, or annually. The yearly plan of FamiSafe costs 59.99 USD; its monthly plan costs 9.99 USD while quarterly plans cost 19.99 USD. The plan details and price can be checked from its official site as well.
Download link for FamiSafe app in Play store:
App Store Direct link for downloading FamiSafe app:
Amazon Store:
Conclusion
FamiSafe is the most popular cell phone tracker app that has parental control features. It provides the safety and security of kids and enables them to track the live location of kids. FamiSafe app is available free trial version in the android play store or apple store. This application is fast and easy to install. There is no complicated procedure for tracking the live location of any targeted device. Parents can easily track the real-time location of their kids from their remote devices. For this to happen, they need to install a FamiSafe application on the kid's phone. The location information shared by this app is accurate and precise. The pricing plans of FamiSafe are affordable, and one can suit the plan as per their convenience. Features like limiting the screen time of kid's smartphones, activity reports, and filtering website content make it the most reliable and trustworthy parental control app.