Beta labs program for the Nokia 2 has officially ended. This is good news to all the beta testers of the device which, for quite some time, has been using the beta version of Android Oreo.
According to HMD, all the beta testers will be receiving an email notice with details of the upcoming Android Oreo. However, official dates of availability yet to be announced.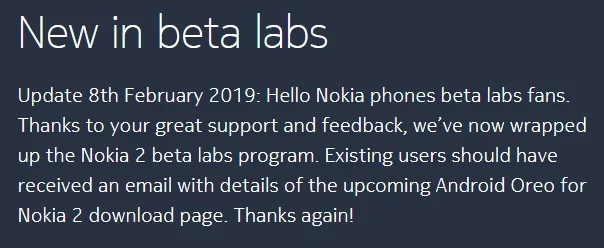 The Nokia 2 is currently the only Android Nokia phone left that is still running on Android 7.1 Nougat. Reason for this is its limited hardware which is giving HMD a hard time optimizing. This is even after the thorough work HMD did with the help from both Google and Qualcomm to enable and optimize the new OS for the device.
The phone came in before Google made the Go Edition available for implementation, hence, is running a full-fledged Android. And as if HMD haven't seen it coming, its hardware is unsurprisingly slow that we even doubted if it's the capability to run Oreo.
On top of all that, Go Edition is also not possible to install over-the-air (OTA). So HMD is forced to give the existing users two choices. Stay with Android 7.1 Nougat for a "slightly better UI performance", or upgrade to Android Oreo to take advantage of its new features. This hints its future which obviously will not be Pie.
The Nokia 2 features a 5.0-inch LTPS IPS LCD display with HD resolution. It runs on Qualcomm Snapdragon 212 with only 1GB RAM. The internal storage is also only 8GB but is expandable up to 128GB via microSD card. For the imaging, the Nokia 2 includes an 8-megapixel rear shooter with LED flash and 5-megapixel for the selfie. Nothing too fancy.
It is also worth mentioning that HMD has recently released a North American variant of the Nokia 2 under Verizon. They call it Nokia 2V, and it features a relatively better chip and larger display than Nokia 2.