In just a matter of days, two phones from India's top smartphone brands have been launched. Newcomer brand, realme, has been challenging the offerings from Xiaomi and other smartphone brands since last year. Stakes are high, but realme is able to climb up to India's top 5 in just a year.
Now, in the latest of the rivalry, Xioami launched Redmi K20 just days after realme launched the realme X. And if you're looking for a new smartphone in this price range, it can be quite confusing which one to get.
In this article, we will be comparing the realme X with the Redmi K20 based on their price, specifications, and features.
Specifications, features
In terms of the specifications, both contenders closely compete with each other. Both phones feature a full-screen AMOLED display, that means there's no notch or punch-hole for the placement of the front-facing camera. Instead, the two companies opt to use the increasingly popular pop-up selfie camera design.
However, in regards to the display sizes, the realme X takes the crown. The realme X comes with 6.53-inch display, while the Redmi K20 only has a 6.39-inch panel. Small differences, but could partially affect the buyer's decision. Both displays have full HD+ (1080×2340 pixels) resolution though. So it's still a win to pick Xioami.
But here's the interesting part. While realme decided to use the 10nm Qualcomm Snapdragon 710 SoC for the realme X, Xiaomi takes advantage of the relatively newer 8nm Snapdragon 730 SoC for the Redmi K20.
Don't get me wrong, both chipsets are more than powerful enough to make both phones run smoother, the extra power from the newer Snapdragon 730 SoC is still unmatched by its predecessor. In this category, Xiaomi is our easy champ.
For the memory configurations, the realme X comes in 4GB and 8GB RAM variants with 128GB of expandable memory.
For the Redmi K20, we have higher memory options. The base 6GB RAM model could either come with 64GB or 128GB of expandable storage. While the higher-end 8GB RAM version comes with 256GB of expandable storage.
Now comes the imaging. The Redmi K20 has triple camera setup, rather than the dual-camera standard on the realme X. It features a 48-megapixels main sensor, and an 8-megapixel camera with a telephoto lens, allowing up to 2x optical zoom. Aside from this, the Redmi K20 also included a 13-megapixel sensor with a wide-angle lens. Hidden in its pop-up selfie mechanism is an outrageous 20-megapixel sensor.
Meanwhile, on the realme X, realme also throws in a 48-megapixel sensor, partnered with a 5-megapixel depth sensor for the traditional bokeh effect. Upfront, there is a 16-megapixel sensor contained inside the motorized pop-up selfie mechanism.
To conclude, both handsets support up to 960fps slow-mo recording, in 1080p.
Megapixel wise, both offers high-resolution imaging. But Xiaomi takes a lead on the selfie department with its 20-megapixel snapper (if it's your thing). However, note that after hardware, there comes the software side of thing. So megapixel may not represent the actual quality of the photograph. Overall though, we find the camera setup on the Xiaomi far more versatile.
Software-wise, both handsets run on Android 9 Pie. But realme X has a ColorOS on top Android 9, while the Redmi K20 comes with MIUI skin. I find the MIUI more pleasant and less cluttering to the eye, but ColorOS also offers more features. Also, Xiaomi is known to include ads on their smartphones, so ColorOS takes the lead this time.
Other extra features include face unlock, in-display fingerprint sensor, dual-SIM card slots, and USB-C port for power and file transfer. And fortunately, both also have 3.5mm headphone jack.
Keeping the lights on is a huge 4,000mAh battery on the Redmi K20, while the realme X settled with smaller 3,765mAh battery. Both also feature fast-charging. However, the K20 only has an 18W charger in its retail box but is capable of up to 27W. But if you want to take advantage of the full capability of your handset, Xioami sells a 27W charger for Rs 999.
Realme, on the other hand, bundles the realme X with its unmatched VOOC 3.0 fast charger. So realme takes the lead here again.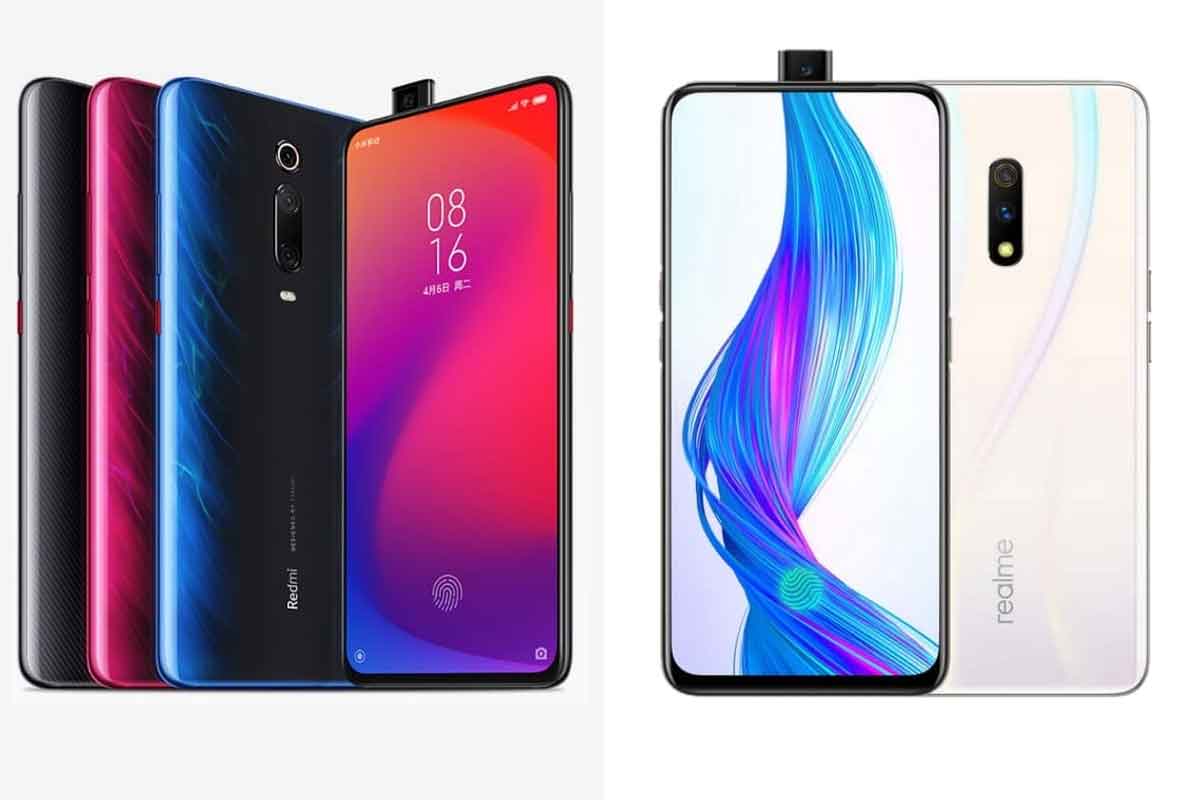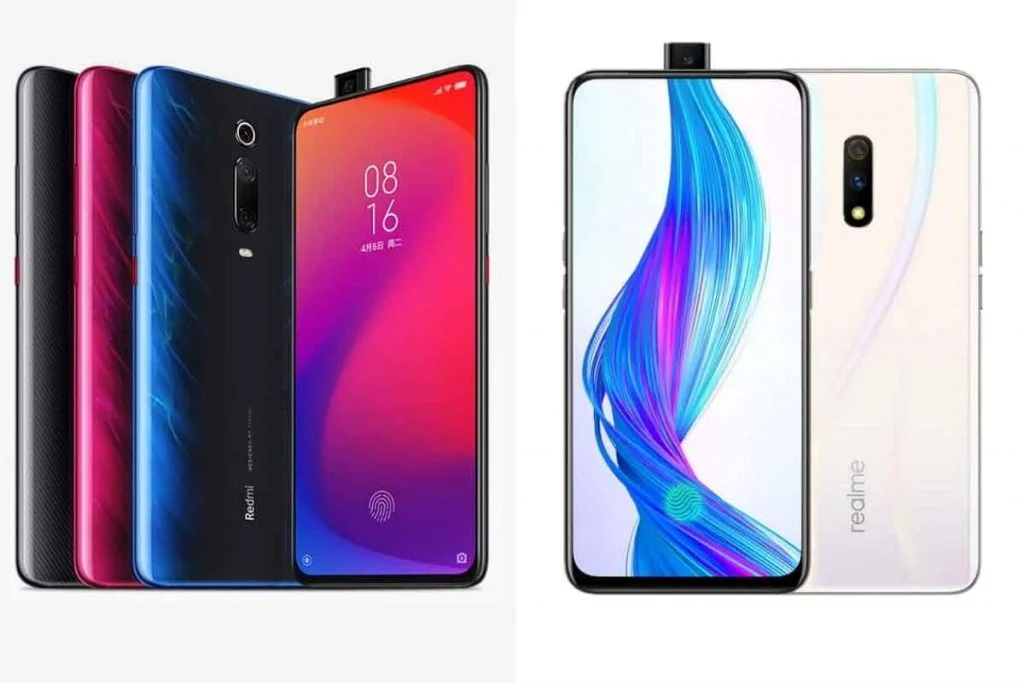 Price, availability
The Redmi K20 price starts at Rs 21, 999 for its 6GB/64GB base model. If you opt for the higher-end model, be ready to take Rs 23,999 out of your wallet. Sale starts on July 22 via Flipkart and official Mi website.
For the realme X, the 4GB/128GB base model starts at Rs 16,999, while the 8GB/128GB variant will cost you Rs. 19,999. The realme X will go on sale on 24th of July via Flipkart and official realme website.