PUBG Mobile is making itself the leading contender of mobile gaming crown. It is the most downloaded game in the first quarter of 2018, and still at the #1 position in Play Store. But some gamers aren't comfortable with mobile gameplay. Thanks to Tencent for making PUBG emulator official, the Tencent Gaming Buddy, players can continue this unknown battle in the PC. In this post, you will be able to download Tencent Gaming Buddy and install it on your PC with a perfect configuration.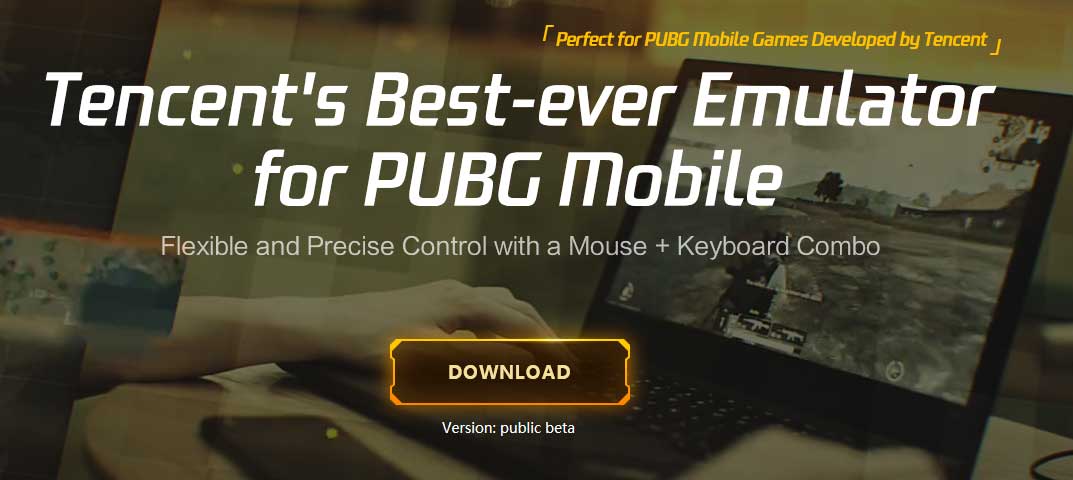 This might be quite confusing because of PUBG Mobile itself a mobile version of PUBG original PC game in the first place. However, there are tons of difference between PUBG and PUBG Mobile, which makes both versions unique.
The most obvious is the price. PUBG Mobile is free, which removes the barrier of entry of most of the player around the world. But now, with the Tencent Gaming Buddy, the official emulator for PUBG, you can get the best of both the world.
If you are among the 350 millions of PUBG Mobile users, and you want the perfect emulator, Tencent Gaming buddy is no doubt the best out there. This emulator is specific to PUBG only, which means, you will get the best control, and the full PC experience. Since the emulator is official (released by Tencent), you won't get banned from using it.
Other emulators, like BlueStacks, which is for using any Android apps, can not give the best gameplay experience. Also, you have a risk of getting banned from PUBG. You may not find the best control. But Tencent Gaming Buddy is dedicated exclusively to PUBG Mobile, at least internationally. This meant that, not only optimized for PUBG but also very easy to install.
Download Tencent Gaming Buddy for PUBG
This emulator is flexible and precise with mouse and keyboard. Download it from the link below:
NOTE: This emulator will download the PUBG Mobile game on your computer, which is about 1.5 GB. Unlike BlueStacks or any other emulator, Tencent gaming Buddy doesn't need APK and Obb files to run the game. This emulator will download the game and install it on your PC directly from the server.
| | |
| --- | --- |
| File Name | GameDownload PUBG MOBILE 100103 1.0.5727.123 |
| Version | Public Beta (1.0.5727.123) |
| Size | 8.66MB |
How to install Tencent Gaming Buddy to play PUBG Mobile on PC
As mentioned earlier, unlike a lot of Android emulators, Tencent Gaming Buddy is specific to play PUBG only. It is highly optimized for PC in terms of controls in keyboard-mouse combination. If your PC hardware configuration is high, or you have a gaming laptop, you can play this game in high graphics settings.
It's super easy to install!
All you need to do is, download the Tencent Gaming Buddy from the above link, and run the program. After installing, it will automatically start to download all the required files on your PC that you need to play PUBG Mobile.
No account creation, no VPN required! Just allow the program to download everything, and play! Easy!
Another great thing is that Tencent keeps this emulator up-to-date. Whenever Tencent rolled an update for its PUBG Mobile, it took less than a day for the emulator to be updated as well. We got Sanhok update in the emulator so fast. Once a new update is available, all you need to do is launch the emulator application, and it will prompt you to update. Just allow it! That's all!
Control customization options
Like all other emulators, Tencent Gaming Buddy allows you to customize the keyboard-mouse combination control. You can customize the control overlay of PUBG. These controls are also context sensitive. You can even set up a boss key that quickly hides the window.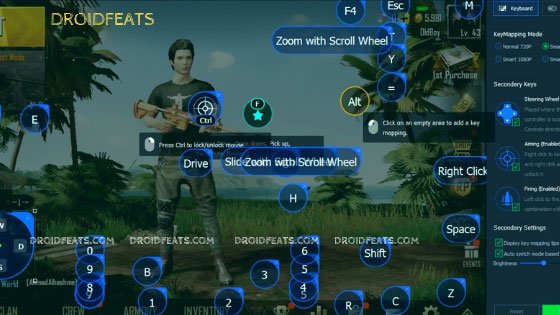 For those moments when you need to tap on a particular object on your screen, you can unlock the mouse by tapping on Ctrl on the keyboard.
Although the controls work fine, there are some situations where this emulator doesn't hold up to the original PUBG for PC. The first is a scrolling mouse.
For those who use the controller, Tencent Gaming Buddy let you do it easily. You can use a gamepad and customize the controls and get a PUBG for Xbox experience.
How to Play PUBG on low-end PCs
Despite being released more than a year, PUBG for PC still has optimization problem. Because of this, low-end computers are facing glitches. Tencent Gaming Buddy is much more flexible, that means you can play PUBG Mobile on low-end PCs. The minimum requirement for PUBG Mobile is much lower than the original PUBG.
Tencent Gaming Buddy can detect your PC's hardware and based on it, the emulator automatically setup the graphics settings. You can also change the settings manually and reset the game resolution. For those having a powerful PC can switch the resolution between 1080P and 2K. The frame rate can be capped at 30fps for now! We hope Tencent will add a higher frame rate in the future update.
Emulator detection

If you play PUBG Mobile in PC using Tencent Gaming Buddy, you will get a prompt message of Emulator Detection. It means PUBG will set your enemies matching with those who were using the same emulator. However, if your teammates are using mobile and you are using PC, PUBG will match the opposition in such a way that the game is balanced. For example, the opposition teams may have both PC and Mobile players in order to balance the game.
PUBG Mobile Cross platform
PUBG is a cross-platform game, which means mobile, console and PC users can play together. But apparently, Tencent prevent the mouse and keyboard players from competing with mobile players to keep the game fair.
PUBG Mobile allows cross-platform play between iOS and Android, but PC players can get into it too. PUBG keeps the emulator players separate from mobile users for a fair play match. So, be careful while inviting your friends to your squad. Like Right hand – left-hand combination in cricket, Mobile-emulator combination can make your team stronger, choose it wisely!
How to login to PUBG Mobile on PC
Logging into PUBG Mobile in a computer is easy! All you need to do is, link your Facebook or Twitter account. The process is the same as you do it in mobile. When you log in for the first time, your profile avatar will change to your social profile picture. You can change it later on if you wish to do.
But be aware of using the Twitter account, because Twitter deletes an account if it is inactive for six months. So you may lose your PUBG account too!
If you are already a mobile PUBG user and want to continue the game in PC, you can do that too! You can log in with your existing PUBG Mobile account in Tencent Gaming Buddy, and continue the game. You won't lose your level, ratings, merits or kills. Isn't cool?
Difference between PUBG Mobile and Tencent Gaming Buddy
Although the game is the same, there is some difference between PUBG Mobile and Tencent gaming Buddy! The gaming experience is slightly different in the emulator. Mobile users may not compete with the mouse keyboard users. Enemies may be easily visible in the big screen PCs. Shooting control using a mouse is much better than mobile.
Another unfortunate side effect is the presence of hackers in PC. Tencent is making their security tight to stop hackers from entering PUBG, but still, they exist. There are a higher number of hackers in emulators then PUBG Mobile.
Check out: Here is How PUBG Hack works! Is it legal? [Find out more]
The best way to play PUBG Mobile on PC
There are a lot of Android emulators available on the internet, but no one can provide the best PC experience like Tencent Gaming Buddy! If you are looking forward to playing PUBG mobile on your PC, we recommend you to use Tencent Gaming Buddy only! Moreover, this emulator is an official release by Tencent; no emulator can offer the same great performance.
---
Have you used Tencent Gaming Buddy to play PUBG? Have any tips for us? Do let us know in the comment section below!
<! -- Footer -->