Today here, we shall be guiding you to install TWRP recovery and Root OnePlus 5/5T running OxygenOS or a custom ROM.
OnePlus is an Android manufacturer that has already marked several milestones since the last few years. In 2017, the OEM has made a huge boast in its sale and popularity by announcing the OnePlus 5 and the 5T. Three factors that contributed towards the success of the said devices were – powerful hardware, affordable price range, and excellent software support with regular updates. Fast forwarding a few months, the company also announced official OxygenOS 5.0 update for both the devices.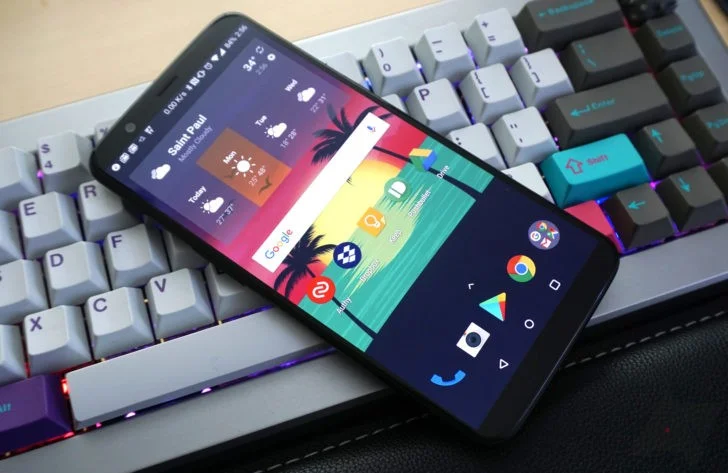 The new firmware was based on Android 8.0 Oreo and is still much exciting for the users. While the software itself is terrific, but it's more equivalent to the stock AOSP experience. The manufacturer has majorly focused on creating a software that offers just the amount of required features while keeping the cleanliness and stability of stock AOSP. If you really wish to make amends to the stock firmware, you can follow the steps below to root OnePlus 5 and 5T.
New UPDATE: Update OnePlus 5T to Android 8.1 Oreo (OxygenOS Open Beta 4) Official Firmware
On a major part, that indeed sounds more like a wise choice. But while doing this, OnePlus is also leaving out the users who'd like to heavily customize their OnePlus 5/5T. But that's not a worry when you have an ever-expanding development community that consists of almost every kind of modification that you would need.
Guide to Install TWRP Recovery and Root OnePlus 5/5T
But before you even get to that, there are a few things that you should take care of. To begin with, you must first unlock the phone's bootloader. Post which, you can easily install TWRP and root OnePlus 5/5T. Starting from first – Unlocking Bootloader. You'd require to perform the procedure in order to open the gateways to customization.
Almost every manufacturer including OnePlus, deliver their devices with a locked bootloader to prevent any third-party alterations. However, if a user chooses to intentionally modify the device's software and gain access to the phone's partition, he would need to unlock bootloader on OnePlus 5/5T.
All Android phones come with a stock recovery partition that allows a user to perform various actions like factory resetting, sideloading OTAs, and mounting partitions. But the stock recovery itself is pretty limited and wouldn't allow you to flash/install third-party software. So in order to root OnePlus 5/5T, you must first install a custom recovery.
For years now, TWRP, also known as TeamWin Recovery Project is the most renowned and powerful custom recovery available for Android. We shall be using the same here during the steps.
Finally, in order to root your device, you can use a more advanced and popular root solution like Magisk. It is developed by an XDA community developer topjohnwu which allows you to perform even more actions that just rooting the device. These include installing modules for adding third-party features and hiding root from the Android system/apps for passing SafetyNet.
All these things are covered in detail below and will allow you to root OnePlus 5/5T using Magisk, easily.
Requirements
Flashing a custom ROM or any other third-party mod may often lead to data loss, due to the experimental nature of such things. So it is highly advised to a take a complete backup of your device and the related personal data.
Charge your phone to a sufficient battery level to avoid any problems during the process.
Download OnePlus and ADB Drivers and install them on your Windows PC.
Unlock The Bootloader
The first step in order to root OnePlus 5/5T is to unlock the bootloader. The steps below will guide you through the same.
Step 1: Go to Settings -> Developer options and enable "OEM unlocking".
Step 2: Once enabled, power down your device completely.
Step 3: While the phone is switched off, press and hold the Volume Up and Power buttons simultaneously.
Step 4: Once your phone is in bootloader mode, connect it to the PC using the USB cable.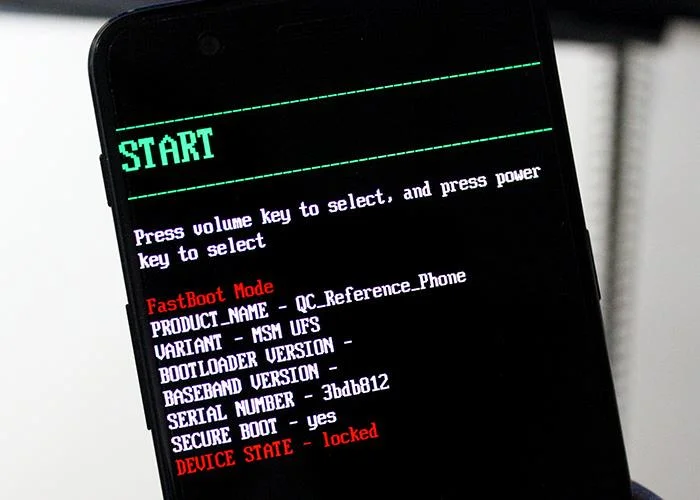 Step 5: Next, open a command prompt/PowerShell window on your PC.
Step 6: Enter the following command to confirm that your device is being detected properly.
fastboot devices
The command shall return a device ID. In case it doesn't, make sure to reinstall the USB drivers properly.
Step 7: Finally, unlock the bootloader using the command below:
fastboot oem unlock
As soon as you enter the command, your phone should prompt with a confirmation message.
Step 8: Simply select "Yes" using the Volume buttons and tap the Power key to confirm.
Now that you have unlocked the bootloader, move down to the next step before you can finally root OnePlus 5/5T.
Install TWRP on OnePlus 5/5T
The second step is to install TWRP recovery on OnePlus 5/5T.
Step 1: Download TWRP recovery image for your device.
Step 2: Go to the folder where the recovery img file has been downloaded.
Step 3: In the same folder, press the SHIFT key and right-click on an empty space.
Step 4: Select "Open PowerShell window here" or "Open command window here" from the pop-up menu.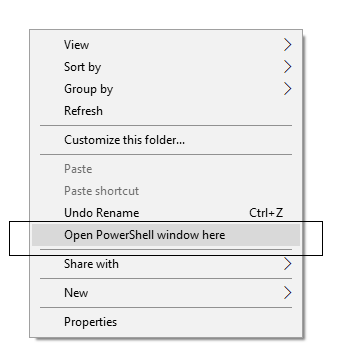 Step 5: Next, boot your device into bootloader mode. To do so, power off the phone first.
Step 6: Then hold down the Volume Up + Power buttons to enter bootloader mode.
Step 7: Connect your device to the PC.
Step 8: Enter the following command to install TWRP recovery on OnePlus 5 and OnePlus 5T respectively.
fastboot flash recovery twrp-3.2.1-1-cheeseburger.img
fastboot flash recovery twrp-3.2.1-2-dumpling.img
Once done, you can simply reboot into the OS using:
fastboot reboot
Now that you have installed TWRP recovery, head onto the final part of this guide to root OnePlus 5/5T.
Root OnePlus 5/5T using Magisk
In order to root the devices, you can simply opt for flashing the Magisk root ZIP file using TWRP. The steps below will help you do the same.
Step 1: Download latest Magisk.
Step 2: Connect your phone to the PC and enable "Transfer Files" mode.
Step 3: Copy the downloaded Magisk ZIP to the device's internal storage.
Step 4: Disconnect the device and power it down.
Step 5: Boot your OnePlus 5 or 5T into TWRP recovery mode.
Step 6: To do so, hold the Volume Down and Power buttons altogether. Then release the keys once you see the OnePlus logo.
Step 7: When in TWRP, go to the "Install" menu.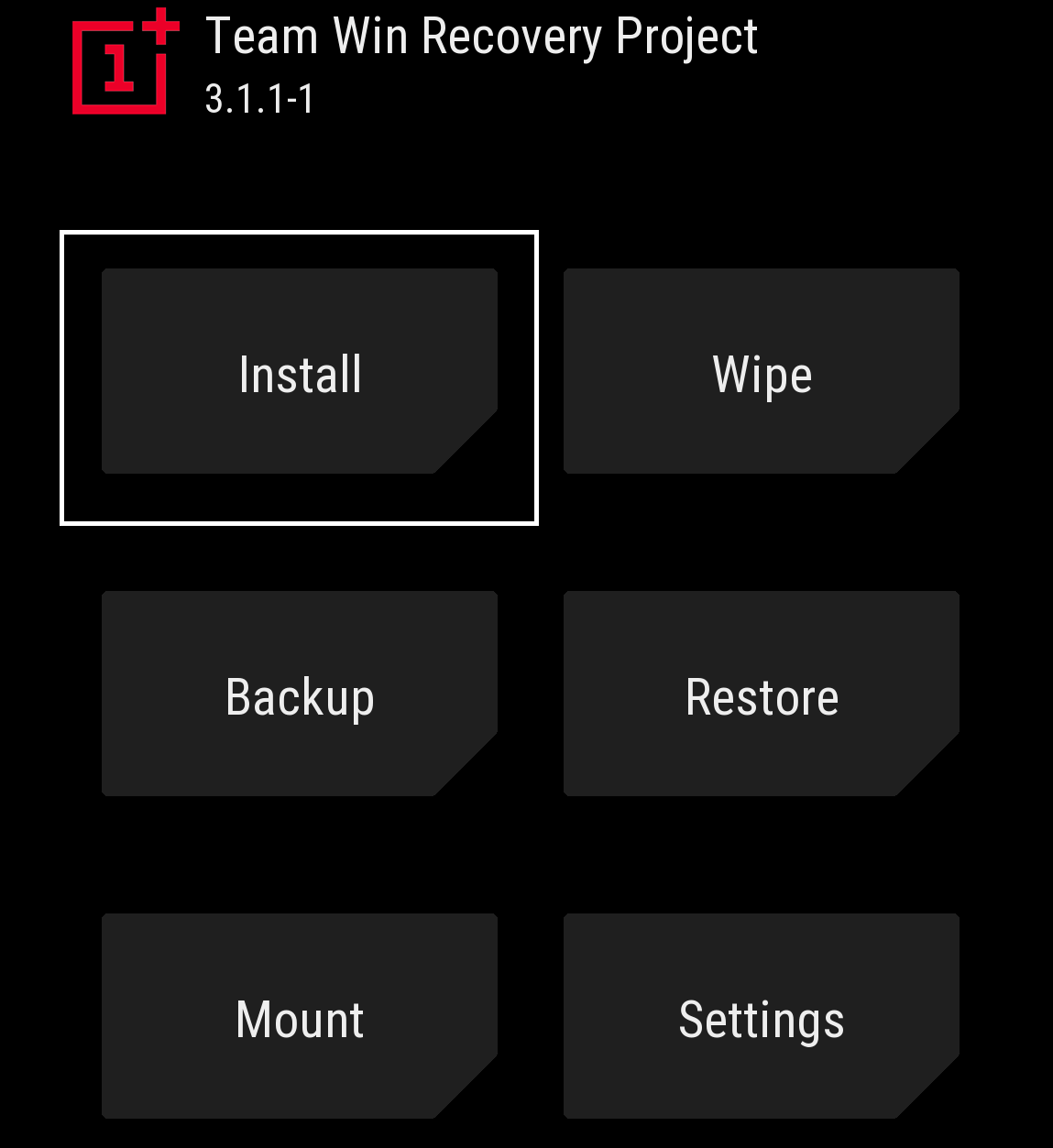 Step 8: Browse to the location where you transferred the file and select the Magisk ZIP.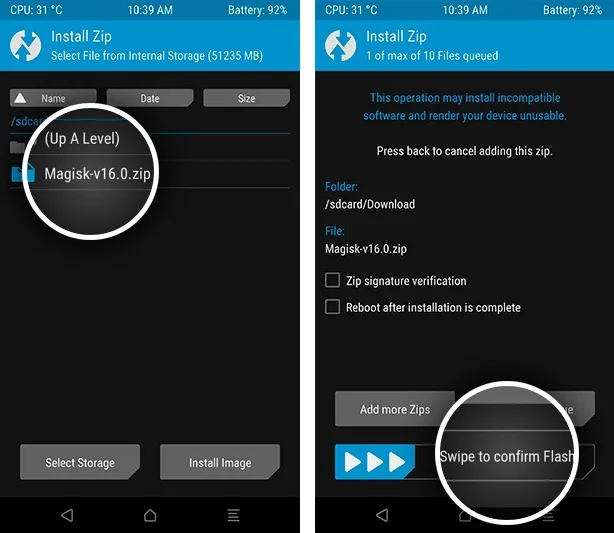 Step 9: Finally, swipe the button on the phone's screen to flash Magisk and root OnePlus 5/5T.
Wait until the flashing process is complete.
Step 10: Once finished, tap on the "Reboot System" button.
When your phone boots, download latest Magisk Manager and install it on your device.
After a successful boot, you shall be running a rooted firmware, courtesy of Magisk. You may go ahead and start tinkering with your phone's software by installing mods like ViPER4Android or Xposed. If you wish to add third-party features, you can also open the Magisk Manager and install different modules on your device.
So this was our extensive guide on how to root OnePlus 5/5T, install TWRP recovery and unlock the bootloader. For any questions regarding the process, you can let us know by commenting below.