It doesn't seem to be a good time to get a Huawei. Following the US ban which prohibits the company from using Google-certified Android OS, ARM technologies on its chipsets, and even Bluetooth, the company has been quiet about their future releases. There are even reports of poor sales for its current offerings, giving sellers a scratch on their foreheads. While current users are giving away their Huawei phones at bargain prices.
But it's too early for competitors to throw some parties. Google and Huawei still has 90 days to work with each other to support up and coming Huawei devices. This means, phones released prior to the said deadline will still get support from Google and other services. In fact, the company is gearing to launch an update to their "nova" series.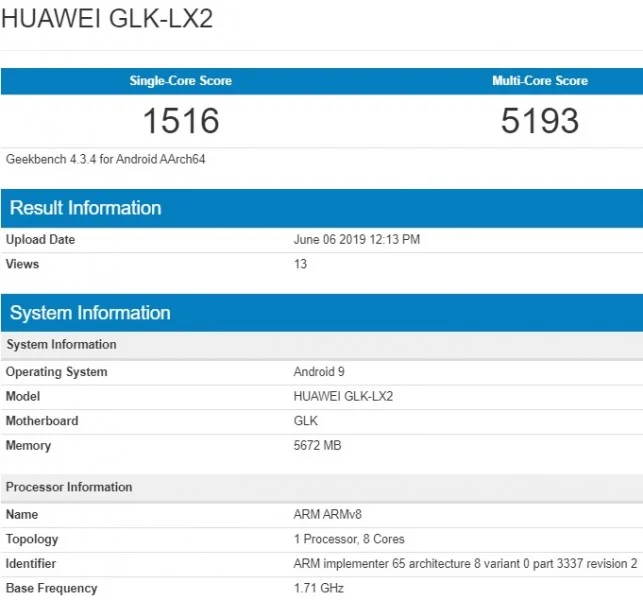 The Huawei nova 5i has just appeared on benchmark database, Geekbench. Unlike the previous leaks (which points out a 4GB RAM variant), this new variant comes with 6GB of RAM. This also bears a different model number, GLK-LX2, while the 4GB model shows GLK-LX3.
The phone is powered by Android Pie and is running on an octa-core processor with a base frequency of 1.71GHz. While the Geekbench didn't say much about the device, an AnTuTu listing has revealed pretty much all the basics about the Huawei nova 5i. The smartphone will come with Kirin 710 SoC, up to 6GB of RAM, 64GB of internal storage, and a Full HD+ display.
As for the reports, the nova 5i is set to lunch by the end of this month, alongside the nova 5 which will use "Pro" on its name in China.
Via: GSMArena