We know how annoying it is to encounter pop-up ads the moment we boot up the desktop browser. Now imagine your phone being bombarded in a similar fashion. Sometimes pop-up ads can take up the entire screen – and the worst part? Sometimes you cannot even find the exit button, or you have to wait for a certain time for the exit button to appear.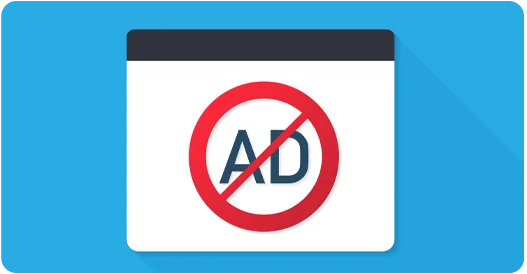 In addition to being a nuisance, they also slow down the performance of your phone. So, does the constant annoyance make you want to get rid of unwanted ads and pop-ups on your Android phone? Look no further, for I have the perfect solution for you.
How Dangerous are Unwanted Ads and Pop-Ups?
Unwanted Ads and Pop-ups are displayed on our smartphones because of malware. Malwares are basically software designed to intentionally cause damage to a network or system and get unauthorized access to our data.
Most malwares that attack android phones are Adwares, Browser Hijackers, Trojan horses, and ransomware as well. Not only do they harm the overall performance of the smartphone, but they can also collect and sell your private information – like location, bank, and financial details and contact lists. They can also download even more harmful ransomware to your phone, along with draining out your phone battery. Some malwares can even show pop-up ads over the lock screen and change your browser homepage without permission.
There are more disadvantages to having malware on your phone – like sudden app crash and unexpected data usage.
However, as a user, you have the ability to prevent this from happening. The first step usually begins with learning a thing or two about online safety. You can protect your phone by not downloading unverified apps. Then you need to look for a VPN service that fits your specific needs. For example, a good VPN tool protects your confidential and private information along with hiding your IP address in a public Wi-Fi zone. In addition, it will also provide a warning about unsafe web locations.
Step-wise instructions
If you suspect that your phone has been affected by malware, here are the step by step guides you should follow to get rid of them:
STEP I: Determining the presence of malware in your Smartphone with Admin privileges
Some apps require Admin privileges on your smartphone to perform serious tasks like device management or a remote swipe by anti-virus apps. This does not mean that every app on your phone must have these access or privileges. These apps can oftentimes prevent you from deleting them.
Go to Settings, and search for the Device Admin Apps section.
Identify the malicious app and disable its privileges.
In many cases, your android phone will allow you to uninstall these malware-laden apps from this screen itself. Take my advice and do it.
STEP II: Removal of Malicious App from Android
Malicious apps can be removed manually from Android smartphones. If you have doubts about having malware in your mobile, I suggest you open App Manager and take stock of all downloaded apps.
Chances are that the one you do not remember downloading is the malicious app.
In most cases, picture-editing and weather apps are the common carriers of malware in our phones. The malicious app you found out could be running in the background. In this scenario, do not hesitate to click the "Force Stop" button. After this, you are free to uninstall and delete it from your phone.
STEP III: Installation of Anti-Malware Application
As an Android user, I would heavily advise you to have an anti-malware application on your smartphone. They work in a similar manner to their Windows equivalent, as in by searching and scanning the device for malware and virus. Plenty of free versions are available in Google Playstore for you to peruse.
After installing the anti-virus app, you need to launch and update the database before letting the app scan your device. The scanning process usually takes a little bit of time, but it will be worth it when it presents to you the threats hiding inside your smartphone. All that remains for you to do at this point is Tap and Remove.
STEP IV: Cleaning of your Browser
On the off-chance that you are still getting Unwanted Pop-Ups and Ads after following all the steps diligently, it might be time for you to clean your browser. Delete all your browser data, cookies, and cache, and reset your browser back to Factory Settings.
If you use Chrome or any other browser, click on App Manager.
Go to Details and find the Storage button.
Select Manage Storage and then Clear all data.
However, please keep in mind that you will also lose important information that you have saved in your browser – like usernames, passwords, and bookmarks. So before doing Factory Reset on your browser, please back up the data for extra assurance.