When designing software, it's essential to consider usability testing. This testing establishes a direct connection between what users need and how they interact with your product. Understanding their expectations and preferences allows you to create a product that meets or exceeds those needs. Here are a few reasons you should run usability tests pre-launch.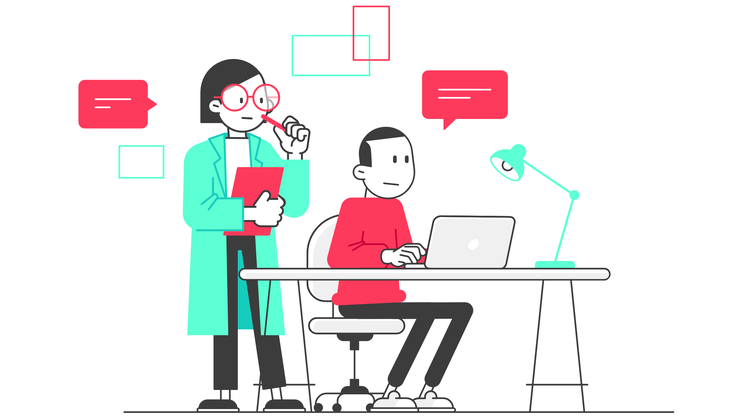 What is usability testing in software design?
Usability testing is the process of assessing how easily users can interact with a product or system. By testing usability in their software, companies, developers, and designers alike can understand which aspects of the product or system are successful and which need more attention.
How to do usability testing
Usability testing involves a set of specific methods that can help to evaluate how easily users interact with your product. When researching testing techniques, always consider multiple data-collection options. Using various techniques is especially true if you're attempting to build your brand on social media.
Usability testing options can include interviews, surveys, lab sessions, or remote usability tests using web tools, software, or mobile apps. By utilizing various methods, you can ensure a representative sample of users has tested out your product. The result will outweigh any investment you make in the process of both time and resources.
Incorporating usability testing at the early stages of development facilitates the increased potential for optimization after you collect and analyze feedback. Companies such as XBOSoft Software Testing can help walk you through the process and ensure success.
Collect crucial data
Usability testing is a great way to study how users interact with products, platforms, and websites. For that reason, it's crucial to select the correct data set when performing usability testing. The ideal data set should be as diverse and representative of your target audience as possible.
Data from usability tests can include the time it takes a user to accomplish a task, how users interact with each aspect of your design, and how quickly users navigate your program. When you capture the right data, you can clearly see how your software or app will stand the test of time.
Use the right set of users
When selecting which users to perform usability testing on, it's essential to ensure they're suited to the task at hand. Make your selections using specific criteria such as familiarity with the product, ability to express opinions, and ability to remember details.
Additionally, when selecting usability testers, consider demographic factors that might affect your software's usability. These factors can include age, gender, occupation, and location. The right set of users will help inform future decisions about design along with any technical or usability issues that need rectifying.
Wrapping up
Usability testing is crucial in software design because it will help you identify potential problems before they reach customers. Then, you can adjust your methods accordingly. The valuable feedback you'll receive from usability testing is a worthwhile investment. If you want to provide the best possible product to your customers, usability testing is a must.