We are here with a detailed guide to give you in-depth knowledge about how you can install Samsung Stock Firmware on Galaxy devices with the help of Odin Flash Tool.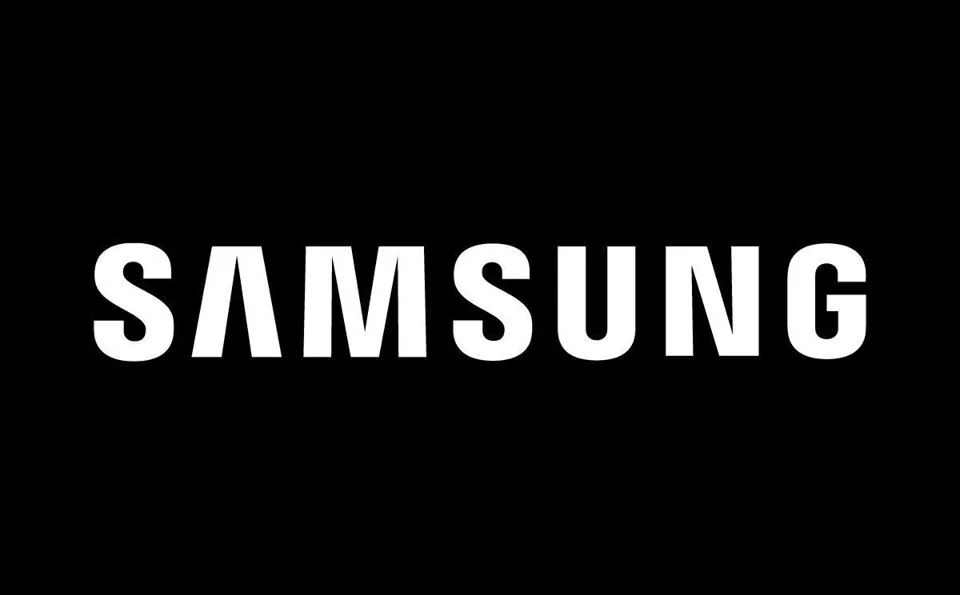 Most of the folk often have a tendency to wander to custom ROMs and root their devices to hike more features to their software even though it's not applicable for all. But there are people who love to be in the stability and simplicity of the OEM software.
But howbeit if you ever wish to wind down to the Official Samsung Firmware, don't hold back. It's very simple, and all you need to do this is your phone, a USB data cable, a computer, Stock ROM and finally the Odin Flash Tool.
Tutorial on how to install Samsung Official Firmware on Galaxy devices using Odin tool.
Before heading to the installing of Samsung Stock Firmware on Galaxy devices using Odin, let's know about the tool in detail.
Odin aka Odin Downloader is the one which can be used to flash the official firmware easily for the Samsung devices. It is used internally by Samsung to flash and test the stock firmware on their Galaxy devices even though it was never rolled out for the use of common people. But it was leaked on the internet for the public where the inputs of the firmware files are in the form of .tar or .tar.md5 formats. It's a must that your device should be connected to the PC in Download Mode.
Even though it's quite simple to use the available software, the novice users make mistakes which lead to bricking their devices which is so common. This tutorial is for those, who bricked their device on installing Custom ROM and want to get back to Official Firmware by Samsung.
We would like to install the Official Firmware for various reasons like restoring the Stock ROM on the rooted device, or providing your phone in its factory state on selling, or to manually update the device to the latest firmware and even fixing certain software issues.
Preparations
Just go through all the preparation steps before heading to the installation.
1. Always have a Backup.
It's highly recommended that you should do a complete backup of all your device data before heading to the installation.
If you are having a rooted device, then you can take Nandroid backup using TWRP or with a Titanium backup to get the complete backup of the installed apps and related data.
Samsung users can use Smart Switch to backup data on the computer. Samsung Smart Switch even allows the users to move data from one device to another of different variant (like moving data of Galaxy S7 to Galaxy S8).
2. Install Samsung USB Drivers.
You must have a proper connection between your Samsung Galaxy device and the PC prior using the Odin Flash Tool. Also make sure that before starting Odin Flash Tool, you have completely disabled the Samsung Kies if it's installed on your PC as it can disturb the Odin tool connection and lead to bricking of the device.
For those who have not installed the suitable USB drivers on PC, please download it from the link below:
3. Charge your Samsung Device
Be sure that before you begin to flash, your Samsung Galaxy device has at least 60% battery level. Or else you could probably end up in bricking the device.
4. Download Odin Flash Tool
Now you should download the latest version of Odin tool. Click the link below to download Odin:
5. Boot Samsung Galaxy Device into Download (Odin) Mode.
On Samsung Galaxy devices, it is supposed to flash only when it is rebooted into download more. It is almost similar in all the Samsung Galaxy devices, except Galaxy S8/S8+, Note 8, S9/S9 Plus.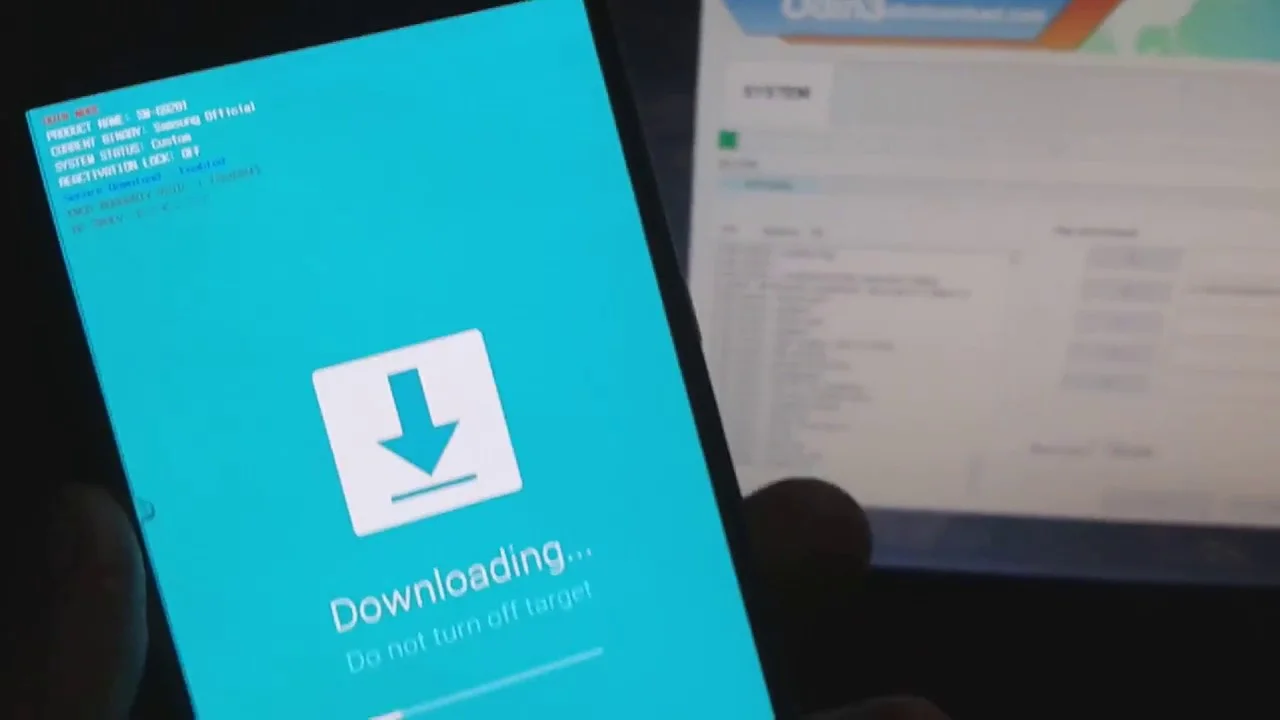 Power off your device.
Hold the [Volume Down] + [Home] + [Power] button (older phones) or [Volume Down] + [Bixby] + [Power] button (newer phones) for 3-5 seconds till a warning screen appears on the screen.
Enter the Download Mode by pressing the [Volume Up] button.
Once you have met the requirements, you can head on to install Samsung Stock Firmware on Galaxy devices with Odin Flash Tool.
Download Samsung Stock Firmware
The Odin-flashable firmware is available across the internet provided by various renowned sources, and we have listed a few here. You may need to simply search the index for your device model and download the desired stock ROM for your region and carrier.
Be sure that you don't download the firmware for a different Variant.
How to install Samsung Stock Firmware using Odin Flash Tool
Step 1: Download Official Firmware for Samsung from the given source and extract it on your computer.
Step 2: Download Odin Software and install it on your computer.
Step 3: Turn off your phone. Now go to the Odin Mode. How? Press and hold Volume down + Power + Home button until you see a warning message. Press Volume Up to enter into the download mode.
Step 4: Open Odin on your computer and connect your device while in download / Odin mode.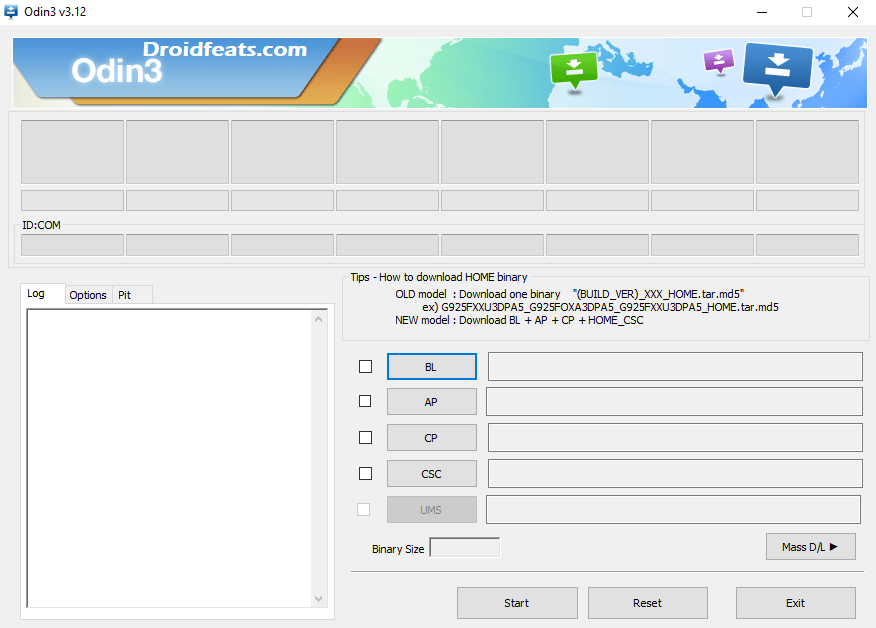 Step 5: Odin must recognize your phone. If your computer detects the phone correctly, one of the ID:COM boxes will turn yellow with the COM port number. You will see "Added!!" message is appearing in the Log box. This might take some minutes.
Step 6: Load the Firmware into the Odin. You need to select the files that you had extracted in step 1.
Click on 'AP' and select file with 'AP' in its name.
Click on 'CP' and select file with 'MODEM' in its name. (Ignore this step if there is no such file).
Click on 'CSC' and select file with 'CSC' in its name. (Ignore this step if there is no such file).
Click on 'PIT' and select the .pit file. (Ignore this step if there is no such file).
Click on 'BL' and select file with 'BL' in its name. (Ignore if there is no such file).
Step 7: Check the following options in Odin:
Auto Reboot
F. Reset Time
Re-Partition (if you selected a .PIT file)
Step 8: HIT the Start button in Odin and your installation should start now! Hold on; it will take a couple of minutes to complete.
Step 9: Once the installation is complete, your phone will reboot. Unplug your device and you are done!
Hurray! Your Galaxy phone has been updated to Official Firmware. Check Setting>About Phone to verify!
Troubleshooting
If the device is not detected by Odin or the COM port doesn't lighten up — You must be sure that you Kies is completely disabled and have properly installed Samsung USB drivers. Still doesn't work? Try using a different USB cable or switch to a different USB port.
If you See a 'FAIL!' message in Odin — This can be of many reasons like you may not be using the correct firmware/Odin tool, or the USB connection could be different. For such cases, Simply force shutdown the device and restart the procedure from step #1.
If the device enters a bootloop or it doesn't go the past Samsung logo — Simply reboot into stock recovery and perform a factory data reset. To do that, power off the device. Then hold the [Volume up] + [Home/ Bixby] and [Power] key simultaneously for a few seconds. On the "No Command" screen, hold the power button and tap the [Volume up] key once. Once in entering the stock recovery, select 'Wipe data/factory reset' button and confirm the selection.
It was so easy, and even if it was a bit difficult for the first time, it will be easier when you get hold of the complete procedure. If you have any questions, feel free to ask them down in the comments.