A few days ago, the Huawei P30 Pro prototype was circulated, and reportedly the cellphone will carry 4 cameras. From the latest leaks, the feature seems to be truly present but it is increasingly clear that cameras will have different sizes. You can find the Huawei P30 Pro on fonehouse.co.uk.
The three cameras will consist of a standard camera, ultra wide angle, and telephoto, while the other one will be under the flash. Slashleaks reveals new images from the rendering of the Huawei P30 Pro mobile concept. It was mentioned that the P30 Pro carries a complex array of cameras. There are dual cameras and one more lens underneath. Not only that but in addition to the dual camera, there is also a smaller camera system on the right.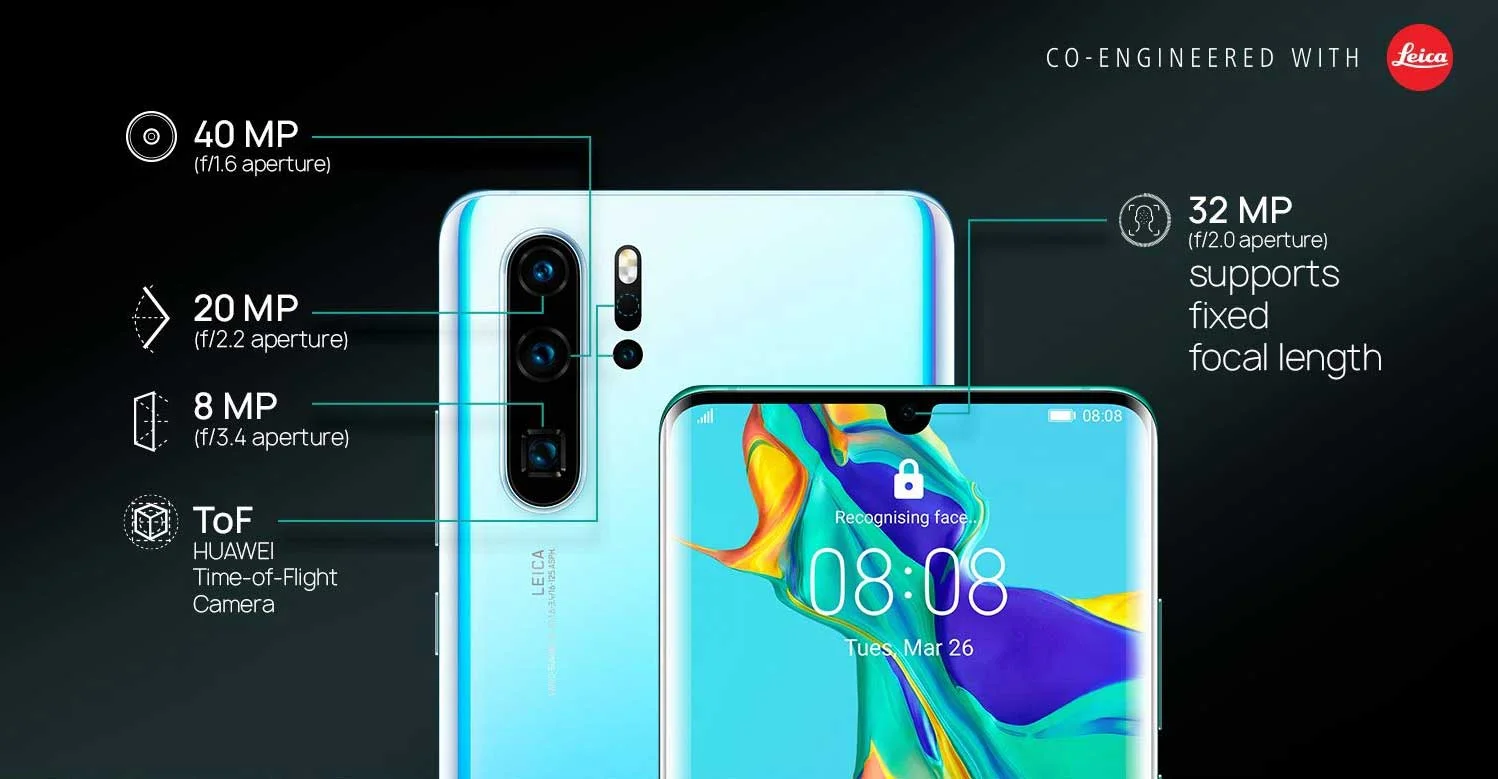 There are lots of rumours regarding laser cameras that might be pinned on a cellphone. It may be that the arrangement of this camera has the ability of a laser camera, which is similar to the iPhone 12 which is reported to be released in 2020. Regarding innovation, Apple is usually a bit behind Android. That said, LG is also reportedly working on a laser camera at this time. It seems that the lens system is surrounded by two sensors located above and below.
Huawei has announced its smartphone Huawei P20 and P20 Pro in March 2018. Both of these phones are able to successfully sell outside China. In fact, Huawei won the second largest market share after Samsung in Q2 2018. In order to repeat the success of the device. Huawei will spawn P30 and P30 Pro in 2019. Even the launch date of the two cellphones has been announced precisely on March 26, 2019, in Paris, France.
Another thing revealed by this rendering is the water droplet notch that will be carried by P30 Pro. This is much smaller than last year's model. In addition, the report also suggests that the two models will display a fingerprint scanner on the screen. Even though it has not been officially launched, the leaks about the cellphone began to circulate. Even Evan Blass, a cell phone expert, shared it. The specifications of the Huawei P30 version, the phone will be wrapped with metal structures in two glass panels.
In this case, the screen is flat (not curved on the side) and has a very small notch, Essential PH-1 style. Behind there will be 3 camera configurations, dual LED flash, and laser autofocus.
No fingerprint reader is visible, so it might have been integrated into the OLED screen. Other specifications are 6.1-inch screen size, Kirin 980 processor, 6GB and 8GB RAM, 128 GB and 256 GB storage, and 4000 mAH battery. Meanwhile, the higher version or P30 Pro will have dewdrops on the front and fingerprint readers on the screen.
Speaker features on the Huawei P30 might be improved so that it offers better audio. There are no known details about these speakers, but considering that Huawei P20 only has a single speaker, it is likely that the latest phones are supported by stereo sound. Of the three cameras, the third is located at the bottom of the module, striking because of its square shape. This will be a telephoto lens with 10x optical zoom similar to that presented by OPPO and exclusive to P30 Pro.
Other specifications are a 6.5-inch screen, Kirin 980 processor, 8GB and 12GB RAM, 128GB and 256GB internal storage, 4 rear cameras, and a 4000 mAh battery. Interestingly, in the launch event, Huawei will also release Huawei Watch GT Active. However, for certainty, you must wait for March 26, 2019, at the event in Paris. Huawei P30 Pro is also rumoured to have a water-drop screen and has 5G connectivity.