ViPER4Android FX is a sound enhancing software, that can tweak your system audio, for an outcome of sound quality. In this guide, you will be able to download the ViPER4Android APK file and set up with the best setting on your device to improve the sound quality of your device.
If you are a music lover, this app might be quite fascinating for you. Smartphones are no doubt the best all-in-one replacement of all portable music playing devices. But since this is the era of Android, you can do something more. This guide is for those users who had rooted their device and ready to do something beyond the stock Android.
Apart from offering music via online service, Android can fine-tune the hardware and software. You can use the audio equalizers using ViPER4Android FX APK on your device.
What is ViPER4Android FX?
An ultimate equalizer app developed by a popular audiophile, ViPER520 that can redefine the audio quality of your Android smartphone by modifying system software. The ViPER4Android FX comes with a built-in sound driver support, that can fine-tune the sound on speakers, headphones and Bluetooth audio devices separately.
The reason why this app is not available on Play Store is that this app needs root access, that can modify the system core which may not be suitable for everyone, especially the new users for security purpose. However, ViPER4Android FX is available in module repositories such as Magisk Manager. You can directly install from there as well.
Recommended articles:
Here's how you can easily download and install ViPER4Android FX on your device with the best setting for audio quality.
Pre-requisites
Your device must be rooted. If not, please do root it first using the Magisk utility or SuperSU ZIP in order to run ViPER4Android FX on your device.
You may be asked for several permissions. You need to allow everything and grant Superuser access.
Download ViPER4Android APK
How to install ViPER4Android FX on your device?
After you download, install it like normal APK allowing Unknown Source. If you are first time installing an APK file, continue reading below for the instruction.
At first, download ViPER4Android FX APK file on your PC.
Now, connect the phone to the PC by using a USB cable.
Next, you need to enable MTP/Transfer Files mode on your Android device.
Then transfer the downloaded APK file to the storage of your phone.
Now, disconnect the phone.
Then, open the file manager app on your phone.
Now, you need to navigate to the location where you transferred the APK.
Next, tap on the "<ViPER4Android FX 2.6.0.5.apk>" file.
If you are installing an APK for the first time, you will be notified to allow Unknown Source setting.
Once you enable it, you should be able to install the app.
Now, you must follow the on-screen instructions and install ViPER4Android FX app.
How to use ViPER4Android FX?
In the first impression, you might get confused with the interface of the app by seeing different sound editing options that are available at your disposal. In order to make you understand, I have explained everything below. This will definitely make your work more accessible to configure and fine-tune the settings to enjoy the best audio experience on your device.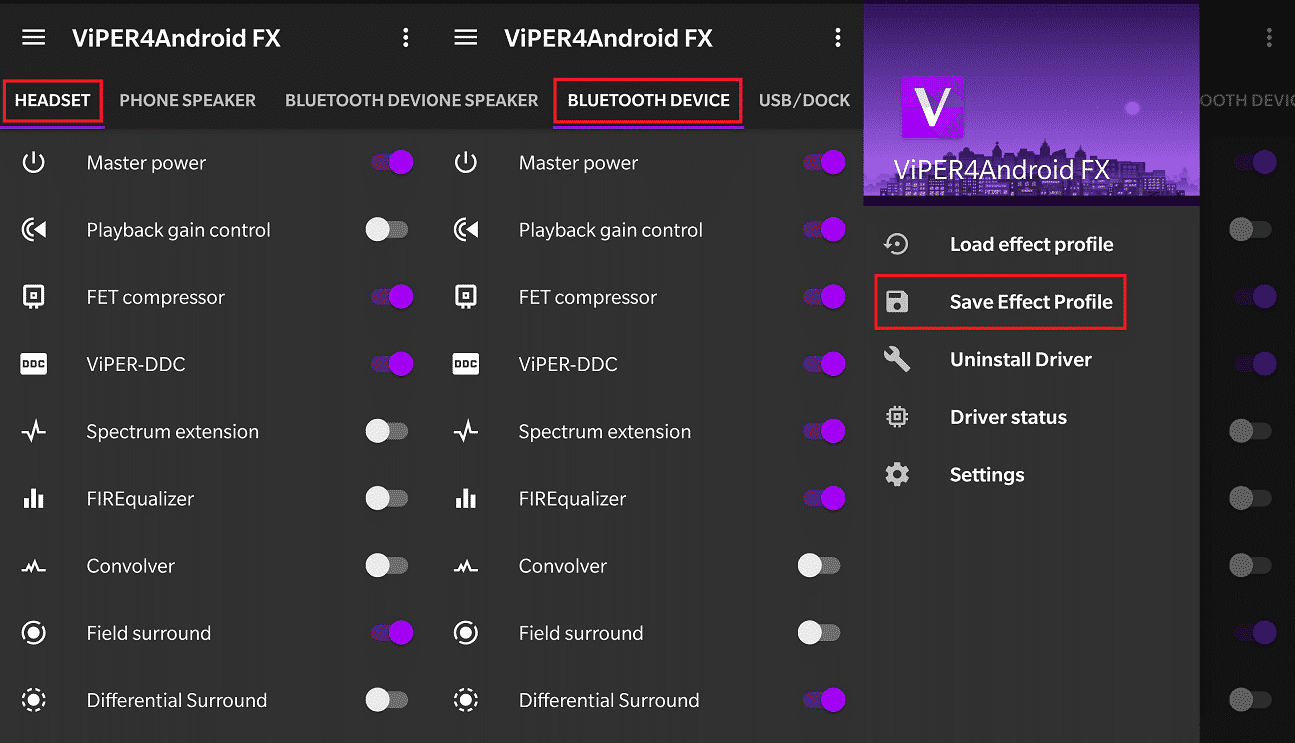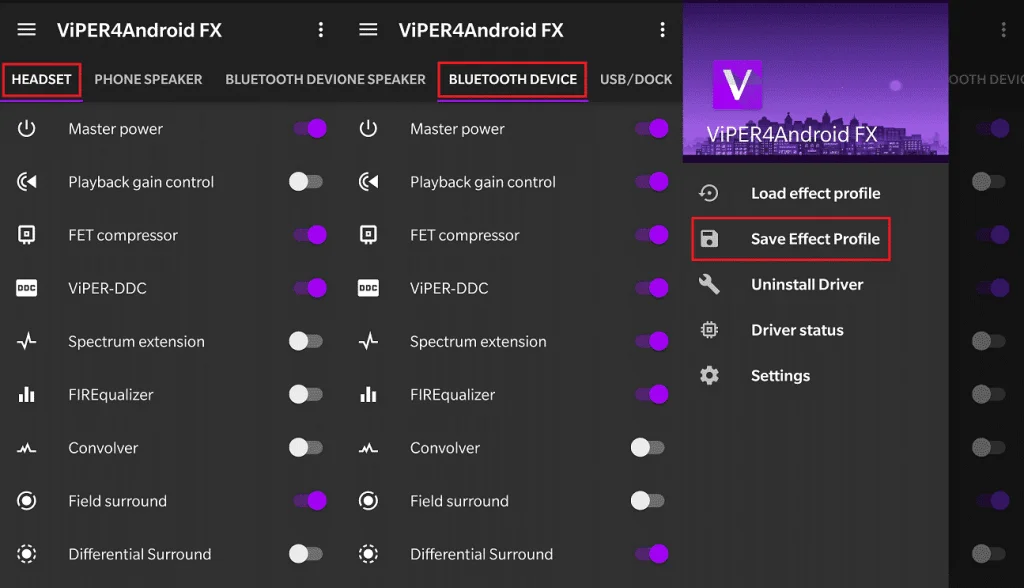 Master Power
This option is the power button to turn on and off all the audio effect under every section of ViPER4Android FX application.
AnalogX
This option let you create a warmer sound effect by giving the simulation effect of a Class A amplifier.
Playback gain control
Additional control to make the headphone sound much louder or quieter when the default system volume is set to maximum.
Differential Surround
Improves the overall surrounding sound effect while listening to music using earphone.
ViPER-DDC
Diminishes the crossover sound effect of lows and highs and blocks background buzzing sounds.
Auditory System Protection
This is audio protection for our ears that reduces the chance of physical damage due to continuous high-volume sounds to the ears.
FET Compressor
Field effect transistor (FET) is designed to add some more effect to the sound so that the music can be played with more transients.
---
That's not all. There are plenty of other options that you can try to make your custom audio profile better. Once you are set with the settings that you want to use on your custom profile, you can save it for later use.
How to save ViPER4Android FX sound profile
Tap on the three-line icon on the top left corner of the app.
Select "Save Effect Profile" from the menu.
Then select New Effect Profile.
Type the name of your choice for your custom profile and hit OK.
ViPER4Android has received mostly good reviews so far and has been in the very trend since its release. Without further talk, install it yourself and make the best use of it.
Is this post helpful? Please do share it on Social Media to THANK US.