John Wu, the Magisk creator, has now released the stable update of the Magisk v22.0. This newest Magisk version is known to replace the previous Magisk Manager with the latest Magisk App. It is also merged with the core Magisk. There is also the Magisk App hiding feature for older devices with Android 5.0+. It also fixes bugs and supports devices like Samsung Galaxy S21.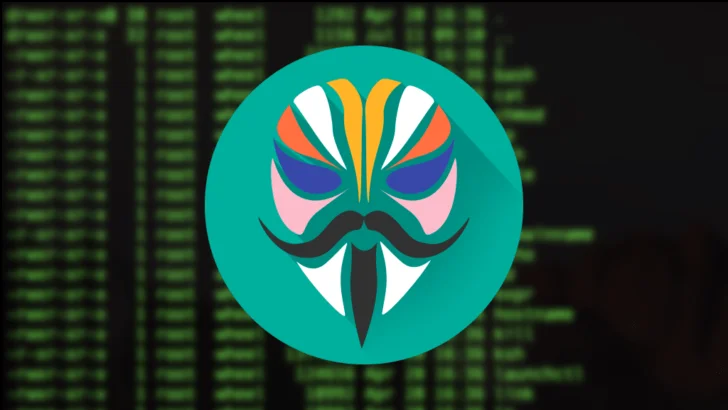 The previous Magisk version's knowledgeable users can now update to the newest Magisk version easily by just following the guidelines mentioned here. You can now root your Android devices by downloading and installing the Magisk v22.0 on your phone first.
Magisk v22.0
You may wonder what new features does this latest version has. You might already know the fantastic attributes of the previous Magisk v21.0. Such features include Safe Mode Detection, Android 11 support, F2FS kernel driver fixes, new Magisk Manager App User Interface, and many more. So, let us take a peek at the fundamental changes/updates are there in Magisk v22.0. After a bit of knowledge, you can proceed over to download links and installing instructions.
1. Magisk App hiding feature for Android 5.0+
Although this latest Magisk version has many other features, this unique MagiskHide is the most demanding feature. With this, you can hide the root accessibility of apps. Because if the Root is visible, there is a risk that apps may stop working.
Some apps automatically detect the presence of the Magisk Manager App in the device. In such cases, the apps consider root access even though there is no said device rooting. This problem has led the developer to create this MagiskHide to hide the Magisk Manager App (v7.4.0+) through unclear stub APK.
However, the MagiskHide of the previous Magisk versions worked only on Android 9 Pie and above devices. But with the update of Magisk v22, the Magisk App (hiding Magisk Manager) now works on Android 5.0 Lollipop and above devices.
2. Supports Samsung Galaxy S21 series
This year, Samsung has launched several new flagship phones – Samsung Galaxy S21, Galaxy S21+, and Galaxy S21 Ultra. And the enthusiasts of rooting phones/devices tried their hands on Galaxy S21 too but were not successful in their attempt because of a slight code change.
Developer John Wu noticed this unfruitful attempt and released a newly built Canary that supports the Galaxy S21 series. Tech enthusiasts may have noticed that Samsung is not keen on following the usual AOSP standards and creates their own code. This habit of Samsung makes quite an obstruction in the custom development methods like Rooting. You can see the below image of how Magisk works on Galaxy S21.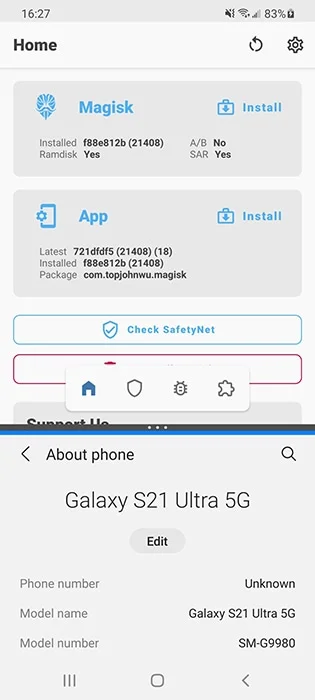 However, the Canary build for Samsung Galaxy S21 is now stable with the latest Magisk update. Now you are free to make root attempts on Galaxy S21 series. But of course, not all models support Canary. Magisk v22 supports only the Hong Kong Snapdragon model and Exynos models with an unlockable bootloader.
3. Magisk Manager merged with Core Magisk
It's one of the most exciting and notable updates in the Magisk v22.0. This new change is the merging of Magisk Manager APK and Magisk core into one package. Because earlier, the Magisk Manager app and the core Magisk components were not usually in sync and were separately released. This situation was somehow confusing to the new Magisk users and for the rooting concept as a whole.
But with Magisk v22, both the Magisk Manager and the Magisk installer ZIP, that is, the companion app and core components (respectively), came in a single package. Here, the companion app is now called Magisk App, not Magisk Manager. Therefore, you can now find both the installer and uninstaller ZIP packages in a single APK file, not as a ZIP file. This merge makes both the offline installation and uninstallation process easier.
So now, are you thinking about how to flash Magisk via custom recovery? Like TWRP? Well, now, the Magisk APK file is designed as a recovery-flashable ZIP. You just have to download the Magisk APK, rename it, and then change the file extension from .apk to .zip to install the Magisk via custom recovery. For instance, you download the Magisk-v22.0.apk file, then rename it as Magisk-v22.0.zip.
If you still have some confusion understanding the above reads, here is a simplified way for you.
Magisk Manager and Magisk core merged and named Magisk app.
No separate installation and uninstallation ZIP files.
Installation and uninstallation can be done offline now.
Magisk App APK can also be installed through a custom recovery method as it is also a flashable ZIP now.
Changelogs
Magisk v22.0 Changelog
General

Magisk and Magisk Manager is now merged into the same package!

App

The term "Magisk Manager" is no longer used elsewhere. We refer it as the Magisk app.

App

Support hiding the Magisk app with advanced technique (stub APK loading) on Android 5.0+ (it used to be 9.0+)

App

Disallow re-packaging the Magisk app on devices lower than Android 5.0

App

Detect and warn about multiple invalid states and provide instructions on how to resolve it

MagiskHide

Fix a bug when stopping MagiskHide does not take effect

MagiskBoot

Fix bug when unpacking lz4_lg compressed boot images

MagiskInit

Support Galaxy S21 series

MagiskSU

Fix incorrect APEX paths that caused libsqlite.so fail to load
Download Magisk 22.0
Unlike the previous builds, you do not have to download ZIP and APK files separately. From now, you just need to download a single APK that will do all the job. You just need to patch the image file and install it via custom recovery. You can directly download the Magisk 22.0 APK file from Github here.
How to Install Magisk v22.0
You can install the latest Magisk 22.0 on your Android device by using the following method:
Renaming the Magisk APK to a ZIP file extension and flash it via TWRP recovery.
Patching the boot image in Magisk Manager and then flashing the resultant file using fastboot commands.
The first method is highly recommended if you already have a custom recovery installed on your device. It's straightforward and easy to perform. On the other hand, if you do not have a custom recovery like TWRP installed on your phone or don't want to install it, you can opt for the second method. The choice is yours!
WARNING: All the custom ROMs, Official Firmware, How-to guides, tutorials, roots, hacks, and tricks mentioned on our site belong to the respective developers. We are not responsible if anything goes wrong with your device. Perform it at your own risk.
The following guide will help you install Magisk 22.0 using the aforementioned methods. Please follow the tutorials thoroughly, and read once wholly before actually performing it on your device:
HOW TO: Update Magisk root to Magisk 22.0 stable
If you already have a Magisk older version installed, you do not need to re-install it. You can simply update it to Magisk 22.0 using the following method:
Step #1: Open the Magisk Manager app.
Step #2: Find "Settings" on the menu icon on the top-left.
Step #3: Scroll down to find "Update Channel" and tap it. Select the option "Stable" since that is the latest version that you will be upgrading to. Return to the Main screen and refresh by swiping the screen down. The refresh will automatically provide a pop up which provides an option to update the software.
Step #4: Tap on 'Install' or in some devices 'Direct Install.' The latest Magisk 22.0 installer will do the work automatically. Reboot the device by tapping the 'Reboot' button.
Remember that the Magisk Manager will also be automatically be updated to the latest version.
Use the MagiskHide to prevent apps from accessing root or root detection.
After the reboot, the Magisk will be automatically installed, and you can proceed to browse through the official repository and download required modules to add extra features on your Android device.
---
That's it!
So you are done with this tutorial! You had successfully installed the latest Magisk 22.0 Stable using our guide. If you faced any problem with performing this tutorial, please let us know by dropping a comment below. Our team will reply you back as soon as possible.