The Recognized XDA Developer topjohnw has recently updated Magisk to the latest version. You can now download the latest Magisk 16.4 beta and Magisk Manager 5.7.0 for your Android device.
When it comes to rooting an Android device, Magisk is always at the top. No doubt SuperSU ruled the Android community on root solution for several years. But then it was back in 2016 when Magisk launched, it offers to modify the Android devices systemless-ly.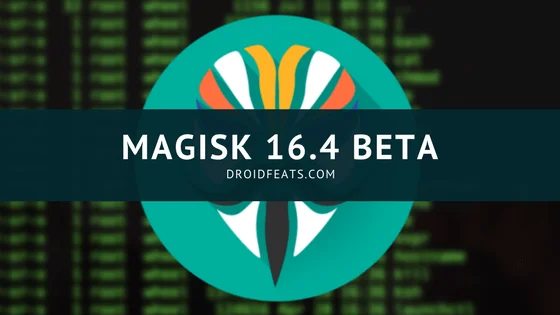 Today Magisk is well established and the most popular rooting solution that works on all the Android devices. The developer has announced the newer version, so you can download Magisk 16.4 Beta and Magisk Manager 5.7.0 from this post.
Magisk 16.4 beta and Magisk Manager 5.7.0
Magisk 16.4 beta version has some new features and addon. Check out the changelog below, as mentioned by topjohnwu to know more:
Magisk v16.4
[Daemon] Directly check logcat command instead of detecting logd, should fix logging and MagiskHide on several Samsung devices
[Daemon] Fix startup Magisk Manager APK installation on Android P
[MagiskPolicy] Switch from AOSP u:r:su:s0 to u:r:magisk:s0 to prevent conflicts
[MagiskPolicy] Remove unnecessary sepolicy rules to reduce security penalty
[Daemon] Massive re-design /sbin tmpfs overlay and daemon startup
[MagiskInit] Remove magiskinit_daemon, the actual magisk daemon (magiskd) shall handle everything itself
[Daemon] Remove post-fs stage as it is very limited and also will not work on A/B devices; replaced with a simple mount in post-fs-data, which will run even before the daemon is started
[General] Remove all 64-bit binaries as there is no point in using them; all binaries are now 32-bit only.
[resetprop] Add Protobuf encode/decode to support manipulating persist properties on Android P
[MagiskHide] Include app sub-services as hiding targets. This might significantly increase the number of apps that could be properly hidden.
Magisk Manager v5.7.0
Add app shortcuts for Android 7.1+
Bump minimal module minMagisk requirement to 1500
Adjustments for new SELinux policies on v16.4+
Fix crashes when refreshing the online repo
Functions like the MagiskHide which is an inbuilt utility which completely hides your root from apps which need not access root.
We appreciate the work of developer on this unique Universal Systemless Interface. The Magisk 16.4 Beta update brings some major rework to the daemon and how Magisk is initialized during and after the boot. Meanwhile, the latest Magisk Manager 5.7.0 comes with few changes and bug fixes.
Download Magisk 16.4 Beta (Magisk Manager 5.7.0)
There's a newer version available below!
Like any other versions of the previous release, Magisk 16.4 Beta is available as a ZIP and you can flash it using TWRP custom recovery.
How to install Magisk 16.4 beta
There are two methods to install Magisk:
Flash the Magisk 16.4 beta ZIP using TWRP recovery
Patch the stock boot image of your current firmware and flash it using fastboot.
However, the second method is not recommended for novice users since it is quite tricky. You need to familiarize with the steps before you proceed with it. Both methods are described in our detailed tutorial below:
→ How to install Magisk to root Android devices – Universal Systemless Interface
For those who have already installed Magisk, follow these steps to update it:
How to update Magisk 16.4 Beta
Open the Magisk Manager app.
Find 'Settings' on the menu icon on the top-left.


Scroll down to find 'Update Channel' and tap it.
Select the option 'Beta' since that is the latest version that you will be upgrading to.
Return to the Main screen and refresh by swiping the screen down.
The refresh will automatically provide a pop up which provides an option to update the software.


Tap on 'Install' or in some devices 'Direct Install.'
The latest Magisk 16.4 installer will do the work automatically.
Reboot the device by tapping the 'Reboot' button.
Remember that the Magisk Manager will also be automatically be updated to the latest version.
Use the MagiskHide to prevent apps from accessing root or root detection.
After the reboot, the Magisk Manager 5.7.0 will be automatically installed, and you can proceed to browse through the official repository and download required modules to add extra features on your Android Device.
Why Magisk?
It is a very common question that people ponder over if they haven't yet tried it.
For those who are new to Magisk, these points will certainly peak your interest in Magisk:
Constant and continuous app testing by Magisk for better properties integration
Systemless approach
It doesn't modify any partition or memory of the device, so installation and un-installation is easy
Magisk modules are available in Magisk Manager only.
We know the necessity to root, how to install and update Magisk and why to choose it. I hope you have a better understanding of Magisk and willing to try it out for your Android device.
[If you don't like it, there is always the option to remove it with just a few clicks.]
Final Thoughts
There is numerous root software but, many don't sustain the community due to various reasons like stability, too many bugs and errors, zero improvement and more.
Magisk doesn't belong to that category since the latest beta version explains a lot about its stability and the increase in users proves its popularity among Android community.
I hope you will try to install Magisk to have your Android device more personalized by customizing it to suit your style and taste.