The most popular root utility is getting better day by day. Thanks for the continuous support, we have Magisk 17.1 now with a lot more improvement and bug fixes. Actually, the developer released Magisk 17.0 but within a few hours, they removed it and released 17.1 version due to some issues. The Magisk Manager App also got updated to v5.9.1. The latest version of both the packages is available below, along with a tutorial on how to install Magisk to root Android devices.
Recognized XDA developer topjohnwu released the stable Magisk 17.1 with Android 9.0 Pie support, better A/B-type device support, fixed SafetyNet checks, and more. The developer is so quick to roll out a hotfix release. The first significant change on this build is about A/B partition device support. According to topjohnwu, some changes in the Google's Pixel OTA prevents Magisk from being installed on the inactive slot. This new Magisk 17.1 update completely fixes the issue. Therefore, providing better support for A/B-type partitioning devices.
Also, the newer version is properly compatible with Android 9.0 Pie. Therefore, if you are on Android 9, official or unofficial, this Magisk 17.1 will work perfectly. This update will help those who are using Project Treble Android 9 Pie GSI ROM.
What is Magisk?
Magisk is the most popular root utility due to its continuous update and systemless approach. If you want to customize your Android phone, you must have to root your device. This tool gives root access along with various features in their homemade Magisk Manager App. Once your device is rooted, you can install a custom recovery, custom ROM and tweak your device using various mods that are available in Xposed repositories and Magisk Modules.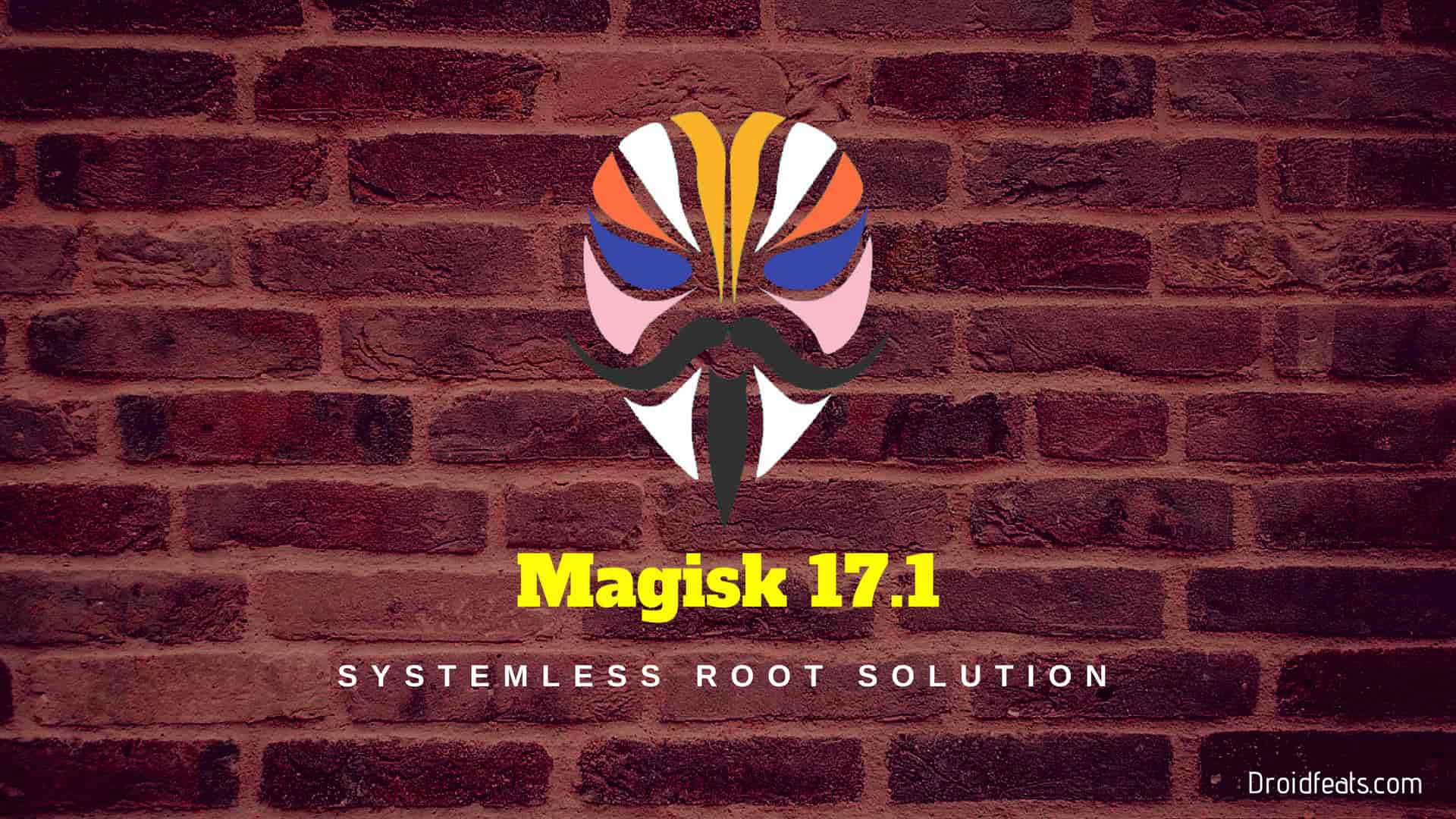 The most important reason why Magisk is a dominating root solution is due to its systemless root approach. In other words, if you install Magisk, the system partition won't get modified. This has some benefits like your device can pass a lot of security checks. Also, rooting via Magisk won't break OTA from the manufacturer. You can get Official Updates via OTA on your phone even after rooting.
Moreover, with the help of Magisk Manager App, you can easily manage your device's root access and implement plenty of tweaks directly on your device. Thanks to the developer that made Magisk Module available. These modules are specific to Magisk users only. Now there is a new version of Magisk and Magisk Manager, that is version 17.1 and 5.9.1 respectively.
Download Magisk 17.1 ZIP and Manager 5.9.1 APK
For other versions, check out: Download Magisk [all versions] ZIP
Magisk Manager full changelog
Bring back install to inactive slot for OTAs on A/B devices
Remove system based root in addon.d
Add proper addon.d-v2 for preserving Magisk on custom ROMs on A/B devices
Enable KEEPVERITY when the device is using system_root_image
Add hexpatch to remove Samsung defex in new Oreo kernels
Support non ext4 filesystems for mirrors (system/vendor)
Make pts sockets always run in dev_pts secontext, providing all terminal emulator root shell the same power as adb shells
Kill all processes with same UID of the target to workaround OOS embryo optimization
Move all sepolicy patches pre-init to prevent Pixel 2 (XL) boot service breakdown
Magisk Manager 5.9.1 full changelog
No more on boot notifications
Support new mechanism for installing to inactive slot for OTAs on A/B devices
Fix restore Magisk Manager settings on Android Pie
Verify existing file checksums to prevent unnecessary re-downloads
Update SNET extension to use new Google API, fix "Invalid Response" errors
Move fingerprint settings to magisk database to prevent the settings to be easily removed
Fingerprint settings are now guarded with fingerprint authentications before it can get changed
Prevent any files to be downloaded to /sdcard/MagiskManager
HOW TO: Install Magisk 17.1
There are two methods to install Magisk:
Flash the Magisk 17.1 ZIP using TWRP recovery.
Patch the stock boot image of your current firmware and flash it using fastboot.
However, the second method is not recommended for novice users since it is quite tricky. You need to familiarize with the steps before you proceed with it. Both methods are described in our detailed tutorial below:
→ How to install Magisk to root Android devices – Universal Systemless Interface
For those who have already installed Magisk 16.4 or older, follow these steps to update it:
How to update Magisk root to Magisk 17.1
Open the Magisk Manager app.
Find 'Settings' on the menu icon on the top-left.


Scroll down to find 'Update Channel' and tap it.
Select the option 'Stable' since that is the latest version that you will be upgrading to.
Return to the Main screen and refresh by swiping the screen down.
The refresh will automatically provide a pop up which provides an option to update the software.


Tap on 'Install' or in some devices 'Direct Install.'
The latest Magisk 17.1 installer will do the work automatically.
Reboot the device by tapping the 'Reboot' button.
Remember that the Magisk Manager will also be automatically be updated to the latest version.
Use the MagiskHide to prevent apps from accessing root or root detection.
After the reboot, the Magisk Manager 5.9.1 will be automatically installed, and you can proceed to browse through the official repository and download required modules to add extra features on your Android Device.
---
That's it!
So you are done with this tutorial! You had successfully installed the latest Magisk 17.1 using our guide. If you faced any problem with performing this tutorial, please let us know by dropping a comment below. Our team will reply you back as soon as possible.
Done with the rooting? Here's something extra for you:
Check out our root based post for any Android devices:
Why Magisk?
It is a very common question that people ponder over if they haven't yet tried it.
For those who are new to Magisk, these points will certainly peak your interest in Magisk:
Constant and continuous app testing by Magisk for better properties integration
Systemless approach
It doesn't modify any partition or memory of the device, so installation and un-installation is easy
Magisk modules are available in Magisk Manager only.
We know the necessity to root, how to install and update Magisk and why to choose it. I hope you have a better understanding of Magisk and willing to try it out for your Android device.
[If you don't like it, there is always the option to remove it with just a few clicks.]
Final Thoughts
There is numerous root software but, many don't sustain the community due to various reasons like stability, too many bugs and errors, zero improvement and more.
Magisk doesn't belong to that category since the latest version explains a lot about its stability and the increase in users proves its popularity among Android community.
I hope you will try to install Magisk to have your Android device more personalized by customizing it to suit your style and taste.