The official Samsung Galaxy S9 and Galaxy S9 Plus are all set to go up for pre-order in just a handful of days. If you are interested in these flagships, you might love to use their themes, apps, and wallpapers on your current Android device.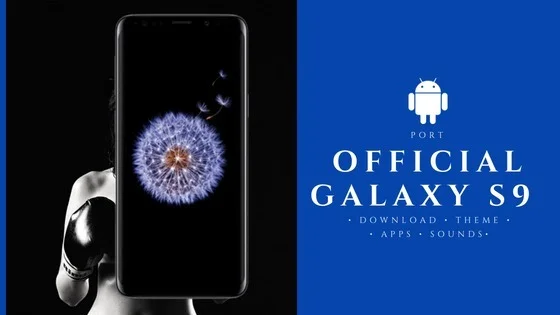 The wallpapers are so sweet and are available to download with good resolution. Most of them are HD 1080 x 1920 and 2560 x 2560 format. So, they should look good on most of the Android devices.
NEW UPDATE: Official Galaxy Note 9 wallpapers, sounds, apps and fonts [port] — download 'em here
The beauty of Android over other OS is due to its flexibility. Android has grown its popularity not only because of its customization but also it depends on the way you customize it. This post will let you feel the taste of Samsung Galaxy S9 wallpapers, themes, and apps on any other Android device.
See also: Download Google Camera Port APK with working HDR+ / ZSL [for all devices]
Official Galaxy S9 wallpapers
Almost 20 wallpapers are available to download, some of which you might have already seen on Mobile World Congress 2018, in hands-on previews where the device has announced.
Galaxy S9 theme for any Android phone
The 2018 flagship from Korean giant brings a lot of changes in the hardware, but along with that, it also brings an update in the software tweaks as well. The TouchWiz skin of Samsung has been heavily optimized and redefined to make better.
Thankfully, the eager developers have been able to replicate the Galaxy S9, how it looks like in the other device software-wise in this easy to install Substratum theme. All you need to do is install a Substratum theme engine on your current device. Continue reading below to get more details with download links.
See also: Download OnePlus 5T Official Wallpapers — Sandstone White, Lava Red editions
Galaxy S9 theme details
The Galaxy S9 theme builds too close to the real deal. It features the new style of navigation button where you can switch between. You can find the latest colour scheme of white with a touch of blue.
Galaxy S9 theme can be applied to a device via Substratum engine- the most famous theming app for Android. If you are already having Substratum engine on your phone, switching the new Galaxy S9 theme should be a breeze. Nothing less, we have entire steps on how to install Galaxy S9 theme on any Android phone. Continue reading below!
See also: Download the Huawei P20 [full resolution] Stock Wallpapers here!
Download Galaxy S9 theme
Before going ahead with the theme setup process, you need to download the Galaxy S9 theme on your phone. You can install it from the store below:
→ [Substratum] Galaxy Evolution APK
See also:
How to Install Galaxy S9 theme with Substratum
Read the steps below on how to install Galaxy S9 theme by Galaxy Evolution on your device via Substratum app:
Step 1: Download Substratum Theme Engine from Google Play Store and install it on your device [requires root].
Step 2: Make sure you have installed Galaxy Evolution / Galaxy S9 theme app from the link given before.
Step 3: Open Substratum Theme Engine app on your device.
Step 4: Choose Galaxy Evolution and tab on apply!
That's it! You can enjoy the Galaxy S9 theme on your current device.
Download official Samsung Galaxy S9 & S9+ sounds & ringtones
XDA Developers has extracted the Sounds – notification and ringtone from a system dump of Galaxy S9 and S9 Plus. So you can make your phone sound like Samsung Galaxy S9. Download all the different sounds and ringtone below:
Once you have downloaded the zip onto your phone, download any file manager like ES File Explorer. Using the app, navigate to your downloads location to uncompress the zip files.
See also: Download the Redmi Note 5 (Pro) [full resolution] Stock Wallpapers
Official Galaxy S9 Apps [port] – with Android Oreo Support
Samsung Galaxy S9 comes with a newer version of the TouchWiz theme – having new S9 apps. XDA Developers have already ported the apps to other devices. A flashable Zip is available to download.
Following are some of the apps port included in the Zip from Galaxy S9:
Phone and Contacts
Incall UI
Browser
Clock
Calendar
Messaging
TouchWiz Home
Edge Lightning
Task Edge
People Edge
S Finder
Smart Manager
Gallery
Photo Editor
Calculator
Weather
Always ON Display
Audio and emoji's
Download Galaxy S9 Apps [port] flashable zip
Before downloading the port zip, make sure you have TWRP custom recovery installed on your device. If not, please Google it up!
Remember: This is the initial release by XDA Developer. You may find some minor bugs which you can report us by commenting below! We will update this post once the developer releases the next version.
Let us know what you think about the new wallpapers, themes, and porting apps in the comment section below! Do SHARE it with your friends so that they can take the benefit of it.