HMD global is one of the first major smartphone manufacturers to release Android 9.0 Pie. They were also the first OEM to bring Google's Digital Wellbeing to their Android One-powered devices. HMD Global's Chief Product Officer, Juho Sarvikas said that they would bring Android 9.0 Pie to all their devices. Nokia 6.1 and 6.1 Plus are the first phones in the company to receive Android 9.0 Official update. And it's rolling out now! In this guide, we will show you on how to update Nokia 6.1 / 6.1 Plus to Android Pie manually.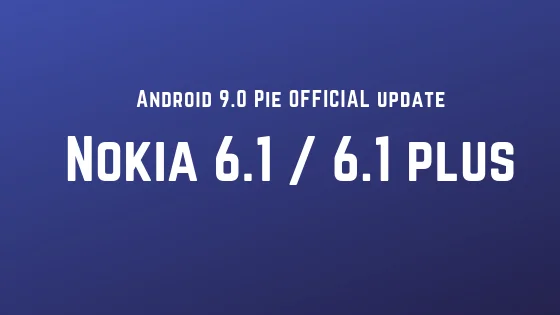 We will be using mere dialer code to install Android 9.0 Pie package on Nokia 6.1 / 6.1 Plus. Nokia is ahead of many smartphone companies in term of software updates. The company is caring even for their old devices. HMD Global's Nokia 7 was one of the few smartphones to get Android 9.0 Pie Developer Preview. Following that, the company has recently started rolling out Android 9.0 Pie update for the Nokia 6.1 and Nokia 6.1 Plus.
Both the phone was released a couple of months ago in the mid-range price segment. While both the phone comes with Android 8.0 Oreo out of the box, Nokia 6.1 Plus is at the top of the Android One Program. That's why Nokia 6.1 Plus got a beta Pie update before. But the Nokia 6.1 directly jumped to a stable release.
The update is rolling out in many regions, but if you still didn't get the push notification, or your device is rooted, or a custom ROM is installed, you can follow this guide on how to update Nokia 6.1 / Nokia 6.1 Plus to Android 9 Pie manually.
Tweet
Android 9 Pie: now available on Nokia 6.1! AI-power your Nokia 6.1 as it gets smarter, faster and adapts as you use it. We are serving ? with a side of cool refreshed imaging expereince including Google Lens integration pic.twitter.com/et5fkKhbst

— Juho Sarvikas (@sarvikas) October 30, 2018
Nokia 6.1 and Nokia 6.1 Android 9.0 Pie update: features and details
Android 9.0 is a significant system update from Android 8.0 Oreo that brings a bunch of new features and improvements. Being based on the latest irritation of Android, the update carries all the Android 9.0 features. The App action and Slices that analyze your usages and provide a right response for faster process. Adaptive battery examines the usages of the battery using Machine Learning technology and prioritizes battery on important apps. It also automatically set the phone brightness based on the interaction with your area. There is a new full-screen gesture-based system navigation which is unique in Android Pie. The navigation system is disabled by default, which can be easily enabled from the phone setting option.
Key features of Android 9 Pie
App actions – Helps you get things done faster by predicting your next move and displaying the right action on your phone
Slices – Identifies relevant information of your favorite apps to make them more easily accessible when you need them
Adaptive battery – Uses deep learning to understand usage patterns and prioritize battery power on important apps
Adaptive brightness – Automatically adapts phone brightness by learning from your interactions with different settings
New System navigation – Features a single home button that provides intelligent predictions and suggestions (user enabled)
Nokia 6.1 and Nokia 6.1 Plus Android Pie update also comes with October 2018 Android Security patches. The camera app has been updated to version 91.9.1140.20 that include features like "You Decide" and "Infinitely Adjust" to the Dual-Sight mode.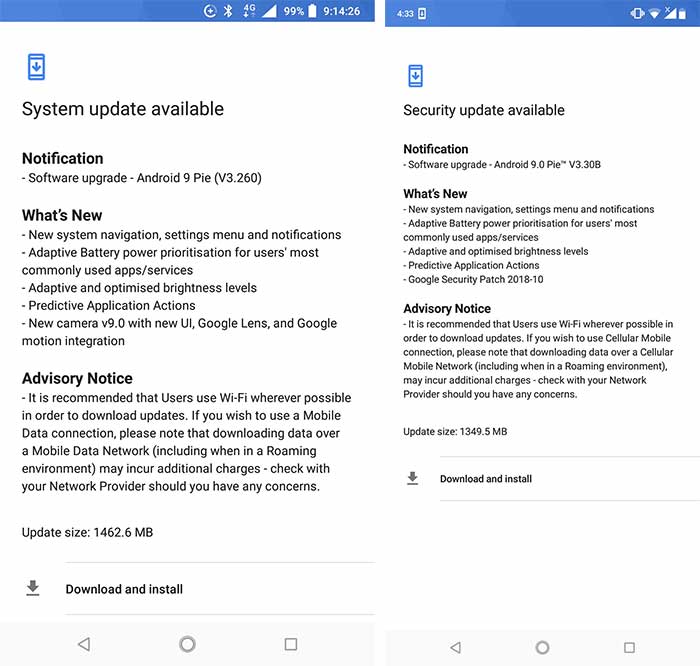 Love the features? We love it too, and we know you are looking forward to installing Android 9.0 Pie on Nokia 6.1 / 6.1 Plus. But before heading to the installation tutorial, we recommend you to check out the pre-requisites section below.
Pre-requisites
Make sure your phone has at least 80 – 85% charge. If not, please do charge it before starting the experiment.
Enable OEM Unlock: Settings > Developer options > Enable OEM unlock.
Install Nokia USB driver on your computer.
Make sure that your phone has the latest Android 8.1 Oreo installed.
Backup your Android Device
We don't want you to lose any data, or anything could go wrong unexpectedly. Before starting the tutorial, we strongly recommend you to make a full backup of your phone.
Once you are sure that you have completely backed up your data, proceed to the tutorial below to and update Nokia 6.1 / 6.1 Plus to Android Pie using dialer.
Download Nokia 6.1 / 6.1 Plus Android Pie Update
Thanks to XDA Senior Members Danny1976 and hikari_calyx for capturing OTA link of the Android Pie package for Nokia 6.1 and Nokia 6.1 Plus respectively. Since the provided OTA packages are not made to be sideloaded via recovery, you need to adopt a different method. We have described correctly, read ahead.
How to install Nokia 6.1 and Nokia 6.1 Plus Android Pie Update manually?
Download the OTA ZIP packages from the above given links.
Rename the packages as follows:
→ For Nokia 6.1: Rename the downloaded package from 

1879f071d6ca7ca72fb1a750f045c3cdf00ff4dc.zip

to "

PL2-3260-0-00WW-B01-update.zip

".
→ For Nokia 6.1 Plus: Rename the downloaded package from

5b5ef80dac7bcd5c16c169f8c1a3f401b4fa7d28.zip

to "

DRG-330B-0-00WW-B01-update.zip

".
Next, connect your phone to the computer using compatible USB cable (preferably, the official one, provided by Nokia with the phone box).
Transfer the OTA package to your phone's internal storage (root, not inside any folder).
Open the dialer app on your phone and enter the following number:

*#*#227#*#

Confirm that Android 8.1 is installed.
Finally, enter the following number to install Nokia 6.1 and Nokia 6.1 Plus Android Pie update:

*#*#874#*#*

The installation process will start immediately.
Once completed, the OTA ZIP package will get deleted from your phone automatically and your device will reboot to system.
Wait a while, and your phone may take up to 10 minutes to boot for the first time.
While the device boots, it shall run the latest Android 9.0 Pie firmware. Now, simply browse around and check out all the new Pie-specific features.
---
So you are done with this tutorial! You had successfully installed Android 9.0 Pie on your Nokia 6.1 / Nokia 6.1 Plus using our guide. If you faced any problem with performing this tutorial, please let us know by dropping a comment below. Our team will reply you back as soon as possible.
Is this post helpful? Please do share it on Social Media to THANK US.