Nokia 7 Plus is now reviving official Pie update from the OEM. As promised by Nokia, Pie update is rolling out now! Nokia 7 Plus users should get the update via OTA (over-the-air). If you still not getting the OTA due to region problem, try out our guide below on how to update Nokia 7 Plus to Android 9.0 Pie official firmware.
We have seen Nokia bringing Android Pie beta software update to their device so fast in the recent month. Android Pie contains a number of great features such as optimized system performance, adaptive battery, new full-screen gesture and more.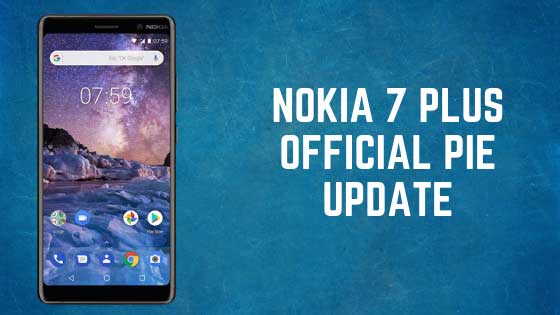 This update sees Nokia become one of the few OEM to roll official Pie update, beating out some bigger companies like Samsung and LG. The update passed through a lot of testing, thanks to the OEM for their previous beta builds. So, no doubt, this update is likely to be stable without any significant bugs. You can download the update by simply going to Settings option and check for update. Users from India were already receiving the OTA. But if you are from some other region where the OTA still not rolled, you can sideload the update ZIP file. We have a tutorial below for that. Read ahead.
The latest stable Pie update for Nokia 7 Plus labeled V3.190, appears to be minimal. The update includes September 2018 security patch.
Back in August 2018, Sarvikas said that Nokia 7 Plus would be the first device from HMD global to get Android 9 Pie. So as per the target, the company successfully able to deliver the official version of Android Pie. According to HMD global, the operator/carrier based device will be the next to catch the OTA.
Everybody wants a piece of the Pie! We are starting roll out of Android™ 9 on #Nokia7Plus. Which of its delicious new features is your favorite? ? #Nokiamobile pic.twitter.com/whiZlZPLTP

— Juho Sarvikas (@sarvikas) September 28, 2018
Why manual update?
Sometime you may not get OTA notification on your phone due to the following reasons:
You are out of the region where the OTA is not available.
You might have a different operator/carrier.
If you are in custom ROM, there is no chance of getting official updates.
Rooting: If your device is rooted, there is a chance of OTA break.
Nokia 7 Plus Android Pie Update details
The OTA update weighs 1471.3 MB brings a lot of improvements, bug fixes, and changes. Before you head over to the tutorial on how to install Nokia 7 Plus Android Pie update, check out some changes and features that will accompany.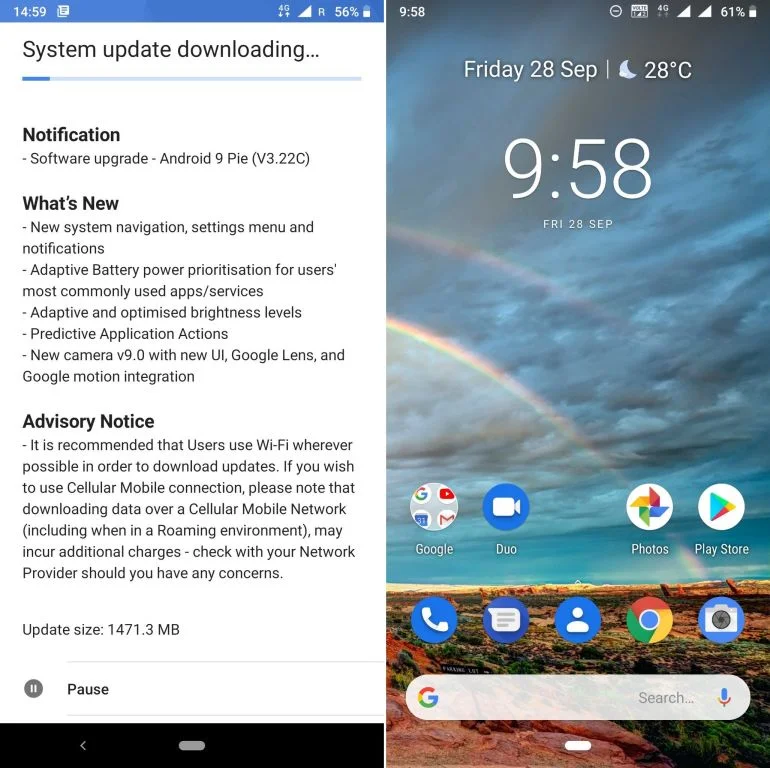 Being based on the latest irritation of Android, the update carries all the Android 9.0 features. The App action and Slices that analyze your usages and provide a right response for faster process. Adaptive battery examines the usages of the battery using Machine Learning technology and prioritizes battery on important apps. It also automatically set the phone brightness based on the interaction with your area. There is a new full-screen gesture-based system navigation which is unique in Android Pie. The navigation system is disabled by default, which can be easily enabled from the phone setting option.
Moreover, Nokia 7 Pie update brings Digital Wellbeing Beta. It is a set of Google's features that analyze the tech usages of your phone and adapt to it for your own Digital Wellbeing. Check out the changes mentioned by HMD Press Release below:
Digital Wellbeing features available from Autumn 2018
Dashboard – Highlights screen time and phone usage including how many times the device has been unlocked and the number of notifications received
App Timers – Set time limits on app usage
Wind Down and Do Not Disturb – Set a daily schedule to get your phone ready for bed. Your screen fades to Grayscale, while Do Not Disturb silences notifications for a restful sleep. You can activate Do Not Disturb anytime you want to disconnect.
Key features of Android 9 Pie
App actions – Helps you get things done faster by predicting your next move and displaying the right action on your phone
Slices – Identifies relevant information of your favorite apps to make them more easily accessible when you need them
Adaptive battery – Uses deep learning to understand usage patterns and prioritize battery power on important apps
Adaptive brightness – Automatically adapts phone brightness by learning from your interactions with different settings
New System navigation – Features a single home button that provides intelligent predictions and suggestions (user enabled)
Love the features? We love it too, and we know you are looking forward to installing Android 9.0 Pie on Nokia 7 Plus. But before heading to the installation tutorial, we recommend you to check out the Pre-requisites section below.
Pre-requisites
Make sure your phone has at least 80 – 85% charge. If not, please do charge it before starting the experiment.
You need to enable USB Debugging mode to connect your Android phone to computer. (Settings > About Phone > Build number > Tap it 7 times to become developer; Settings > Developer Options > USB Debugging).
Install Nokia 7 Plus USB driver on your computer.
Backup your Android Device
We don't want you to lose any data, or anything could go wrong unexpectedly. Before starting the tutorial, we strongly recommend you to make a full backup of your phone.
Once you are sure that you have completely backed up your data, proceed to the tutorial below to and update Nokia 7 Plus to Android Pie using fastboot.
Download Nokia 7 Plus Android Pie Update
How to Install Nokia 7 Plus Android Pie Update
There are two different methods to update the Nokia 7 Plus to Android 9.0 Pie. Either you can sideload the Android Pie OTA using Stock Recovery, or you can flash the factory image. Since we don't have a factory image, for now, we will opt to sideload method.
Sideload OTA using Stock Recovery
Download Android 9.0 Pie for Nokia 7 Plus from the OTA link above.
Install ADB and Fastboot driver (Ignore if already done).
Switch OFF your device.
Press and hold [Volume Down] + [Power] buttons till you see the bootloader/fastboot mode.
Use Volume Keys to select "Recovery Mode" and press [Power] button to enter to the stock recovery.
On the Android bot screen, hold the [Volume Up] button and tap the [Power] key once.
Connect your phone to the computer using compatible USB cable (preferably, the official one, provided by Nokia with the phone box).
Select 'Apply update from ADB.'

Copy/Paste the downloaded file to your ADB directory [C:\adb].
Open Command Prompt on the same directory as the folder with Android 9.0 Pie ZIP file. (Press the SHIFT key and right-click on an empty space. Select "Open PowerShell window here" or "Open command window here" from the pop-up menu.)

Make sure that your device is being detected properly using the following command:

adb device

The command will return a unique device ID right with the 'fastboot' message.

Type the following code on your Command Window and HIT enter:

adb sideload 105d70f18f853101a4e4d47f66b60a97318bc589.zip

Your OTA installation should start now!
Once the installation is completed, select "reboot system now" option from the recovery menu.
Wait a while, and your phone may take up to 10 minutes to boot for the first time.
While the device boots, it shall run the latest Android 9.0 Pie firmware. Now, simply browse around and check out all the new Pie-specific features.
---
So you are done with this tutorial! You had successfully installed Android 9.0 Pie on your Nokia 7 Plus using our guide. If you faced any problem with performing this tutorial, please let us know by dropping a comment below. Our team will reply you back as soon as possible.
Is this post helpful? Please do share it on Social Media to THANK US.