In this guide, you will be able to update your Asus Zenfone 5Z ZS620KL to Android 9.0 Pie official firmware. This build comes with version number 90.10.138.175. You can easily install Android Pie on Asus Zenfone 5Z using the tutorial given below.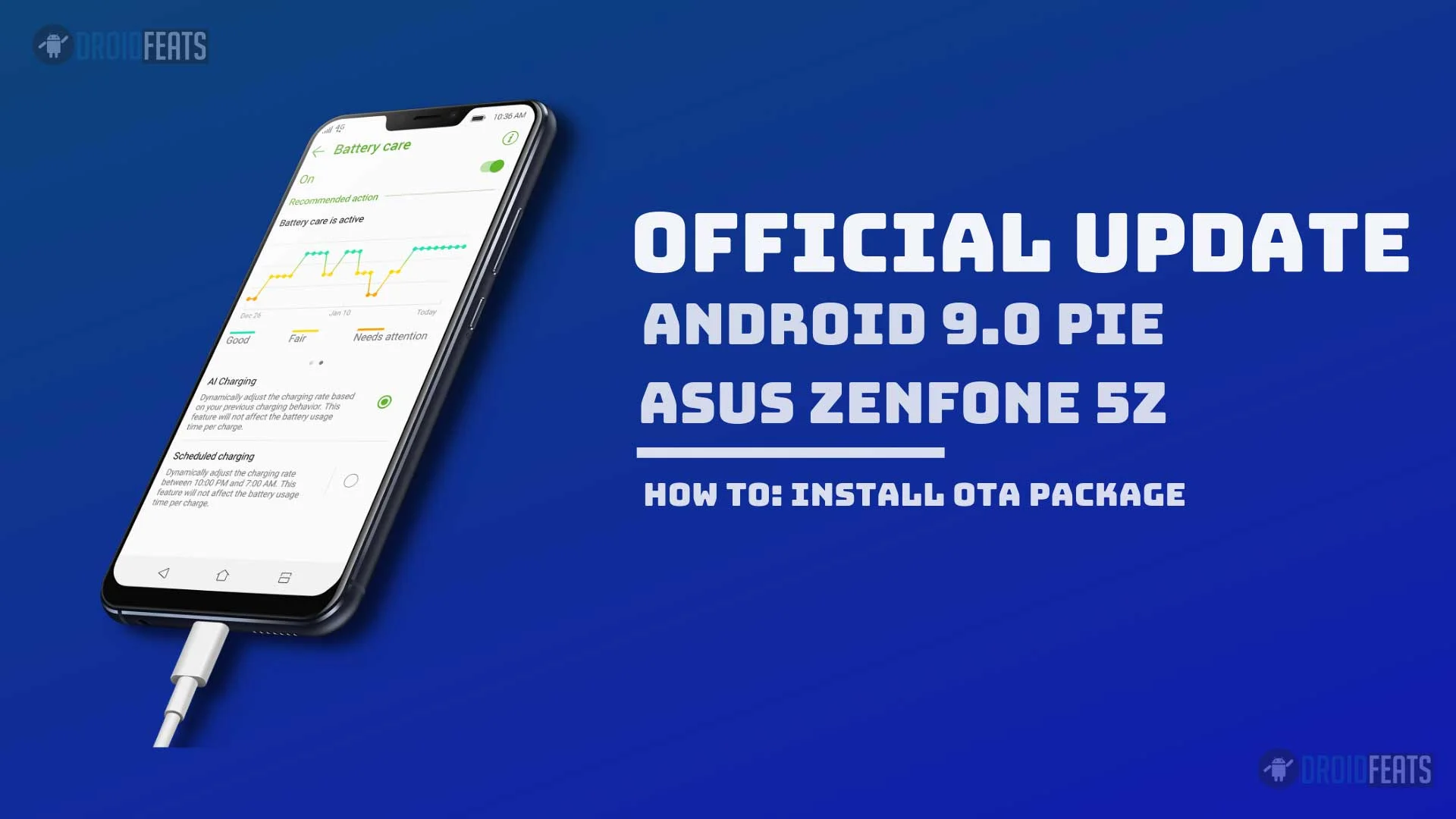 ASUS Zenfone 5Z was launched back in the event of MWC, February 2018 with Android 8.0 on board. But as promised by ASUS, the company released Android 9.0 Pie for this device and some users already getting the update via OTA (over-the-air).
The device is backed up with Snapdragon 845 SoC, 6/8GB RAM, and 64/128/256GB of UFS 2.1 internal storage along with a microSD slot. All comes within a slip pack of 6.2-inch FHD+ screen, USB Type-C port, 3.5mm headphone jack, and a 3,300mAh battery.
Android Pie for ASUS Zenfone 5Z was announced in the official ASUS ZenTalk forum where is it clearly mentioned that the build number for Pie update is 90.10.138.175. But there's not much information other than the version number and availability.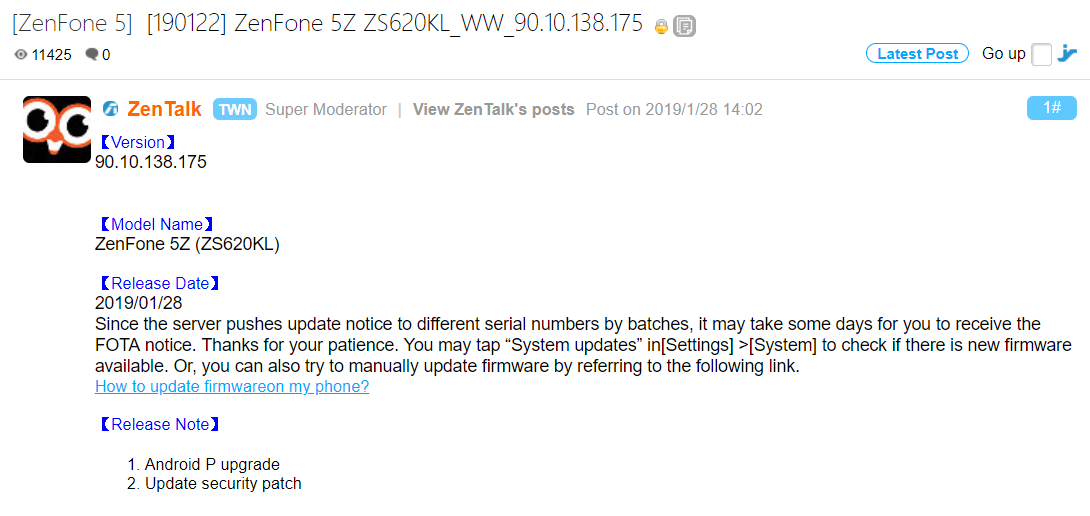 This guide will help you to update your ASUS Zenfone 5Z to Android 9.0 Pie Official Firmware manually. Manual installation is required when you are not able to update your device directly via OTA, in case you are in a different region.
The update is currently rolling out in India and Taiwan. Users can easily update their device by navigating to Settings > System > System updates and check for the OTA notification. If it is still not arrived, you can manually do it using the tutorial given below!
Zenfone 5Z Android Pie features
Android 9.0 Pie is a significant system update from Android Oreo that brings a bunch of new features and improvements. Being based on the latest irritation of Android, the update carries all the Android 9.0 goodies.
Gesture-based navigation
Adaptive Battery
Refreshed notification
Rotation suggestion
App Actions
Text Classifier and Smart Linkify
Slices
New system navigation
Display cutout
Notifications and smart reply
Text Magnifier
Biometric prompt
Stronger protection for private keys
DNS over TLS
HTTPS by default
Compiler-based security mitigations
Multi-camera API and other camera updates
HDR VP9 Video and HEIF image compression
Enhanced audio with Dynamics Processing
ImageDecoder for bitmaps and drawables
Wi-Fi RTT for indoor positioning
Data cost sensitivity in JobScheduler
Open Mobile API for NFC payments and secure transactions
ART performance
Optimized for Kotlin
Modern Android
→ [Check What's new in Android P here!]
Moreover, Android 9.0 Pie update brings Digital Wellbeing. It is a set of Google's features that analyze the tech usages of your phone and adapt to it for your own Digital Wellbeing. Check out the changes mentioned by Google here!
Digital Wellbeing features
Dashboard – Highlights screen time and phone usage including how many times the device has been unlocked and the number of notifications received
App Timers – Set time limits on app usage
Wind Down and Do Not Disturb – Set a daily schedule to get your phone ready for bed. Your screen fades to Grayscale, while Do Not Disturb silences notifications for a restful sleep. You can activate Do Not Disturb anytime you want to disconnect.
Key features of Android 9 Pie
App actions – Helps you get things done faster by predicting your next move and displaying the right action on your phone
Slices – Identifies relevant information of your favorite apps to make them more easily accessible when you need them
Adaptive battery – Uses deep learning to understand usage patterns and prioritize battery power on important apps
Adaptive brightness – Automatically adapts phone brightness by learning from your interactions with different settings
New System navigation – Features a single home button that provides intelligent predictions and suggestions (user enabled)
Love these features? We love it too, and we know you are looking forward to installing Android 9.0 Pie on your ASUS Zenfone 5Z.
Download Asus Zenfone 5Z Android Pie OTA
You can either download an incremental OTA Package or a full OTA package of Zenfone 5Z Android Pie. But remember, incremental OTA package is for those devices having an OS version 80.30.96.221 to update to 90.10.138.175. If not, you can go for the full OTA package. So, based on your requirement, you should download the OTA from the links given below:
Credits: The ASUS team has provided the full OTA package (UL-Z01R-WW-90.10.138.175-user.zip) on their official discussion forum. While, a Senior XDA member, mickey36736 have captured the incremental OTA package. So. all credit goes to them.
Pre-requisites
Make sure your phone has at least 80 – 85% charge. If not, please do charge it before starting the experiment.
Install ASUS Zenfone 5Z USB driver on your computer. You may need this while transferring the downloaded package from computer to phone memory using a USB cable.
Make sure that your phone has the latest Android 8.1 Oreo installed.
Your phone must be in stock condition (no root, no custom firmware). Otherwise, this tutorial will not work.
Backup your Android Device
We don't want you to lose any data, or anything could go wrong unexpectedly. Before starting the tutorial, we strongly recommend you to make a full backup of your phone.
→ Top 10 Best Android Backup Apps – Secure your Data
Once you are sure that you have completely backed up your data, proceed to the tutorial below to and update AUSU Zenfone 5Z to Android Pie official firmware.
HOW TO: Install Asus Zenfone 5Z Android Pie Update manually
There are two methods to install Android Pie update on Zenfone 5Z. You can either use the inbuilt upgrade mechanism or sideload the OTA package using ADB. Below is the inbuilt method which should work on the majority of the device. If not, you can manually sideload the OTA using a different guide.
Download the ASUS Zenfone 5Z Android Pie OTA package on your computer.
Rename the downloaded ZIP file to "UL-Z01R-WW-90.10.138.175-user.zip".
Next, connect your phone to the computer using a compatible USB cable (preferably, the official one, provided by ASUS with the phone box).
Transfer the OTA package to your phone's internal storage (root, not inside any folder).
Disconnect the USB cable and reboot your device.
Once rebooted, you will be able to see an update notification (System update file detected).

Tap on the update notification to start Android Pie installation on ASUS Zenfone 5Z.
You need to agree with any prompt message on the screen.
Your device will reboot automatically, and the installation procedure should start now in the recovery mode.
Once done, your Zenfone 5Z will reboot to the system OS.
That's it!
Wait a while, and your phone may take up to 10 minutes to boot for the first time.
While the device boots, it shall run the latest Android 9.0 Pie firmware. Now, simply browse around and check out all the new Pie-specific features.
If you want to root your ASUS Zenfone on Android Pie, you can install Magisk 18.0 Pie supported systemless root utility. Check out the following guide:
So you are done with this tutorial! You had successfully installed Android 9.0 Pie on your ASUS Zenfone 5Z using our guide. If you faced any problem with performing this tutorial, please let us know by dropping a comment below. Our team will reply you back as soon as possible.
Is this post helpful? Do LIKE us on the Facebook page to THANK and stay tuned with the latest updates on your social timeline.