Android enthusiasts can now download Magisk 18.0 stable systemless root utility to root their device using this guide. This version brings improvements to Magisk Hide, for which, instead of the process name, the process monitor now matches component names. This in-return supports Magisk Hide to target all processes generated from the applications on the hide list. So, with the updated Magisk 18.0 stable build, you can enjoy better functionality with Magisk Hide, which will let you bypass root checks to those apps that rely on SafetyNet to detect root access and system modifications.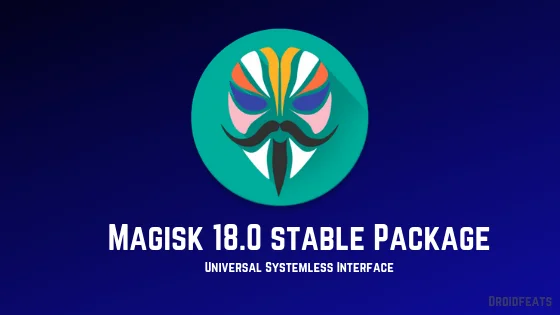 Magisk 18.0 is a significant upgrade from 17.x versions to make /system modifications. Furthermore, the developer (topjohnwu) declared that the stable release adds to a significant number of place, rather than incrementing the decimal. Since there are a lot of new smartphones released in the market with the latest software, this build extends its support to a vast number of devices running Android 9.0 Pie and new UIs.
Additionally, Magisk 18.0 is now patching the procfs security vulnerability on all Android 7.x Nougat devices. It has also shifted to a new codebase based on C++ upgrading from the older C-based codebase. Talking about the Magisk Manager, it also got updated to version 6.1.0 to assist the new Magisk build entirely.
What is Magisk?
For those who are Magisk, here is some information for you:
Magisk is a systemless root solution that gives you root access to your Android device. This is the most popular and reliable tool right now, with which you can root majority of the Android devices, especially all the devices that released in the recent years. Earlier, we used SuperSU by Chainfire, but our favorite choice is Magisk now! The tool got high priority in the developer's eyes due to its systemless approach, which means, this tool will root your device without touching the system partition. Other root tools may break your OTA support, but Magisk won't. There are many other benefits too; you will get to know once you start using it on your device.
Why rooting?
If you are a regular reader of our blog, I am sure you know about rooting. All the time, we play with this kind of stuff. Rooting is the key to unlock the full potential of an Android device. Once your device is rooted using any rooting tool, you will be able to get access to system files. Which means, you can modify the system files in the way you want. You can remove bloatware, unwanted system applications to speed up your phone, overclock, clean cache and more. There are some modules like Amplify, which you can use with Xposed Framework to increase the battery life of your phone.
There are several Applications in the Play Store that need root access. So, in order to use them, you must root your device. Moreover, the XDA Developer community has released several mods, apps in their repositories. If you want to take the benefits of it, rooting is a must.
Magisk 18.0 details
This build mainly focused on better anti-root detection and built-in systemless hosts module. Moreover, the support extent and compatibility is now for a vast number of devices available in the market with new Pie-based software. A new downloading method is integrated into the Magisk Manager 6.1.0; you are no longer to use the buggy system download manager. Thanks to the developer for continuously updating Magisk with new features and several bug fixes. Check out the full change-log below:
Changelog: Magisk 18.0 stable
Following are the changelog of Magisk 18.0 as per the original XDA developer thread:
[General] Migrate all code base to C++
[General] Modify database natively instead of going through Magisk Manager
[General] Deprecate path /sbin/.core, please start using /sbin/.magisk
[General] Boot scripts are moved from /.core/.d to /data/adb/.d
[General] Remove native systemless hosts (Magisk Manager is updated with a built-in systemless hosts module)
[General] Allow module post-fs-data.sh scripts to disable/remove modules
[MagiskHide] Use component names instead of process names as targets
[MagiskHide] Add procfs protection on SDK 24+ (Nougat)
[MagiskHide] Remove the folder /.backup to prevent detection
[MagiskHide] Hide list is now stored in database instead of raw textfile in images
[MagiskHide] Add "–status" option to CLI
[MagiskHide] Stop unmounting non-custom related mount points
[MagiskSU] Add FLAG_INCLUDE_STOPPED_PACKAGES in broadcasts to force wake Magisk Manager
[MagiskSU] Fix a bug causing SIGWINCH not properly detected
[MagiskPolicy] Support new av rules: type_change, type_member
[MagiskPolicy] Remove all AUDITDENY rules after patching sepolicy to log all denies for debugging
[MagiskBoot] Properly support extra_cmdline in boot headers
[MagiskBoot] Try to repair broken v1 boot image headers
[MagiskBoot] Add new CPIO command: "exists"
Changelog: Magisk Manager 6.1.0
Following are the changelog of Magisk Manager v6.1.0 as per the original XDA developer thread:
Introduce new downloading methods: no longer uses buggy system Download Manager
Introduce many new notifications for better user experience
Add support for Magisk v18.0
Change application name to "Manager" after hiding (repackaging) to prevent app name detection
Add built-in systemless hosts module (access in settings)
Auto launch the newly installed app after hiding (repackaging) and restoring Magisk Manager
Fix bug causing incomplete module.prop in modules to have improper UI
The developer has done an impressive job on updating Magisk to version 18.0 with a lot of useful features. We appreciate his hard work toward the community. You can now download Magisk 18.0 ZIP and Magisk Manager 6.1.0 APK from the link below!
Download: Magisk 18.0 ZIP and Magisk Manager 6.1.0
Previous releases:
The new Magisk 18.0 version can be flashed via TWRP Custom Recovery. If you are already in the previous version of Magisk, you don't need to install it using recovery. You can directly update it using the stable channel. Check out how to update Magisk in the tutorial ahead.
HOW TO: Install Magisk 18.0
There are two methods to install Magisk:
However, the second method is not recommended for novice users since it is quite tricky. You need to familiarize with the steps before you proceed with it. Both methods are described in our detailed tutorial below:
→ How to install Magisk to root Android devices – Universal Systemless Interface
For those who have already installed Magisk 16.4 or older, follow these steps to update it:
How to update Magisk root to Magisk 18.0 stable
Open the Magisk Manager app.
Find 'Settings' on the menu icon on the top-left.

Scroll down to find 'Update Channel' and tap it. Select the option 'Stable' since that is the latest version that you will be upgrading to. Return to the Main screen and refresh by swiping the screen down. The refresh will automatically provide a pop up which provides an option to update the software.

Tap on 'Install' or in some devices 'Direct Install.' The latest Magisk 18.0 installer will do the work automatically. Reboot the device by tapping the 'Reboot' button.
Remember that the Magisk Manager will also be automatically be updated to the latest version.
Use the MagiskHide to prevent apps from accessing root or root detection.
After the reboot, the Magisk Manager 6.1.0 will be automatically installed, and you can proceed to browse through the official repository and download required modules to add extra features on your Android Device.
---
That's it!
So you are done with this tutorial! You had successfully installed the latest Magisk 18.0 stable using our guide. If you faced any problem with performing this tutorial, please let us know by dropping a comment below. Our team will reply you back as soon as possible.
Done with the rooting? Here's something extra for you:
Check out our root based post for any Android devices:
Why Magisk?
It is a very common question that people ponder over if they haven't yet tried it.
For those who are new to Magisk, these points will certainly peak your interest in Magisk:
Constant and continuous app testing by Magisk for better properties integration
Systemless approach
It doesn't modify any partition or memory of the device, so installation and un-installation is easy
Magisk modules are available in Magisk Manager only.
We know the necessity to root, how to install and update Magisk and why to choose it. I hope you have a better understanding of Magisk and willing to try it out for your Android device.
[If you don't like it, there is always the option to remove it with just a few clicks.]
Verdict
There is numerous root software but, many don't sustain the community due to various reasons like stability, too many bugs and errors, zero improvement and more.
Magisk doesn't belong to that category since the latest version explains a lot about its stability and the increase in users proves its popularity among Android community.
I hope you will try to install Magisk to have your Android device more personalized by customizing it to suit your style and taste.