The support of Team Win Recovery Project (TWRP) has been added to the Samsung Galaxy S8 and S8 Plus, only a matter of days after the devices' official release.An open-source recovery tool, TWRP is basically meant to provide an intuitive interface to the users. It helps in assisting them with installing the firmware, dating wiping, backup, and the recovery. For users who are more keen to install firmware and run various software on their devices, TWRP support plays a big role for them, particularly in the customization and modding community.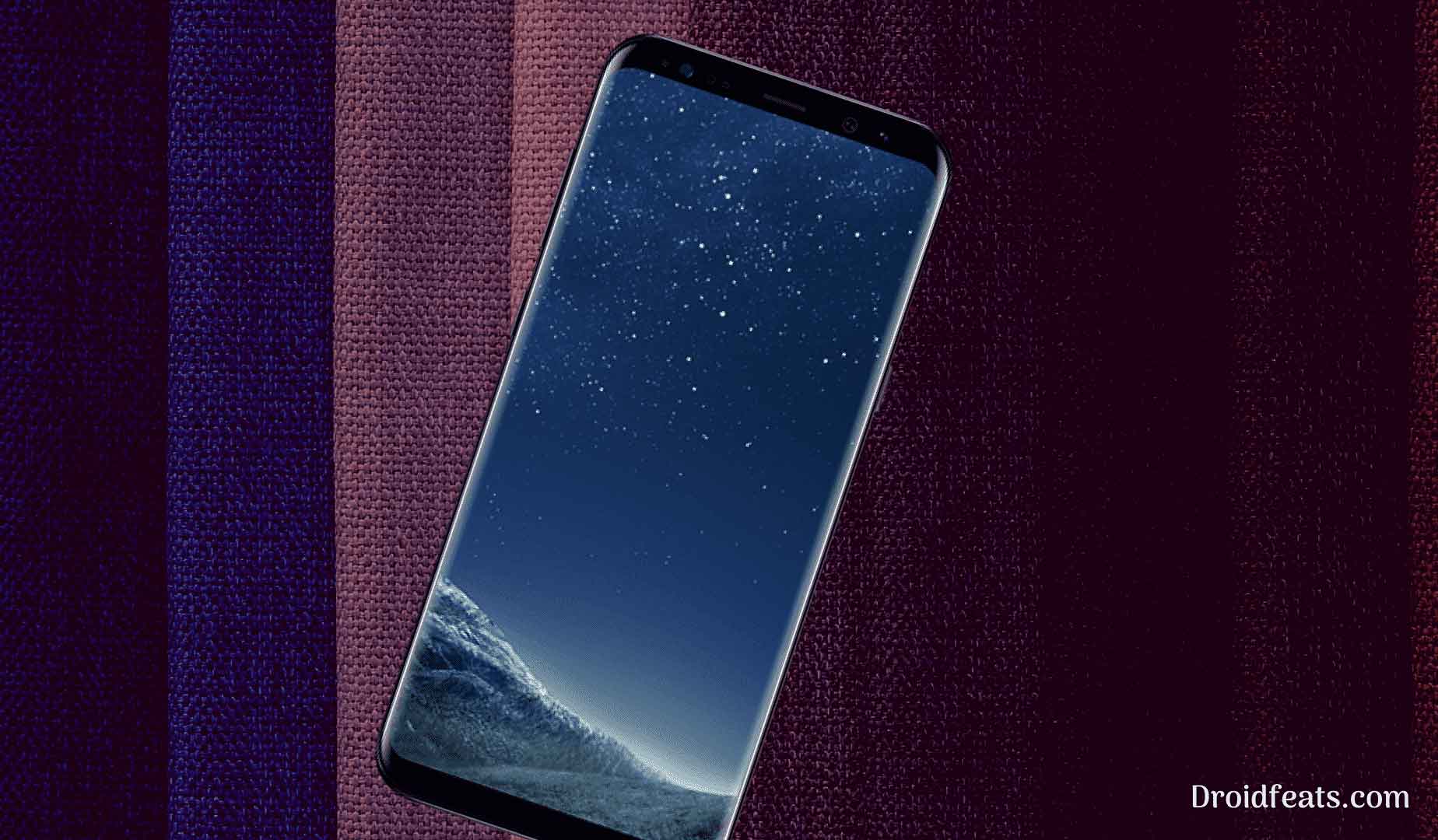 The TWRP support now covers both Exynos and Snapdragon variant of Galaxy S8 and S8 Plus. We have a list of all supported models below [Keep reading to grab].On installing TWRP, the stock Samsung recovery will get replaced. The steps are quite straightforward, and if you already have experience in flashing a custom recovery, this guide won't be much difficult.
The latest version of TWRP recovery [version 3.2.1.X +] now fully supports on Android 8.0 Oreo.In order to install this firmware, your phone should be Factory Unlocked. International edition doesn't have locked bootloader; this guide can work on its own given that you have the correct model.
The tutorial is via Download MODE, where you need to use Odin on your computer.We have written the tutorial very carefully so that you don't get stuck during the installation process. As you continue reading below, we will guide you the entire step-by-step procedure on How to Install TWRP Custom Recovery on Galaxy S8.
TWRP for Galaxy S8 Details
Team Win Recovery Project (TWRP in short) is the most famous recovery for android which opens the door to modify our phone in the way we like. This recovery provides the advanced options like system partition, making nandroid backups, wipe cache/dalvik etc.
TWRP recovery built with ease of use and customization in mind. The graphical user interface is also XML driven which is completely customizable – where you can change the theme or colour of recovery screen.
TWRP for Galaxy S8 (Supported models)
To make sure you own the correct Galaxy S8 model with Exynos or Snapdragon chipset, please confirm your variant from the list below:
SM-G950A (Snapdragon 835) AT&T (United States)
SM-G950T T-Mobile (United States)
SM-G950P (Snapdragon 835) Sprint (United States)
SM-G950R4 (Snapdragon 835) US Cellular (United States)
SM-G950V (Snapdragon 835) Verizon (United States)
SM-G950W8 Canada
SM-G950F Global
SM-G950FD Southeast Asia (India, Pakistan)
SM-G950L Korea
SM-G950K Korea KT+
SM-G950S Korea SKT
SM-G9500 (Snapdragon 835) China (Hong Kong)
SM-G9508 China
SM-G9509 China
Proceed to the tutorial below, ONLY if you own any of the above-mentioned Galaxy S8 models.
Samsung Galaxy S8 got a lot of love from the Developers due to its popularity. The phone will be getting a huge number of custom ROMs based on Android Nougat or Oreo. Most of them can be installed via this TWRP recovery. So, you can enjoy the added benefits of this latest TWRP custom recovery on your phone.
Galaxy S8 USB Driver
Make sure you have correctly installed Galaxy S8 USB Driver on your computer. If not, please download it from our USB Driver Section below and install it correctly. Otherwise, your computer will not detect your device.
Backup your Android Device
We don't want you to lose any data, or anything could go wrong unexpectedly. Before starting the tutorial, we strongly recommend you to make a full backup of your phone. You can try out some of the Hand-Picked Android Backup Apps to secure your data quickly.
Samsung users can use Samsung Smart Switch to backup data on the computer. Smart Switch even allows the users to move data from one device to another of different variant (like moving data of Galaxy S7 to Galaxy S8).
Points to Remember
Make sure your phone has at least 80 – 85% charge. If not, please do charge it before starting the experiment.
This tutorial will WIPE OUT all your DATA. Make sure to create a Backup of everything before starting the tutorial.
You need to enable USB Debugging mode to connect your Android phone to computer. (Settings > About Phone > Build number > Tap it 7 times to become developer; Settings > Developer Options > USB Debugging).
How to Install TWRP Custom Recovery on Galaxy S8 Plus
We have mentioned full step-by-step instructions on How to install TWRP recovery on Galaxy S8. If you are entirely new to rooting, flashing a Custom ROM or an Official Firmware, please read the entire tutorial once before actually performing it on your device.
TUTORIAL: (Step by Step Guide)
Step 1: Download the latest Official TWRP Custom Recovery for Galaxy S8 from the links below:
Samsung Galaxy S8 (Exynos): [Download] (Choose the latest version of dreamlte.tar from the list)
Samsung Galaxy S8 (Snapdragon): [Download] (Choose the latest version of dreamqlte.img.tar from the list)
ALERT: Make sure you select the appropriate version for your device. Choosing a wrong version may brick down your phone and we will not be responsible for that.
Step 2: Download Odin Software and install it on your computer.
Step 3: Turn off your phone. Now go to the Odin Mode. How? Press and hold Volume down + Power + Home button until you see a warning message. Press Volume Up to enter to the download mode.
Step 4: Open Odin on your computer and connect your device while in download / Odin mode.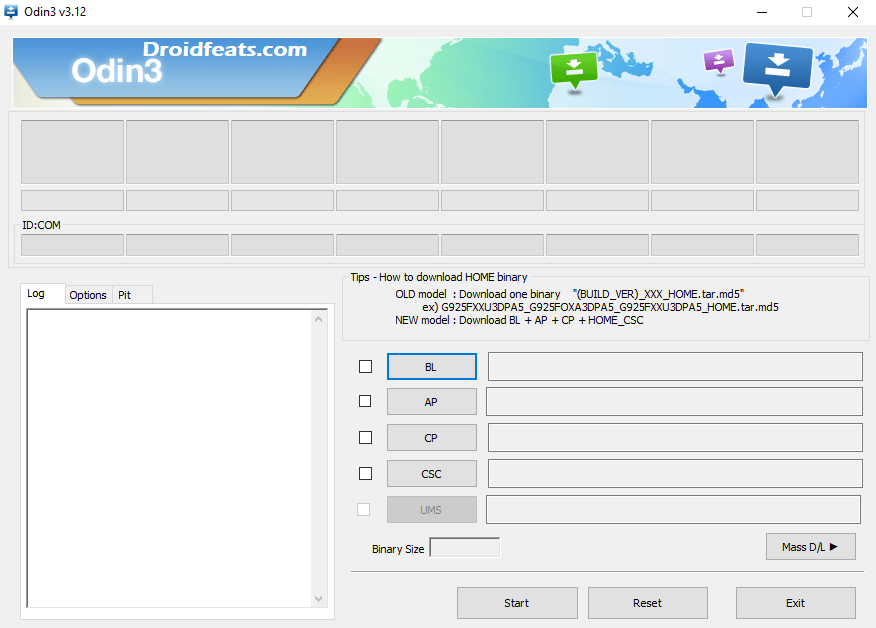 Step 5: Odin must recognize your phone. If your computer detects the phone correctly, one of the ID:COM boxes will turn yellow with the COM port number. You will see "Added!!" message is appearing in the Log box. This might take some minutes.
Step 6: Load the Firmware into the Odin. You need to select the files that you had extracted in step 1.
Click on 'AP' and select the extracted file.
Step 7: Check the following options in Odin:
Check: F. Reset Time
Uncheck: Auto Reboot
Step 8: HIT the Start button in Odin and your installation should start now! Hold on; it will take a couple of minutes to complete.
Step 9: Once the installation is completed, press and hold your Power + Volume Down +Bixby Button until the device screen turns black.
Step 10: Now press and hold Power + Volume Up + Bixby Button together. This will take you into the recovery mode, and you could see the TWRP Custom Recovery interface.
Step 11: You can now reboot your device by touching "Reboot now" option in TWRP.
Hurray! Your Galaxy S8 Plus should have got TWRP Custom recovery installed by now. You can try out some of the best Custom ROM from our list on your Galaxy S8 Plus.
Also see: Install Renovate ICE 9.1 on Galaxy S8 Android 8.0 Oreo Custom ROM
How to make TWRP recovery permanent on Galaxy S8 Plus
There is an auto recovery restore system in Samsung Galaxy S8 Official Firmware. Whenever you restart your device, stock recovery keeps showing up. To get rid of this, do the following steps below:
NOTE: Your Galaxy S8 must be rooted to perform this.
Simply rename or remove the following files from /system directory.
/system/recovery-from-boot.p/system/etc/install-recovery.sh
This will override the stock recovery with TWRP. You can delete this file using ES File Manager (by enabling root access on it). That's it!
Any Problem?
If you encounter any problem, please comment below, and we will get back to you as soon as possible.
Please don't forget to share if you have found this post helpful!