In this tutorial, you will be able to root your Huawei Devices (Honor View 10, Mate 10 Pro, Honor 9, and P10 Plus) running EMUI 8.0 ROM. After the introduction of Project Treble with Android 8.0 Oreo, many OEMs have reworked their firmware layout to meet the new standard. Due to these changes, old root exploits is not working. However, the XDA Recognized Developer, topjohnwu comes up with a perfect solution to root Huawei devices running EMUI 8.0 using Magisk 15.4 tool.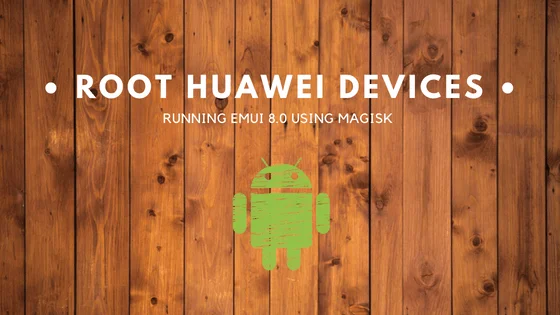 The process of rooting Huawei devices running EMUI 8.0 mainly involves installing Magisk Manager and then install Magisk root itself. You don't need to be worried at all about the technical details, as we have provided you all the necessary steps ahead.
This emphasis of Magisk is gratified toward Huawei EMUI 8.0 devices including the Mate 10 lineup, Honor View 10 and lot more. It's an easy procedure involving just a few package downloads.
There may be a concern regarding why to choose root except for compatibility. It's why because Magisk uses a system message root approach which has its own merits such as easy rest back to stock and display efficient performance. However using this guide, you can easily install Magisk 15.4 to root your Huawei EMUI 8.0 devices.
Why you need Magisk to Root Android?
You have got a couple of options to choose for rooting. Even so, the most reliable, safe and efficient option is to use Magisk. Magisk has got integrated with such fantastic properties through constant testing of the all in different settings and devices. In addition to this, Magisk is following a systemless approach. To make it simple, Magisk doesn't modify the system partition and thus allows for a more neat installation that can be easily removed when needed.
See also: Download SuperSU ZIP [latest]: Root your Android phone using TWRP
As unique as Magisk, the Magisk modules can also be installed and operated using Magisk Manager App. Magisk module will be an asset to your smartphone with its improved functionality and it also allows you to modify certain functions according to our needs. As mentioned before, you won't be able to run these modules on any other root utility.
Root Huawei EMUI 8.0 Devices with Magisk 15.4:
Step 1: You can Install the latest Magisk Manager by downloading the APK file from the link given below.
Now install it on your device.
Step 2: Now open the app and go to the "Settings".
Step 3: Tap on "Update Channel" and choose "Custom".
Step 4: Input the following URL in the provided textbox:
http://bit.ly/DroidfeatsRoot01
Step 4: Go back to the main app screen and press the "Install" button. Now select the Patch Boot Image file. It will ask the stock boot image file that you can download from the links below:
Step 4: Be sure that Fastboot is properly configured and installed on your computer. If not, try our detailed guide on How to Install ADB [official] on Windows, macOS, and Linux.
Step 5: Once Magisk Manager is done with patching the image, it will be stored in the directory as followed:
[Root of Your Device]/MagiskManager/patched_boot.img
Step 6: Copy the patched_boot.omg on to your PC and do file flashing through Fastboot using the following command:
fastboot flash ramdisk patched_boot.img
Step 7: Now reboot your device. You must have a properly rooted device passing SafetyNet, and you can start playing with some Magisk Modules!!
That's all we have to do and you will now have a rooted Huawei EMUI 8.0 device. If you have any further queries or facing any issues following the steps, contact us via comments and we will soon revert you back.