If you are a fan of modding and you are used to rooting to install custom ROMs and other customizations, it is very likely that you are also a Magisk user. This open-source tool to root Android smartphones is undoubtedly the best software for modding Android. And in this time, the developer who takes care of the maintenance of Magisk project has announced important news for Magisk and Magisk Manager.
The arrival of Android 11 evidently prompted the developer to update Magisk and thus make it able to be installed on smartphones equipped with the latest major release of Android. This is undoubtedly the biggest news for Magisk. At the same time, for Magisk Manager, the developer emphasizes the complete rewrite of the application with a new user interface.
The main highlight of Magisk v21.0 is its availability with the promise of working with Android 11. However, some users reported that the tool still has some problems. Also, it is not possible to use Magisk on some devices that come with MediaTek chipset.
The users will now be able to have the new interface of Magisk v21. It brings an extensive feature that includes the following:
the detection of the security mode
increase in the time of the "post-fs-data" mode
update in the protocol communication to work with the enhanced SELinux
and much more.
Regarding Magisk Manager 8.0.0, we have confirmation that the app has been completely rewritten:
support for the communication protocol related to Magisk v21
support for the modern Samsung AP.tar patch
and the inclusion of detailed information on the home screen to assist the user in the installation
If you are an existing Magisk user, you can easily update it to the latest version using the tutorial below! For new users: we have covered everything in details; read ahead!
Update timeline:
Update #3 The developer has released another update – Magisk Manager 8.0.2 just a day after its previous release! This update fixes permission requesting on Android 10.0 or below versions. Moreover, it also moves many files to their new CDN for faster downloads.
Update #2 Magisk Manager 8.0.1 is out! It fixes vbmeta.img patching for Samsung AP.tar files. So, no more boot loops on Samsung devices after flashing updated AP firmware files.
Update #1 Reports says, Magisk 21.0 does not work on some MediaTek Android devices.
What's new on

Magisk 21.0

?
The previous release (Magisk 21.0) disabled Magisk Hide by default in light of the new hardware-backed SafetyNet attestation. Before heading to the download links and tutorial, let's have a look at what's new in the Magisk 21.0 brings.
#1: Android 11 support
Since Google released the stable update of Android 11, several manufacturers have already begun to push Android 11 beta builds for their smartphones such as OnePlus 8 series. This undoubtedly means that a lot of users have started using Android 11 on their phones. For the enthusiasts, Magisk already had Android 11 support on their Canary channel. With version 21.0, it is now fully compatible with Android 11 on their stable channel. The developer has rewritten the codes in a better way from scratch.
#2: Redesigned Magisk Manager UI
Back in January 2020, the developer John Wu showcased a preview of an entirely new designed UI for Magisk Manager (courtesy of Viktor De Pasquale). Users running on Canary channel has been using this new UI since months. With the Magisk 21.0 and Magisk Manager 8.0.2, users can now utilize newly redesigned UI via stable channel as well.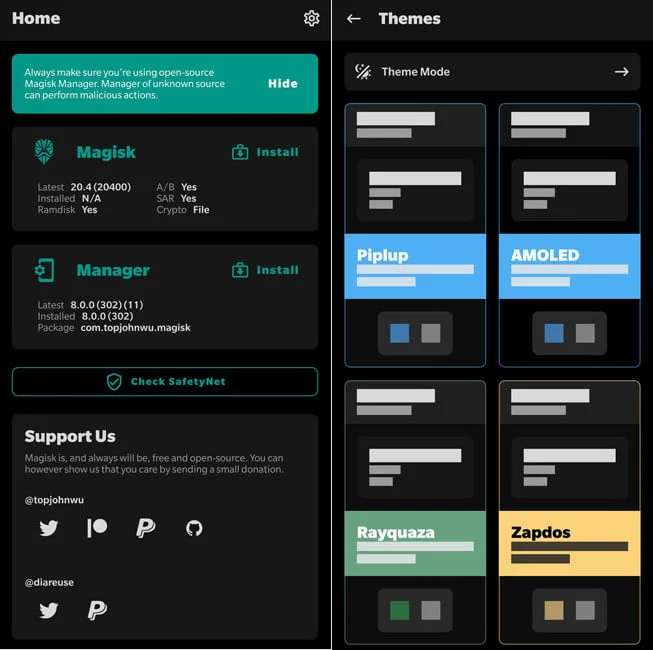 The new Magisk Manager also incorporates eight different color accent schemes and the ability to force dark and light theme mode.
#3: Safe Mode Detection
Boot loop caused by modules due to incompatibility is the most common issue (many users had reported earlier). Users were able to uninstall Magisk using TWRP or ADB commands until now to fix that issue.
The developer John Wu was certainly aware of this problem and has come up with a simple solution. From Magisk 21.0 onwards, users could simply boot an Android device into Safe Mode. Magisk will detect safe mode and will automatically disable all the Magisk Modules to get out of any problem. After that, users could simply restart the device, and the boot loop issue will be solved.
#4: New SELinux Policy Setup on Android 8.0+
For smartphones operating Android 8.0 and up, the SELinux security has been strengthened with a wholly new policy setup. This new policy now keeps the Android Sandbox less compromised. It separates the Magisk policy rules from original rules, giving better security on smartphones rooted using Magisk.
Changelogs
Magisk v21.0 Changelog
Below are the full changelogs of Magisk v21.0 published by John Wu on the Github:
General

Support Android 11 ????

General

Add Safe Mode detection. Disable all modules when the device is booting into Safe Mode.

General

Increase post-fs-data mode timeout from 10 seconds to 40 seconds

MagiskInit

Rewritten 2SI support from scratch

MagiskInit

Support when no /sbin folder exists (Android 11)

MagiskInit

Dump fstab from device-tree to rootfs and force init to use it for 2SI devices

MagiskInit

Strip out AVB for 2SI as it may cause bootloop

Modules

Rewritten module mounting logic from scratch

MagiskSU

For Android 8.0+, a completely new policy setup is used. This reduces compromises in Android's sandbox, providing more policy isolation and better security for root users.

MagiskSU

Isolated mount namespace will now first inherit from parent process, then isolate itself from the world

MagiskSU

Update communication protocol with Magisk Manager to work with the hardened SELinux setup

MagiskPolicy

Optimize match all rules. This will significantly reduce policy binary size and save memory and improve general kernel performance.

MagiskPolicy

Support declaring new types and attributes

MagiskPolicy

Make policy statement closer to stock *.te format. Please check updated documentation or magiskpolicy --help for more details.

MagiskBoot

Support compressed extra blobs

MagiskBoot

Pad boot images to original size with zeros

MagiskHide

Manipulate additional vendor properties
Magisk Manager v8.0.x Changelog
Below are the full changelogs of Magisk Manager 8.0.x published by John Wu on the Github:
v8.0.2
Fix an issue with requesting permission on devices older than Android 10
Make more files download through CDN
v8.0.1
Fix vbmeta.img patching for Samsung AP.tar files. This fixes bootloops on devices like Galaxy S10 after flashing updated AP files.
Properly truncate existing files before writing to prevent corrupted files
Prevent a possible UI loop when device ran into very low memory
Switch to use JSDelivr CDN for several files
v8.0.0
100% full app rewrite! Will highlight functional changes below.
Add detailed device info in home screen to assist user installation
Support Magisk v21.0 communication protocol
Support patching modern Samsung AP.tar
Download Magisk v21.0 full Package
Like the previous builds, Magisk 21.0 is available to download in a ZIP package, which can be flashed using TWRP recovery. Alternatively, users who wish to root the device using the Magisk Patch Boot Image can download the Magisk Manager 8.0.2 APK!
If you are looking for a different version of Magisk, you can check out the full list of Magisk releases here!
The new Magisk 21.0 version can be flashed via TWRP Custom Recovery. If you are already in the previous version of Magisk, you don't need to install it using recovery. You can directly update it using the stable channel. Check out how to update Magisk in the tutorial ahead.
HOW TO: Install Magisk 21.0 Stable
There are two methods to install Magisk:
However, the second method is not recommended for novice users since it is quite tricky. You need to familiarize with the steps before you proceed with it. Both methods are described in our detailed tutorial below:
For those who have already installed Magisk 20.4 or older, follow these steps to update it:
HOW TO: Update Magisk root to Magisk 21.0 stable
Step #1: Open the Magisk Manager app.
Step #2: Find "Settings" on the menu icon on the top-left.
Step #3: Scroll down to find "Update Channel" and tap it. Select the option "Stable" since that is the latest version that you will be upgrading to. Return to the Main screen and refresh by swiping the screen down. The refresh will automatically provide a pop up which provides an option to update the software.
Step #4: Tap on 'Install' or in some devices 'Direct Install.' The latest Magisk 21.0 installer will do the work automatically. Reboot the device by tapping the 'Reboot' button.
Remember that the Magisk Manager will also be automatically be updated to the latest version.
Use the MagiskHide to prevent apps from accessing root or root detection.
After the reboot, the Magisk Manager 8.0.2 will be automatically installed, and you can proceed to browse through the official repository and download required modules to add extra features on your Android device.
---
That's it!
So you are done with this tutorial! You had successfully installed the latest Magisk 21.0 Stable using our guide. If you faced any problem with performing this tutorial, please let us know by dropping a comment below. Our team will reply you back as soon as possible.
Done with the rooting?
Check out our root based post for any Android devices:
Why Magisk?
It is a very common question that people ponder over if they haven't yet tried it.
For those who are new to Magisk, these points will certainly peak your interest in Magisk:
Constant and continuous app testing by Magisk for better properties integration
Systemless approach
It doesn't modify any partition or memory of the device, so installation and un-installation is easy
Magisk modules are available in Magisk Manager only.
We know the necessity to root, how to install and update Magisk and why to choose it. I hope you have a better understanding of Magisk and willing to try it out for your Android device.
[If you don't like it, there is always the option to remove it with just a few clicks.]
Verdict
There is numerous root software but, many don't sustain the community due to various reasons like stability, too many bugs and errors, zero improvement and more.
Magisk doesn't belong to that category since the latest version explains a lot about its stability and the increase in users proves its popularity among Android community.
I hope you will try to install Magisk to have your Android device more personalized by customizing it to suit your style and taste.