We understand that there is a lot of uncertainty right now regarding the global impact of COVID-19 (caused by the coronavirus). So, stay at home, stay hygienic, and safe during this ongoing Coronavirus pandemic. It's a challenging time, and we hope the world will get back to its position soon.
---
LG is an old and high brand company; despite that, its business in the field of smartphones has been on losses. The devices made by LG are excellent and expensive, but its competitors proved to be better. Last year the company launched another smartphone named LG G8 ThinQ.
This new phone, LG G8 ThinQ, is an excellent smartphone but is spoiled by the manufacturers by adding futile features to it. The company tried hard enough to make this LG G8 ThinQ stand out, unlike its previous phones, but their tricks didn't work, and it ended up as a generic 2019 flagship phone.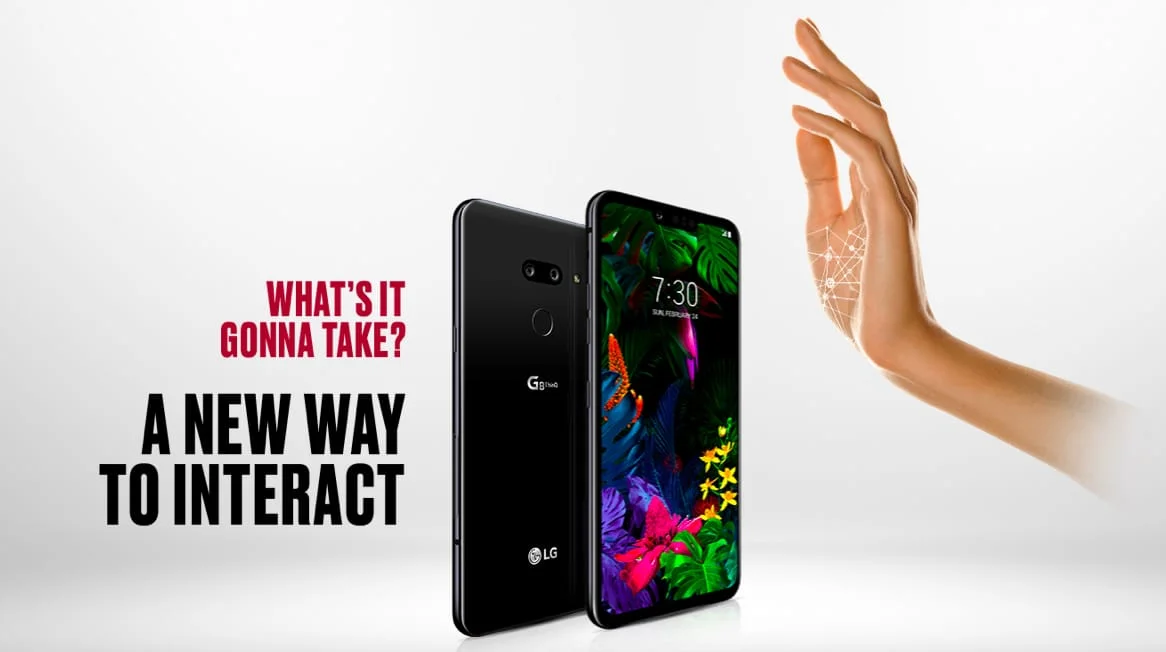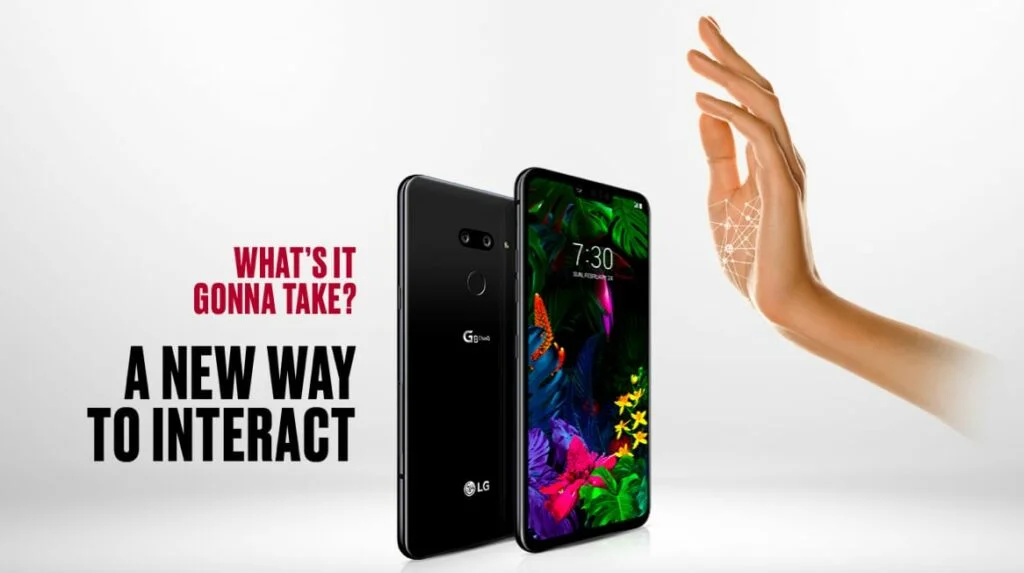 LG G8 ThinQ is almost similar or has the same form as the previous LG G7 ThinQ. LG features the same kind of design in almost every phone, which is a glass slab bordered by a metal rim. It turned out LG G8 is no exception. Yet again, LG put a Corning Gorilla Glass 5 at the front and a Gorilla Glass 6 at the back, along with an aluminum frame. The new phone has two back cameras that are aligned horizontally, unlike LG G7's vertically aligned dual back cameras. As a plus point, you cannot find the camera bump at all on this phone. If you want some light, the LED Flash is available on the right side of the back camera. Above the G8 ThinQ branding sits the fingerprint scanner right below the camera set up. At the very bottom of the phone is the LG logo placed.
LG G8 ThinQ features
The phone has a giant screen size of 6.1 inches with a sizeable notch at the forehead i.e., bezel-less display and also a small chin at the bottom. With an aspect ratio of 19:5:9, the new phone has got a P-OLED touch screen with a 1440×3120 pixel resolution. Along with HDR10 and Dolby Vision certified screen, its pixel per inch density goes up to 564. As a 2019 flagship smartphone, LG G8 ThinQ runs on Qualcomm Snapdragon 855 processor. It has a RAM of 6GB and internal storage space of 128GB, along with 512GB of external storage. Its CPU is also paired with the Adreno 640 GPU.
LG G8 ThinQ has a battery capacity of 3500mAh, which supports Quick Charge 3.0. It also allows fast charging at 21W, along with wireless charging feature at 9W.
Talking about its camera features, it has an 8MP camera sensor on the front with f/1.7, 26mm wide-angle lens. Its dual rear camera is of 12MP, f/1.5, 27mm (standard) sensor along with OIS and predictive Dual Pixel PDAF. The other one is of 16MP, f/1.9, 16mm (ultra-wide) sensor but not having an autofocus feature. The phone still has a headphone jack of 3.5mm.
Official LG G8 ThinQ wallpapers (4K)
The wallpapers of LG G8 ThinQ are as good as the internals and is suitable for all android phones. With a pixel size of 1440×3120, you can get like 25 wallpapers, all in 4K resolutions. You can also find the live wallpapers along with stock ones. The link is available below for you to click and download. The wallpaper varies from landscapes to minimal flat designs to Google earth styled ones. If you want the full wallpapers in original quality, download from the ZIP file linked below.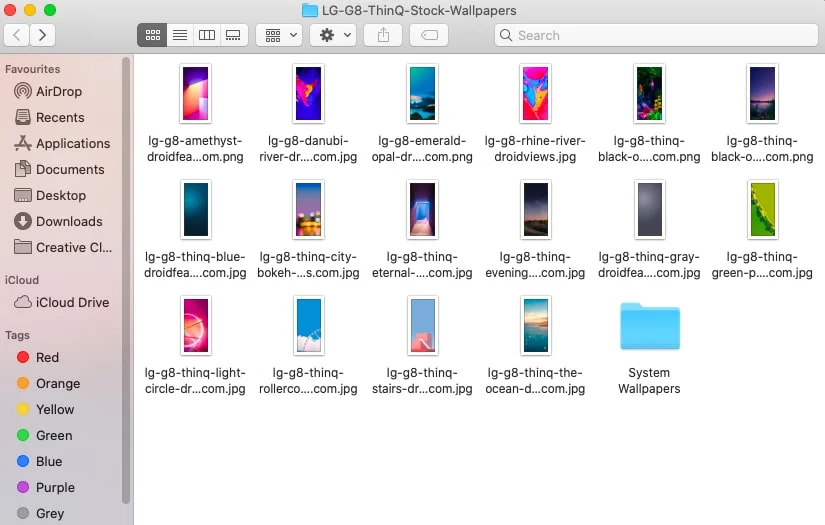 LG G8 ThinQ Live wallpapers
From LG G8 ThinQ, you can get a total of 6 live wallpapers. There are variations in design for the live wallpapers, which are in the form of APK files. Thus, you have to first download the APK files, then install each of those onto your phone or other devices, and apply it. This will be applicable on every android device having a live wallpaper support feature.
Download LG G8 ThinQ System apps (Extracted)
System apps of LG G8 ThinQ have been extracted from the stock ROM of LG. Unlike the Live wallpapers, these system apps won't work on all the devices other than LG devices. Moreover, your LG device must have Android 9.0 Pie or above. Most of the apps given below are taken from the latest firmware by the company. We have packed the whole bunch of apps in a single ZIP file so that you can download it at once.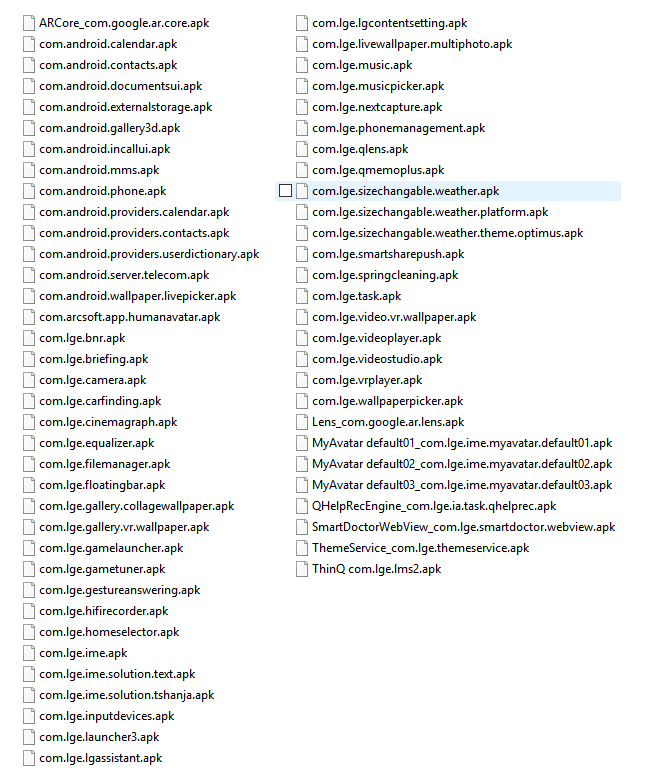 More downloads:
More Stock Wallpapers!
If you like this post, you may also want to check out some fantastic wallpaper collections from various brands:
Verdict
So these are the collection from the LG G8 ThinQ that has been ported by some XDA developer. All thanks to them, and we hope you will like it to use on your device. Do share this post on social media to thank us.
---
We're all experiencing this global challenge together. It's time we hope to become a source of comfort and reassurance for all of our readers. We hope Droidfeats can be a harbinger of good content and tips during this time and will be working diligently to provide supplemented guidance and support throughout this global blog.
All of us at Droidfeats.com
This post is written on 23/03/2020 during pandemic. 2020 will be remembered forever!