This post will be able to download and install the Vivo Y51L Flash file using a suitable method. If you are a Vivo Y51L user and looking forward to installing the official firmware on this phone, you are on the correct page. We have the download links of Vivo Y51L Flash File along with the tutorial to install the ROM on your device; read ahead!
Vivo Y51L was launched back in January 2016. The phone comes with a 5-inch screen with a resolution of 540×960 pixels. It is powered by a 1.2GHz quad-core Qualcomm Snapdragon 410 processor. So, the Vivo Y51L Flash File can be easily installed to the phone using the Qualcomm Flash Tool.
Since the device is almost 5 years old now, it is quite certain that you may face some problems with the software. And I am pretty sure that your warranty is expired by now for the Vivo Y51L. So, to troubleshoot any software-related issues, you don't need to rush to the service center and pay for software upgrades.
This tutorial will be able to download the required Vivo Y51L Flash file and install it manually. All the important tips and download links are given below; read ahead to flash the device using Vivo Y51L Flash File.
Why Vivo Y51L Flash File?
Vivo Y51L Flash File will help you to get back to the factory position on your device. If you got stuck somewhere due to messed software or hard-bricked your phone, you could easily recover the device using Vivo Y51L Flash File. Following are the main reason why you might need Vivo Y51L Flash File:
Using Vivo Y51L Flash File, you can get the full stock firmware of the device, which will help you to re-install the factory operating system on your phone.
Re-lock bootloader: If you had unlocked the bootloader of your device and got messed with some root files, you can get back to the factory position by flashing Vivo Y51L Flash file.
Unbrick: If you had hard-bricked the Vivo Y51L by messing with the root files, or custom ROMs, you could get back to stock position with the official firmware.
Forgot password: Sometime, it may happen, you might forget the password of your device, and simply hard-reset won't work to bypass the lock. In that case, you can use the flash tool and completely install a fresh fastboot ROM and get the password removed permanently.
Software malfunctioning: If your device is so old and the software started misbehaving, you can flash the old software out and install the new stock ROM using the Vivo Y51L Flash file.
WARNING: All the custom ROMs, Official Firmware, How-to guides, tutorials, roots, hacks, and tricks mentioned on our site belong to the respective developers. We are not responsible if anything goes wrong with your device. Perform it at your own risk.
Backup your Android device
Before starting the tutorial, we suggest you to backup your essential documents from the device and make a copy of it to your computer. On performing our experiment, your device will get wiped, and you will lose everything from the phone. We don't want that. In that case, we have a list of applications that may help you in creating backup within the phone. Later on, you can copy the files to the computer for a safe side.
Once you are sure that you made a complete backup of your necessary documents, you can move ahead to the tutorial below and install Vivo Y51L Flash file using Qualcomm flash tool.
Vivo Y51L USB Driver
Make sure you have correctly installed Vivo Y51L USB Driver on your computer. If not, please download from any official source and install it correctly. Otherwise, your computer will not detect your device.
Download Vivo Y51L Flash file (Stock Firmware)
Below are the direct download links for the Vivo Y51L Flash file, which will let you install the official firmware on your Vivo device. If your SIM provider has VoLTE, you must download the VoLTE version from the given links!
File names:
PD1510F_EX_C_2.6.13_vivo_qcom_LA.BR.1.1.3.c14-04700-8×16.0_msm8939 (Not available)
Compatibility
This guide is specific to Vivo Y51L model only. Please do not try this on any other Vivo phones. Make sure to check the specific model number:
Go to Settings > About phone > Model number.
Things to Remember
Make sure your phone has at least 80 – 85% charge. If not, please do charge it before starting the experiment.
This tutorial may WIPE OUT all your DATA. Make sure to create a Backup of everything before starting the tutorial.
You need to enable USB Debugging mode to connect your Android phone to computer. (Settings > About Phone > Build number > Tap it 7 times to become developer; Settings > Developer Options > USB Debugging.)
Ready now? Let's proceed to the tutorial below, and update Vivo Y51L to official firmware using Vivo Y51L Flash file.
HOW TO: Install Vivo Y51L Flash file using QFIL tool
We have mentioned full step-by-step instructions on how to install Vivo Y51L Flash file using QFIL tool. If you are entirely new to flashing a Custom ROM or an Official Firmware, please read the entire tutorial once before actually performing it on your device.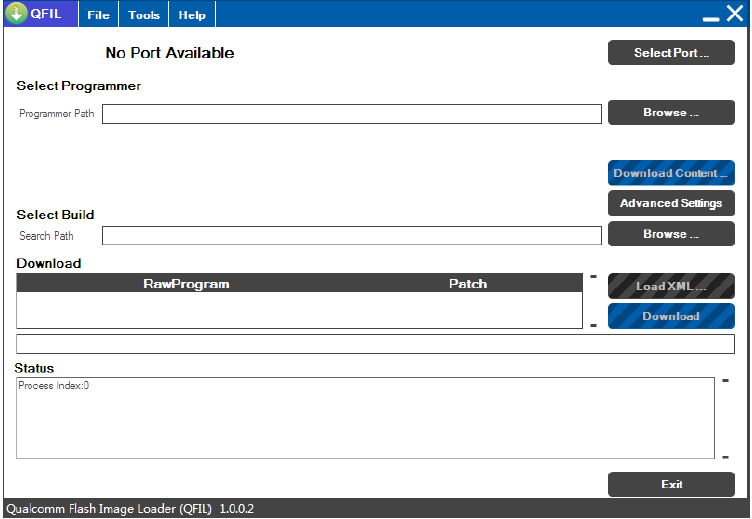 Tutorial (step-by-step)
From the above-given links, download the Vivo Y51L Flash file and extract it on your computer.
Download QFIL Software and install it on your computer.
Download Qualcomm HS-USB QDLoader 9008 Drivers (for 32-bit / 64-bit Windows OS).
Connect your phone to the PC using a USB cable (preferable the one provided by Vivo).
Switch off the phone and get into bootloader / fastboot mode (use button combinations).
Open the QFIL (Qualcomm Flash Image Loader) tool on your PC.
Add a new port (Check Device Manager).
Click on "Load XML" and browse the rawprogram_unsparse.xml in the Vivo Y51L Flash file.
Click on "Load Patch" and browse the patch0.xml in the Vivo Y51L Flash file folder.
Next, Select Path by clicking on "Browse" and selecting the firmware file.
Finally, click on the "Download" button, and the flashing process should begin.
You are done!
Wait a while, and your phone will not take more than 10 minutes to boot for the first time. When your device boots, follow the on-screen instructions for initial setup and you are done!
Hurray! Your Vivo Y51L has been updated to the latest official firmware. Check Setting > About phone to verify!
Rooting Warning: Flashing new firmware revokes root access. So, if you want your root access back, follow the guide below and install Magisk:
Custom Recovery Warning: Once you install new firmware, you will lose your custom recovery (in case you had that). It gets replaced with the stock recovery that comes with the firmware. So, if you want your custom recovery back, follow our TWRP guide below:
---
So, you are done with the complete tutorial. We hope you now have a piece of explicit knowledge about how to install Vivo Y51L Flash File using Qualcomm tool. If you have any further queries, kindly leave them down in the comment box. Also, if you found this post helpful, do not forget to share it on Social Media to thank us.