Google Pixel 3 and Pixel 3 XL got released a few weeks back. Some people are arguing that it's not worth to upgrade from the previous Pixel device because of not so much change in hardware. But Google updated software right. A bunch of exclusive features is filled in the Pixel 3 and Pixel 3 XL. One of them is "Flip to Shhh," which lets you put your phone in the do not disturb mode automatically when you face it down in the table or any other surface. We are lucky enough that this feature is no more device specific. Thanks to the developer community for porting, we can use this feature on any Android device. In this guide, we will show you how to get Google Pixel 3's Flip to Shhh feature on any Android phone. You need to have Tasker app installed from the Play Store to get this feature.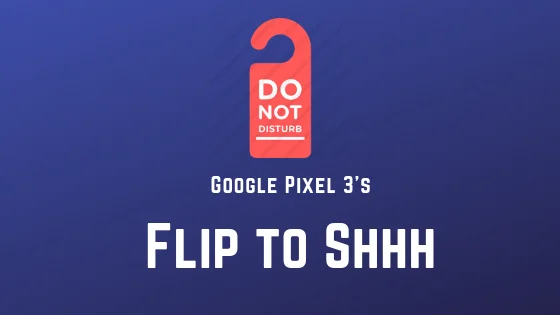 Pixel 3's Flip to Shhh feature is, of course, a part of Digitial Wellbeing program that introduced in Android Pie. It actually aims to bring balanced features for day-to-day life and smartphone usage. Digital Wellbeing program is still in a beta phase and its available only on Pixel and Android One phones running Android 9.0 Pie.
So the question is, how can you use Google Pixel 3's Flip to Shhh feature even though you don't have Digital Wellbeing? The developer behind the Tasker app created an automated Tasker Profile that would allow you to replicate Flip to Shhh feature on any Android device easily.
Permissions
Before starting the tutorial to enable Flip to Shhh feature, check out the permission that required for this specific task:
Notification Access
Device Admin
So you need to allow this permission on your device. This will help the task to put the phone in Do Not Disturb mode and Sleep mode when it is flipped over the surface.
How to Get the Google Pixel 3's Flip to Shhh feature on your phone
Before starting the tutorial, you must buy and install Tasker app on your phone. Although its a paid app, but definitely worth buying. You may need it for various purpose in future. Automatic Flip to Shhh feature is one of the thousand cool tasks do with Tasker. If you installed Tasker, let's proceed to the tutorial below:
Open the Google Chrome browser on your phone.
Now, you need to import project data on your phone.
Tap on the Import button on the webpage.
Confirm importing by tapping on Yes.
Tasker will automatically start importing the required data on your phone.
Once the Tasker profile is successfully installed, you need to grant the required 'Notification Access' and 'Device Admin' permissions.
Just follow the on-screen instruction on your device and make sure to grant all the permissions.
Finally, tap on Yes to launch the tasker profile to enable Google Pixel 3's Flip to Shhh feature on your phone.
Alternately, check out the video below:
That's all!
Now try out yourself. Put your phone upside down on a table or any other plane surface. You shall instantly hear a beep sound which will ensure that Flip to Shhh has been activated and Do Not Disturb mode is enabled. Picking the phone from backside will again disable Do Not Disturb mode. Isn't cool?
You might be interested in the following articles as well:
---
So you are done with this tutorial! You had successfully enabled the Flip to Shhh feature on your phone using our guide. If you faced any problem with performing this tutorial, please let us know by dropping a comment below. Our team will reply you back as soon as possible.