A lot of Android fans got confused when Nokia was taken by HMD Global. However, they are doing an excellent job in releasing competitive smartphones. They are also taking care of the software part on releasing regular updates. HMD Global was one of the few smartphone companies to roll Android Pie beta for their devices. We are continually writing about the firmware updates for Nokia. Last month, Nokia 8 Pie update got leaked on the internet a bit earlier. But now, the official build from Nokia is here.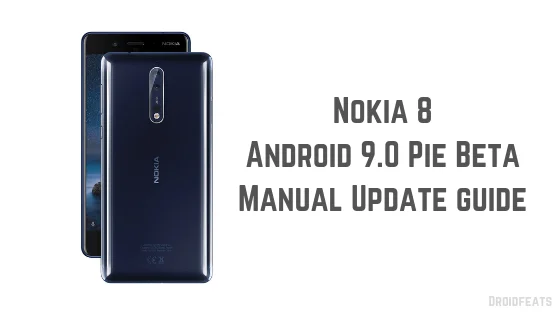 In this guide, you will be able to install Android 9.0 Pie official beta firmware on Nokia 8. Since this is a manual installation guide, we have added the OTA download link below, from where you can get the firmware package. Using some number combination with the dialer app, you can easily update your Nokia 8 to Android Pie. We have explained everything below. Read ahead!
This update comes a little late as promised by HMD Global, but it's okay, we are happy to see that. Nokia 8 is one of the few Android smartphones which has an unlockable bootloader, which is pretty awesome. The 5.3-inch display device launched with Android 7.1 Nougat, backed with Snapdragon 835 SoC, 4/6GB of RAM, dual 13MP cameras and 3,090 mAh battery.
Juho Sarvikas's Tweet
This is what HMD Global's CPO tweeted about this Android 9 Pie beta update for Nokia 8.
Thank you for your patience. Since you had to wait a bit longer than expected for Android 9 on your Nokia 8, we decided to make an immediate Beta Labs release. Please join us in finalizing the commercial release – your feedback is extremely valuable ?https://t.co/siaoX5g3vj pic.twitter.com/s33qsBAgOq

— Juho Sarvikas (@sarvikas) December 11, 2018
Android 9 is getting closer. So, HMD Global is seeking help from the users for the final touches. If interested in dropping feedback, you can join the Nokia Beta Labs and participate as well.
Android Pie update for other Nokia devices:
Android Pie for Nokia 8
The official Pie beta OTA has been captured by a Senior Member (TeddyBeers) on XDA developer forum for the users who prefer manual update. A lot of thanks to him. But before heading to the download section, let us have a quick look at what's new in this Pie update for Nokia 8.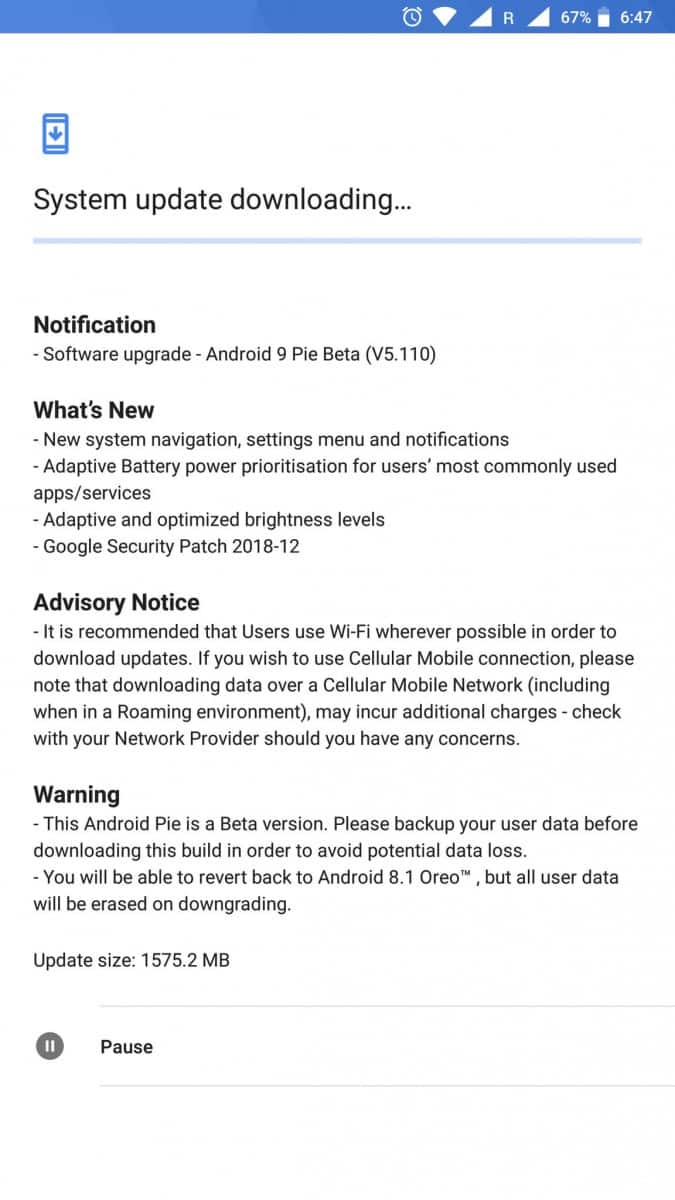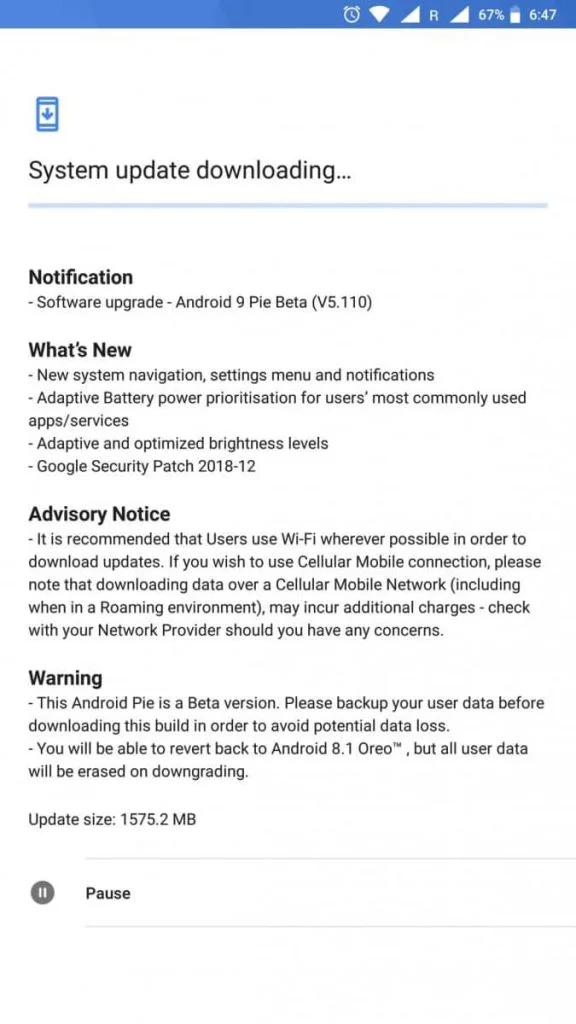 This Android 9.0 Pie update for Nokia 8 have all the goodies that are present in stock Pie firmware. We are sure you would love to use it on your phone.
Nokia 8 Android Pie update: features and details
Android 9.0 is a significant system update from Android 8.1 Oreo that brings a bunch of new features and improvements. Being based on the latest irritation of Android, the update carries all the Android 9.0 features.
Gesture-based navigation
Adaptive Battery
Refreshed notification
Rotation suggestion
App Actions
Text Classifier and Smart Linkify
Slices
New system navigation
Display cutout
Notifications and smart reply
Text Magnifier
Biometric prompt
Stronger protection for private keys
DNS over TLS
HTTPS by default
Compiler-based security mitigations
Multi-camera API and other camera updates
HDR VP9 Video and HEIF image compression
Enhanced audio with Dynamics Processing
ImageDecoder for bitmaps and drawables
Wi-Fi RTT for indoor positioning
Data cost sensitivity in JobScheduler
Open Mobile API for NFC payments and secure transactions
ART performance
Optimized for Kotlin
Modern Android
→ [Check What's new in Android P here!]
Love the features? We love it too, and we know you are looking forward to installing Android 9.0 Pie on Nokia 8.
As you continue reading below, we will guide you to install Android 9.0 Pie official beta firmware on Nokia 8. We have written this tutorial carefully so that a first time user don't get stuck in any step.
Download Android Pie beta for Nokia 8
Download the OTA package of Android 9.0 Pie beta for Nokia 8 from the link given below! Make sure to copy it to the internal storage of your phone (root, not in any folder).
Pre-requisites
Make sure your phone has at least 80 – 85% charge. If not, please do charge it before starting the experiment.
Install Nokia 8 USB driver on your computer. You may need this while transferring the downloaded package from computer to phone memory using a USB cable.
Make sure that your phone has the latest Android 8.1 Oreo installed.
Your phone must be in stock condition (no root, no custom firmware). Otherwise, this tutorial will not work.
Backup your Android Device
We don't want you to lose any data, or anything could go wrong unexpectedly. Before starting the tutorial, we strongly recommend you to make a full backup of your phone.
Once you are sure that you have completely backed up your data, proceed to the tutorial below to and update Nokia 8 to Android Pie using dialer.
Thanks to XDA Senior Members TeddyBeers for capturing OTA link of the Android Pie package for Nokia 8. Since the provided OTA packages are not made to be sideloaded via recovery, you need to adopt a different method. We have described correctly, read ahead.
How to install Nokia 8 Android Pie Update manually?
Download the OTA ZIP packages from the above given links.
Rename the downloaded package from

217f64950c9267110248c183245fa196d30b9eef.zip

to "

NB1-5_110-0-00WW-B01-488K-0-00WW-B01-update.zip

".
Next, connect your phone to the computer using compatible USB cable (preferably, the official one, provided by Nokia with the phone box).
Transfer the OTA package to your phone's internal storage (root, not inside any folder).
Open the dialer app on your phone and enter the following number:

*#*#227#*#

Confirm that Android 8.1 is installed.
Finally, enter the following number to install Nokia 8 Android Pie update:

*#*#874#*#*

The installation process will start immediately.
Once completed, the OTA ZIP package will get deleted from your phone automatically and your device will reboot to system.
Wait a while, and your phone may take up to 10 minutes to boot for the first time.
While the device boots, it shall run the latest Android 9.0 Pie firmware. Now, simply browse around and check out all the new Pie-specific features.
---
So you are done with this tutorial! You had successfully installed Android 9.0 Pie beta on your Nokia 8 using our guide. If you faced any problem with performing this tutorial, please let us know by dropping a comment below. Our team will reply you back as soon as possible.
Is this post helpful? Please do share it on Social Media to THANK US.