After a false alarm in April, the saga of this update is drawing to close. The Verizon update for Galaxy S7 G930V Oreo is ready, and you can install it on your device. Verizon posted the changelog for this update, and the software build is G930VVRU4CRE5 for the Galaxy S7 and G935VVRU4CRE5 for the Galaxy S7 Edge.
Android 8.0 Oreo update on Galaxy S7 G930V brings native autofill to help with your passwords, background limits that optimize the performance of the device, picture-in-mode for some app like Youtube and the notification dots. Notification dots on your icon let you check the notifications when available. Samsung has also included dual messenger features which allow users to log in to two accounts for the same chat app. Also, you can launch two apps at once with app pairs. An updated SmartThings app and a new phone UI is something great on this build.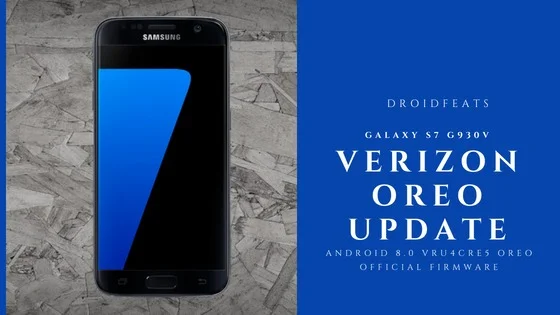 The update is being rolled via OTA (Over-the-air), and the customers started receiving it. However, if you are in a Custom ROM, or your device is rooted, you won't be eligible to get the OTA package. In that case, you can follow our tutorial below on How to update Verizon Galaxy S7 G930V to VRU4CRE5 Android 8.0 Oreo Official Firmware. We have a manual step-by-step guide to install the update via Odin tool, read ahead — and also you can root your device on this firmware.
Generally, we recommend factory reset whenever installing a major system update. Take this opportunity to clean your aged Galaxy S7 and upgrade to the latest firmware. Once you update your phone using our tutorial, all the unnecessary files and cache junks will be cleaned with a new OS.
The update comes in at 3 GB (approx) and comes with April 2018 Security patch. But before starting the tutorial, please make sure to backup your important files.
Backup your Android Device
We don't want you to lose any data, or anything could go wrong unexpectedly. Before starting the tutorial, we strongly recommend you to make a full backup of your phone.
Samsung users can use Samsung Smart Switch to backup data on the computer. Smart Switch even allows the users to move data from one device to another of different variant (like moving data of Galaxy S7 to Galaxy S8).
Once you are sure that you have completely backed up your data, install VRU4CRE5 Android 8.0 on Verizon Galaxy S7 G930V using Odin. All the download links are given below — read ahead and grab them all to start the tutorial.
WARNING: All the custom ROMs, Official Firmware, How-to guides, tutorials, roots, hacks, and tricks mentioned on our site belong to the respective developers. We are not responsible if anything goes wrong with your device. Perform it at your own risk.
G930VVRU4CRE5 Verizon Galaxy S7 features
There are a lot of new features and improvement in this build. I am listing some of the key updates below:
An upgraded Samsung keyboard with new emojis
High-contrast options
Autofill support
Picture-in-Picture mode
App Pair
Dual Messenger
App Pair
Notification dots for app icons, and more
Official Changelog
Verizon Wireless announched the VRU4CRE5 software update. This update is tested to optimize the performance of the device, fix the known issues, and apply the latest security patches.
Software Version: R16NW.G930VVRU4CRE5
Android® Security Patch Level: 2018-04-01
This software update brings the latest Android Oreo OS, tools for you to improve your productivity such as App pair, Dual Messenger, and high contrast keyboard as well as UI improvements to your phone dialer. The latest Android security patch is also included.
Android Oreo benefits
Background limits:
Android Oreo helps minimize background activity in the apps you use least, providing better device performance.
Autofill:
Autofill remembers logins and passwords for quick access to your favorite apps.
Picture-in-Picture, for apps:
Lets you to see two apps at once for easier multitasking.
App Notification Dots:
Press the notification dots to quickly scan what's new, and clear them by swiping away.
Use 2 apps with just one tap
App Pair lets you launch two apps and use them side-by-side on the immersive Infinity Display.
Add an App Pair icon to your Home Screen for one-touch access.
Dual Messenger
Your Galaxy S7 has Dual Messenger capability, letting you use 2 accounts on the same chat app. Keep separate accounts for work and home, but on the same phone.
You can find Dual Messenger in Settings> Advanced features.
High contrast keyboard options
Android Oreo provides several different high contrast keyboards to customize your device experience.
Phone screen updates
The new phone screen swaps the "Mute" and "Keypad" icons to help prevent accidentally hitting mute during calls.
SmartThings app
SmartThings app allows you to monitor and control a wider range of devices, such as Samsung Smart TVs, home appliances, and SmartThings-compatible devices (replaces Quick connect).
G930VVRU4CRE5 Firmware details
| | |
| --- | --- |
| Country / Region | USA (Verizon) VZW |
| PDA | G930VVRU4CRE5 |
| Version | Android 8.0.0 |
| CSC | G930VVZW4CRE5 |
| UI | Samsung Experience 9.0 |
| Security Patch Level |  2018-04-01 |
| Product code | VZW |
| Build date | Sat, 26 May 2018 02:26:16 +0000 |
| Changelist | 13527029 |
This firmware is device specific and will work only on Verizon Samsung Galaxy S7. Please do not try with any other variant on Samsung devices.
You might be interested in the following articles as well:
Verizon Galaxy S7 G930V USB Driver
Make sure you have correctly installed Verizon Galaxy S7 USB Driver on your computer. If not, please download it from our USB Driver Section below and install it correctly. Otherwise, your computer will not be able to detect your device.
How to install VRU4CRE5 Android 8.0 Oreo on Galaxy S7 G930V
The tutorial will use Odin flash tool. We have mentioned the full step-by-step instructions on How to install VRU4CRE5 Android 8.0 Oreo. If you are entirely new to rooting, flashing a Custom ROM or an Official Firmware, please read the entire tutorial once before actually performing it on your device.
Please read the tutorial from the link above to install VRU4CRE5 Android 8.0 Oreo. The procedure has been described properly with screenshots. If you got stuck somewhere, drop your comment below, and we will help you as soon as possible.
---
Have fun playing with the major system upgrade. You can try out some Xposed modules on Oreo, or you can even try Magisk modules to modify your device in the way you like.