Magisk 19.0 full package is now available to download and install on Android devices to gain root access. Thanks to the developer topjohnwu to bring this update with Android Q supports. Those who were using Android Q developer builds on Pixel device can use this tool to get the root permission. This build brings a lot of changes and improvement — probably, the most ambitious build of Magisk yet!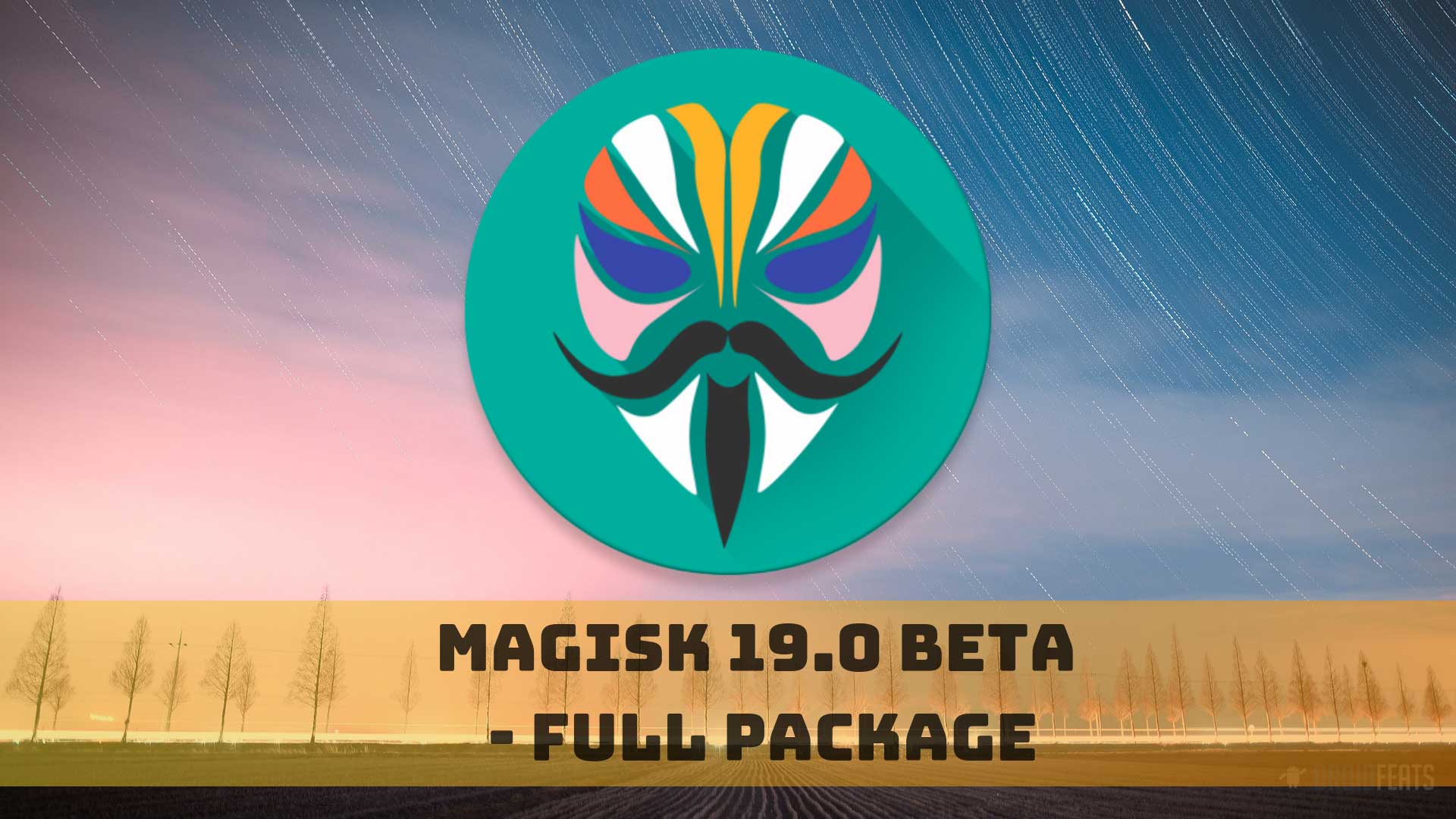 As the changes are quite significant, this build has moved its code-named from v18.x to 19.x, a notable upgrade. The most noticeable change is the support of Android Q which is quite amazing to see at the very initial stage of Android 10.
If you are looking forward to rooting your Android device, Magisk 19.0 beta established itself as a wholly reliable and complete utility.
Magisk 19.0 Beta utilizes a new implementation of storing modules which makes its compatibility much better and also fixes several bugs that exist in the previous build. Moreover, Magisk binary is now competent of running native 64 bit in the supported devices. Also, the most important thing is the support of Android Q, as we mentioned earlier. Recently, many devices got Android Q beta update; users can install Magisk 19.0 Beta and gain root access. The developer has already planned to extend support for logical partition devices (such as Pixel 3) in the next update. Also, Galaxy S10 series support is on the way. Check out the technical changes given below as per the developer site!
What is Magisk?
For those who are Magisk, here is some information for you:
Magisk is a systemless root solution that gives you root access to your Android device. This is the most popular and reliable tool right now, with which you can root majority of the Android devices, especially all the devices that released in the recent years. Earlier, we used SuperSU by Chainfire, but our favorite choice is Magisk now! The tool got high priority in the developer's eyes due to its systemless approach, which means, this tool will root your device without touching the system partition. Other root tools may break your OTA support, but Magisk won't. There are many other benefits too; you will get to know once you start using it on your device.
Why rooting?
If you are a regular reader of our blog, I am sure you know about rooting. All the time, we play with this kind of stuff. Rooting is the key to unlock the full potential of an Android device. Once your device is rooted using any rooting tool, you will be able to get access to system files. Which means, you can modify the system files in the way you want. You can remove bloatware, unwanted system applications to speed up your phone, overclock, clean cache and more. There are some modules like Amplify, which you can use with Xposed Framework to increase the battery life of your phone.
There are several Applications in the Play Store that need root access. So, in order to use them, you must root your device. Moreover, the XDA Developer community has released several mods, apps in their repositories. If you want to take the benefits of it, rooting is a must.
Changelog: Magisk 19.0 (Beta)
A complete changelog is given below as per the official XDA thread:
Remove usage of magisk.img
Add 64 bit magisk binary for native 64 bit support
Support A only system-as-root devices that released with Android 9.0
Support non EXT4 system and vendor partitions
Use Zygote ptracing for monitoring new processes
Targets are now per-application component
Support Android Q (no logical partition support yet!)
Support Android Q new split sepolicy setup
Move sbin overlay creation from main daemon post-fs-data to early-init
Service scripts now run in parallel
Directly inject magisk services to init.rc
Use lzma2 compressed ramdisk in extreme conditions
Clone attributes from the original file if it exists
Use ACTION_REBOOT intent to workaround some OEM broadcast restrictions
Use skip_mount instead of auto_mount: from opt-in to opt-out
Changelog: Magisk Manager 7.1.0
Support the new module format
Support per-application component granularity MagiskHide targets (only on v19+)
Ask for fingerprint before deleting rules if enabled
Fix the bug that causes repackaging to lose settings
Several UI fixes
The developer has done an impressive job on updating Magisk to version 19.0 with a lot of useful features. We appreciate his hard work toward the community. You can now download Magisk 19.0 Beta ZIP and Magisk Manager 7.1.0 APK from the link below!
Download: Magisk 19.0 ZIP and Magisk Manager 7.1.0
Previous releases
The new Magisk 19.0 version can be flashed via TWRP Custom Recovery. If you are already in the previous version of Magisk, you don't need to install it using recovery. You can directly update it using the beta channel. Check out how to update Magisk in the tutorial ahead.
HOW TO: Install Magisk 19.0 Beta
There are two methods to install Magisk:
However, the second method is not recommended for novice users since it is quite tricky. You need to familiarize with the steps before you proceed with it. Both methods are described in our detailed tutorial below:
→ How to install Magisk to root Android devices – Universal Systemless Interface
For those who have already installed Magisk 16.4 or older, follow these steps to update it:
How to update Magisk root to Magisk 19.0
Open the Magisk Manager app.
Find 'Settings' on the menu icon on the top-left.

Scroll down to find 'Update Channel' and tap it. Select the option 'Beta' since that is the latest version that you will be upgrading to. Return to the Main screen and refresh by swiping the screen down. The refresh will automatically provide a pop up which provides an option to update the software.

Tap on 'Install' or in some devices 'Direct Install.' The latest Magisk 19.0 installer will do the work automatically. Reboot the device by tapping the 'Reboot' button.
Remember that the Magisk Manager will also be automatically be updated to the latest version.
Use the MagiskHide to prevent apps from accessing root or root detection.
After the reboot, the Magisk Manager 7.1.0 will be automatically installed, and you can proceed to browse through the official repository and download required modules to add extra features on your Android device.
---
That's it!
So you are done with this tutorial! You had successfully installed the latest Magisk 19.0 Beta using our guide. If you faced any problem with performing this tutorial, please let us know by dropping a comment below. Our team will reply you back as soon as possible.
Done with the rooting? Here's something extra for you:
Check out our root based post for any Android devices:
Why Magisk?
It is a very common question that people ponder over if they haven't yet tried it.
For those who are new to Magisk, these points will certainly peak your interest in Magisk:
Constant and continuous app testing by Magisk for better properties integration
Systemless approach
It doesn't modify any partition or memory of the device, so installation and un-installation is easy
Magisk modules are available in Magisk Manager only.
We know the necessity to root, how to install and update Magisk and why to choose it. I hope you have a better understanding of Magisk and willing to try it out for your Android device.
[If you don't like it, there is always the option to remove it with just a few clicks.]
Final Thoughts
There is numerous root software but, many don't sustain the community due to various reasons like stability, too many bugs and errors, zero improvement and more.
Magisk doesn't belong to that category since the latest version explains a lot about its stability and the increase in users proves its popularity among Android community.
I hope you will try to install Magisk to have your Android device more personalized by customizing it to suit your style and taste.