This post is solely for the OnePlus 5. Find the latest update released by OnePlus, download them and install them manually. If you are not getting OTA in your region, you can choose the required package from the table below.
Initially, when OxygenOS born, we saw a lot of criticism in the OnePlus 2 Lollipop OS. But now, the thing is entirely different. OxygenOS is getting better day-by-day. OnePlus's Oxygen Team is now much better on updating the OS with the latest security patches, and system upgrades. OnePlus 5 is the 2017's flagship of the OEM and currently running on Android 8.1 Oreo. If you joined the Open Beta program of OnePlus 5, you would get OP 16.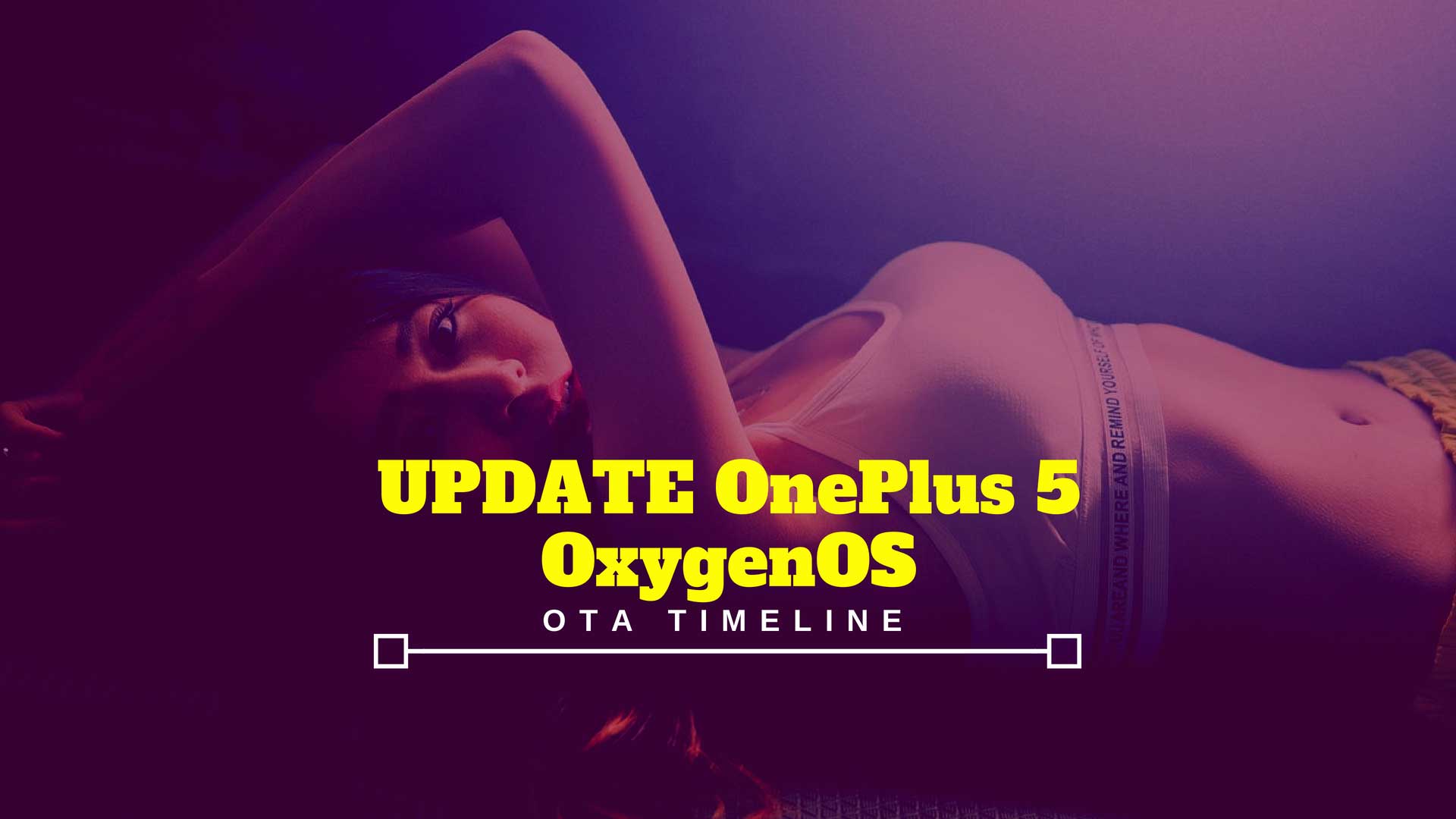 We have a table below, from where you can download OnePlus 5 updates manually. You can flash them via TWRP recovery from the device storage. If TWRP is not installed on your device, you may try out this guide:
OnePlus 5 Android P update
OnePlus 5 users are already enjoying the latest stable version of Android 8.1, but you must know that the phone is eligible for Android 9.0 Pie. Since the device supports Project treble, we expect this update would be must faster.
Check out Android P supported device list here:
Chinese OEM revealed this information while announcing the Android P for OnePlus 6, stating that:
OnePlus 5/5T friends, we'll have something nice lined up for you later this year.
Since the OnePlus 6 joins Android Pie beta program back in May, it's likely that the OnePlus 5 and 5T will enter the same soon.
Moreover, OnePlus 5 will get the same selfie portrait mode as it is in OnePlus 6. The company confirmed that it would come via software update. So, along with Android Pie update, OnePlus 5 will get some additional features in the coming months.
Now, check out the table below, for all the OnePlus 5 update in a single timeline. You can download the stable build or Open beta, and install it using our tutorial below.
OnePlus 5 update timeline: Open Beta
Date
Download link | Android OS
Changelog
15 Jan 2019
OxygenOS Open Beta 25 | Android 9.0

Updated Android security patch to 2019.01
Improvements for screen brightness control
Confirm pin without tapping √ for app locker
Improved color adaptation for navigation bar when using third-party apps

24 Dec 2018
OxygenOS Open Beta 24 | Android 9.0

Fixed random audio tuner crashes
General bug fixes and system stability improvements

18 Dec 2018
OxygenOS Open Beta 23 | Android 9.0

Updated Android security patch to December 2018
Fixed issues with custom accent color not getting applied every second try
Optimizations for Face Unlock
Fixed UI issues with scroller in app drawer
Improved color adaptation for navigation bar
Fixed issue with Netflix crashing randomly

12 Dec 2018
Open Beta 22 | Android 9.0

Updated system to Android™ 9.0 Pie™
Brand new UI for Android Pie
Updated Android security patch to 2018.11
Optimizations for background app process handling

30 Oct 2018
Open Beta 21 | Android 8.1

October 2018 security update
Bug fixes
System optimizations

14 Oct 2018
Open Beta 20 | Android 8.1

Supported new gesture to close picture by sliding down in Gallery app
Community notices added as a feature
New feed for following community members
Stickied comments displayed on the app
Added more options to share threads
General user interface tweaks and bug fixes

25 Sep 2018
Open Beta 19 | Android 8.1

September 2018 security patch
Optimized UI for Weather app

09 Sep 2018
Open Beta 18 | Android 8.1

Improved stability of the Weather app
General bug fixes and improvements

29 Aug 2018
Open Beta 17 | Android 8.1

New UI
Optimized process for sharing notes as an image
Updated Android security patch to 2018/08
Optimized background power consumption control

15 Aug 2018
Open Beta 16 | Android 8.1

Optimized application and data classification list
Calendar widget compatibility issue in shelf [fixed]
Issue with keyboard not popping up when creating a new schedule [Fixed]

1 Aug 2018
Open Beta 15 | Android 8.1

July 2018 security patch
Improvements to pocket mode to reduce accidental touches

17 July 2018
Open Beta 14 | Android 8.1

Google Lens support
Improved camera quality

03 July 2018
Open Beta 13 | Android 8.1

Google Project Treble support
Brand new UI
Supported accent color
Added "New installs" category tag in app drawer

13 June 2018
Open Beta 12 | Android 8.1

Updated Android security patch to 2018-06
Improved photo clarity and optimized oil painting effect

29 May 2018
Open Beta 11 | Android 8.1

Added disable peek notifications option for DND preferences
Optimized PIN code confirmation process, and sleep standby power consumption

15 May 2018
Open Beta 10 | Android 8.1

Updated Android security patch to May
Toolbox Card in shelf
Hidded Space in app drawer

25 Apr 2018
Open Beta 9 | Android 8.1

Supported double-tap to lock screen
Improved searched history for App drawer
Optimized scanning logic for large files

09 Apr 2018
Open Beta 8 | Android 8.1

Auto play
Added new membership card in Shelf
Security patch to 2018-04

28 Mar 2018
Open Beta 7 | Android 8.1

Search tag in search app section
New icons and updated UI
Network boost in Gaming mode

10 Mar 2018
Open Beta 6 | Android 8.1

Upgraded system to Android 8.1 Oreo
Added new optimizations in gaming mode
Notifications blocking, power saving and pausing adaptive brightness
Security patch to 2018-02

02 March 2018
Open Beta 5.0.4 | Android 8.0

Sound malfunction for incoming call or notification [fixed]
Sound instabilities during video playback [fixed]

02 Feb 2018
Open Beta 5.0.2 | Android 8.0

Added face unlock function
Launcher V2.2
Gallery V2.0
Weather V1.9
File Manager V1.7.6
Supported EIS for video recording

30 Jan 2018
Open Beta 5 | Android 8.0

Removed Clipboard function
Applied CPU security patch: CVE-2017-13218

16 Jan 2018
Open Beta 4 | Android 8.0

Improved power consumption measurement
Optimized management logic for high power consumption application
Added intelligent background application management solution
OnePlus 5 update timeline: Stable
Date
Download link | Android OS
Changelog
12 Nov 2018
OxygenOS 5.1.7 | Android 8.1

Fixed Bluetooth connectivity issues for cars

24 Oct 2018
OxygenOS 5.1.6 | Android 8.1

VoLTE support for IDEA users in India
Project treble support
Fixed Bluetooth problems
October 2018 security patch

21 Aug 2018
OxygenOS 5.1.5 | Android 8.1

August 2018 security patch
Project Treble support
Ability to confirm the PIN without checking the box

27 July 2018
OxygenOS 5.1.4 | Android 8.1

July 2018 security patch
Improved camera performance
Sleep standby optimization
Added group messaging, and bug fixes

19 June 2018
OxygenOS 5.1.3 | Android 8.1

Bluetooth connectivity issues with cars
General bug fixes and improvements.

27 May 2018
OxygenOS 5.1.2 | Android 8.1

Adds May security patch
Double-tap to unlock feature, and more

16 Apr 2018
OxygenOS 5.1.1 | Android 8.1

Stable Android 8.1 Oreo
April 2018 patch, and more

09 Jan 2018
OxygenOS 5.0.1 | Android 8.0

Updated to Android O (8.0)
Added "Adaptive model" screen calibration
Optimizations for Wi-Fi
Optimizations for Battery Saver
December security patch
Oxygen 5.0 hot fix

07 Nov 2017
OxygenOS 4.5.14 | Android 7.1.1

Supported Airtel VoLTE in India
Supported Band 66 of Freedom in Canada
Fixed Wi-Fi WPA2 security issue
Optimized battery usage in some cases
Optimized GPS accuracy

16 Oct 2017
OxygenOS 4.5.13 | Android 7.1.1

Supports customization of notification ringtone
Improved launching speed of apps
Optimized adaptive brightness
Updated Android security patch to September

01 Oct 2017
OxygenOS 4.5.11 | Android 7.1.1

Now supports customization of notification ringtone
Improved launching speed of apps
Updated Android security patch to September
Fixed issue of no 4G+ network in some regions
General bug fixes

31 Aug 2017
OxygenOS 4.5.10 | Android 7.1.1

Photo noise reduction
Improved Camera stability
60 fps video noise and texture improvements
Country information of photographers in Shot on OnePlus

08 Aug 2017
OxygenOS 4.5.8 | Android 7.1.1

Introducing the all new OnePlus Slate font
EIS for 4K video recording
Updated Android security patch level to 1st July 2017
Wi-Fi connectivity improvements
Standby battery enhancements

06 July 2017
OxygenOS 4.5.5 | Android 7.1.1

Further improvements to Wi-Fi connectivity
Clearer voice calling
Fixed certain apps not able to work under IPv6 network settings

27 June 2017
OxygenOS 4.5.3 | Android 7.1.1

System stability improvements
Camera effect and stability enhancements
Effects of auto-brightness adjustment
Accuracy of data usage statistics
Tutorial: Update OnePlus 5
We have mentioned full step-by-step instructions on how to update OnePlus 5. If you are entirely new to rooting, flashing a Custom ROM or an Official Firmware, please read the entire tutorial once before actually performing it on your device.
Pre-requisites
You must be having the following requirements to be fulfilled before you head down to the tutorial below.
Make sure your phone has at least 80 – 85% charge. If not, please do charge it before starting the experiment.
This tutorial will WIPE OUT all your DATA. Make sure to create a Backup of everything before starting the tutorial.
You need to perform a Dalvik Cache wipe in recovery mode before and after installing the ROM.
You need to enable USB Debugging mode to connect your Android phone to computer. (Settings > About Phone > Build number > Tap it 7 times to become developer; Settings > Developer Options > USB Debugging).
OnePlus USB Driver
Make sure you have correctly installed OnePlus USB Driver on your computer. If not, please download it from our USB Driver Section below and install it correctly. Otherwise, your computer will not be able to detect your device.
→ Download OnePlus 5 USB Driver
Backup for a safe side
We don't know when anything goes wrong. For a safe side, please do backup your device before starting this tutorial. Moreover, this tutorial will wipe all your data and system. We don't want anyone to lose their personal data by performing our tutorial. We have some Application list that may help you:
→ Top 10 Best Android Backup Apps – Secure your Data
If you had TWRP installed, we suggest you make a full Nandroid backup of your system. In case, if your experiment fails for some reason, you can simply restore them with your existing files.
Method #1: How to install OnePlus 5 update manually using TWRP Recovery
Download the OnePlus 5 Update from the above table on your computer.
Now, connect the device to your PC using the USB cable (preferably, the official one, provided by OnePlus with the phone box).
Copy and paste the downloaded zip file to the internal storage of your phone.
Switch Off your phone and disconnect the cable.
Press and hold Volume Down and Power Button together to enter into the recovery mode!
Once you are in the TWRP recovery mode, perform a full data wipe by tapping on "WIPE" Button. Also, perform a factory reset by swiping on the "Swipe to Factory Reset" option at the bottom.
Go back to main menu (TWRP Home) and tap on "Install" button. From the list, choose the zip file that you have copied in Step 3.

Confirm the installation by swiping the "Swipe to Confirm Flash" option on the next screen.
Now, tap on the "Wipe cache/dalvik" button to clean the ROM and stay away from any boot loop issues.
Hit on "Reboot System"  button!
Wait a while, and your phone may take up to 10 minutes to boot for the first time.
Method #2: How to install OnePlus 5 update manually using Stock Recovery
Download the complete ZIP file from the table above.
Transfer the file to the internal storage of your phone.
Switch off your phone.
Wait for 5-10 seconds after the screen goes off.
Now, boot your OnePlus 5 into recovery mode using the button combination
⌊ Press and hold Power + Volume down button together until you see the phone boot into recovery mode.

Once you are in recovery mode, Select "Install from internal storage/Install from local," find your .zip file and click on "Install" to confirm.
The installation should start now. Please wait till the procedure completes.
Now, perform a Wipe data and Cache in the recovery.
Reboot and you are done!
Now your phone will be boot with the firmware that you had just installed. Just follow the on-screen instruction to make the phone ready to use.
Which method should you use to install OnePlus 5 Update?
Both of the methods mentioned above are safe and secure. One is via custom recovery, and another is via stock (official recovery). So don't get confused. If you don't have TWRP installed from before, you can opt method #2. But if you like clean and fresh installation, you should go for method #1.
Rooting and other stuff
So if you are done with the firmware update, you can do a little extra. Rooting will open the door for modification of your phone. Try out this guide:
Once you rooted your device, you will be able to use some cool application like Viper4Android and Dolby Atmos. Also, try Xposed Firmware, where you will get a lot of modules with which you can tweak your device in the way you love.
If you are a stock wallpaper fan, we also have a vast collection that you may like. Check out from the link below:
Recommended articles for you:
---
So you are done with this tutorial! You had successfully updated OnePlus 5 to the latest firmware using our guide. If you faced any problem with performing this tutorial, please let us know by dropping a comment below. Our team will reply you back as soon as possible.